With fierceness and determination, Kelly Pillors pushed through the emotional aftermath of losing her breasts to cancer by caring for her son and expanding her business.
She wanted to make women feel beautiful and teach them skills that can lead to financial independence.  
Lash Factor Studio, which specializes in lash extensions, microblading - a method of tattooing individual hair-like strokes (usually on the eyebrows) using a manual hand-held tool - and a plethora of beauty services, was created nearly seven years ago. The business had three employees and a very small space on Broadway.
Since then, the studio has moved twice, finally landing in its current downtown location on S. Fifth Street. Today, it employs nine women.
In 2015, Pillors was diagnosed with breast cancer. Rather than going through chemo and radiation, she opted to have a masectomy.
"My son was 12 at the time, going through changes, and I wanted to be able to be alive for him and support him," Pillors said. "I don't have much help in that regard so it was important."
With the help of the ladies working with her, the studio stayed afloat and doubled in size.
"It has been really difficult, so I feel really proud to still be here two years later and growing at the rate that we are," Pillors said. 
The experience helps her relate to her clients, many of whom have survived cancer or have alopecia, thyroid issues or other illnesses that can cause hair loss. The services she provides, are "life changing" she said.
"People come in and have nothing that defines their face," Pillors said. "I didn't even know how big it was till I started doing it. People will leave here crying. They're more confident and have more self esteem. It's very rewarding."
In addition to new cutting edge services, Pillors has added an academy to the menu of offerings and hopes to become a world leader in the industry. 
She says taking classes at her academy is less expensive and time consuming than a traditional beauty school, making it an affordable option for women who want to make more money. 
"It's great for other women," Pillors said. "We are women working with and for women. I really feel that through this path you can gain independence for yourself and your family and the market is really untouched."
After proving themselves proficient, students of the Lash Factor Studio Academy can be employed by Pillors, who hopes to open locations across the globe in the next several years. 
"We're able to impact people's lives with change by teaching them the skills to make themselves more independent," Pillors said. "The modalities like microblading aren't taught here in Southern Arizona. You typically have to go outside of the area to get decent training. I've spent over $30,000 on training to open my academy and offer it to the masses."
When Pillors first started in the lash industry seven years ago, it was getting huge.
"I saw it blow up," Pillors said. "People I started with are now world leaders (in the lash industry) so I see that opportunity with microblading here and I'm really ahead of it. Most of the training companies are not U.S. based. They come from overseas, so it gives me the opportunity to be the leader in the U.S. niche market."
Most of the Lash Factor Studio team will be heading to the Domincan Republic to learn areola restoration and scalp micro-pigmentation, which gives the illusion of hair on a balding scalp. 
Pillors hopes to offer areola restoration services for free to breast cancer survivors. 
"I want to give back," Pillors said. 
On dealing with a serious illness
"Just charge through it. I didn't allow myself the opportunity to feel sorry...Failure is not an option. So, I had to do what it takes. I advise anybody going through it to keep health and family as focus. It will get better. There's a life after. When you're going through it, it doesn't seem like it."
On emotional effects of breast cancer
"I thought I'd never find love again. I was recently divorced when I found out. At that time appearance was really important to me. I had really big boobs, and they were beautiful. And to lose them was hard. But, it doesn't make you any less smart or beautiful to a man or to a partner who really loves you."
"If you have a great idea, write it down. And do your research for the steps it would take to start. A lot of people have a hard time starting. And be fearless. There's nothing that's gonna hold you back from doing what you wanna do but yourself. Then seek out the help of people who are successful at what you want to do. Usually people will help you...Never be afraid to invest in yourself."
"A month after having a double masectomy I had lost about 50 pounds. I was so skinny. And these ladies helped me keep the studio going...I really love it because there's no drama here. There are 9 of us women and we really get along well and I'd love to build that environment all over the city".
On needing and giving support
Pillors hopes that through her business she can provide some support for women going through health issues. 
"When I was going through treatments there was no one there like myself. There were no black women. There were no young women. I had no support from a woman like me to explain the process and help you do things...Just helping people understand how to make it through when you have potential health problems."
---
Click here to learn more about Lash Factor Studio.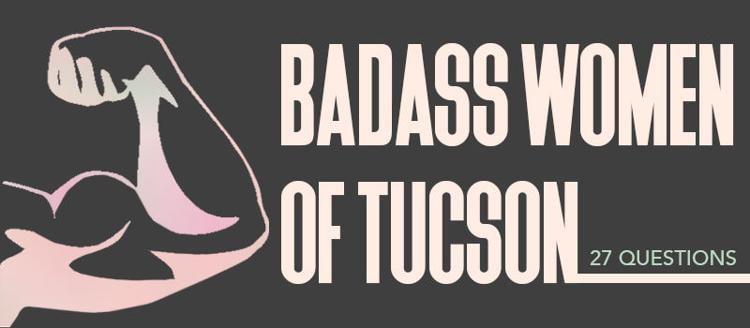 I'm on a mission to ___________________.
Empower individuals to gain the information that can provide financial freedom for themselves and their family. Blessed to enact change for my employees, students and customers. Allowing them to have improved self esteem and confidence.
What's your astrology sign? Does it fit you?
LEO and yes! A bringer of sunshine. Ambitious, loyal and dignified. Exceptionally generous, can be slightly demanding, domineering and intolerant
Describe yourself in three words...
Ambitious, tenacious, and dogmatic
At age 15 I worked fulltime as a waitress!
How long have you lived in Tucson?
Who and/or what inspires you?
My father. He gave me a strong work ethic and determination to be self made and successful.'
The secret to coping with stress is ________________.
Simply counting to 10 while reflecting on all things positive.
Your favorite Tucson spot?
What are your favorite three songs and why?
"Summertime" - makes me feel young again, "In a Sentimental Mood" -Duke Ellington- reflective. "I Believe I Can Fly - R. Kelly
Your go-to order at your favorite Tucson restaurant?
What's your favorite Tucson-only thing?
You know you're a Tucsonan when _____________.
What constitutes your morning getting-ready routine and how long does it take?
5:30 reflection reading prayer, 6-7:30 workout, 7:30-9 prepare for my day, emails, voicemail, day planning
Favorite app at the moment?
Give us a two-sentence pep talk.
Always believe in yourself. Write down your dreams and never be afraid to invest in yourself.
What would you tell your teenage self?
What's a quality you got from your mama?
And one you hope to pass on to the next generation?
The world is bigger than yourself. Find a way to make a bigger impact.
The last great book you read?
The last great movie you watched?
People would be surprised to hear you're actually a(n) ______________ expert.
Is there something you've always wanted to learn, but haven't had the time?
Anything you've always wondered about Tucson?
Why there isn't a freeway east-west Tucson
Favorite ice cream flavor?
Where can our readers follow you on social media?
Is there something you REALLY nerd out about?
What's your spirit animal?
Which fictional character (from TV, movies, books, etc.) just gets you?
What makes you feel the most confident?
When I bring happiness and joy to others.
The best piece of advice you ever received?
"It's completely ok to be unreasonable in your expectations."