Broadway is funny.
It starts downtown, packed from side to side with businesses, murals and restaurants. Then you drive through construction, near the University of Arizona, stopping at traffic lights and passing icons like the Sunshine Mile, El Con Mall, the massive 5151 building and the Gaslight Theatre.
And then it gets quieter. Cars start to disappear and the views of the Rincon Mountains get better.
Suddenly you're at a dead end with Saguaro National Park on your right, surrounded by cacti and a handful of hiking trails.
Many moons ago, #ThisIsTucson launched Helpful Hiker's Guide, a series that helps you explore the many hiking trails around Tucson, telling you everything you need to know about a specific trail. We paused the series when it became what seemed like a thousand degrees outside. But now that it's the cool(er) month of November, we're back!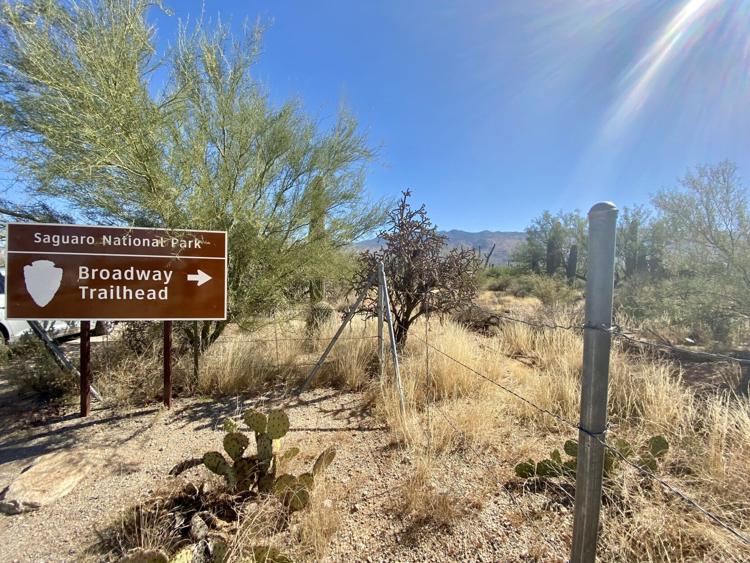 Mica View Trail in the Broadway Trailhead
The Mica View Trail in the Broadway Trailhead is just under a mile long and took me about 20 minutes to complete one-way (with lots of pausing to take photos of saguaro friends). But if you're searching for something longer and possibly more difficult, there are lots of options beginning at the same starting point. There's a map of the trails when you first enter the trailhead or you can view it ahead of time here.
Other nearby trails include Shantz (1.4 miles) and Cactus Forest (less than a mile). You could do a loop around all three, which the National Park Service says is about two miles roundtrip. But if you take a look at that handy map from the park service, you'll see lots of other connected trails if you're hoping to extend your trip.
The Mica View Trail takes you through part of Saguaro National Park East, passing by saguaro giants, prickly pear cacti just barely peeking out of the ground, lopsided barrel cacti and cholla cacti that from afar look fuzzy (but are definitely not).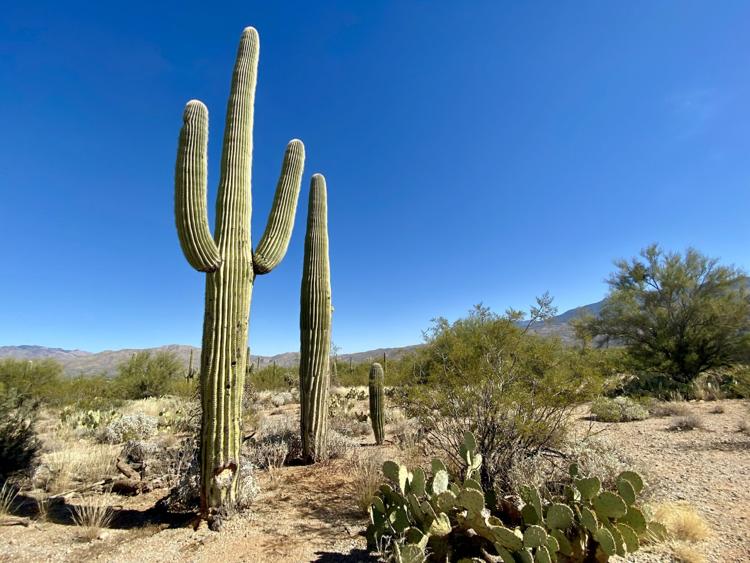 I can only imagine how pretty the trail is when the desert is in bloom, but I did spot some yellow barrel cactus fruit, shades of purple in the chollas and, of course, the color in the mountain views.
Another highlight — Mother Nature is apparently celebrating the holidays early with some bright red splashes of Christmas cholla.
Christmas cholla bears tiny cherry-red fruit this time of year, just like ornaments on a Christmas tree. 🎄
Personally, I loved being up-close with so many cacti — seeing their many shapes and sizes, the quirky ones that are a bit chubby or slanted, and in some cases, spotting the saguaro roots deep in the desert floor.
The Mica View Trail ends (or begins, depending on which way you go) at a picnic area, filled with about 10 picnic tables (many of which are under a shade sail) and grills. There's also a bathroom in the area, plus trash and recycle bins.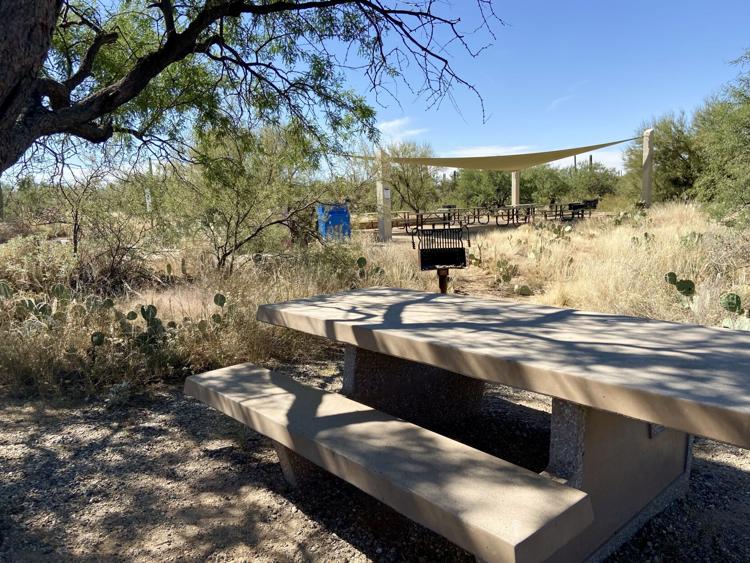 Also at the end of this trail is a parking area for hikers who enter from Freeman Road and Cactus Forest Drive from the Rincon Mountain Visitor Center. So, if you prefer, do the opposite of the route I took: Pack a picnic basket, park at the southern entrance of the trail, munch on your treats and then start your hike, going north toward Broadway and back south to your car.
Closer to Broadway, you'll also spot a boot brush, which you can use before and after your hike to remove any dirt and invasive seeds that may have clung to your feet.
Side note: Grasshoppers were out in full force during my hike, so watch out for the lil guys!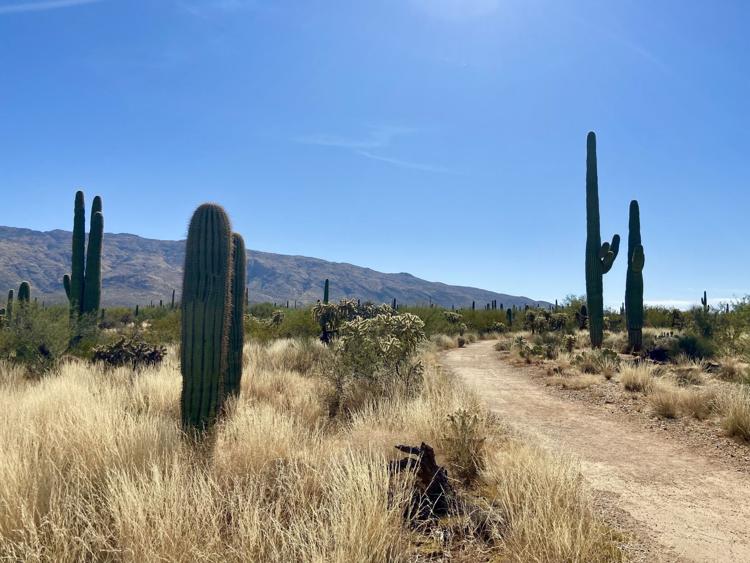 How to get there
Drive east on Broadway. So east that the road hits a dead end and you can't go any farther. That's passed Houghton Road, then passed the stop sign you'll see at Freeman Road.
You'll see a "Broadway Trailhead" sign on your right, with a dirt patch in the median area of the road for parking. 
When you get out to begin the hike, you'll notice a sign that mentions a fee for the area. You can check that out here.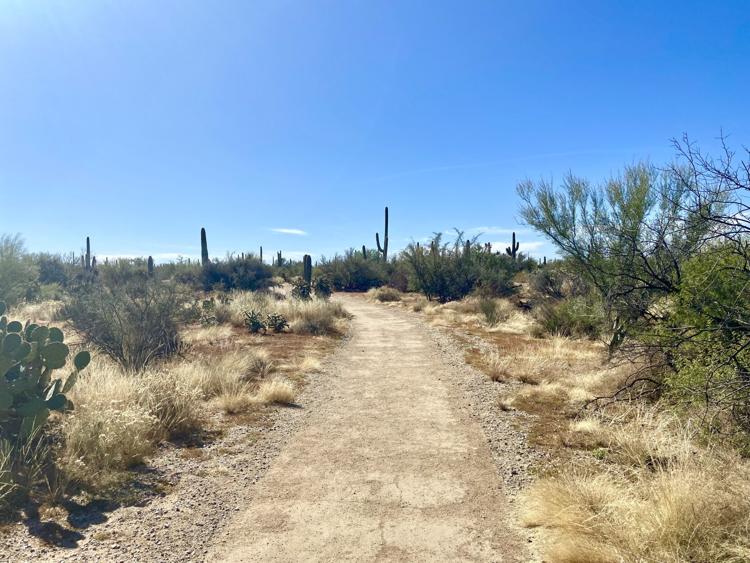 How hard is the hike?
On a scale of 1 to 10 in difficulty, I give the Mica View Trail a 1. Maybe a 2 or 3, if it's hot.
The trail is paved the entire way, making it wheelchair friendly and also easier for tiny energetic kids. Although it's a paved trail, I wouldn't consider it to be nearly as smooth as a sidewalk.
Neither would spokeswoman Andy Fisher.
In 2016, when the paving took place, she said: "It's not intended to be a pedestrian sidewalk. It's more adventurous, but still suitable for mobility impairment."
"It's not going to look like a sidewalk through the desert," Fisher said. "It will blend nicely."
Keep in mind that bicycling and horseback riding are not allowed in this area, but a sign posted along the trail says leashed pets are allowed on the paved areas (aka Mica View Trail).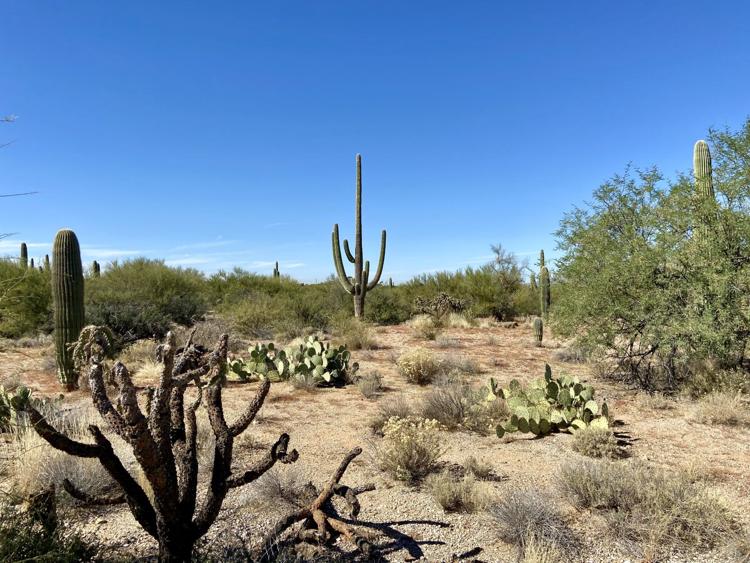 Does it feel safe to go alone?
Because of the low difficulty and short distance of this trail, it feels safe enough to do solo. I also had good phone reception the entire time. But I think hiking is always better with good company.
Always remember hiking tips though — take water with you (I didn't spot a water fountain near the trail), protect yourself from the sun, know your limits and tell someone where you're going ahead of time. The trail also has a park dispatch phone number listed, 928-608-6301, but call 911 for emergencies.