A Saturday night. A full moon. Halloween 2020 had all the elements of being the best one ever. Then, a pandemic happened and now everything is weird. Still, there are still two days to take advantage of some pretty spooktacular events. 
But, Tucsonans are getting real creative to make sure kids and families can still enjoy some Halloween magic. Communities are delivering candy bags to homes and groups have organized drive-thru events and fun things you can do while staying home. 
If you are still planning to trick-or-treat, the health department recently issued guidance on how to minimize risk while you're out and about.
Recommendations for those handing out candy include: setting up in open spaces rather than your doorstep, having a table or station set up where kids can grab treats and go and making sure pathways are clear of decorations and objects that might cause groups to bunch.
For adults, take hand sanitizer and apply to your hands and kids' hands while you're out, and wash hands with soap and water for 20 seconds before eating any candy or treats.
Trick-or-treaters should also wear cloth face masks (not costume masks) to cover their mouth and nose.
Everyone is advised to wear a cloth mask, keep six feet of distance between people who do not live with you and stay home if you're not feeling well or are sick. 
It's also a good idea to avoid neighborhoods that usually attract hordes of Halloween visitors. The Winterhaven neighborhood, for example, typically attracts thousands of trick-or-treaters and its board of directors is asking visitors and residents follow local and national health guidance and not participate in trick-or-treating in the neighborhood this year to prevent a large crowd from gathering.
If going door-to-door feels too frightful this year, consider one of these trick-or-treating alternatives instead: 
Have a spooktacular celebration at home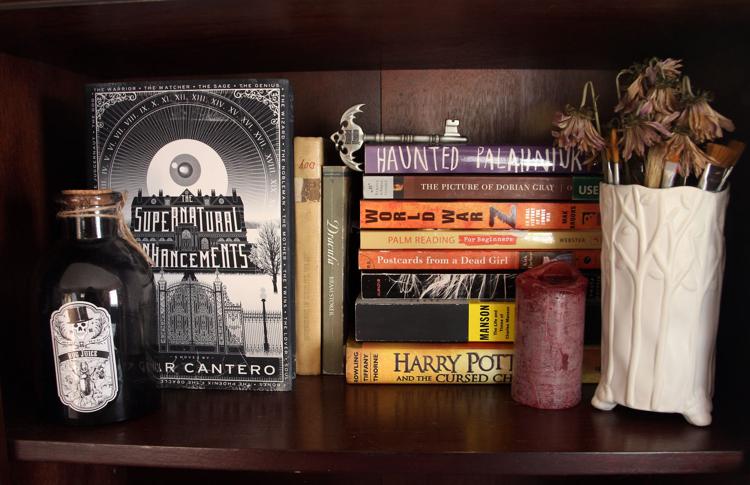 There's no place as risk-free as staying in your home sweet haunted home. You can still scare up some fun by decorating your house, creating your own scavenger hunt, cooking up a Halloween inspired dinner (mummy hot dogs and eyeball meatballs, anyone?) and watching your favorite not-so-spooky movies.
Check out these local places and resources that can help make staying in extra fang-tastic:
Hop on your broomstick for these drive-in and drive-thru events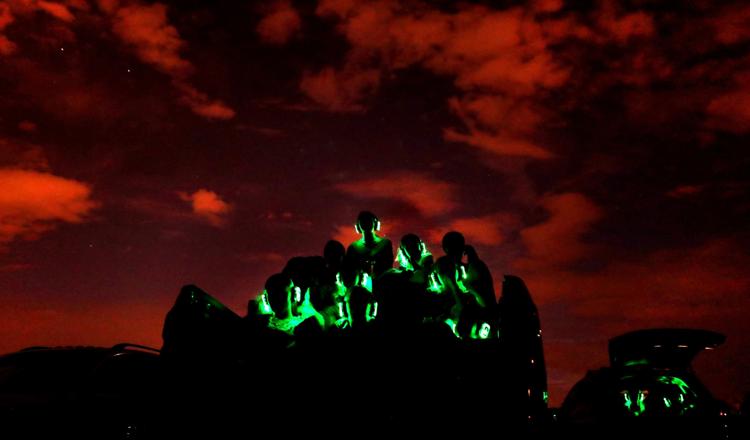 Enjoy all the Halloween fun and treats without having to leave your car at these upcoming drive-thru events. Really get into the spirit by decorating your car and dressing up the kiddos — after all, half the fun of Halloween is having the chance to show off your costume. 
Scary Good Sisterhood
Girl Scouts of Southern Arizona is hosting a kid-friendly drive through event at its midtown headquarters. Collect a goodie bag and drive through five different themed stations: cookies and costumes, 'She'roes, pumpkin PATCH, women of importance and membership mash for interactive activities. You don't have to be a Girl Scout to attend, this event is open to all ghouls. 
When: Friday, Oct. 30, 6-8 p.m. 
Where: Girl Scouts Angel's Charity Place for Girls, 4300 E. Broadway. Enter the event from Columbus Boulevard. 
Cost: Free
Find more information on the Girl Scouts of Southern Arizona website. 
Drive-thru Candy Bag Distribution with Tucson Park and Rec. 
Join Tucson Park and Rec. for a rolling trick-or-treating event. Kids will get a bag filled with candy, a face mask and small fun toys. This event only has 1,000 fun bags available, so be sure to cruise in early.
When: Friday, Oct. 30, 4-6 p.m.
Cost: Free, costumes encouraged
Visit Tucson Park and Rec. Facebook event page for more information.
HSSA Drive-thru Trick-or-treat
Roll through in your decorated car and costumes and receive free goodie bags from the Humane Society of Southern Arizona's education department. 
When: Friday, Oct. 30 from 4=30-6:30 p.m. 
Where: Humane Society of Southern Arizona, 635 W. Roger Road. 
Cost: Free
Drive-thru Trunk-or-Treat at Casas Church
Visit Casas Church for their first drive-thru trunk-or-treat event. Cruise through the decorated activity tents, and enjoy live music and candy.
When: Friday, Oct. 30, 6-8 p.m.
Visit Casas Church Facebook event page for more information.
Drive-Thru Trunk-or-Treat
Cruise over to Grace Community Church for a fun, family drive-thru experience for the kids. While you creep along in your vehicle, enjoy live music, hands-free games, to-go food boxes, raffles and prizes. Remember to wear your costume!
When: Saturday, Oct. 31, 5-7:30 p.m.
Cost: Free, but registration is required
Tucson Dragway's Drive Thru Trick or Treat
Dress up and drive through the dragstrip at Tucson Dragway to collect goodies and treats from local businesses, community leaders and racers. Candy bags will be handed out using extendable reach poles to minimize contact. 
When: Saturday, Oct. 31, 4:30-11:30 p.m. 
Where: Tucson Dragway, 12000 S. Houghton Road
Cost: $10 per vehicle. 
Reserve your ticket and find more information on Tucson Dragway's website. 
Candy Drive-Thru at North Valley Baptist Church
Visit a trick-or-treating event on wheels this weekend! Trick-or-treaters and little ghouls can roll down their windows and cruise the parking lot to receive treats from their vehicles. Volunteers will be wearing face masks and gloves during this event. 
When: Saturday, Oct. 31, 5-7 p.m.
Halloween Drive-thru Spooktacular
Oro Valley Parks and Recreation is hosting a drive thru event on Halloween night with goodie bags for kids, an online costume contest and costumed characters. 
When: Saturday, Oct. 31, 6-8 p.m. 
Where: Oro Valley Community and Recreation Center, 10555 N. La Canada Drive
Cost: Free
Find more information on the Oro Valley Parks and Recreation Facebook page. 
"Hocus Pocus" on the big screen
Is it really even Halloween if you haven't watched "Hocus Pocus" several times during the month of October? You still have a chance to catch the Sanderson Sisters on the big screen on Halloween night, Oct. 31, at these drive-in theaters:
Outdoor events for ghouls and goblins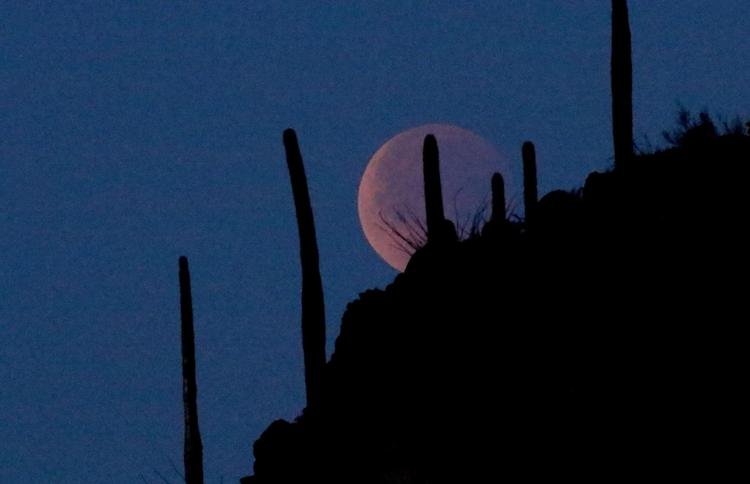 Stretch the celebration to last all day with these outdoor events from sunrise to sunset. 
Costumes and Critters at Reid Park Zoo
Bring the kids in their costumes to prowl around the zoo for some safe and physically-distanced Halloween fun at the Reid Park Zoo.
This year's Halloween event has been reimagined with health and safety in mind. The number of guests in the zoo is limited and tickets must be purchased in advance. All guests over 5 are required to wear a face mask.
Daytime: Oct. 30-31, with timed admission between 9 a.m. to 4 p.m. 
Evenings: Oct. 30-31, 5:30 p.m. or 7 p.m.
Cost: $10.50 ages 15 and up, $6.50 ages 2-15
Where: Reid Park Zoo, 3400 E. Zoo Court
"Curse of Captain Cutthroat" at Trail Dust Town
Arrr! Visit the Trail Dust Town's Halloween event this month! The Pistoleros Wild West Show will transform their stage to perform "The Curse of Captain Cutthroat". This 30 minute, high-impact pirate action show will have cowboy style fight scenes, sword fights, cannons, high falls and firey explosions for all to enjoy.
When: Every Friday-Sunday in October, at 7 and 8 p.m. 
Visit Trail Dust Town and Wild West Stunt Show website for more information.
Chalk for Hope, Heroes and Halloween
The Southern Arizona Arts & Cultural Alliance and Long Realty have come together to create a Halloween chalk art walk. This fun-filled event is socially distanced art walk where visitors can view murals created by local artists with designs of firefighters, healthcare workers and public safety officers.
Kids are encouraged to come dressed in first responder, healthcare and fun Halloween costumes. Attendees who arrive in costume will receive pre-packaged trick-or-treating bags of candy in-front of Walmart, while you meet local fire-fighters, police officers and other first responders. Plus, you can also participate in the face mask competition and make your own mural onsite thanking Oro Valley's public safety community.
When: Saturday, Oct. 31, 2-5 p.m.
Visit SAACA website for more information.
Full Moon Hike at Sabino Canyon
Take the family, but leave the werewolves at home for this two-mile evening hike under the full moon at Sabino Canyon with Beyond Tucson. Bring a flashlight, loose-fitting clothes, insect repellant, water, and hand sanitizer in case you need to use the restroom. Be sure to keep your distance from others and bring a face mask to wear if you are in close proximity to other people. 
When: Saturday, Oct. 31. Meet at the recreation area at 6:15 p.m. The hike will begin at 6:30 p.m. 
Where: Sabino Canyon, 5700 N. Sabino Canyon Road
Find more info on the Beyond Tucson website and RSVP by emailing rsvp@beyond-tucson.org. 
Kids Halloween Drama in the Park
Wear your costume and enjoy Halloween fun in this outdoor drama class. All kids receive a free Halloween swag bag.
When: Saturday, Oct. 31, 9 a.m.
Cost: $15 per child, ages 5-11
Visit the Drama Kids International of Tucson Facebook event page for more information.
Quince, Corn, Halloween and More
This four-hour event has twelve activity stations spread out around a large, four-acre garden. This year's quince festival includes a cajeta de membrillo (sweet quince paste) demonstration, kid activities, spear-throwing, corn tortilla tutorials and much more!
When: Saturday, Oct. 31, 10 a.m.
Cost: $5 donation, face masks and social distancing required
Visit the Mission Garden Facebook event page for more information.
Halloween Howl Haunted Cave Tour
Muhaha! Colossal Cave is hosting haunted cave tours in the dark. Learn about the "Lady In White" and possibly catch a glimpse of her and other spirits roaming the cave.
When: Friday, Oct. 30 and Saturday, Oct. 31, 5-9 p.m.
For your fur babies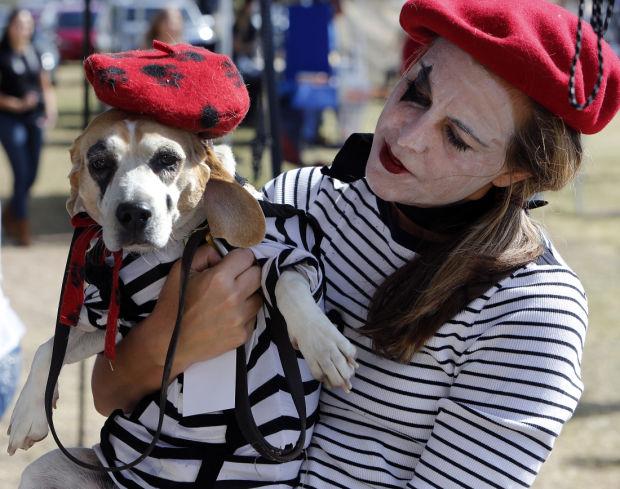 Halloween isn't just for the human kids. Here are a couple ways to celebrate with your fur babies, too!
Spooktacular Drive-thru Microchip Clinic and Safe Halloween Alternative
If you brought home a fur-ever friend during the pandemic, you can get your pet microchipped and pick up candy bags at this free event hosted by Pima Animal Care Center. For microchipping, dogs must be on a leash and cats must be in carriers as staff will remove them from the vehicle to perform the procedure. You can also just drive through and pick up candy without participating in the micro chip portion of the event. 
When: Saturday, Oct. 31
Where: Pima Animal Care Center, 4000 N. Silverbell Road
Cost: Free
Find more information on PACC's Facebook event page. 
HOOOOWL-EEEN Spooky Mongrel and Hound Celebration
Enter your pup in a costume contest, get treats for tricks and join the Pooch Parade at St. Philip's Market on Halloween.
When: Saturday, Oct. 31, 9 a.m. to 1 p.m. Parade is at 10 a.m. 
Where: St. Philip's Plaza Market, 4280 N. Campbell Ave. 
Cost: Free
Find more information on the St. Philip's Plaza Market event page.