Rosaura Barbosa believed in peace and helping people. 
She loved animals, especially her dog, Gizmo, fashion, makeup and her family.
Her mother, April Barbosa, describes her daughter as a wise old soul and a mama's girl.
"She always knew what to say," Barbosa says. "Sometimes she made me feel like I was younger than her because she'd give me advice and I'd be like, 'huh, I should have been the one who thought of that.'"
That is the legacy she left behind when she was killed on May 6, 2018 at 18 years old.
It is the legacy her mother wants to share with the community, in hopes of making it a better place.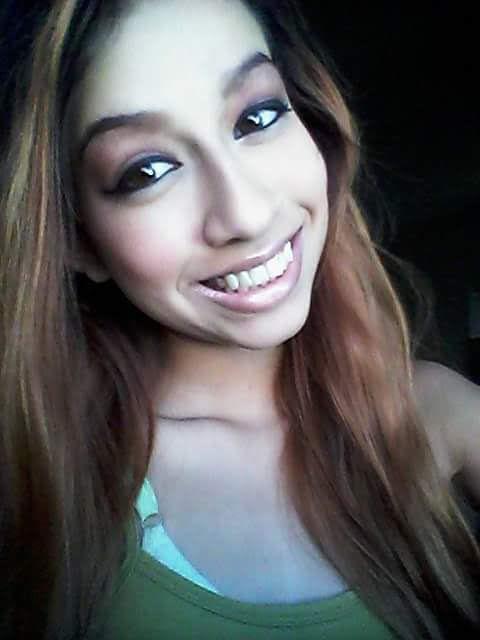 To do that, she is forming a nonprofit organization that teaches people how to cope without violence. That means going into neighborhoods to host events and building relationships and friendships to help them have a better outlook on life. It also means bringing behavioral health services into the communities and teaching people how to reach out for help. 
Unanswered texts warn of tragedy
Rosaura had broken up with her boyfriend the day before she was killed. On the day of her murder she went back to the apartment they shared to talk and get some of her things. They ended up fighting so Rosaura texted her mom to pick her up.
When the family arrived at the apartment that afternoon, nobody answered the door. Barbosa texted her daughter but got no answer. That's when she knew something was wrong. Rosaura always responded to her mother. 
After several calls to the police, at about 7 p.m. an officer knocked on the door and left when there was no answer.
That's when the family took action and broke into the apartment. 
Barbosa found her daughter dead. She sat there and held her in total shock and disbelief. 
Officers returned to the apartment after learning the family had forced entry and found Rosaura unresponsive. Police declared her dead at the scene.
Two days later, Rosaura's ex, Joshua Hilaire, turned himself in to the Tucson Police station downtown and was booked on suspicion of first-degree murder. He has been held at Pima County Jail on a $1 million bond ever since. His trial is set for Sept. 10.
It's still in the beginning stages, but the foundation for Justice for Rosaura has been created. There's a website, flyers and they've filed with the state. Now, it's about getting information out and raising funds to file for a 5013c with the Internal Revenue Service. 
Though nothing will bring Rosaura back, Barbosa says forming this nonprofit is a way to bring her justice.
"That's why we named it Justice for Rosaura because justice for Rosaura is to make this world a better place," Barbosa says. "Because there is no justice in him going to jail. It doesn't bring her back. There is not justice if he got the death penalty. It doesn't bring her back. The only justice we can give her is to make the world a better place like she was."
Barbosa held her first fundraiser event at the Tanque Verde Swap Meet on Feb. 15 — what would have been Rosaura's 19th birthday. Members of the car club community, which Rosarua modeled for occasionally, were there to mark the occasion as well as family and friends. 
Once her organization officially has nonprofit status, Barbosa will apply for grants to pay for intervention training for her volunteers. They will then offer support for people who need help.  
Currently, Barbosa and her mother, Vera Gonzalez, are passing out flyers about the nonprofit and about Rosaura's life and talking to anyone who will listen. 
"Even though we don't have funding now, we still go out and talk to people," Barbosa says. "We just walk up to people and talk about her. Even if we don't get donations, we're gonna continue to do what we're doing and try to help people as much as we can."
The plan is to expand into other parts of Arizona, such as Safford, where the family is originally from, California and Florida. 
Kathryn Jones, a long time family friend who works in behavioral health hopes to bring the organization to Safford as well by providing support groups for women, men and children who have experienced domestic violence. 
"I think this will get the word out there that this can happen to anybody," Jones says. "I think it needs to be approached a bit more because I think people are scared to talk about it."
Just having support systems set up is a step in the right direction. 
When experiencing abuse, it can be critical to know you have support, says Anna Harper-Guerrero, executive vice president and chief strategy officer of Emerge! Center Against Domestic Abuse.
"The thing we always say to people is it's always OK to tell somebody you feel worried about them or ask if they need help or support," Harper-Guerrero says. "I think the biggest piece for our entire community is to be willing to say something and to offer support to people. I think that can be life-giving to people who might be afraid to ask for help, so opening that conversation or space can be really critical so they know there is someone who cares or who will support them."
Don't be afraid to offer help
Barbosa says she found out later that a neighbor saw what was happening but didn't call the police because she was afraid of repercussions. 
"I think sometimes with neighbors they're afraid of getting hurt themselves," Harper-Guerrero says,  "I think that's a fair consideration. But calling 911 and saying someone might need help is a step people can do."
The night of Rosaura's death, her family ran up and down Craycroft Road showing pictures of her ex to passersby. Nobody tried to help, Barbosa says. 
"I'll never forget how people treated us," Barbosa says. "They ran away from us. They said 'we don't want a part of it. It's not our business.' It hurt because it's everybody's business when somebody is murdered."
Anna Harper-Guerrero agrees. 
"I think as a community we have got to find a way to believe that everyone's safety is our business," Harper-Guerrero says. "And that it is our collective responsibility as a community to be engaged and if someone is being assaulted or yelling for help or things like that I think being willing to offer help is important."
Changing people's outlook and getting them to be invested in the community's safety is part of why Barbosa is forming the nonprofit. 
"Not only to bring behavioral health into these neighborhoods but to bring another outlook to their lives to show them this hood mentality these people live by is not right," Barbosa says. "We can go into these neighborhoods and talk to them about the reality of it because the reality of it is painful and not a lot of people want to talk about their grief and their sadness, but I will. I'll put it out there. I've already had the worst happen."
Everyone deserves love and validation and to know they deserve better, Harper-Guerrero says.
"And people abusing their loved ones deserve to hear their behavior is problematic and they need help," Harper-Guerrero says. "I think silence is affirming and having courageous conversations and being willing to step in is the first step to having a safe community."
Barbosa had no idea her daughter was in any danger. Once a victim of domestic violence herself, she made it a priority to have conversations and to ask her daughter if she was happy, safe and healthy regularly. She always said yes. 
Barbosa is currently raising funds so she can file for her 5013c.
On the Justice for Rosaura Facebook page pens are available for sale. Proceeds will also go toward the organization. 
"There's two ways to go after your find your murdered child," Barbosa says. "That's either to fall apart and let everything fall apart or build yourself up and try to make things better. ... I'm trying to do better for our community by my tragedy."