Kindness rules. The virus drools. 
So proclaims a cardboard sign staked in front of Victoria Hannley's home. 
Hannley's family, like many others, has adopted colorful and creative strategies for spreading kindness and staying connected with neighbors while social distancing. 
With Gov. Doug Ducey's stay-at-home order, our communities are suddenly much smaller. For many of us, the people we're most likely to see are our literal neighbors, as we wander our neighborhoods and linger outside while checking the mail. 
In response, Tucsonans are using chalk, homemade signs, painted rocks and stuffed animals to share messages of encouragement, hope and connection. 
Crafting Kind Kids
Hannley, a mom of three, started her blog Crafting Kind Kids in September before COVID-19 changed everything. 
"It was out of my own personal mission to raise kind, caring and compassionate kids in today's world," Hannley says about starting the blog. 
But now that everyone is home from school, crafting with a purpose has an even greater importance, as Hannley tries to incorporate arts and crafts into her kids' existing school work. 
"We had all of these cardboard boxes from deliveries, and I thought, 'What can we do with the kids to engage them in a creative outlet and spread some kindness around in our neighborhood?'" Hannley says. 
And so cardboard boxes and sticks used to mix paint became colorful signs painted with jokes about germs and smiley faces.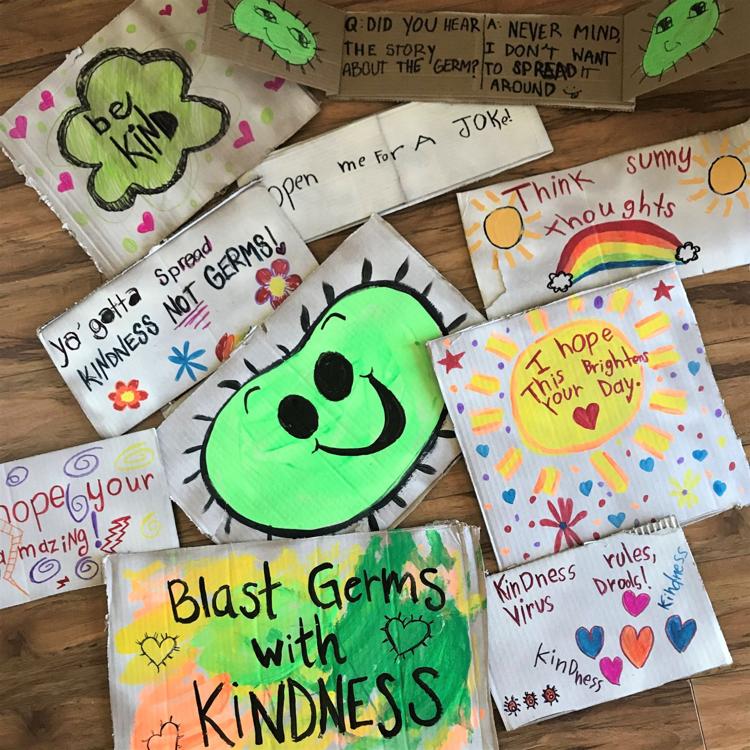 "My daughter is 10 and did one that said, 'You gotta spread kindness, not germs,'" Hannley says. Her kids — ages 5, 8 and 10 — have really gotten into it, she adds. 
"It has given us something to do," she says. "This has been stressful for kids. It's upsetting that all of life has been put on hold, and this has been a way to make it fun, this serious thing that's going on." 
Hannley says her neighborhood has also been participating in a teddy bear hunt — another neighborhood movement that has taken off around the world, as people hide teddy bears and stuffed animals in their windows, turning average walks into safaris and scavenger hunts for bored kids. 
"My 5-year-old is really into hunting for bears," Hannley says. "Every time we go out, there is a new house that has added a bear or added more bears to their collection." 
Hannley says she's using these little acts of kindness to teach her kids about giving to others — even when it's as simple creating a sign that makes someone smile. She says the family has received lots of gratitude from their neighbors. 
"Regardless of how much time we have or how creative you think you may be as a parent, this is something anybody can do, really," she says. "Even if it's just cutting up a cereal box and sticking it in a planter." 
Friendship Creek
After weeks of social distancing with four of her five daughters, Katie Sabel knew her girls missed their friends. 
To help, she unspooled a huge roll of butcher paper in the hallway, painted the words "Sending Virtual Hugs and Kisses" and then let her girls — ages 8, 10, 13 and 16 — add their own thoughts on the banner. 
They hung the banner on their outer wall to show friends how much they missed them and set up a small collection of painted rocks near it. Sabel says she had heard of chalking messages on sidewalks, but since their neighborhood doesn't have sidewalks, they improvised. 
"We created a friendship creek where people could paint rocks and leave messages," Sabel says.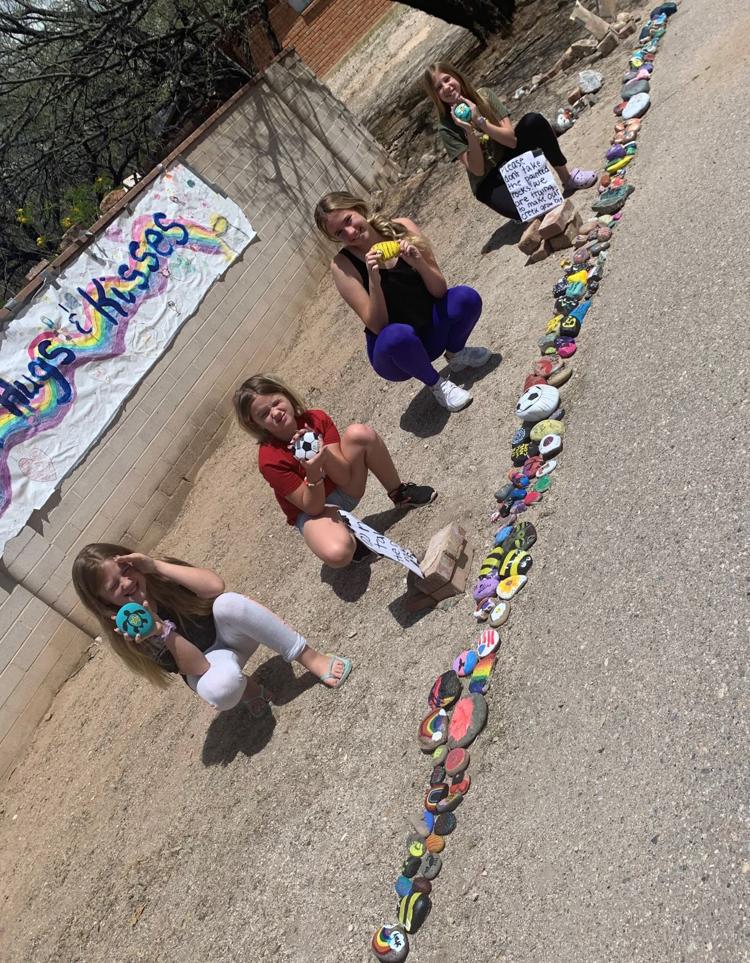 What started as a small line of 10 to 15 rocks painted by their family has since grown into a collection of more than 150 painted rocks, as friends, neighbors and community members add their own creations to the friendship creek. Sabel jokes that "recess" is now a trip outside to inspect additions. People have painted bees, sunsets, hearts and more. 
This has also become a way to communicate with friends, who give a heads up when they come to add a rock to the creek, so the girls can pop their heads over the back wall and say hello. 
"It's just a way to connect them and keep them motivated and going through this," Sabel says. "It just became this bigger thing." 
Neighborhood Hunt for Hearts
With no teddy bears at home to participate in the great bear hunt and no skills to draw a teddy bear, Linda Seger came up with an alternative.  
"I have a 3-year-old great niece I have been watching and she's been bored," Seger says. "And I thought this could be fun." 
Seger created around 140 flyers to distribute to her neighbors, encouraging people to put a heart on doors, windows, mailboxes, trees, wherever, between 10 a.m. and 4 p.m. on Sunday, April 5 and then "walk around and count the love." 
Her neighbors responded in force. Seger estimates that around 100 houses displayed hearts in some way. 
And here's the thing: Seger says that before this, she didn't even know her neighbors. 
"I didn't know any of my neighbors, and I still don't feel like I do, but now I feel more connected," she says. 
She's thinking of organizing a hunt for smiley faces next. 
In addition to the Neighborhood Hunt for Hearts, Seger set out a box of chalk and a bottle of hand sanitizer and started drawing with her niece. Now, other neighbors are getting in on the fun, drawing pictures, writing messages of good health and even playing tic-tac-toe. 
Neighbors have also left several painted rocks in her yard as a thank-you. Seger speculates that her house's proximity to Udall Park helps. 
"You don't have to see people to connect with them," she says. "Normally, I don't do anything with my neighbors, but I'm more involved now because our neighborhoods are our community."