As you know, most Tucson kids will be out of school by the end of the month.
Not sure where this school year has gone, but it's time to think about summer camps if you need to sign your kids up. 
Anybody else feel like this?
To help you out, we built a super cool and convenient tool that allows you to search camps by topic, cost, age and location. Find that here. 
You can also keep reading to get details on six camps that cost $100 or less. 
Camp KIND
What: Activities include crafts, music, stories and the chance to be part of Ben's Bells ceramic studio projects. They'll learn about intentional kindness through these activities.
Each session is one-week long and goes from 9 a.m. to noon. 
When: June 3-7 and June 17-21 for grades K and 1; June 10-14 and June 24-28 for grades 2 and 3
Wild Animal Park Kindermusik
What: This four-day session of Kindermusik will take kids ages 3-6 on a musical adventure through the rain forest. Each day's adventure includes snacks and a craft to take home and goes from 1-4 p.m.
When: June 10-13 (There are a total of six sessions to choose from)
Cost: $69 for four days; $57 for three days; $44 for two days or $25 for one day
Boys & Girls Clubs of Tucson Summer Camps
What: Kids ages 7-17 can sign up for reading programs, STEAM programs, arts and crafts and sports and recreation. 
When: Camps run June 3 through July 12
Cost: $60 for the entire six weeks, includes free lunch
Get Air Tucson Summer Camp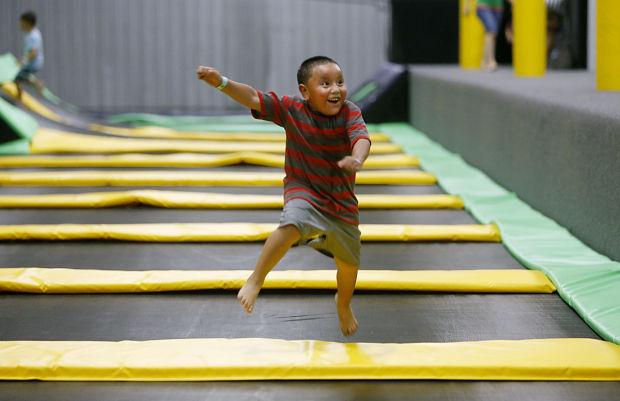 What: Kids ages 5-15 can literally bounce around for four days at Get Air. Each session is themed with a different lesson or skill. There will be group activities and lessons on health, teamwork and problem solving. Camps run from 1-5 p.m. and include snacks and socks. 
When: July 1-4; July 8-11; July 15-18; July 22-25; July 29-Aug. 1 and Aug. 5-8
Cost: $99.99 or $34.99 per day
Junior Ranger Graduate Camp
What: Kids ages 7-11 who attended Saguaro Junior Ranger Camp in 2017 or previous years can sign up. They'll take a virtual tour of America's National Parks. They'll do a variety of activities around Hawaii volcanoes, dinosaurs, redwoods and more. Groups will prepare their own National Park plan to present to parents at the end of camp graduation ceremony.
When: June 17-19, 7:30 a.m. to 12:30 p.m.
Cost: $30 for a three day session
Making a Difference
What: Kids ages 12-15 will talk about dating, relationships, achieving goals, communication and reproductive health. There will also be prizes, snacks and pizza.
When: June 19-20, 9 a.m. to 2 p.m.