---
Tucson has plenty of volunteer opportunities for teenagers that will teach them how to serve their community and the people who live here. 
Just ask these three teens. 
Iselle Barrios, 16, is a junior at University High School who has spent the last year volunteering at Reid Park Zoo. 
Editor's note: These responses have been edited for length and clarity. 
Meet Levi Padilla. 
What kinds of things do you help with when you volunteer? 
My freshman year I volunteered with Primavera. There I helped set up for holidays and helped to make food for the holiday parties. At St. Luke's, I set up Christmas decorations." 
Why do you think volunteering here is important? 
I think it is important to volunteer at these places because many of these people don't have anyone to help them and oftentimes feel as if there is no one who cares or thinks about them. I like to volunteer because it lets the people know that there are people who care for their well-being. I believe these actions can change their days and lives.
What would you say to encourage other teens to volunteer? 
I would say that we, as teens, are the future of the world. We are the future of the community. It is our job to take care of those who are struggling within the community and those who have helped build the community in which we live in today. Yes, the volunteer hours may seem tedious, but try to think about the immense impact you could have on others and how this impact spreads to many other people. This is the world that we have to live in; this is the world that our kids will live in and so on. Why not make this world a little better ... for yourself, your kids, and those who come after your kids?
Meet Iselle Barrios.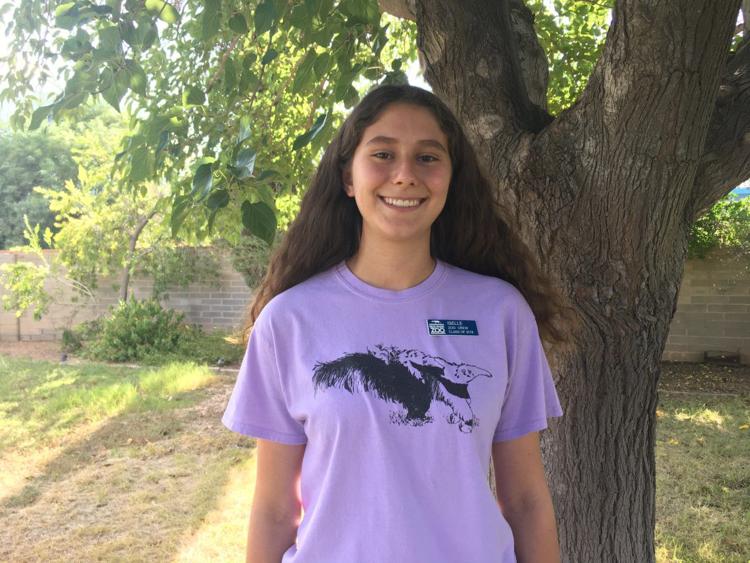 What kinds of things do you help with when you volunteer? 
I help educate visitors about the animals at the zoo and the conservation status of these animals in the wild. This includes activities such as presenting to visitors information at stations located throughout the zoo and presenting ambassador animals to the public. I also patrol the zoo and answer questions from visitors about the animals.
Why do you think volunteering here is important?
I think volunteering at Reid Park Zoo is important because it helps to educate people about the animals at the zoo and get them interested in helping those animals. Volunteering here helps spread the word about conservation. I can explain to people what human actions threaten wild populations of the animals and what they as individuals can do to help different species. In my time volunteering here, I have found that many people do not always know what impact humans can have on animals in the wild and that our individual choices can make a difference. This makes spreading the word about conservation and inspiring people to act to help protect wild animals and their habitats very important.
What would you say to encourage other teens to volunteer? 
I would tell other teens to find something that interests them, then find an organization that works with that interest. For me, I was interested in environmental issues and conservation, so I chose the zoo as a place to volunteer because of its environmental messaging. If you are not sure what you are interested in, do some research and find a cause that you think may interest you. Volunteering can be enormously rewarding and satisfying. You get to learn about issues that interest you and help out with causes that you care about. It helps you to explore your interests. Furthermore, it helps you to learn about what you personally can do to make a difference in your community and beyond.
Meet Zoey Delgado.
What kinds of things do you help with when you volunteer?
When I volunteer for Assisteens (through the Assistance League of Tucson) I help work the counter at the thrift shop where all the profits go directly to fund philanthropic programs.
Why do you think volunteering here is important? 
Assisteens gathers the young adults of the Tucson community and sends us out to help others. Through this experience we learn how we can help local issues and what existing programs we can volunteer at. We get to do important work like making assault survivor kits, helping kids pick out clothes for school, making sandwiches for the homeless — and we get to do it together. It is a unique experience to volunteer alongside our peers and see the impact that we can make when we all work to better our community.
What would you say to encourage other teens to volunteer?
There is so much truth in "it is better to give than to receive" and by volunteering we can experience the happiness that accompanies giving our time, compassion and charity to those who need it. The more you become involved with the programs you volunteer for, the more you will enjoy it. Volunteering can be fun especially if you seek to participate in activities that involve your interests — like if you love art, then try volunteering at Ben's Bells. The positive attitude that you bring when you serve the community and make meaningful connections will impact you just as much as others.
---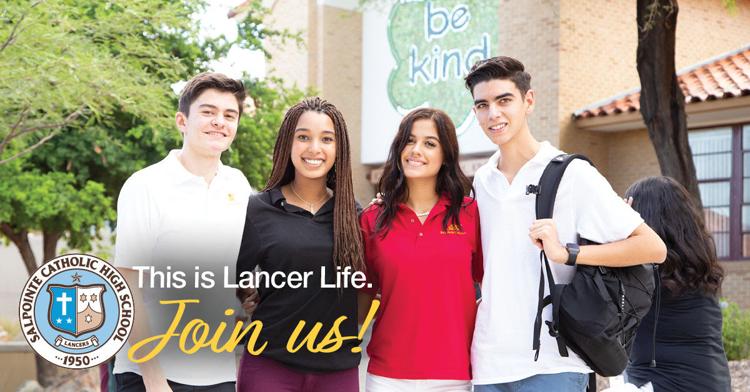 Learn more about Lancer Life at Salpointe Catholic High School's Open House for Prospective Students!
Consider Salpointe as the next step of your educational journey! 
The Southern Arizona leader in Catholic, college-prep education for nearly 70 years, Salpointe Catholic High School offers a premier STEM program, award-winning Fine and Performing Arts, Humanities program, Service Learning, Athletics and a wide range of extracurricular activities. 99 percent of Salpointe graduates go on to college. Learn more at the Open House for Prospective Students. The best way to know whether Salpointe is right for you is to experience Lancer Life!
When: Sunday, Oct. 6 at 1 p.m.