If Jim Hensen were on Cartoon Network with stories told by Outkast, you'd have the creations of Tucson artist Cynthia Naugle.
That's how she describes the resin characters she creates as part of her designer toy line Ten Times a Tiger. 
Her current set of toys is called Fortune Cats and is inspired by her logo and the classic Maneki-Neko designs — a popular Japanese figurine believed to bring luck to its owner. 
Naugle takes it a few steps further, adding different facial expressions and personalities. There's a Galaxy Tiger painted like outer space, a Cactus Tiger because, Tucson, and Orion Tiger which has a crown and gold tooth.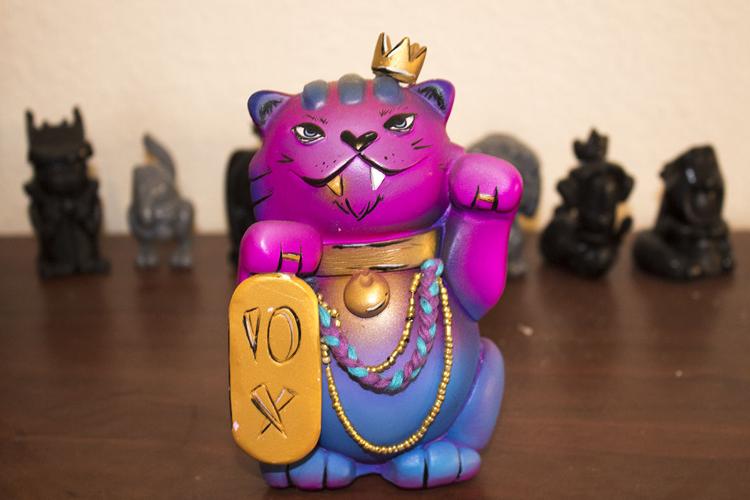 "Characters are very stylized and cartooney," Naugle says. "I try to express attitude in their faces."
Her first collection was called A Land of Ten, which included a variety of characters that formed a story together. Each toy came with a bio-card describing the character and their characteristics.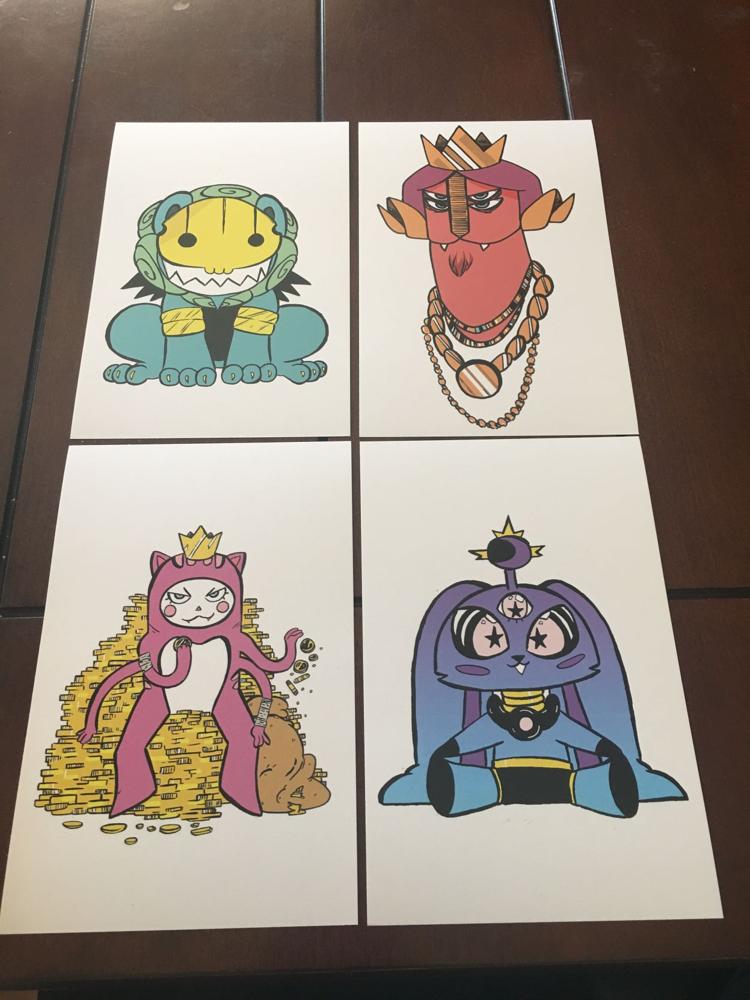 "When I was younger I always liked toys that came with a bio description," Naugle says. "I liked Pound Puppies, or even Transformers or the Little Homie dolls because you could find the bios about what they are and their characters and from there you can use your imagination to build a world."
A Land of Ten started with two sphinx characters — rulers Orion and Tinsby — as well as Kid Manticore, a character that looks like a young lion cub who protects the land. Other characters from A Land of Ten include Fox Boy, Wolfe and Juno-Alien bunny to name a few. 
"The concept of the world is a mythological world where everything is in  harmony," Naugle says. "It's a fairly young world where nothing bad has happened. ... So it's this fantasy world I built with these cute characters." 
Those toys are currently sold out, but Naugle has plans to keep building on the world she started. For example, Kid Manticore's new character will look like he's grown, with a bigger mane and he'll look like he's been through some things, Naugle says. 
"It's a different kind of storytelling," Naugle says. "Because with a comic you're being told a story. With toys, you pick it up and use your hands and you imagine it."
Naugle says she's always been into art. She has always liked drawing and the idea of creating art, especially playing with clay. She also sewed clothes for her toys and went to college for fashion design. 
But her passion is making toys. 
She got her start around 2015 after being stuck at home recovering from gall bladder surgery. 
"I had to stay home for a while and I was like I can't take this anymore I need to do something, so I bought clay and started sculpting," Naugle says.  "I haven't been doing it too long, but I still get so excited when I finish a sculpt."
A lot goes into making toys. It's not just painting and making them pretty. 
Once she has an idea, there's a lot of planning, Naugle says.
She has to decide what type of clay to use, how much it's going to cost and planning out the pieces.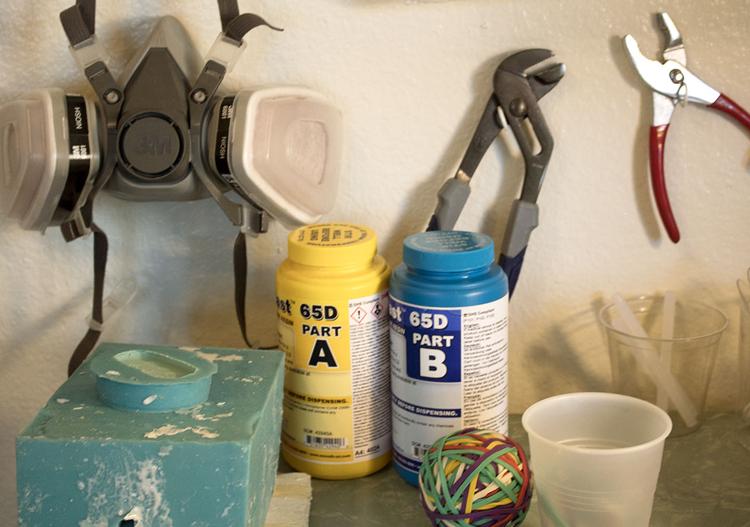 "With toy design, since you're making molds for them, it's almost like you're doing a puzzle," Naugle says. "You're doing it piece by piece. You can't just take a single toy that's complicated and make a single mold."
Once the planning has been done, Naugle sculpts each piece of the toy. Sculpting the arms, legs and head separately and making molds for each piece. 
"It is an art form because you're constructing something like you're an architect," Naugle says. 
Naugle starts by sculpting the design with Sculpey, a type of clay you bake in your home oven.
Once she has the sculptures done she creates molds out of them. From there she pours resin into the molds and ends up with a toy.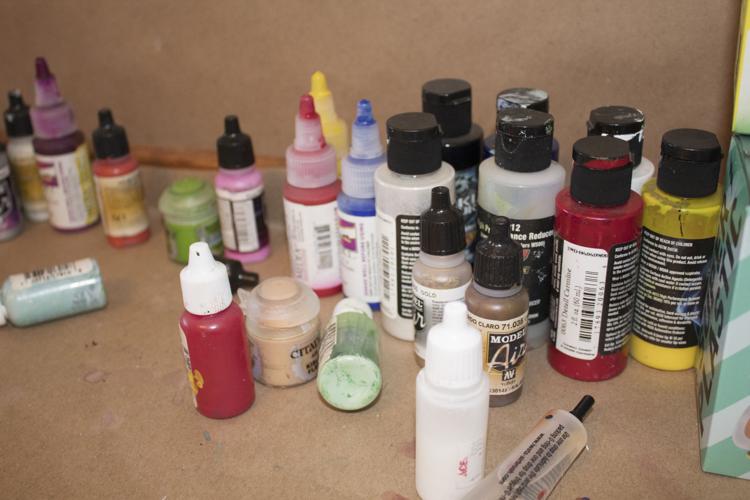 There's also sanding, painting and package design to worry about.  
She loves the whole process, even the package design.
"It's really cool," Naugle says. "It's therapeutic. And it's like even taking all the steps like with building the boxes and packaging. I love that. It's fun. Part of the fun thing with toys is getting the box and opening it and seeing it in there and playing with it, so I'm recreating that all the time. It's awesome."
Upcoming show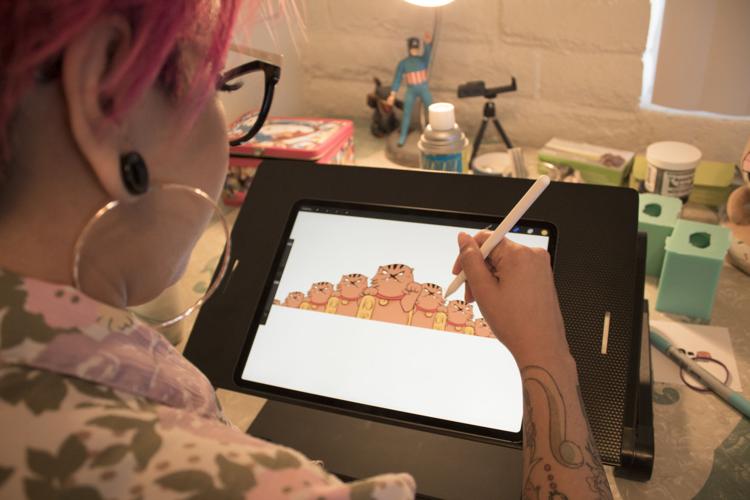 Naugle's Fortune Cats will be on display at And Gallery, 2407 N. Castro, Suite 120, starting May 4. The reception is at 6 p.m.
She will be introducing miniature versions of the Fortune Cats and "blind boxes." That means you don't know which one you're gonna get. 
"That's always something I liked when I was younger," Naugle says. "I loved blind boxes, not knowing what you're gonna get. I liked getting them with friends and trading with each other."
---