The base of Tumamoc Hill will soon be transformed as a house comes down, lending space for a haven of agave, desert plants and a garden kitchen.
"We have such a consistent high volume of visitors on the hill," says Ben Wilder, director of the University of Arizona's Desert Laboratory on Tumamoc Hill. "We're trying to create a hub and an additional node of where we can reach out and communicate and tell these stories and show these solutions of how you can adapt to a hotter, drier future in a food systems way."
Wilder expects to have classes and interpretive signage and information for visitors to "take 30 seconds to add on to their walk or stay a little longer and hang out there."
One shade house will be home to agave and the other will have desert plants picked based on a major study the lab recently completed on agriculture in a hotter, drier world. While the shade houses won't be created for the public to walk through, demonstrations will take place just outside the shade houses.
The backyard garden kitchen — which, at least in current plans, won't actually have a functioning kitchen on site — will be a space to show visitors what they can do in their own yards. Rainwater harvesting will be part of that.
"It's a demonstration on what you can do in that space, showing people where they can get the plants and create a really thriving space," Wilder says.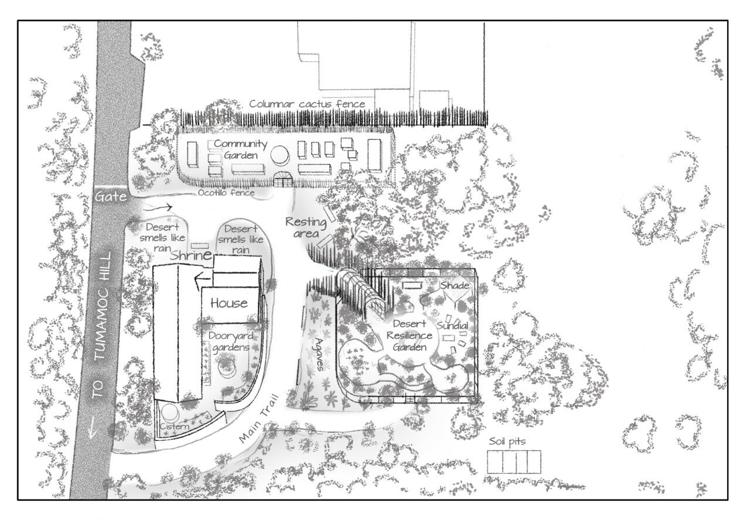 There will also be an "enchanted scent garden" that surrounds the Luminous Mother Shrine, which has been sitting east of the hill for decades. The shrine won't be moved or altered.
"Tumamoc is such a community gathering place already and there are so many layers that are part of people's visits here," Wilder says. "One of the major goals that we have for the lab is to continue to enhance people's visit here and to maintain it."
"It's so wonderful as it is — we don't want to impend on people's experience," he says. "But we want to reveal additional layers of how amazing this place is — the 4,000 years of cultural history, the studies of science. We can take what is a bit of an eyesore right now and wasted space, honestly, and turn it in a beautiful node of a garden and also tell some really important stories and narratives. And not just tell them, but show them."
"Part of our mission here is making our science relevant and accessible — and making a space that is beautiful."
Wilder estimates that the shade houses and garden kitchen will be complete later this year.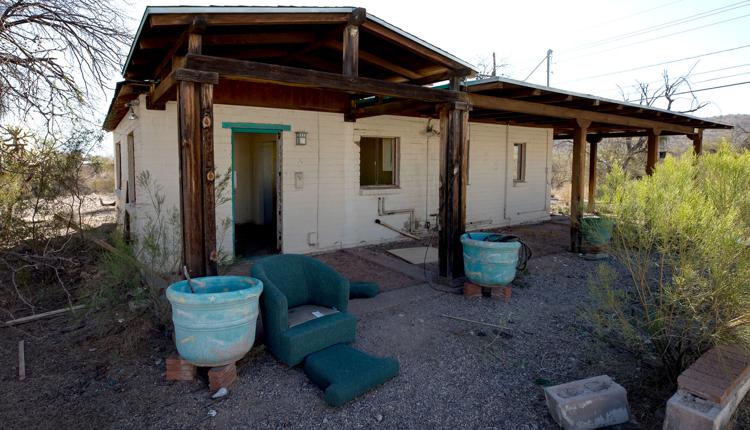 The demolition
Demolition of a home east of the hill — not the home where the Luminous Mother Shrine sits — will begin next week.
"At the base of the hill, as you're walking up, to your left — or to the east — there's the Luminous Mother Shrine. There's another house in an area that has been looking pretty sorry for the last 15-20 years," Wilder says.
The house that's coming down is estimated to have been around since the 1970s, Wilder says. It was owned by Deborah Fahnestock, who Wilder called a "wonderful neighbor for the Desert Lab and the hill" and someone with a "ray of energy" and "generous spirit."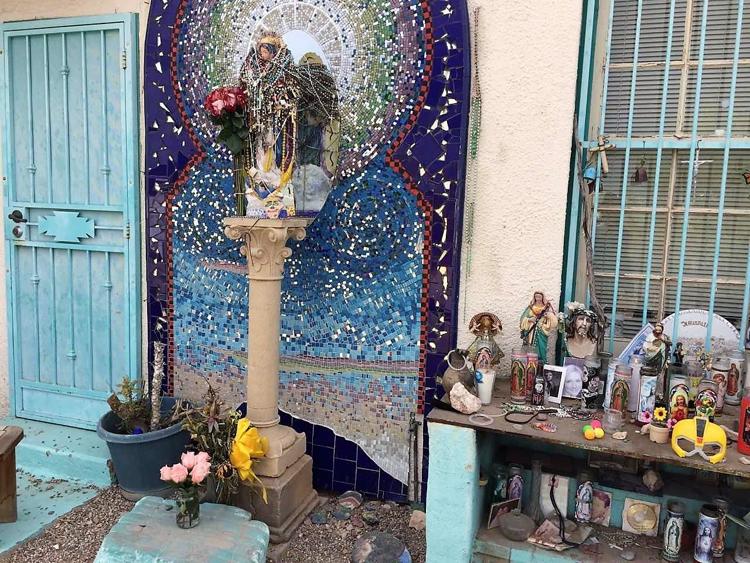 Fahnestock, who commissioned the Luminous Mother Shrine, died in 1999 and gave the property to the University of Arizona. The home was used by the university as lodging for visiting researchers, Wilder says.
But as years went on, the house fell into disrepair, with little to be done to salvage it.
"It was really sad to me when I learned the house was in such bad shape," Wilder says. "But what we're replacing that with, and creating for the community, is exactly in the spirit of how Deborah used that space."
"It's such a beloved space and I think change is always difficult," Wilder says. "We're trying to strike a middle ground with this project. I feel very strongly that this is needed and we need to do something with that space. We want to start generating conversation."
The home where the shrine currently sits is staying put, but the lab plans to reinforce and stabilize it.

Long-term
The shade houses and backyard garden kitchen are part of just one phase in enhancing Tumamoc Hill.
"We are really excited to start the process of creating a community gathering space really focusing on gardens of the future," Wilder says.
The next phase could include a larger food resilience garden near the Luminous Mother Shrine.
"We have a lot of ideas but we still want to know what people want to see there — what would be most useful," Wilder says.
The lab is also looking at creating a pop-up event space sometime later this year.
And further into the project, there are plans that include an outdoor amphitheater and a rotating gallery exhibit.
"The long-term bigger picture is to have the base of the hill the center of all the outreach efforts for the Desert Lab," Wilder says.
Wilder emphasized that much of the plans for the future gardens aren't set in stone, as the lab hopes to incorporate thoughts from community members.
"We don't want to create something and think we have all the answers without asking them," Wilder says.
Contact information for Tumamoc Hill can be found here.