If you've lived in Tucson for any length of time, you know there are murals everywhere.
And although they're always stunning to stare at and take selfies in front of, maybe you've wondered what the designs actually mean and what the muralist was thinking when they created it.
Take one of Ignacio Garcia's newest murals, for example. It's a wall full of TV bees — vintage yellow televisions with wings. 
Garcia, who has many murals painted across Tucson including the huge downtown piece with Bill Walton riding a jackalope, talked with us about five of his most recent murals and the stories behind them.
OK, those TV bees...
Decades ago, the building was home to Flash TV & Appliances. At the time, color TVs were all the rage. Garcia says the owner of the appliance shop ran commercials, where he literally threw TVs off the roof to promote the new color ones.
"I said, 'OK, that's interesting,'" Garcia says.
Garcia came back with a few samples that didn't seem like the right fit. Then he said: "Let's do flying TVs." 
Needless to say, the new building owners loved the idea — actually, Garcia says they "went bonkers over it."
"I said, 'Let me see if I can expand it.' When you see it in person, it's massive — way bigger than I expected," Garcia says. "While I was painting it, people were taking pictures, people were clapping, you could see people coming out of the community walking their dogs and kids. So that right there gave me the motivation to continue with the whole wall."
A video game that literally mentions "Twoson"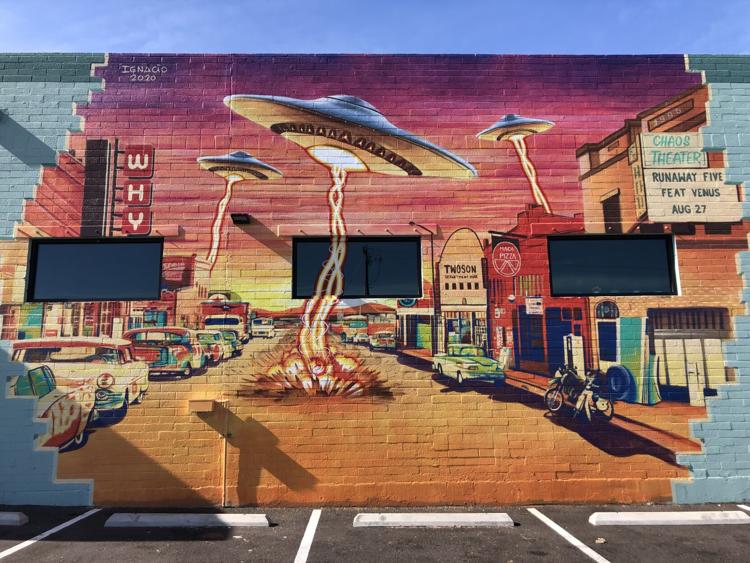 Video game merchandising company Fangamer sits at East Speedway and North Rosemont Boulevard. The company was started more than a decade ago by a group of friends who ran a fan site for the Nintendo game EarthBound, according to the Fangamer website. 
Fun fact: There's a town in EarthBound called "Twoson."
Garcia's colorful space-themed mural is a tribute to the video game. It's also partially inspired by the small Arizona town of Lowell — Garcia visited, took some photos, then photoshopped in some UFOs.
And Tucsonans have gone crazy for this mural, something Garcia didn't expect in the slightest. 
"It's such a 'Pulp Fiction' kind of mural, it has this kind of movie, sci-fi vibe to it," Garcia says. "But that's the thing about Tucson. People here in Tucson love weird things."
"The wildlife and the plants and everything — it's just not what you're used to throughout the whole state. It's the Sonoran Desert that makes everything unique on its own here," he says.
Also, you might remember that the wall that's currently home to Garcia's UFO mural once sported giant letters spelling out "WHY."
Garcia made sure to incorporate that in the mural, too.
An Arizona Wildcats tribute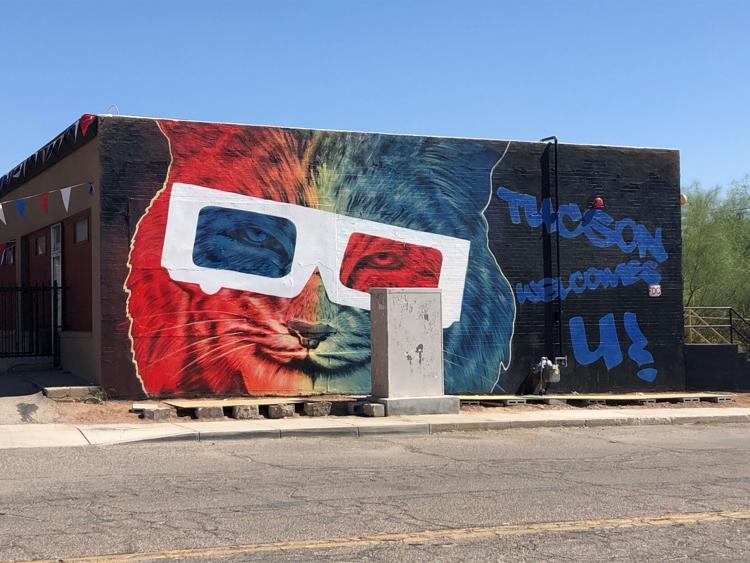 "One thing I've noticed is that I don't see much of the Wildcats (on murals," Garcia says. "And Tucson is crazy about the Wildcats."
He wanted to change that.
"When people are driving into Tucson and get off on Broadway, you have this new paved road happening on the Sunshine Mile," he says, adding that the Sunshine Mile has a rich history in Tucson, so he wanted to incorporate those throwback vibes.
"I had this idea for a long time with the Wildcat, but modernizing it," he says. "I put 3D glasses on it to give it more of a retro vibe."
"I wanted to have this as a statement for people coming into Tucson through Broadway and a great way to represent (the University of Arizona) and Tucson," he says.
And interestingly enough, Garcia actually painted a different mural on that same wall, which is at the Apple Tree Learning Center, 12 years ago. 
And no, he doesn't feel sad when his work is painted over.
"In fact, I like to put something else to update it," he says.
Benjamin Franklin ... not Thomas Jefferson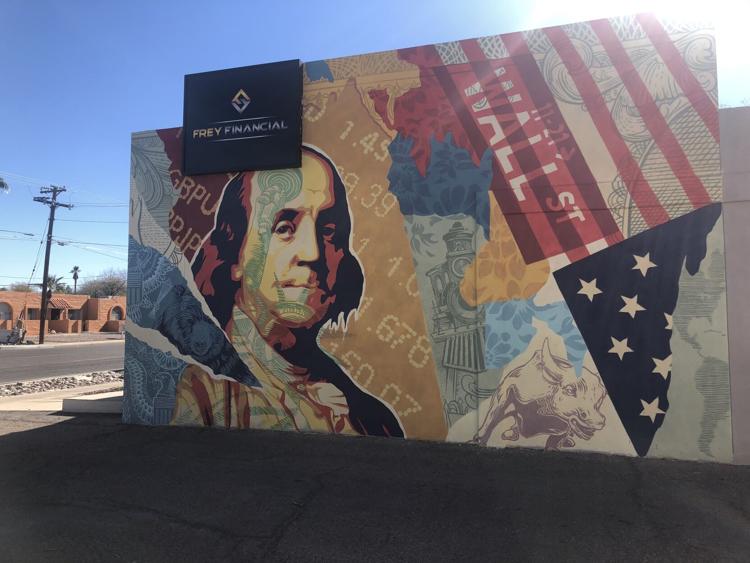 Gracing the wall of the Frey Financial building is a mural of Benjamin Franklin. 
Some people mistake the man in the mural as Thomas Jefferson. But rest assured, it's Benjamin Franklin.
Garcia decided on Franklin partially because the building houses a financial company. But also because Franklin is well-known.
"Ben Franklin is an iconic image, so anything that's very known becomes more familiar to anyone," Garcia says.
"They wanted to be ahead of the game," Garcia says.
"We were going back and forth and getting some samples and it just kinda took off on its own," Garcia says. "We planted the seed with Benjamin Franklin."
And from a distance, the wall might look small. But in reality, Garcia had to rent a lift to complete it. 
"When I was actually starting to paint, I was like, 'Whoa, this is a lot higher than I thought,'" he says.
An election-centered mural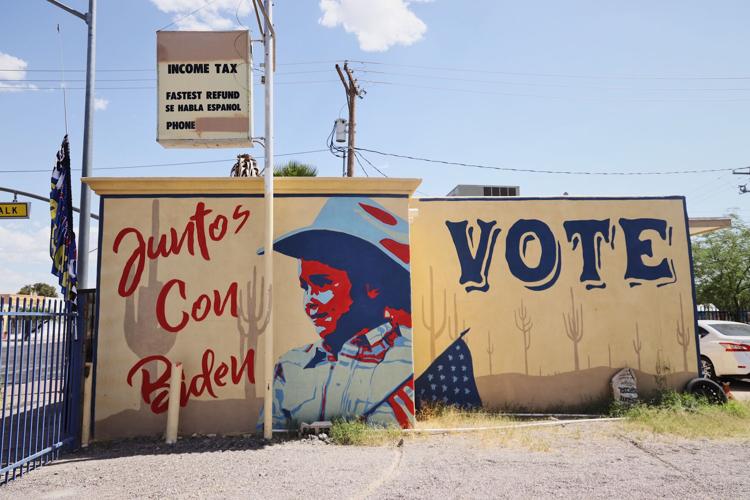 "The Joe Biden campaign hit me up to do this mural," Garcia says. "I was floored. No joke."
Garcia says the campaign asked him to create a mural that would connect with Latino voters. And Garcia says he felt honored to do so.
He set off going door-to-door to find a wall for the mural and most businesses he touched base with wanted to participate — but were scared due to the political climate. 
"I was just blown away with the fear that was there," he says.
Garcia was eventually able to find a few business owners who lent their wall for the art.
And overall, Garcia says: "It's unbelievable the power of a mural and art — to really resonate with people."
"I really had to negotiate with the wall owners and respect them, and I have to give them credit as well for being part of the community," he says.