As coronavirus cases continue to rise on the Navajo Nation, one of the areas hardest hit by the virus in the U.S., Tucsonans have been working to collect supplies for elders and families with children. 
Two groups have used social media to organize donations from within their own networks to help get important supplies including sanitizer and disinfectant to rural areas where people are largely being helped by volunteers and not from federal funding.
Navajo Sage
The Begay sisters, 7-year-old Ari and 12-year-old Leia have spent this week on the Navajo reservation with their grandmother Arlene. They've made traditional Navajo dishes like blue corn mush, spent time exploring nature and helping Arlene with chores like unloading wood.
But they're also living out their values as Girl Scouts and doing their part to help others and make the world a better place by assembling and delivering care packages from donations collected through Navajo Sage — the project they started in late May to help get much needed supplies to Dilkon, Tselani and Fish Point, Arizona.
The girls, with help from their mom and troop leader Tia Begay, have been budgeting and shopping for supplies and asking every Trader Joe's location in town for reusable bags to build their care packages.
So far they have raised more than $2,300 in monetary donations and received several physical items from family and friends allowing them surpass their care package goal.
"Our goal when we first started was 80 and now we made 130," Ari says.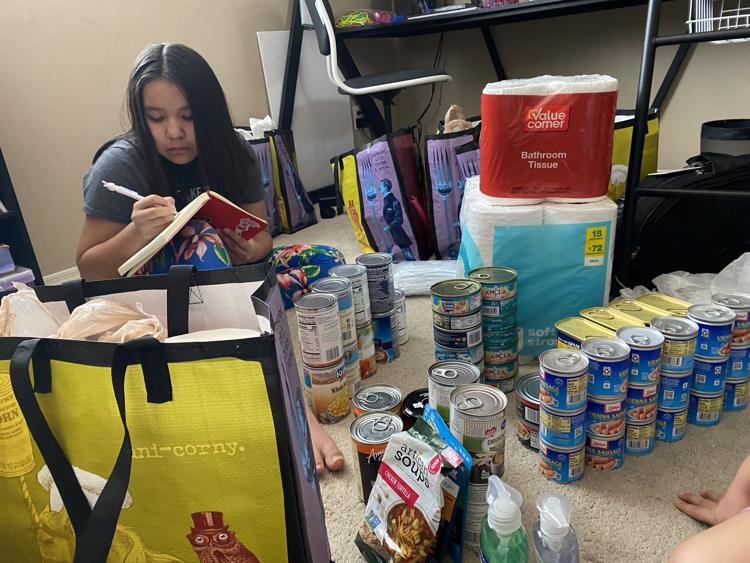 It costs about $20 to build each bag which the girls fill with bottled water, disinfectant, aspirin, hand sanitizer, toilet paper, soap, Spam and other shelf-stable food and face masks.
Leia is responsible for keeping track of all the donations and expenses, logging all the receipts into a spreadsheet each day and keeping track of gas money given to four relatives who have volunteered to make long drives to drop off packages to rural areas.
Tia Begay says important items like sanitizer and disinfectant are hard to come by on the reservation and are being sold for inflated prices. People who live in the more rural parts of the reservation are not able to access supplies and much of the help they're receiving is coming from volunteer-organized efforts like the Sage project.
"The big distribution, like the Navajo COVID big fund they have, they go to bigger cities or chapter houses and then people have to come and get it from them," she says. "So if you don't have a vehicle to go and get the items that are being distributed you're probably not going to get those items."
The girls' aunt who is helping drop off packages has been delivering first to homes with larger families, elders and those without access to electricity, Begay says.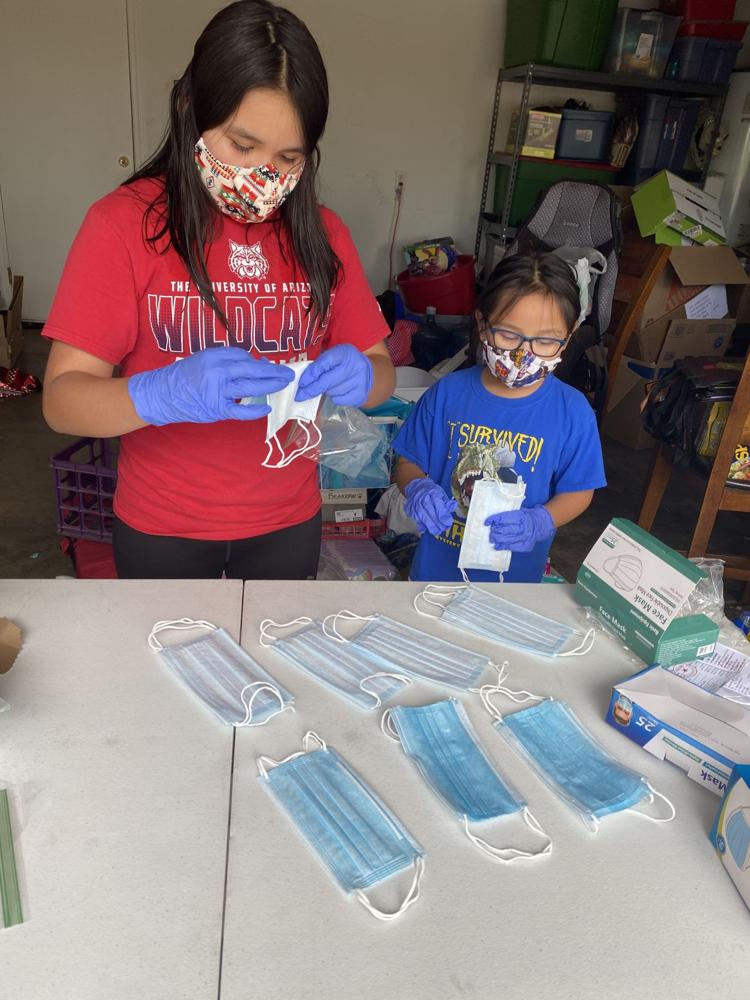 The girls plan to continue their fundraising and supply collection through June 27, but they have been learning about ways to make a more lasting impact in the community and will start working on projects related to water access with a Navajo civil engineer.
"I want people to understand that kids can make a difference and kids can bring hope," Begay says. "That's what I see mostly from the community is that it's not that they're helping the Navajo people, it's that they are kids who are bringing hope to the world."
Material support drive for Dezbah's Elders and Kids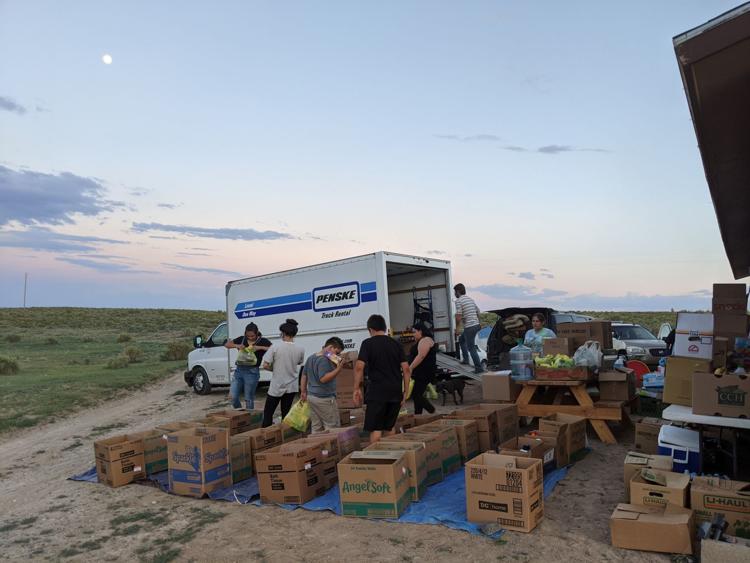 Partners Rusty Ramirez and Angel Kunzman Soto are organizing their second supply drive this weekend to deliver much needed disinfectant, hand sanitizer, shelf-stable foods, hygiene products, pet and animal supplies and activities for kids.
The pair learned of the needs on the Navajo reservation when their friend was tagged in a Facebook post about the Dezbah's Elders and Kids COVID-19 Relief fundraising and supply collection effort spearhead by two Diné women in White Cone, Arizona.
"It was like a desperate cry for help where people were like we need donations, the tribe got money but it's not being distributed and there's a lot of elders that don't have food boxes and stuff," Ramirez said.
Ramirez and Kunzman Soto both work in the restaurant industry and were both laid off from their jobs. They frequently travel to take food and supplies to Ramirez' mother in Mammoth, Arizona so they figured since they had the time they could collect a trunk full of supplies from friends and add a few hours to their usual trip up north to drop off donations in White Cone.
They put the word out on their social media on May 25 offering to pick up any donations or make other arrangements to collect them. Ramirez and Kunzman Soto expected to collect a few boxes of supplies, but within just a couple of days they had amassed so many donations they had to rent a large box truck to haul it all up to White Cone in a caravan with other friends whose two SUVS, car and a toy trailer were also full of items.
The amount of supplies they received was shocking but not entirely surprising.
"We are both very heavily involved in the queer community which is so amazing in Tucson. A lot of the people we know have been organizing themselves where… every time someone has a party they'll raise money for someone or something that's happening and it's easy to forget about that because it's very normal," Kunzman Soto says. "I feel like in all of the circles we're involved in and all of our friends. The queer community is very generous in Tucson especially the QTPOC, the queer and trans people of color in Tucson."
The caravan drove up on June 3 to meet with Judy and Vanessa, the two women organizing in White Cone. While there they spent a few days unloading the trucks and organizing all of the supplies and then sorting them into boxes for distribution. More than 80 care packages were made from the donated items.
Judy and Vanessa have been collecting monetary donations and doing large shopping trips to pick up supplies for elders in the community since March, Ramirez says. They keep a list with GPS coordinates for homes that are very rural and make deliveries to those residents who otherwise can't access supplies, Ramirez says.
From their experience on the reservation, Ramirez says that while the Navajo Nation is supposed to be receiving aid packages and financial assistance that support isn't trickling down to help individuals.
"White Cone isn't seeing any money or assistance," they said.
Ramirez and Kunzman Soto will be delivering a second round of supplies to White Cone next week.
Donations will be accepted from Friday, June 19 until Monday, June 22 from 9 a.m. to 9 p.m. at the Steinfeld Warehouse, 101 W. Sixth Street.
Find a list of the supplies they are collecting here.