This story was created by #ThisIsTucson and underwritten by Girl Scouts of Southern Arizona, helping girls plant seeds to success. Thank you for supporting the local organizations that support us!
---
We've got a bit of spring fever here at This Is Tucson. 
I mean, how could you not when the wildflowers are putting on such a glorious show?
It makes us want to get outside and grow something. 
If you share the sentiment, we've got some inspiration for you — ladies who grow beautiful plants in pots, gardens and fields. 
Cassandra Avila is a 25-year-old houseplant lover who has transformed her home into a jungle and chronicled the change on her Instagram account @sprinkledwithplants.
Elizabeth Smith, 50, is the executive director of the Community Gardens of Tucson and believes in cultivating both the land and people's interest in it. 
Maria Quijada, 33, owns Wild Child Gardens with her husband Miguel and sells produce flowers, cards and more at farmers markets. You can find them Thursday evenings at the Mercado San Agustin, Saturday mornings at Steam Pump Ranch and Sunday mornings at Rillito Park. 
And Vanessa Aldecoa, 45, leads a Girl Scouts troop of 13 fifth graders for the Girl Scouts of Southern Arizona and has helped the girls enhance gardens at both an elementary school and food bank. 
Editor's note: These responses have been edited for clarity and length. 
Meet Cassandra Avila.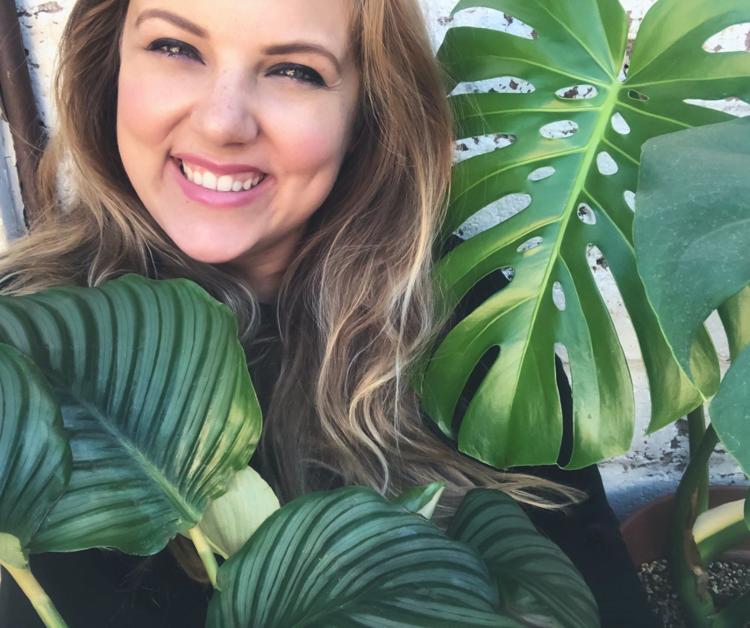 What do you love about plants? I think plants are breathtaking! I love how plants can change the energy and look of any space. When walking into a room of plants, I immediately feel calm and at peace. There is something so therapeutic about being around plants and taking care of them.
When did you begin growing things? Who influenced you? Being born and raised here in Arizona, I have always had a passion for cacti, specifically the saguaro cactus. I started my plant journey a couple of years ago when I decided to start propagating cacti and succulents. This came very easy to me and before I knew it, I was selling succulents and making a profit off of them. I enjoyed this, but I wanted a new challenge; I always wanted to try growing houseplants. I was fascinated by the different varieties, colors and shapes of houseplants. And thus, began my houseplant journey. My first houseplant was a chlorophytum comosum, more commonly known as the spider plant. I was very interested in learning about plants that specifically worked as indoor air purifiers, meaning that they naturally absorbed harmful chemicals out of the air we breathe. I was impressed to learn that the chlorophytum comosum is known to remove formaldehyde and xylene from the air! And after that, I was hooked. I was on a mission to fill my house with air-purifying plants to clean the air in our home.
One by one, or should I say two by two, I was buying houseplants, and my houseplant collection turned into what it is now. With well over 50 house plants, I am proud to say our house is starting to look like an indoor jungle, and I absolutely love it! Our house is filled with mostly air-purifying plants, some common household plants and multiple rare plants. My two favorite plants are my monstera deliciosa and my calathea orbifolia, as shown in the picture with me!
As for inspiration, I get so many ideas and encouragement from social media, specifically Instagram. ... One of the best parts of my plant journey has been finding a supportive community that I didn't know was there! I have learned so much from them, and every one I meet who has plants is so nurturing, caring and encouraging. There is a hashtag that we use and I think it is very fitting for this article: #plantfriendsarethebestfriends.
What about growing things speaks to you? Growing plants is very rewarding! Whether you grow houseplants, raise a garden with produce or care for succulents, it can be very rewarding seeing the new growth and life you have supported and cared for. I get overly excited whenever my plants put out a new leaf. Every. Single. Time. It never gets old! It's like your plant's way of telling you thank you and that they are happy to be with you. And it's an amazing feeling.
What advice would you give to someone interested in trying out their own green thumb? Go to a local nursery and buy a plant! I always recommend going to a local nursery over a big department or home goods store, because the growers at the nurseries are very passionate, friendly and well-educated on their plants. They will be able to show you a great selection of houseplants that are low-maintenance and great for beginners. As for me, I would recommend starting out with a spider plant because they are very easy to care for, great for beginners, air purifying, and it is the first houseplant I ever bought. My spider plant has taught me so much and has gotten me to where I am today!
Meet Elizabeth Smith.
What do you love about plants? Plants clean our air, beautify our surroundings and one seed has the potential to feed the entire world.
When did you begin growing things? Who influenced you? When I was 4 years old. My grandmother, who was raised on a farm, influenced me to go play in the dirt and grow things.
What about growing things speaks to you? I love the fact that we can take a tiny little seed and care for it, and it in turn creates food, beauty, etc.
What do you grow? I grow gardeners! I am the executive director of the Community Gardens of Tucson and we support and cultivate people's interest in growing gardens. Personally, I also grow winter greens, brassicas, herbs, flowers, root vegetables, tomatoes, peppers, eggplant, fruit and nut trees, berries, vines, etc.
Tell us a gardening success story. I have learned to grow all kinds of plants, trees, fruits and vegetables by mimicking Mother Nature. I grow organically and sustainably for the most success in our Sonoran Desert climate. Mulching the top of the soil around plants and trees with lots of wood chips, leaves, etc. keeps the roots moist and cool and creates the perfect environment for earthworms which in turn, automatically fertilize the plants and trees.
What advice would you give to someone interested in trying out their own green thumb? Look for the nearest gardening community to you and ask lots of questions. Gardeners usually love to share their knowledge and joy!
Meet Maria Quijada.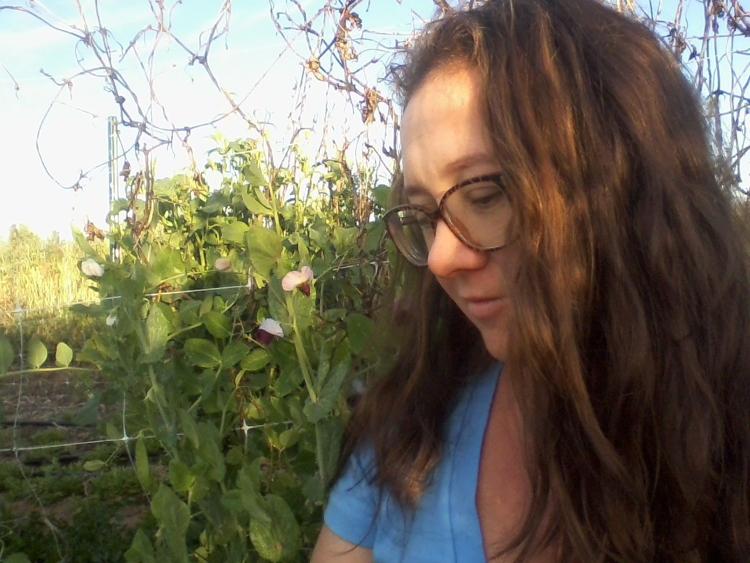 What do you love about plants? Their resilience, strength and adaptability. Plus, they are delicious!
When did you begin growing things? Who influenced you? As a kid, my parents paid me a penny per snail and caterpillar I picked off their plants. Later, they gave me my own garden area to experiment with. My grandparents' farm was also a big inspiration.
What do you grow? Heirloom vegetables, flowers and herbs. I love unusual heirloom varieties like pink celery, purple carrots and striped tomatoes, but the main factor is taste. I always need 10 kinds of basil because they all have different flavors. We also have a small flock of laying hens and an orchard of 50-plus kinds of fruit.
Tell us a farming success story. I get to play in the dirt full time with the love of my life. It is a dream come true after years of saving, planning and yearning to be outside.
What advice would you give to someone interested in trying out their own green thumb? Plant seeds that are native or adapted to similar conditions. A local seed library is a great place to start. Plant lots of variety, particularly stuff you like to eat.
Meet Vanessa Aldecoa (and Girl Scout Troop 122).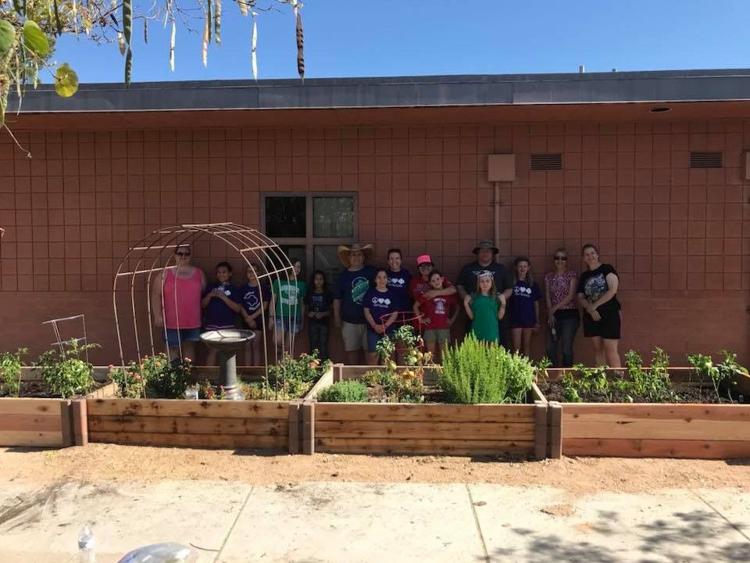 What do you love about plants? I love that plants bring us joy and nutrition. It's calming and therapeutic to plant. It's insightful when things grow. 
Tell us about your troop's gardening projects. We did two different projects. The first project was at Harelson Elementary School. A Boy Scout had made a small garden for one of his Boy Scouts projects. The school had asked us if we could double the size. We followed up with the Boy Scout on what exact materials he used so that it would match exactly. We were able to double the garden size. We received approximately $200 in donations from Civano Nursery, Home Depot and Ace Hardware. We used $400 of our cookie funds to buy all the materials. The garden and parent pick-up area look amazing and our girls worked wonderfully as a team! The second gardening project we did was at the Community Food Bank's Las Milpitas de Cottonwood farm. We spent the morning planting in their garden.
Why did you want to introduce your troop to gardening? The school asked if we were open to the challenge of extending the garden. It was a great learning experience. We had to coordinate with the previous Boy Scout for continuity. We had to set up a plan on what needed to be done and how we would accomplish it. We coordinated with the school to get a letter ... so that if the community donated, it would be a tax write-off. Girls practiced and then went out into the community and asked for donations. We then had to raise the funds to complete the project and work as a team to get it completed.
How have you seen it impact your girls? When we visited Las Milpitas, the girls were confident in understanding what needed to be done to plant a garden of that extent.
What advice would you give to someone interested in trying out their own green thumb? Get out there and try it! It's super fun, and you have nothing to lose. There are so may resources available to help guide you in learning about what to grow at what time of year. There is also a wonderful seed garden available at our local libraries and the Tucson Backyard Gardening site is also a wonderful resource!
Got a girl with a green thumb? Here's how she can get started. 
Maria and Vanessa are right. Check out Pima County Public Library's Seed Library. If you have a library card, you can check out multiple seed packets at a time. Here's a list of the branch libraries where you can check out seeds. Because the seed libraries are maintained by gardeners collecting seeds from their own gardens, the seeds you're checking out should be better adapted to our desert climate. Visit library.pima.gov/seed-library for more information. 
Felicia's Farm, 3761 E. River Road, will give your girl real farming experience. Spend a day volunteering there (kids require adult supervision) and practice composting, weeding, planting or digging. You can drop in Monday through Friday to volunteer — and you're helping a good cause. The farm regularly donates its produce and eggs. Visit feliciasfarm.org. 
---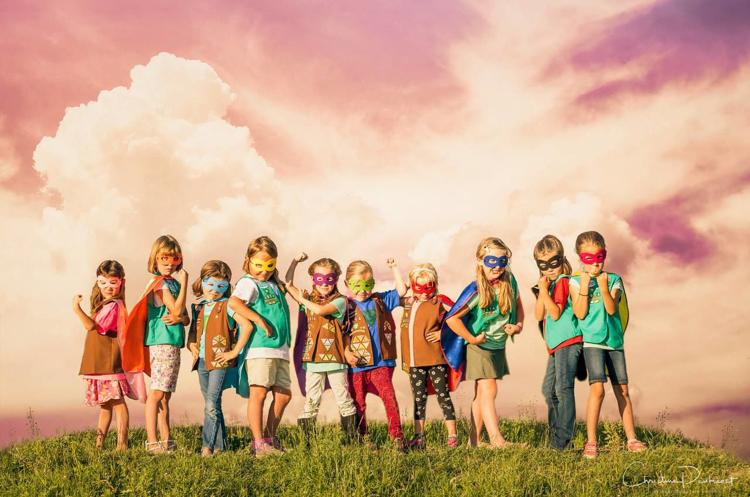 For a Girl Scout, the next opportunity to stand up, speak up, and take the lead is never far away. Will you find a sustainable solution to a problem in your community? Will you explore the great outdoors? Build a robot? Learn to code? Conduct an experiment?
With Girl Scouts, she'll do more than she ever thought she could, dream bigger dreams than she ever imagined, and—oh, yeah—change the world. Find a troop today.