---
The desert around Tucson makes us breathe in deep when life gets busy. 
It's a literal breath of fresh air. 
Whether your thing is biking, hiking or climbing, these women agree that spending an hour or two outside can do wonders. 
After all, it does for them. 
Ashleigh Thompson is a 28-year-old who has discovered the centering power of a good run, hike or climb. 
Veronique Pardee is the 49-year-old Tucson ambassador for Bell Joy Ride, an initiative that's all about empowering women mountain bikers. 
And Sydney Loudermilk is a 16-year-old hiker who has hiked the Grand Canyon twice, Mount Kilimanjaro once and written and published a book to encourage kids to get outside and hike. 
Editor's note: These answers have been edited for length and clarity. 
Meet Ashleigh Thompson.
Tell us about your experience in the great outdoors. 
I do a lot of outdoorsy things, but my primary activities are running, climbing and hiking. I run in the city or on trails close to Tucson, climb at the gym and outside and hike wherever I can. I also go on trips to do these things in order to experience beautiful places I've never been to or to return to areas that inspire me.
Where did your interest in this begin and how did you pursue it? 
I have loved running since I was a young girl during recess and PE in elementary school. In high school, I joined my cross country team, and in college, I ran distance for track and cross country. I've never stopped running but did take a break from competing for a few years after I graduated college. I have started doing more races in the last year, including 5Ks, a 10K, a relay and a half marathon.
Rock climbing is something I picked up when I moved to Tucson about three years ago. It was a sport that I always thought looked fun with incredible views — climbing photographs inspired me to pick up the sport. I met a climber after I moved to Tucson and became a member of Rocks and Ropes. Nowadays, I train at the gym a few days a week and try to climb outside as much as possible.
Hiking is something I enjoy because I can take my camera along and do nature photography. I've been hiking since I can remember. My grandma took me out on a few hikes when I was young, and in high school, I picked it up on my own.
The primary reason I love running is because it makes me happy. When I don't run or spend time outdoors, I find that I am more anxious and depressed. If I'm feeling blue and realize I haven't exercised for a few days, the first remedy I use is running. I love climbing because it is meditative for me. When I'm climbing, I am focused on the present moment and not stressing about other things occurring in my life. Also, a lot of my friends climb, so it's a great way to have fun with my friends either at the gym, climbing on Mt. Lemmon or doing climbing trips with them. Photography is great because it is a creative outlet for me. I love nature and trying to convey what I love about it through the images I take and edit.
How has it affected your life? 
If I didn't do these activities outdoors, I don't think I would be as happy as I am. These activities keep me mentally, emotionally, spiritually and physically healthy. I find that if I don't make time to do these things, I am not as well as when I am doing them. I take great joy out of these activities and my life feels more fulfilling when I'm doing them.
What would you say to encourage other girls and women who want to pursue this passion? 
Do it! Try to meet someone you trust and like that is willing to introduce you to these activities, ask questions and get after it. If you have trouble finding gear for climbing, try shopping for used gear that is cheaper or ask to borrow gear so you can save for your own. Tucson is a great place for all of these activities. I wish more young women would utilize this place to do these amazing activities.
Meet Veronique Pardee.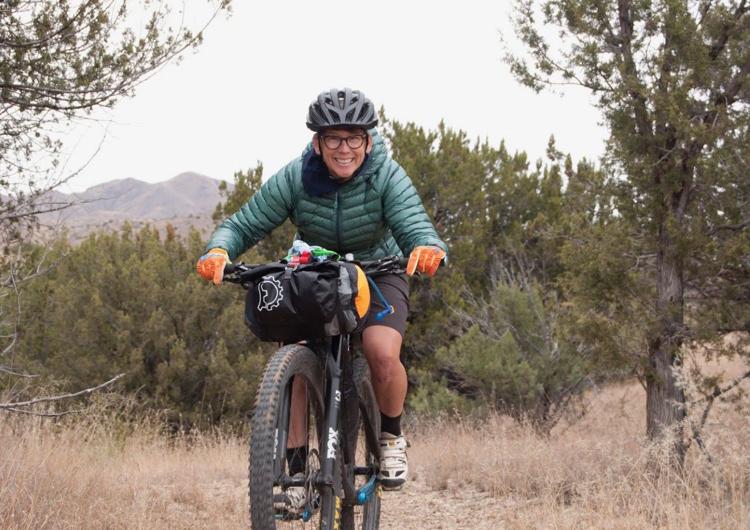 Tell us about your experience in the great outdoors. 
I am the Tucson ambassador for Bell Joy Ride — an initiative of Bell bike helmets to empower women and girls through mountain biking. We host networking events and group rides that support new and seasoned riders alike. By creating a community for women and girls to connect and ride, we strive to remove barriers that have traditionally kept women and girls from full participation in the sport.
I also coach for El Grupo Youth Cycling in their El Grupito (ages 7-12) and El Grupetto (ages 12-18) (Bikepacking!) divisions. As a coach, I help the young riders in El Grupito develop skills and athleticism to progress in the sport in whatever direction they choose. In El Grupetto, I have the opportunity to introduce youth to a unique way of using their fitness and abilities by going on great adventures and experiencing the back country by bicycle.
Where did your interest in this begin and how did you pursue it? 
My interest in Bell Joy Ride began with El Grupo! I was at a bicycle skills camp with the youth in Durango and I thought I could use some skills training to be better at coaching. My best pal and I returned to Durango for one of the fantastic skills camps put on by the Trek Dirt Series. We did a women's camp and it was the first time I'd participated in an all-women cycling event. The support and energy from the other women was so inspiring that we came home and started our own group rides for women centered around skills development. As we were looking to grow the program the Bell ambassadorship opportunity presented and with Bell's help and support, we have been able to create a vibrant community of women riders here in our hometown.
Cycling has brought so much to my life — fitness, friends, great adventures, the sense of freedom and accomplishment you get when getting to a destination, whether it be the grocery store or a mountain top, on your own power. It has given me relief in times of grief and wellness throughout my life. Cycling reminds us of our connection to our bodies and to the natural world. It is a great privilege and honor to share my love of the sport with young people in my community and to help and encourage women and girls inside the sport.
How has it affected your life? 
My involvement with the cycling community gives me belonging and connection, fitness and a way to contribute to making Tucson a wonderful place to live and thrive.
What would you say to encourage other girls and women who want to pursue this passion? 
Meet Sydney Loudermilk.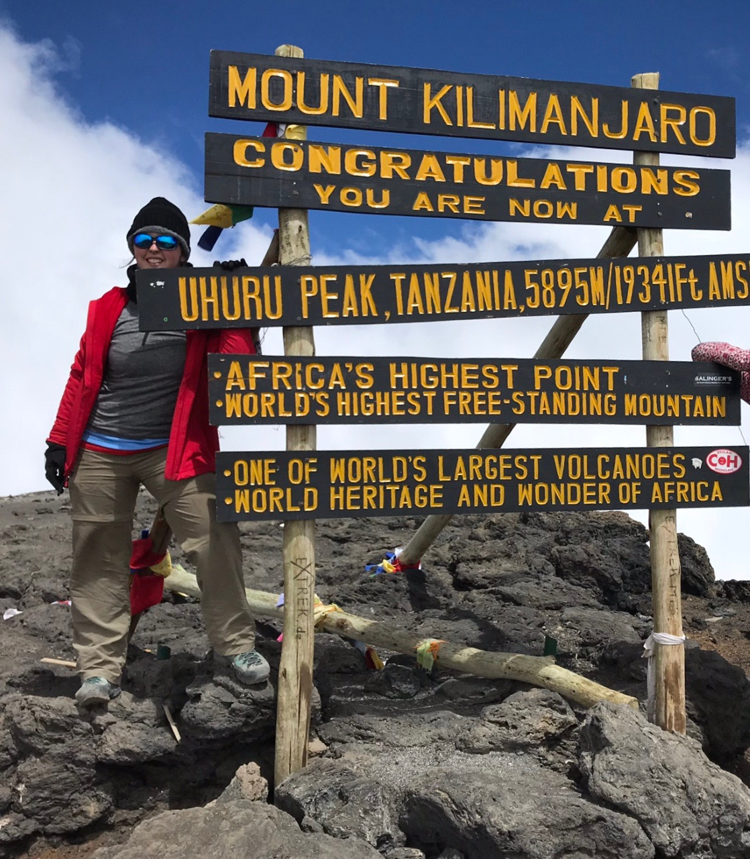 Tell us about your experience in the great outdoors. 
All things outdoors are fun and adventurous, however my specialty lies with hiking. I have been hiking around the Tucson area for close to 10 years now. I've been down and up the Grand Canyon twice and recently pushed myself to reach new heights to the roof of Africa, the top of Mount Kilimanjaro, at 19,346 feet of elevation.
Where did your interest in this begin and how did you pursue it? 
At the beginning of every school year, my Girl Scouts troop leader would sit all of the girls down in a circle and ask them what goals they had. My family had recently taken a trip to visit the Grand Canyon, and I found myself mesmerized by it, so refusing to let an opportunity slip by, I raised my hand and announced that I wanted to hike it rim to rim. The other girls loved the idea just as much as I did and became one of my biggest inspirations! Instead of telling a room full of 7-year-olds that couldn't even tie their own shoes that they were crazy, (the troop leader) told us that if we worked hard, we could achieve anything we set our minds to. It sounds cheesy, but it worked.
Two years later, after training every weekend, eight of the girls sitting in that room that night, along with twelve additional adults and siblings, took their very first steps on a 26.7-mile journey that would change our lives. If it wasn't for Girl Scouts, I likely would have never been given the opportunity to explore my passions with such a supportive team helping me along the way. With each new step I took, my goals only got higher.
I love hiking because of the relaxation time that it gives me to sit back, breathe and remember that everything is going to be okay. Sometimes life can get stressful, but I've often found that when it's crunch time and I can't see past the next few days of hair-pulling, nail-biting anxiety over deadlines, it's the best time to go for a hike. It also gives me a hobby outside of school which is vital in a time focused so much on the maintenance of your GPA.
How has it affected your life? 
My time on the trails has affected my life in every single way. It even inspired me to write and publish a book about hiking for my Girl Scout Silver Award Project. I wanted to motivate kids to get outside and spend more time on the trails. For two years I worked on this book and finally published it in January of 2018. It's called Ordinary People Extraordinary Achievements. It's nonprofit to me, and with the purchase of each book, two are donated to local elementary and middle schools in Pima County to encourage healthy lifestyles and spending more time with friends on the trail and being healthy. It has also motivated me to set my goals and dreams higher than I ever thought possible.
What would you say to encourage other girls and women who want to pursue this passion? 
The hardest step in pursuing something like hiking is the first step. Let go of your fear and go for it! Take a risk and walk yourself to top of the hill. Don't make any judgement calls on your way up the mountain, but rather do that once you get to the top and can reflect on your journey up. Whatever you do, never give up on your dreams no matter how impossible they may sound to others. You can achieve them.
Got an aspiring outdoorswoman? Here's how your girl can get started.
El Grupito (which Veronique mentioned) has spring and fall tryouts for young cyclists ages 7-12. Kids learn bicycling basics like when to brake, how to signal and how to ride on different surfaces. The spring tryout has already passed, but registration for El Grupo's summer bike camp begins March 1. Kids will build skills and have fun at the week-long camp. Camp registration is $175 for a week. Visit elgrupocycling.org for more information.  
Saguaro National Park East has a Summer Junior Ranger Camp where kids experience the desert, explore safe hiking strategies and learn about native animals. Kids ages 6-11 can participate in a three-day camp this summer to become official Junior Rangers. Sign up before May and applicants will be selected by a lottery drawing. The camp is $30 per child. Go here for more information. 
Kids Climb at Rocks and Ropes, 330 S. Toole Ave., gives tiny climbers a chance to scale the newly renovated downtown facility. Bring your kiddos under age 12 to Kids Climb for $15 and watch while volunteers belay for them, or register your child for a summer camp that will teach them the right techniques. The cost for a week-long camp starts at $185 and increases for older kids. Visit rocksandropes.com/downtown/kids for more information.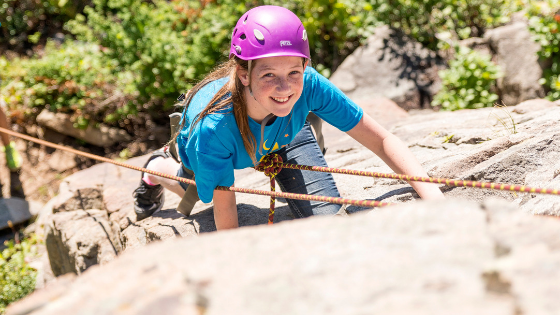 Adventure awaits at Girl Scout camp! Register now for summer 2019
Girl Scout camp is transformative. Our trained and caring staff members support girls ages 5–17 in discovering who they are and what they can become. Our engaging programs and activities are designed with girls' interests in mind, so they can grow their passions and take healthy risks in a safe, supportive environment.
And you don't have to be a Girl Scout to go! Whether she's a first time camper or an experienced adventurer, an outdoor enthusiast or a creative artist, your girl will find her perfect program at one of our camps.