---
You know it's almost summer when you start dreaming of ocean waves and salty air.
We may live in the desert, but there are some ways to trick your ocean loving heart into thinking, even for a second, that the sea isn't so far away. 
You read that right. The Tucson Sailing Club is always looking for members (read our story here). If you've never sailed before, no worries. The club has a Learn to Sail program that teaches you the basics. Once you complete four hours of classroom instruction, you'll actually get to sail at Christopher Columbus Park at the spring picnic. Lessons take place from 6:30 to 8:30 p.m. April 2 and 4. Go here to register. There are also opportunities to race and cruise along the coast of Mexico. 
Ok, you may not get that salty air and crashing waves, but you can lie on a beach and play in the water at Patagonia Lake. A short 90-minute drive will get you there. You can even fish or rent a small boat to cruise around in. 
Entry into the park is $15-$20 for the day or you can camp for $27-$30 per night. Go here for more info. 
The new exhibit at Flandrau Science Center & Planetarium — "Sharks: Magnificent and Misunderstood" — is full of interactive displays that will transform your understanding of these captivating creatures and the future of Earth's oceans. Take the controls of a deep-sea research submarine in the Deep Sea Explorer simulator; play family-friendly learning games like Hungry Shark and Shark Racer; plus don't miss a family photo next to towering tail fins and massive shark jaws.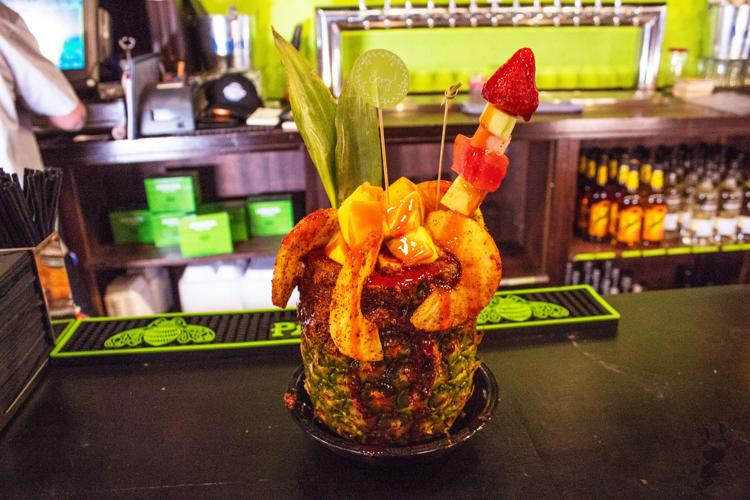 You'll feel like you're on a Mexican vacation sipping a fruity drink at Americano Mexicano at 800 E. University Blvd. The piña loca is great to share with friends and is served in a pineapple and dressed with chile-laced fruits. Read Andi Berlin's story about it here.
Yes! Scuba diving in Tucson. 
The Dive Shop, 1702 E. Prince Road, offers a free Discover Scuba class on the last Wednesday of every month, where you'll learn some basic concepts and scuba skills in the shop's heated pool.
If you decide you love it, you can sign up for open water diving certification classes there, too. 
Soak in some California beach vibes while listening to The Surf Broads, Tucson's all women surf rock band, at MOCA.
From 6 to 8 p.m. March 21, you can rock out while you wander the museum's most recent exhibit 'Dazzled'. There will also be a cash bar, food trucks and art making activities. It's free to go, but you'll need money for food and drinks. 
---