This holiday season you can travel all around the world without ever leaving Tucson.
A new to Tucson lantern festival is lighting up the sky near Kino Stadium. 
It's called Lights of the World and features almost 50 displays with more than 6 million lights. 
In other words, it's bright!
We (Samantha Munsey and Angela Pittenger, heeey) went to the new festival on opening night to check it out. Here's what it was like.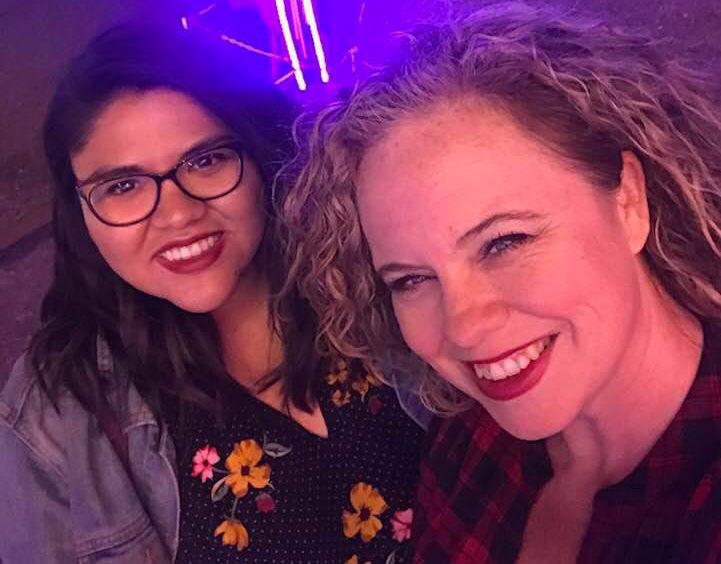 Before you go
You can score a $5 discount on Wednesdays by bringing a 20 oz. or larger Coke product to donate. Active military and first responders get in free with their I.D. every Tuesday.
Live entertainment is also included in the admission price. Acrobats perform through Dec. 2 and the sea lion show goes from Dec. 4 to Jan. 2.
Kino Sports Complex's clear bag policy also prohibits guests from bringing in backpacks and purses in to the festival. Find out what you can and cannot bring here. 
Also, make sure you have some money to park. It costs $6.
Watch the Lights of the World Facebook page for deals and other fun posts.
First impressions
Angela: I wrote about Lights of the World before it opened (read that here), so it was really cool to see it transformed from piles of fabric and other parts to these glorious displays.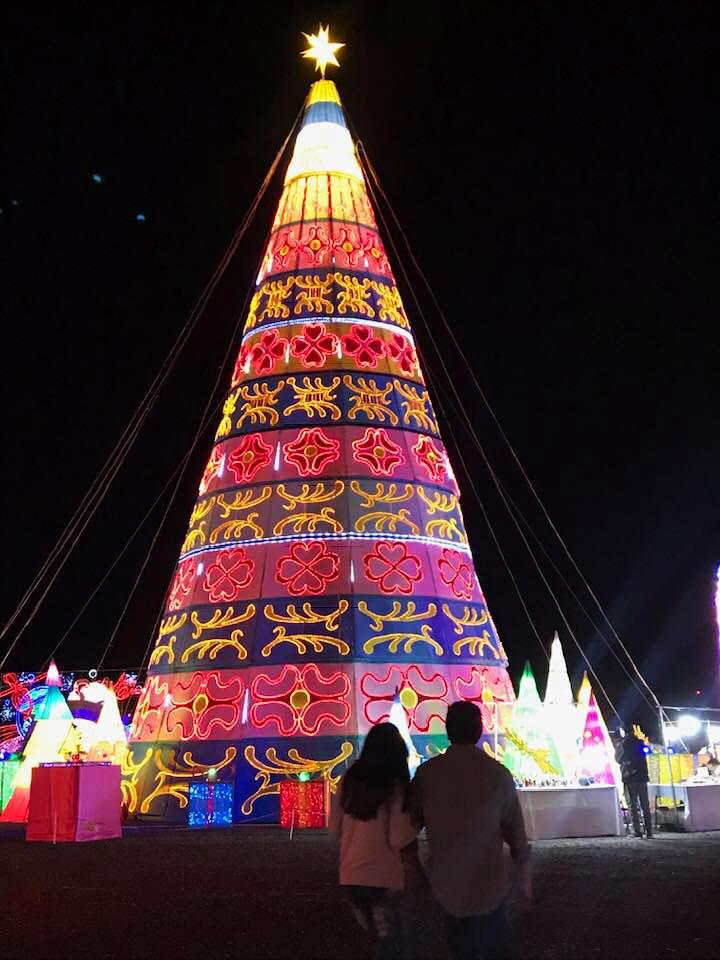 We had a little adventure parking and ended up in a lot that's a bit further away which meant walking through some little desert patches. It was hilarious. 
Once we got to the gate, OMG. The entrance is magnificent. It's like a Disney castle in the middle of a desert parking lot. When we first got there and saw all of the colorful lights I was pretty excited. It's really beautiful.
There weren't many people there that night, which kind of surprised me, but it was a week night. My first thought was 'wow it's dead.' Quickly followed by 'sweet, it's dead. No lines!'
It's in the east lot of Kino Stadium (off Country Club), so it's not huge. It feels like a small carnival, but with amazing light displays.
Sam: For some reason, when I volunteered to check out Lights of the World with Angela I thought we were going to a mall to visit a window display.
Maybe I was thinking about those little holiday villages my grandma used to buy at the Hallmark store, *giant shrug* who knows! And when my editor was like "are you excited to go to Lights of the World?" and I said "yeah, it should be cool" *giant shrug for a second time* I was quickly informed I was in fact going to the giant light festival you can spot all the way from I-10. Joy overtook me. I couldn't wait to walk around this lit-up wonderland.
Driving to to the festival, I got a little turned around but was able to find my way back when Angela spotted a bright green Eiffel Tower in the distance.
I pulled onto the road closest to the event near Country Club and it was closed, so I ended up parking in the some far-off place. Looking back, I think I was suppose to take Ajo and follow the parking signs.
When we finally walked up to the gate I couldn't believe what I was seeing. The entrance is this illuminated castle that's very giant and intricate. We heard creepy carnival music in the distance that seemed to beckon us to walk through the doors. I started to laugh. How is this in Tucson? I feel like I'm in the holiday version of the "It's a Small World" ride in Disneyland.
Lights and rides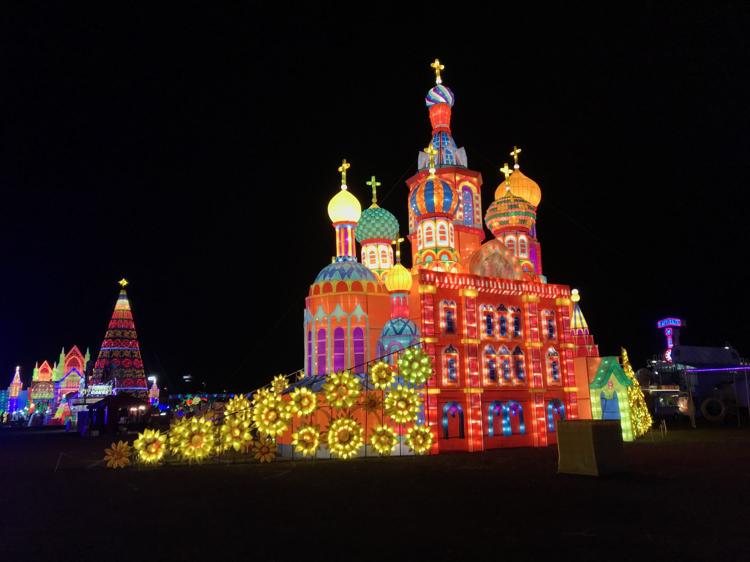 Angela: You guys. This place is lit up by 6 million lights. It's glorious and festive and all the things a lantern festival should be. 
There are different themed displays like Under the Sea — which included a mermaid, the Eiffel Tower with giant lit-up flowers in front of it and cool tunnel walkway things. This is the ultimate place for Instagram photos. 
Also, THE RIDES ARE FREE! We went through the fun house and on the Ferris wheel. Super fun times.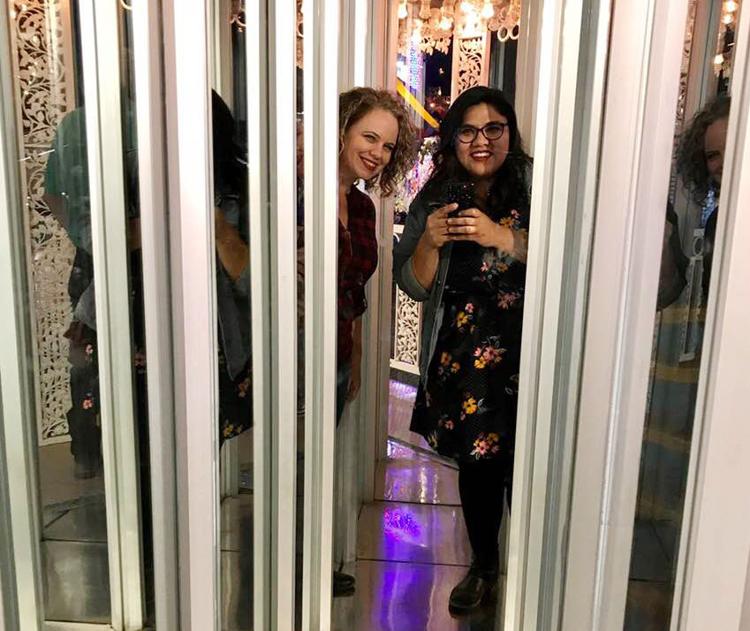 I did a little carnival math in my head to compare prices using the county fair as an example. To go to the fair, you pay $9 to get in, $5 to park and then about $5 per ride. At Lights of the World, carnival rides are included in admission. You can go on all 15 rides, see a show and cool displays for $24.99, which makes it a steal compared to the fair. So, keep that in mind before you scoff at that price. 
Sam: With beautiful lights and lantern displays that depicted everything from Egypt to St. Basil's Cathedral, you're going to want to make sure your phone is charged so you can snap fun photos with friends. 
If you really want to experience the place, be sure to do all the interactive stuff. Angela and I had a fun time creating a saguaro on a giant Lite-Brite, and we couldn't stop laughing when we both attempted to climb onto a giant circle swing.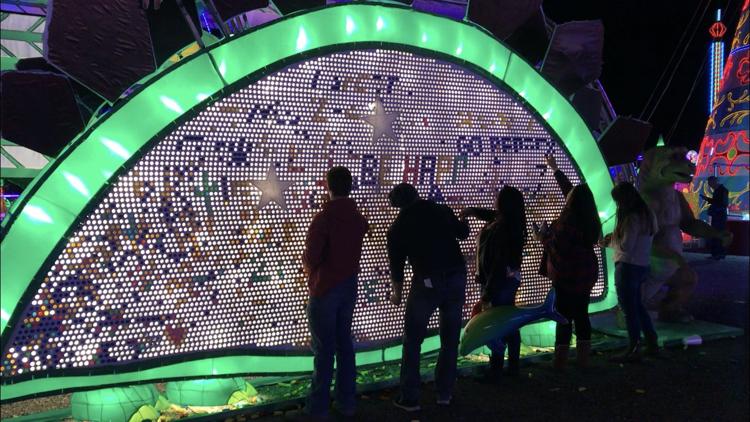 We also took some time to check out the vendors who were selling fun crafts and folk art from China.
Despite this festival being new-to-Tucson, some of the lanterns and carnival rides are a bit worn around the edges. I don't really think it takes away from the magic of the place, but I did see a lady grumble to her boyfriend about the event not being what she anticipated. If you just want to look at pretty lights, maybe save the $25 and go to Winterhaven.
Angela's top pick
Oh my gosh. It's hard to choose. For light displays, I love and really appreciate the Chinese dragon. It's made of more than 2,000 china plates and was put together by one guy who sat there for three weeks tying it all together.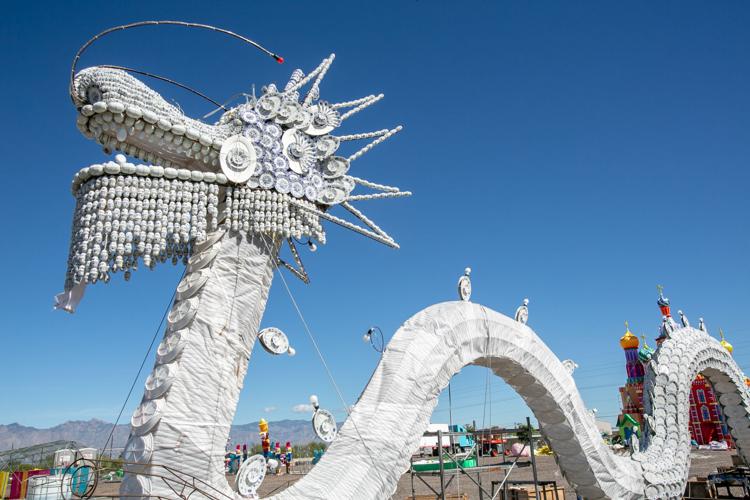 Every display was put together by hand by a crew visiting from China.
I'm a sucker for anything ocean related, so I also really loved the under the sea display. There were jelly fish, a whale and a mermaid. It was so beautiful.
As far as things to do, I liked the sugar blowing table, where I got to make a bunny by blowing into molten sugar for $5. It made for a tasty snack as we wandered around. 
Sam's top pick
Hands down the the animatronic dinosaur display you can can find near the performance space and giant slide.
That's right, they have dinos ya'll!
I screamed when I saw one of the two T-Rex's wailing and moving in the distance and immediately ran over to hang out with my prehistoric friends.
There's even a photo opp where you can pose inside an egg like a little triceratops baby. I didn't do it, and it was one of my biggest regrets of the evening. Don't be like me!
Would you go again
Angela: Yes! I'd love to take my family and go on a night where there are more people. I think the energy of a bunch of families wandering around would add to the festivities. 
Sam: Yeah! I agree with Angela that it would be nice to go on a weekend or something. The more the merrier! I also think I would be nice to offer discounted tickets to people who don't plan on going on any of the carnival rides. But all in all it was a good time!
If you go
What: Lights of the World
When: Tuesday through Sunday, 5-10 p.m. through Jan. 2