COVID-19 has stolen a lot from us in the last year, but local party shops are turning the tables.
A number of Tucson stores are selling piñatas shaped like the coronavirus — which means you can grab a baseball bat and whack the heck out of the spiky ball we've all come to hate.
She hopes to get the piñatas in by the beginning of May.
"I've had people ask for them and I kept thinking I would get them," Miller says. "And now that people are starting to go out and have a little bit more events than they were — because a lot of people are vaccinated — I thought, well, they're going to start having parties to celebrate that they can be together.
"And this is something that they want to hit — COVID," she says.
Miller started Party Carousel 44 years ago with her husband Bob Miller, who recently died after contracting COVID-19 while in the hospital for knee surgery.
"We had college degrees, but not in the party business. We just both enjoy decorating for the holidays and were very into colors and everything, so we went looking at what we should do," Miller says. "We came up with this idea that Tucson needed a party store 44 years ago — and it did."
Miller says she and her husband started from the ground up, and although many things have changed since then — including the rise of the internet and the emergence of big box stores — Miller says she's "still doing the same things I've always done."
"I'm a small store, family-owned, and very hands on with every customer that comes in," she says.
Miller says business was very slow last year, but the pace is starting to pick up again.
"It is coming back," she says. "You can tell with all the traffic out there now that people are definitely out and about and coming to life."
"People do want to start getting together again and sometimes they just — maybe they don't have a birthday or an anniversary, they just decide, 'I'm just going to get the group together and we're going to have some fun and hit this COVID-19 ball,'" Miller says.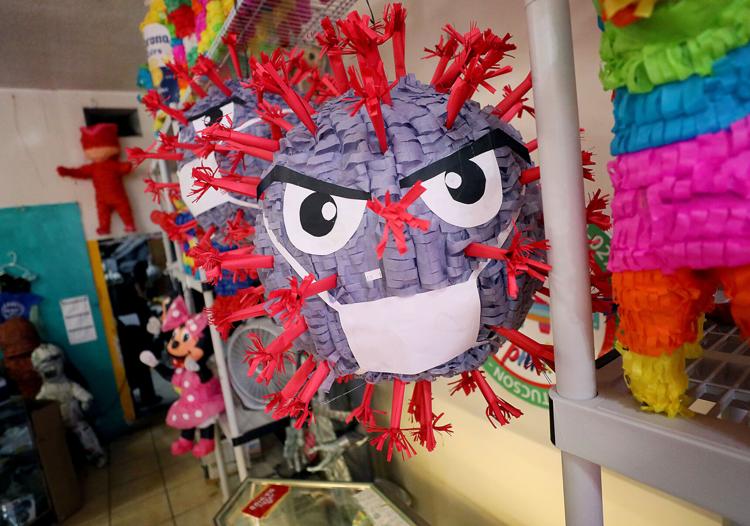 And over the last year, Tucson drivers may have seen the infamous spiky COVID-19 ball hanging in the parking lot of another local shop: Piñata Factory, 640 N. Stone Ave.
At Piñata Factory, Tito Torres makes 10 to 15 — or sometimes even 20 — COVID-19 piñatas every week.
Torres started making the piñatas because customers started asking for them about a year ago near the beginning of the pandemic.
"I imagine that people don't like the virus and they want to beat it," Torres says.
When the pandemic first hit, Piñata Factory closed for about a month and business picked up slowly after that.
By fall, "people started coming in," Torres says, adding that business has been steady since.
Torres says Piñata Factory has served Tucson for about 16 years.
Five local places you can get a COVID-19 piñata:
Make sure to call ahead of time, as some shops need time to order or make the piñatas in advance.