---
For more than 20 years I was a master actress. Most people had absolutely no idea that while publicly I was enjoying great success and was perceived as a fierce female leader, I was also asking permission to even speak at home and was in fear for my safety.
No one, unless they have lived it, knows about the strength that it takes to hide your abuse not only while you are in it, but the exhausting energy it takes to hide the abuse after it ends. There are many reasons for silence, but these are mine.
If I tell, I will be unsafe.
We leave our abusers because they harmed the one person for which they were supposed to care the most. We leave our abusers because they are broken people, who for numerous reasons, are so full of pain and anger that they destroy love and respect. You do not test these men. You do not share your story, because these men are unstable, unpredictable, and easily threatened. You stay quiet just as you did to weather the storms while in your relationship, and you keep up the game. I want to share my story with my sisters in order to motivate, inspire, and influence them to leave and fight for their freedom, but I can't. I have to measure my own potential consequences with the change I would hope to create. This is one of the most infuriating aspects of this silence, as I know I can help, but I don't have a safe channel.
If I tell, he will lose his status.
Abusers are very charming. They know just what to say, how to present themselves, and how to hide their cruelty. My ex is an established man in this community with a fancy car, big paycheck and promotions galore. By making their stories public, victims not only jeopardize their safety, but potentially jeopardize their earning potential, which due to child support, and if lucky, spousal support is usually all they have left in the economic devastation that most of us face when leaving high-status men. If it were up to me and I had no consequences, I would put out billboards with huge photos across the city, with the words "Do you know this man? He took his fist and slammed it into his wife's face"; "Still think this guy is great? He tells his wife she is pathetic and worthless." On dark days, I wonder if the companies for which they work would even care.
If I tell, my children will find out.
My children have no idea that their father was also my abuser. To them, Daddy is a good parent, their wrestling partner, coach, pal and luckily, I left early enough that they were not also his victims. Data show that children do better with both parents in their lives and I followed the rules of a healthy divorce and co-parenting relationship. We tell our children, "Mommy and Daddy made a decision to not be together any more … it is not your fault…we love you very much, and Mommy and Daddy will work together to take the very best care of you." This makes sense in a situation where there is no abuse and unfortunately there is no handbook for co-parenting with your abuser and no court-required parenting class that ever addresses it. One day my children might know the truth, but for now, my silence, protects their relationship with him.
If I tell, I will be misunderstood and revictimized.
While in the divorce process, working with mediators and marriage counselors, I was revictimized. When I shared about the abuse during a marriage therapy session (with my abuser in the room), she suggested that maybe it was my fault and that night his response was so frightening that I fled my home. When I disclosed the abuse in private to our mediator, her response was, "I don't see the man you're talking about. He's so nice and charming." I was made to feel ashamed and hide the reason why we were all sitting in these rooms in the first place.
Victims are forced to heal in silence.
Healing after domestic abuse is a journey. The freedom from the daily walking on eggshells is extraordinary and the power you feel as you make small decisions, like even what to buy at the grocery store, are exhilarating. You must accept that your abuser will walk freely and will be protected by the silence that ensures your safety and continued freedom. It is absolutely not fair and it is one of the reasons why abuse continues. We need a better way to protect women and ensure that men who verbally and emotionally abuse women are held accountable.
At times I feel like a coward and selfish for not sharing my story and fighting publicly. Some of you will blame me as I do my part in maintaining this disgusting status quo, and others of you will understand. Even though you don't know my name or face, I assure you that I work behind the scenes to empower and support individual women who whisper their story, and I work to explore platforms for women to share their stories and feel connected to others trapped in silence.
---
Help a friend, help the community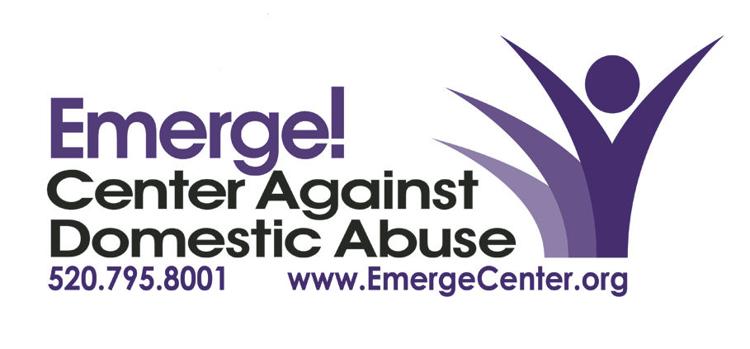 Emerge! Center Against Domestic Abuse believes that everyone in our community deserves to be safe.
Emerge! invites you to answer the call to end domestic abuse and be part of the solution to create safety for all.
Together, we can end domestic abuse in Pima County.