---
David Garcia remembers how hyped he felt after his first landscaping gig helping his grandfather organize his tools and accompanying him on a side job in Douglas. He earned five bucks for the day's work, and like any fourth grader might do — immediately splurged.
"Bought me a bunch of bubblegum balls and some nachos and shared it with my brothers and sisters," Garcia, now 35, says. "My grandpa kinda lit this flame, it was kinda like teach a person to fish and you feed them for life."
For much of his life, Garcia has indeed made his living from landscaping. But he calls the unpaid work he does under the name Barrio Restoration — cleaning and beautifying the curbs, sidewalks and roundabouts on Tucson's south side in his free time "landscaping with a purpose" and "doing good for the hood." 
"What I'm trying to do is not just provide my neighborhood with clean streets, it's more than that," he says. "When I go to a job interview, I'm gonna look fresh, get a fresh cut. And our streets need a fresh cut because that's what we're presenting and if we keep our streets clean, we show the community and the people that come to our neighborhoods that we care and respect our neighborhoods, too."
For the last two years, as often as he can during the week after putting in a full day's work at his day job and on weekends, Garcia dons his wide-brim hat, loads up his tools in the Barrio Restoration "work truck" — a pink lowrider style trike with a bike trailer — cranks up the cumbias and cruises to a neglected area in his neighborhood to pick up trash, pull weeds and dried grass and water plants.
If he has the supplies, he'll plant new plants or add some decorative gravel, bringing new life to spots in different south side neighborhoods. 
"It's like my own parade," he says. "I'd like people to think when they hear somebody bumpin' it's the dude on the bike cleaning up the streets."
In his day job, Garcia works as a supervisor for a non-profit where he works with adults with intellectual disabilities. Through his work he's seen how investment from local government, businesses and organizations helps provide resources for communities and neighborhoods to be well kept.
"I'm like, 'Why can't my neighborhood look like Midvale's neighborhood?' They got gravel there and everything's maintained. You go to the north side of town and everything is just new, you have artwork you have plants and the city or whatever taxes, whatever money they get pays for that. I think the south side is neglected of some of those resources," he says.
So as a mostly "one man, one shovel" operation, Garcia set out to do what he could. First cleaning up the curbs outside the houses on his street and then slowly moving to other streets in the Fairgrounds neighborhood, where he lives.
He's cleaned the sidewalk in front of Van Buskirk Elementary School, where his kids attend school, after noticing that so many kids avoid using it because the grass was so overgrown. In addition to neighborhood streets he's also worked on highly trafficked roads too like stretches of South Twelfth Avenue.
In recent months he's helped lead cleanups in other south side neighborhoods in partnership with community organizers and small businesses in South Tucson, Las Vistas and earlier this week along the Rodeo Wash Greenway as part of a day of service to commemorate Cesar Chavez day. 
While Garcia focuses on beautifying public areas, he still takes on residential side jobs not for personal benefit, but to pour back into Barrio Restoration for dump fees, materials and tools. 
"I let (them) know you're not just cleaning your yard, you're cleaning up the neighborhood," he says about any residential work he does. "So know that because you're allowing me to provide this service, you're also contributing to your neighbors, to the neighborhood and this area."
He also collects donations on peer-to-peer apps like PayPal and the Cash App and sometimes will have plants or other materials donated.
When he saw dozens of tires had been discarded near a wash by the railroad tracks, where people commonly dump trash, he hauled them out and repurposed them into giant planters shaped like flowers and painted with cactus and agave designs, some of which he uses to decorate places in the neighborhood, like a roundabout on Michigan Drive and Seventh Avenue and others he's selling to raise money for Barrio Restoration.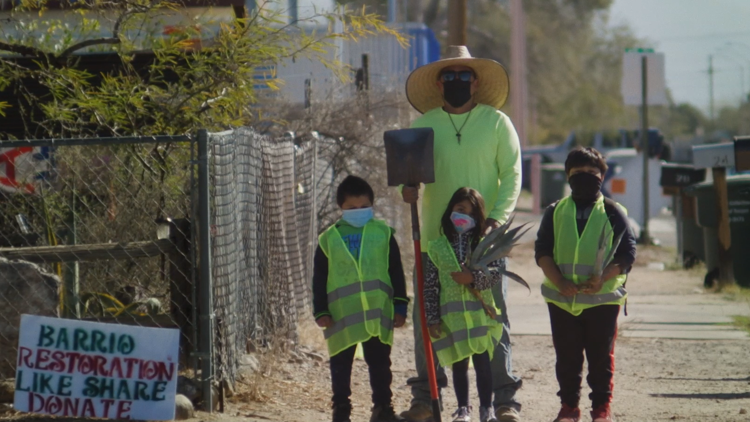 Garcia's four daughters, ages 6, 13 and 15-year-old twins and his wife often join him to help him when they can. The kids didn't enjoy it at first, but after helping a few times they've gotten the hang of things.
Amid the pandemic it helps them get outside and off their devices, Garcia says. There are a few kids from the neighborhood who also come out to help when they see Garcia outside working.
For his own kids, Garcia hopes it also helps them feel a sense of pride in their work and for their community.
"I'm showing them what matters and our neighborhood matters, our community matters and I want them to see that and not to forget that this is where we're from," he says. "I just want my kids to learn that when you give, karma gives back and just know that your dad did his best in trying to create something big to make sure you guys are good and for you guys to do the same when you have kids too,"
Over time he's seen the ripple effects of his efforts. Neighbors, who used to be critical of what they saw as him doing labor for free now keep their yards and curbs maintained, kids have clean streets to play in and sidewalks to get to school, and Garcia has met so many more of his neighbors by being out in the community so often.
Giselle Delcid, 21, has lived in the Fairgrounds neighborhood her entire life, and she's the fourth-generation from her family to live in the neighborhood. She loves the sense of community she feels among her neighbors and how everyone knows each other and helps each other out.
She met Garcia and learned about his work a few months ago after seeing a post about Barrio Restoration on Instagram. 
"I really was just so struck just knowing that here's this guy who should be resting right now, who should be taking the weekend to celebrate or relax or do whatever with his family and instead he's cleaning up the neighborhood, cleaning up the front of (people's) houses that are not well kept, out of the kindness of his heart," Delcid says. 
She says Garcia's work has helped promote a sense of community pride and it's inspired her and her mom to restart their neighborhood association to bring the community together to have their concerns heard and advocate for resources from the city. 
"I think he's really sparked a change and I think he's really setting an example, not just for his family but for so many other families," she says. "I think his kids serve as a really great example of future generations committing themselves to their neighborhoods and I think that's really exciting to see and I'm really hopeful that we can keep this going and that we can keep this kind of fire really lit."
Garcia has a bigger vision for Barrio Restoration, he hopes to one day secure funding from businesses or organizations to help support the work and to create job opportunities for people in need either working with the homeless community, or people in recovery or who have disabilities. 
"I just want to be able to provide some assistance, some guidance, some support by just picking up the shovel and trimming some grass and giving that person, some funds for the day," he says. "There's so many ideas, so many things we can do, however it's just me right now," he says.
---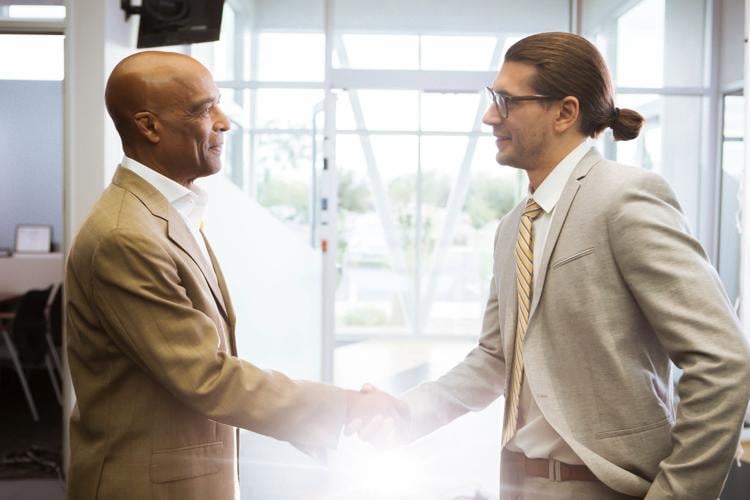 Supporting local businesses as they Thrive
Vantage West is committed to supporting and celebrating the locally-owned businesses that make our community strong. For the time being, the Thrive series is focused on the efforts locally-owned businesses have made to continue serving our community during the unprecedented challenges posed by COVID-19.