Pulling a canvas red wagon loaded with books of all sizes, Amalia Reyes walked up the ramp into the Richey Resource Center, down a quiet hall lined with classrooms, outside across a patio and into a room with shelves partially covered with books.
It was a quiet Wednesday morning but if Reyes' dream and hard work bears fruit, the quiet room will become a library filled with children, students and adults from Old Pascua.
"I would like to have some nice books on the shelves, new books on the shelves for the children to come here and read," Reyes said.
The library, which is not operating yet, is located in the former Richey Elementary School, on the edge of Old Pascua village, one of the first Yaqui settlements in Arizona, near present-day West Grant Road and Interstate 10. The school, at 2209 N. 15th Ave., was built in 1954 and replaced the former Pascua School that served the Yaqui families.
In addition to the creation of the Richey library, the Pima County Public Library has partnered with Old Pascua and on Wednesday will begin a series of monthly family functions at Richey. Earlier this year the Pima Library began sending its bookmobile to Old Pascua.
"We're building relationships which has allowed programs to happen," said Amy Rusk, library services manager for the Pima County Public Library.
This Wednesday, the arrival of the Bookmobile will coincide with a premiere screening of "Molly of Denali," a PBS Kids show featuring a Native American lead character. The show follows 10-year-old Molly and her adventures in Alaska. As part of the Library Night Out event, families can also experience native crafts, food and fashion.
Richey became a focal point for the Pascua community but in 2010 the Tucson Unified School District closed the school, as well as several other schools as a cost-saving measure in the wake of the recession and in the midst of declining school enrollments. The Pascua Yaqui tribe objected and tried to persuade TUSD to keep Richey open. Two years later the tribe negotiated a lease with TUSD to convert Richey into a community resource center for health, wellness, adult education and recreational activities.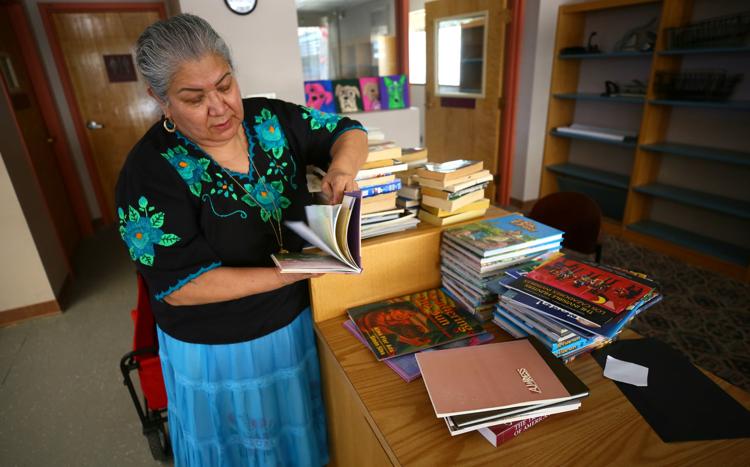 "It was heartbreaking when it closed," Reyes said. "It's always been a community school since it opened. It's always been here for the community. It supported our cultural beliefs, our ceremonies. A lot of the teachers got involved in the community. It was special."
Since the tribe leased the building, the Richey center has increasingly been used by Pascua residents. There are wellness classes and the Tucson Indian Center has programs including the Spirit Native Youth Camp that ended last Friday. GED classes will be held. Staff is being organized to begin testing and teaching, Reyes said.
"It took a while for it to start spinning but it's happening," said Reyes, who works at the 10-year-old Dr. Fernando Escalante Tribal Library at New Pascua, where the Yaqui Nation has its tribal offices, southwest of Tucson.
But the Richey Resource Center lacked something critical and it took a youngster to remind Reyes and other Yaqui elders of the missing component.
"'Well you built the library over there at New Pascua. Why can't you build one here.' When it comes from a child it has more power," Reyes said.
She took the youth's powerful words and her vision for a library to the San Ignacio Council at Old Pascua and to the Pascua tribal council for their approvals. Reyes said under Chairman Robert Valencia's administration approval was given to open the library.
Tribal maintenance workers repaired windows and cleaned up the room. Reyes began collecting books. The books she rolled into the library were donated by a Tucson woman who asked to remain anonymous.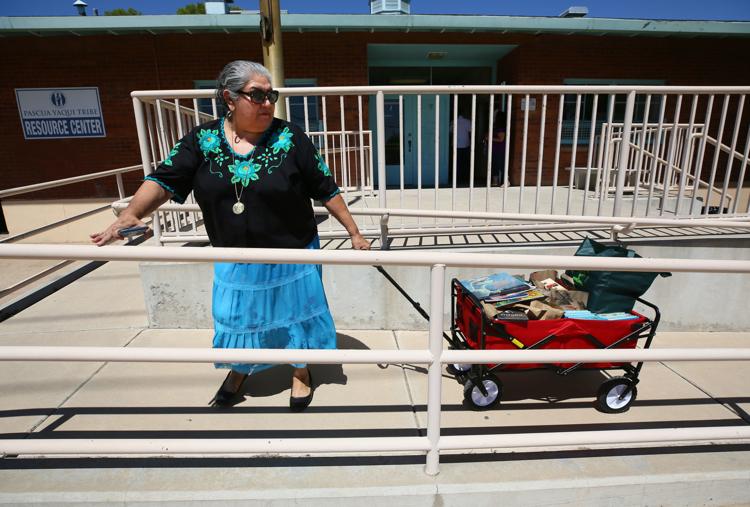 Rusk said the public library is open to providing more technical and cataloging assistance, and to fill in the gaps where possible. The public library does not want to encroach on how Pascua Yaqui develops its library but to create a working relationship.
Reyes would like to open the Richey library next month. When it opens, Richey will be a free lending library.
"If users want to keep the book, that's fine," she said. "Any book is a treasure for someone who wants to learn."
Reyes said the library will accept gently used books. Young readers like sports and nature books; older men prefer history books and tomes about global wars; students need books on GED testing and math learning; many adults enjoy mysteries. Children's picture books and literature for high school students are in demand, she added.
The library could also use arts and crafts supplies, markers, paper, coloring books and colored pencils.
To donate call the Dr. Fernando Escalante Tribal Library at 520-879-5473.
---
If you go
What: Library Night Out at Old Pascua is a new monthly series. This month's event will feature a premiere screening of the new PBS Kids program "Molly of Denali," a children's series which features a Native American lead character. It is set in Alaska and follows 10-year-old Molly, her dog Suki, and her friends Tooey and Trini on their daily adventures.
When: Wednesday, June 26, 3:30-7:30 p.m. The Pima County Public Library's Bookmobile shows up at 3:30 p.m.; there will be native craft activities, traditional Yaqui food 5-6 p.m., a traditional dress fashion show from 6-6:30 p.m., with the screening from 6:30-7:30 p.m.
Editor's note: This story originally appeared in the Arizona Daily Star.