Some of the best places are like hidden gems you have to search for. 
Like an adorable yoga studio tucked between a golf course and a high school parking lot in northwest Tucson. 
You'll find F.I.T. Yoga Studio off of Thornydale Road, just beyond the Arthur Pack Regional Park playgrounds. Turn into Mountain View High School's back parking lot and head toward Crooked Tree Golf Course. 
You're looking for the bright blue doors. 
The F.I.T. in the studio name stands for "finding inner tranquility." And that starts with finding the studio.  
Some background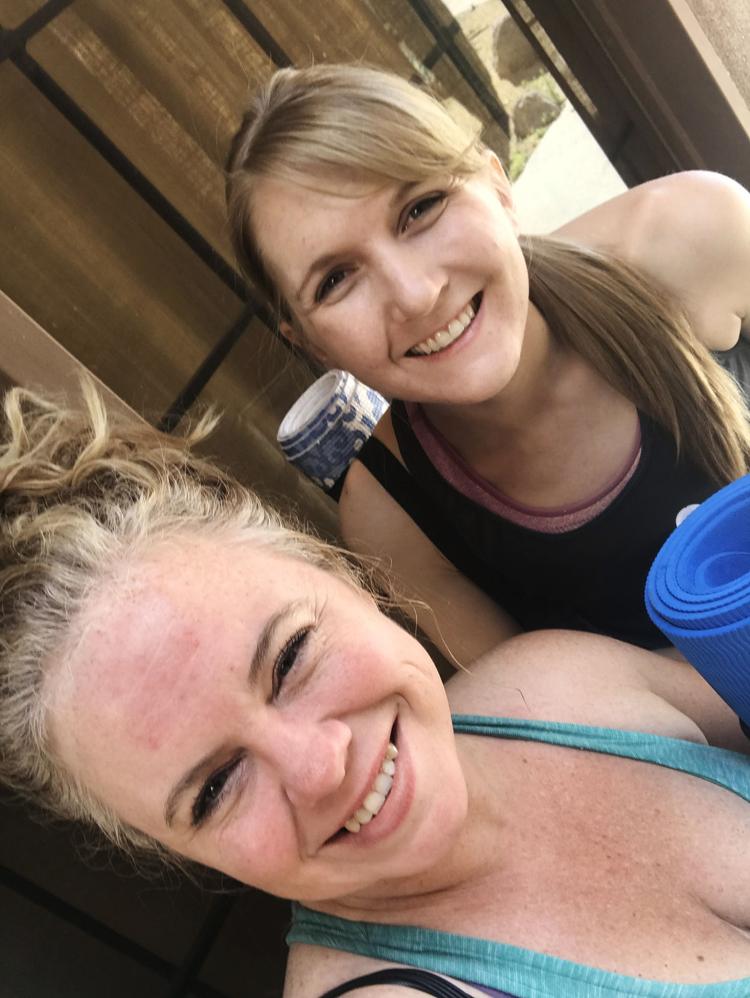 • Angela is a fairly active mama in her early 40s. She tries to hit the gym at least three times a week (ok, ok, it's usually like once or twice) where she runs on the treadmill, lifts weights and takes classes. She loves the post-workout zen she feels after a good sweat session.
• Johanna is in her late 20s and gets by with 20-minute workouts every morning. Don't be too impressed. She keeps her pajamas on and lunges and crunches to YouTube videos while binge-watching Netflix. Every now and then she goes for a run and remembers she hates running.
On the studio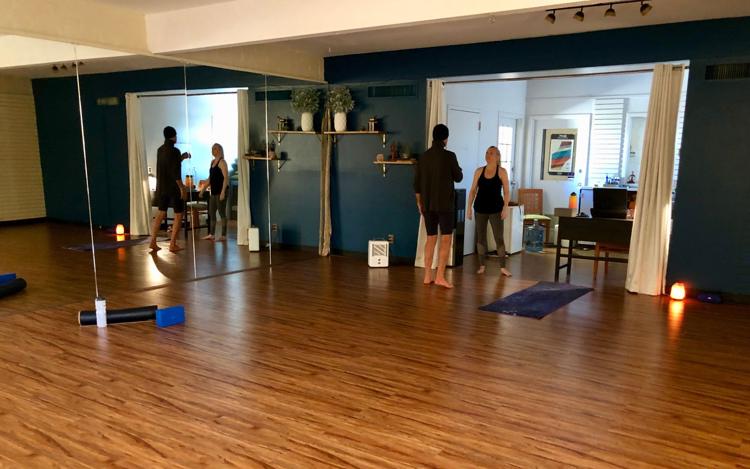 Angela: The studio is located in the Crooked Tree Golf Course complex right by the Pro-Shop. It's easy to walk right past it, but there's a sign on the window.
The instructor was so welcoming and friendly, which, to me, is important in a small class. 
The space is small and cozy and the ambiance immediately drew me in. There were salt lamps and it was dimly lit, making it feel so calming.
Johanna: Aqua is my favorite color, so those bright blue doors immediately made me optimistic. The studio is small, but so was our class, so it didn't feel cramped. 
There's a mirror spanning one wall, so you can watch your form if that's important to you. The dim lighting and drawn curtains made the whole experience peaceful — and I sure was thankful for those curtains as I watched the silhouettes of golfers pass by the windows throughout the class. 
If you forget to bring water, there's a water cooler, plus some blocks and blankets if those help your practice. We brought our own mats but spotted some you could borrow if needed. 
On the class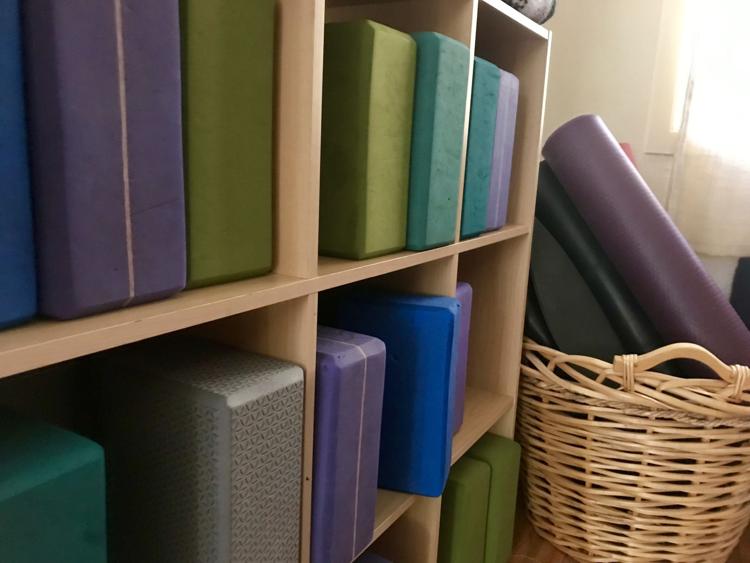 Angela: I've always thought about hot yoga with equal parts intrigue and dread. I really don't like being hot, so going into a hot room to exercise on purpose always kinda horrified me if I'm being honest. 
I was pleasantly surprised, though. It wasn't bad. I think the warmth actually made the poses feel easier because the muscles were warm. However, there were literally puddles of sweat on my mat. 
Speaking of poses. This class was all crescent lunges all the time. That happens to be my least favorite yoga pose, but I liked the vinyasas and the chair poses and the style of this class. 
Overall it was a lovely experience. 
Johanna: Much to Angela's frustration, I don't really sweat when we do these workouts, so I was interested to see if hot yoga would change that. 
At first, I didn't even notice any extra heat, but as the class progressed and we went through our many, many crescent lunges, I did begin to find the heat a tad uncomfortable. We also set up right by the portable heater, so if you're worried about the heat, maybe pick the opposite side of the studio. 
I loved this class. Like Angela mentioned, the instructor was so friendly and encouraging — which was good, because she taught a tough class. My legs definitely got worked, and by the time we began the more gentle stretches at the end of the class, my thighs felt a bit wobbly. But that's what I want when I spend an hour exercising.
Would you go again?
Angela: Yeah I would. It's pretty far away for me since I'm an east side girl, so it's not really doable for me on the regular, but I would go if somebody wanted to check it out. 
Johanna: Yes! The studio is closer than some other yoga options for me, and classes aren't too expensive. 
Class details
When: 9 a.m. Fridays. There are several sessions throughout the week. Go here for a schedule.