From drawing as a kid, to taking advanced art classes in high school and studying art at the University of Arizona, art has always been part of Jessica Gonzales' life.
Now, she's a full-time muralist — and has been since 2019 — painting vibrant creations splashed across buildings in Tucson. It's likely that you've seen her work.
"The challenge of creating something small — a design in a small format and then getting that image up on a large wall — there's a sort of problem-solving to that with such a big payoff," Gonzales says. "I kinda like the technical side of it. I like figuring out how to create something that fits well with its environment." 
"When I'm working in my studio, it's such a personal experience and I'm by myself and I'm only with my thoughts. And while I do love that, I think interacting with the public (when creating murals) gives me some balance in life," she says. "It's good to not be holed up at home all the time. It brings almost a joy getting to interact with people and get their response to art and their feedback. It helps me grow as an artist a lot — and as a person."
If you've ever wondered, "What's the story behind this mural?" — Gonzales is here to tell you.
A splash of color at an iconic bookstore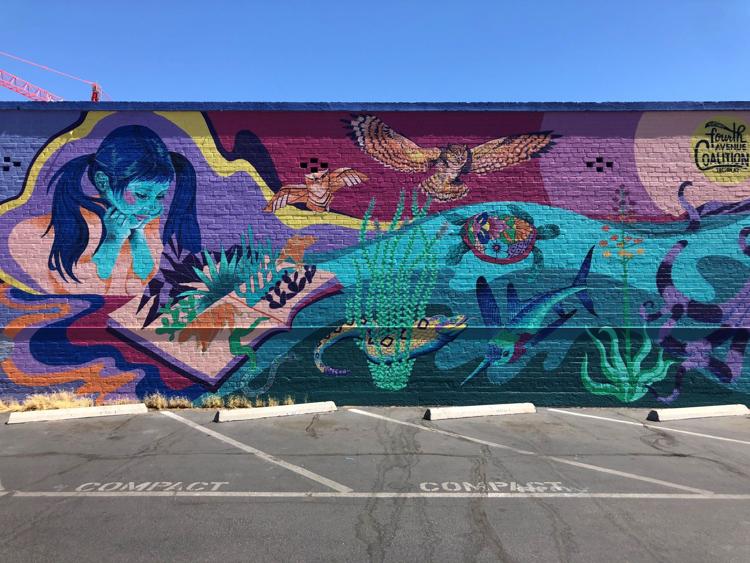 Years prior to the unveiling of this mural at Antigone Books on North Fourth Avenue, Gonzales and her sister were swimming at a local pool and couldn't help but notice a big blank wall.
"We were like, 'What would I paint if there was a mural there?'" Gonzales recounts. "We came up with this concept of how we could create hybrid creatures that were part desert creature, part sea creature."
The two were having so much fun brainstorming ideas that Gonzales pulled out her sketchbook to create drafts of her vision. 
Years later, the Historic Fourth Avenue Coalition wanted to start transforming the avenue to bring local interest to the area, Gonzales says. One way to do that: Paint an eye-catching mural on the building of a beloved shop.
"This opportunity came up at Antigone and I thought about wanting to capture the way that books allow us to use our imaginations," Gonzales says. "That memory with my sister came up and I thought, 'This seems like a real good place to do this because it's a place for imagination.'"
That idea from a pool hangout with her sister turned into the concept of a child looking at a popup book, "letting their imagination run and play," Gonzales says.
Gonzales also added a nod to Tucson Thrift Shop, where she worked for 15 years and calls a "second family." The shop has bright colors on its exterior, so she brought those colors into the Antigone mural.
A very detailed mural with an intimate view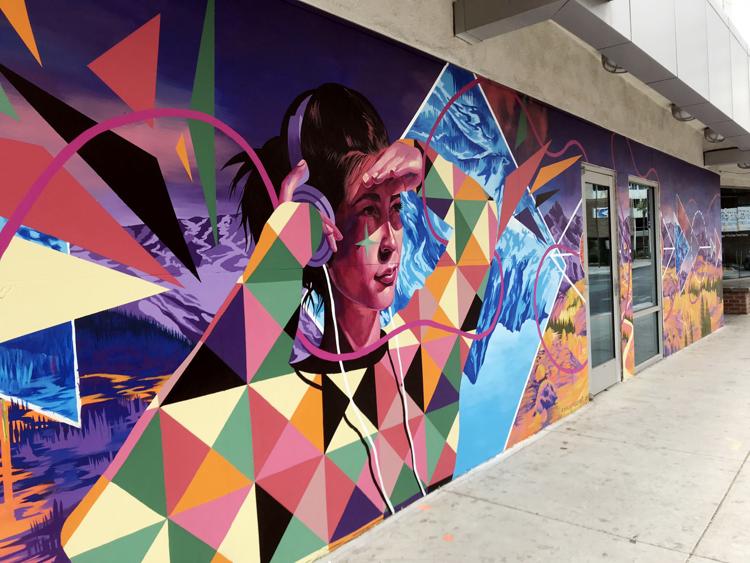 The theory is, Gonzales explains, that people visit the transit building and line up before it opens each morning. The city wanted to "bring a little bit of interest to that corner so it was more of a destination and was something beautiful to look at," Gonzales says.
"This seems to be a theme that comes up a lot in my work, but I was thinking how a viewer could look at the mural and get lost in it in a way," she says. "And I really wanted to create something that would have a lot of elements of interest so you could always see something new, especially because it's right at eye level on the sidewalk and it's a really long mural."
If you've ever visited this mural, you can attest to that. It's impossible to get the entire work of art into one seamless photo.
The mural is an explosion of color, featuring different patterns and techniques centered on an image of a woman.
"The mountains in the background go from being a little more realistically rendered to more geometrically rendered by the end of it," Gonzales says. "The main theme of it was the idea of exploration, both self exploration and physical exploration, as in travel and things like that. Obviously with the transit building, that was a way to blend those things together."
Gonzales' hope for the mural was to add to the concept of movement, in ways such as painting landscapes that can be "different locations, but the idea is that it's not any one location because it's about escaping the daily grind and taking your mind somewhere else."
Other examples of travel and movement can be seen throughout the mural, with a cross on the woman's cheek that represents cardinal directions, and the woman's headphones, which represents listening to music. Gonzales says music is one way she can "escape to get lost in your own little world."
From a festival poster to the side of a building
The giant mural on the side of The Loft Cinema in midtown was originally created for a tinier version of a poster for the theater's film festival.
Gonzales said there had been some talk of turning her design into a mural, too, but at that point, it was only a discussion.
Last year, though, The Loft received a donation from an anonymous donor, allowing that discussion to become a reality. 
"It was really cool to paint this because it happened right around the time when The Loft was creating their outdoor cinema space," Gonzales says of the theater's pivot during the COVID-19 pandemic. "We had been in lockdown for so long — if it was even that long, but it felt like forever. In any case, it was a really great experience feeling like I was part of this company that I love that is trying to figure out ways to keep their business running and keep their members engaged. It was really exciting to be part of that."
When creating the design, which at the time was only for the film festival poster, Gonzales did lots of research on posters for other film festivals.
"I was determined to try to do something I felt like hadn't been done before," she says. "I was trying to avoid things like using film reels or popcorn or 3D glasses that you might see repeated in this kind of design. I was like, 'How can I use this as an opportunity to show what the audience member is experiencing as they're watching films?' So it was the viewers' experience as the angle I took on it."
And then Gonzales had a dream.
"I have a lot of ideas come to me in my waking moments, seconds before I wake up," she says. "This popped up in my mind — this person with all these hands that's a really interesting way to show emotion. I felt like it could be really cool if I could make it happen, if I could figure out hand positions that could emote differently and could be really visually striking."
For most murals, Gonzales creates mock-ups digitally. But for this one, she painted it on a physical canvas and then did a bit of digital editing for the final design. 
"This one was one of the only ones I painted with paint on a small scale and did it again on a giant scale," she says. "That was kinda fun — to see the difference of painting on different scales."
An extra special mural for Gonzales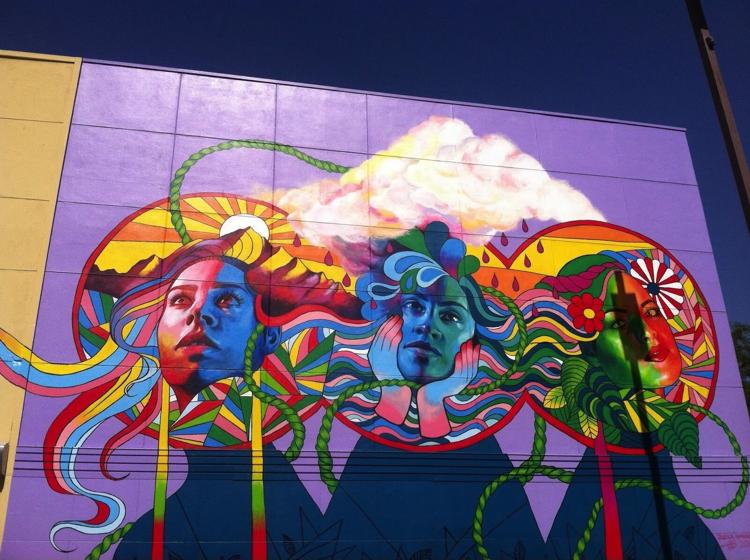 Gonzales considers two murals to be her first.
It's no longer there, but it lives on in photos.
The mural came to be after Gonzales applied to be part of the City of Tucson mural arts program. 
"I just applied not thinking I would get it because I hadn't painted many murals at that point," Gonzales says.
And she wanted the mural to be a thank-you note to the community.
"I felt like I wanted to honor the community that I felt had supported me as an artist up to this point," Gonzales says. "It was because of (the community) that I felt I was even able to apply for something like this and even get the job."
The mural symbolizes the birth of something, nurturing it and watching it grow.
"There are three women in the mural and each one represents one of those stages in that cycle," Gonzales says.
"I just really wanted to talk about how I kind of developed into the artist that I was and how the downtown arts community helped to support that," Gonzales says.