The event will take place beneath the bright glow of November's full moon at Tucson Village Farm's Angel Charity for Children Culinary Education Center, 2201 E. Roger Road.
The doors open at 5 p.m., with the concert kicking off at 6 p.m. Tickets are $10 in advance or $15 at the door. Parking is free.
While there won't be any alcohol at this event, plenty of farm-fresh food and merchandise will be available for purchase.
This family-friendly concert was created and planned by local teens in the Tucson Village Farm's 4-H Healthy Living Ambassador Program, which helps teens in the community learn about healthy living while gaining leadership and job skills, according to Elizabeth Sparks, the 4-H Youth Development Agent at the farm.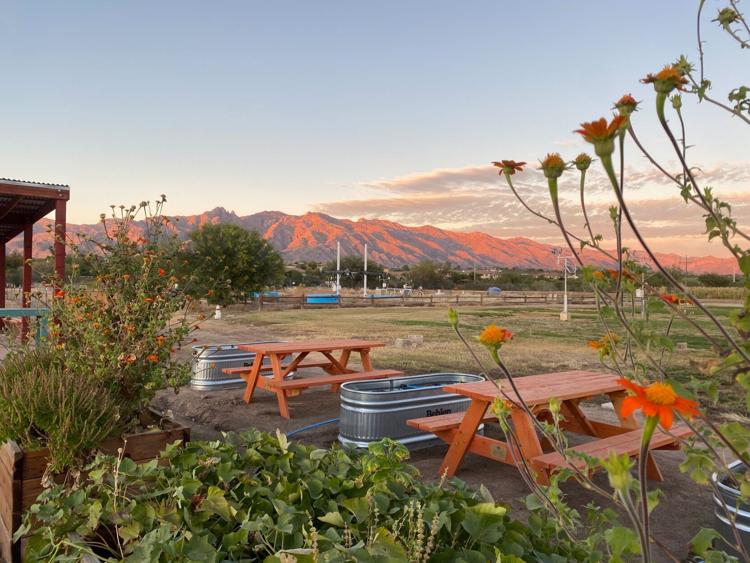 "We were backpacking this summer and one of the kids said, 'Hey, Liz, it would be so fun to have a music festival at our new ramada.' And we were like, 'OK, let's do it,'" Sparks said.
The teens, Sparks said, were the impetus in making the community event a reality.
"I think that a lot of times high schools have events like Battle of the Bands and that sort of thing," she said. "But this is really a community event for families to come out and listen to music and watch the moon rise over the mountains. And I think that's sort of what makes it different."
The goal is to help generate income to further support the programs and activities in the 4-H Healthy Living Ambassador Program, such as their annual trip to the Grand Canyon and other local activities.
The concert will feature six local teen musicians and bands, including Stefi King, Imogen Rose and Public Freakout.
Seventeen-year-old Tucson native, Imogen Rose Chiasson recorded her first EP record at age 15 in New York City and released the record last winter.
Her music style consists of coffee house music and folk-jazz, but she said as a musician her style is always evolving.
When Chiasson was approached to perform at Tunes Under the Moon, she immediately said, "yes, with glee, because it sounds awesome. I mean, what's better than playing under a full moon in the desert on a farm?"
For Chiasson, this concert has two new firsts: breaking away from the typical coffee shop crowd and playing for her largest audience yet.
"I hope that somebody in the audience can be touched, or just enjoy what they're watching, you know, I hope I help people have a good time," she said. "And I hope that the musicians around me feel the excitement that I'm bringing and that people feel support from me, because that's what I'm there for."
Although this is the first Tunes Under the Moon event, Chiasson hopes that the concert will become an annual event, which she thinks will become a "bright spot" in Tucson that will allow community members to support local musicians and the work of Tucson Village Farm.
Sparks shared a similar sentiment and would like to see the concert become the "premier event for young and up-and-coming musicians in Southern Arizona."
"I'd love for people to join us and come check it out," Sparks said. "And I would love for people to know, the power that youth has and how they can really make awesome things happen in our community, just if we give them the chance to do so."
For more information about Tunes Under the Moon, visit tucne.ws/1iwv.