18 Tucsonans of note who died in 2017
The stories of Southern Arizona residents who made an impact on Tucson.
Adventurous life of Dick Anklam, 83, comes to a close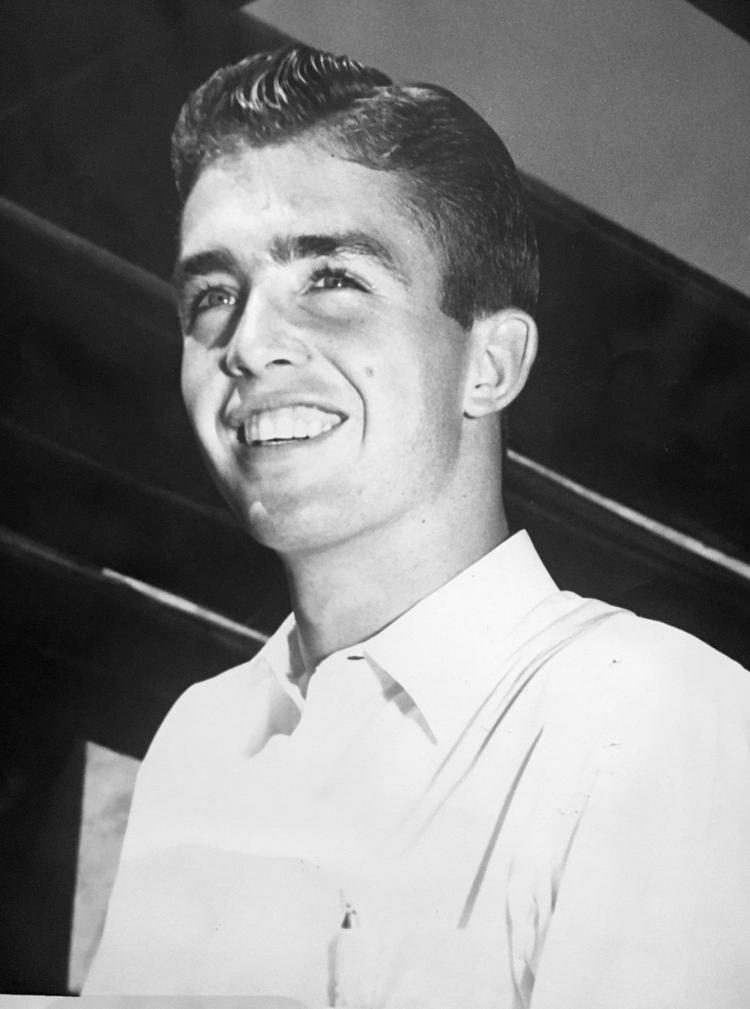 James Richard "Dick" Anklam — a spirited man who was well known in the mining, industrial and building communities — died Monday, January 30, of complications from multiple illnesses. He was 83.
Anklam died at Northwest Medical Center where he was surrounded by family for several weeks, said his son James Anklam.
"He is at peace," said Markie Anklam who was married to Dick for 61 years.
"The qualities he passed on to me were that family matters, relationships matter. He put God first and he put others ahead of himself," said James Anklam, recalling that his dad, no matter how busy he was, attended sporting events when he and his brother and sister were young.
"He taught us not to take anything for granted. He taught us that the time you spend with people and your family is the most important," said James Anklam.
His family reminisced about Dick's adventurous life, his Presbyterian faith, and his love for the University of Arizona where four generations of Anklams graduated.
Dick was born at the Stork's Nest — Tucson's first maternity ward — on July 26, 1933. He grew up with his parents on his family's homestead that included hundreds of acres on Tucson's west side where the JW Marriott Starr Pass Resort & Spa sits in the Tucson Mountains. Anklam Road is named after Dick's great uncle and great aunt.
Dick and his brother grew up free-spirited on the land and hunted for the family's meals, which included rattlesnake, deer, javelina and rabbits. Their mother, Jessie, a UA grad who was a teacher, was a "tough broad" who rarely was rattled, said Jeff Benedict, Dick's son-in-law, recalling stories.
He recalled two instances, however, when the boys managed to shake their mother. Once, when they killed rattlesnakes and skinned them, leaving the carcasses in the sink. "When Jessie turned on the water, the snakes stood up in the sink," said Benedict. "She had enough."
Another instance was when Dick and his brother captured two bats and put them in the refrigerator. When Jessie opened the fridge's door, the bats came at her, recalled Benedict, roaring in laughter.
The boys experienced more adventures when they tagged along with their father, Ralph, a foreman of the Civilian Conservation Corps. The elder Anklam's work included construction of shelters on Gates Pass, lights installations at Colossal Cave, and building bridges, outhouses and picnic tables in Sabino Canyon.
When Dick attended Tucson High School, he received "impeccable grades," was editor of the school's newspaper and lettered in track and cross country. He was awarded the Baird Scholarship to attend the UA.
While students at the UA, Dick met his future wife, Markie Barker, a native of Cottonwood. The two, who were active in student government, met their junior year at a Sabino Canyon picnic. They soon became sweethearts — marrying in 1955, the year they graduated. He was a mining engineer and she was a teacher.
The newlyweds found jobs on the Navajo Nation and lived in Bloomfield, New Mexico in the Four Corners area.
Dick worked for Shell Oil coring oil samples and Markie taught high school students for several years before they moved to Danville, California after Dick took a job working in sales for Johns-Manville, an industrial corporation that supplied materials to manufacturers and the construction industry. He worked in California until 1985 when the Anklams returned to Tucson.
Dick worked for contractors before joining the Arizona Builders Alliance, which represents companies that service the commercial and industrial construction industry.
As a director for the alliance, he formed an education program through Pima Community College and established an electrical apprenticeship training program, said Markie Anklam.
"He worked with instructors and had a series of safety classes in the construction trades," said Markie Anklam, explaining that his curriculum affected hundreds of students. He retired from the alliance in 2007.
"Dick always had time for others and gave of himself," said his wife, adding that he founded a prison ministry in the late 1980s and a halfway house for inmates to help them transition into society.
In addition to his wife and son, James, Anklam is survived by two other children, 10 grandchildren, five great-grandchildren, and a brother.
A celebration of Anklam's life will be 11 a.m. Saturday, Feb. 4 at Catalina Foothills Church, 2150 E. Orange Grove Road. In lieu of flowers, donations can be made to the church or Fred Hutchinson Cancer Research Center.
Pima County Democratic Party mainstay Martin Bacal dies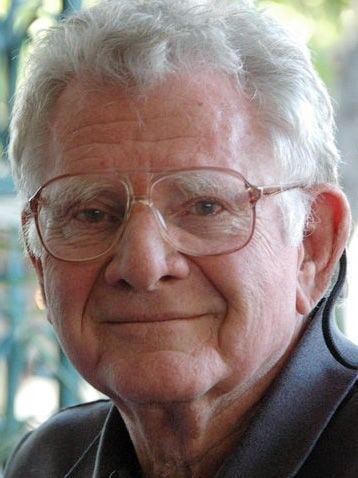 Martin Bacal, former Arizona representative on the Democratic National Committee, owner of a Tucson paint factory and mainstay of the Pima County Democratic Party, died suddenly Tuesday, February 14. He was 84.
"It's hard to assess the real impact of his work, which was, not always but largely, in the background," said Jo Holt, chair of the Pima County Democratic Party.
"He kept us on the straight and narrow and that says a lot for a political party. He was one of the most honest, straightforward people I have ever known," she said. Bacal continued to work voluntarily in the party office every day, and was the county party's corresponding secretary.
Former Pima County Democratic chairman Jeff Rogers said Bacal was "a mentor of generations of Democratic Party leaders."
Every day, for decades, Bacal made sure the county party paid its bills, kept its mailing list up-to-date and followed the rules, Rogers said.
He applied those rules consistently, said Rogers, even when he didn't like the candidates who filed for office.
"There were times we thought we had to push the limits, but Martin would say 'This is a primary. We have to be fair to everyone.'"
Bacal never ran for office, but he helped two members of his immediate family do so. His wife, Eva, served on the Tucson Unified School District for 12 years, and his daughter Susan is serving her fifth term as a Pima County Justice of the Peace.
"Anytime I didn't understand something about politics or government, I could call him up and ask him and he loved to explain," said Susan Bacal.
Bacal would read the dictionary and the encyclopedia, for fun, said son Rick, and was encyclopedic in his knowledge of history, politics and just about anything but popular culture.
"He knew a lot of things. I know, because I lost a lot of bets," said Eva Bacal.
He was a "person of opinions, but he always listened," she said.
His wife said Bacal loved hosting his long-running show on Access Tucson, where he interviewed Democratic candidates. "He always made them interesting and you know how hard that is."
Bacal moved to Tucson from New York City with his parents in 1934. Bacal's father was a chemist seeking a better climate for his lung disease. He opened "the first paint factory in the Southwest," said Martin Bacal's son Rick, a local defense attorney.
Pioneer Paint and Varnish Co., just south of Broadway near Interstate 10, was a familiar landmark, with a giant paint can on the roof.
Bacal was a dissertation-shy of his master's degree in psychology from Columbia University when his father died in 1963, and Martin returned to run the business, which he sold in 1993.
Rick Bacal said his father's political involvement began with his "extreme fondness and support of Mo Udall."
He worked most of the long-term congressman's re-election campaigns and was campaign chairman for one of them, he said.
As national committeeman, he led the state's delegation to the national conventions and helped shape the party platforms.
A Democrat in a red state, Bacal often supported losing candidates but was never discouraged, said daughter Susan. "Even with the recent election, he said 'It's going to be OK. We'll figure it out.' It was never the end of the world."
Eva Bacal said the family suspects he died of a heart attack, though he had no history of heart problems. "He was fine Monday and gone Tuesday. That was good for him but not for the rest of us. It was too soon."
In addition to his wife, son Rick and daughter Susan, Bacal is survived by son David; daughters Katy of San Diego, and Emily of Phoenix; a sister, Andrea of San Diego, and six grandchildren.
Services are at 1:30 p.m. Friday, Feb. 17, at Congregation Or Chadash, 3939 N. Alvernon Way, followed by burial at Evergreen Cemetery.
Pastiche owner Pat Connors dies at 48
Pat Connors, the longtime Tucson restaurateur who threw his own pre-wake wake party last week to say goodbye to friends and family, died early Sunday, March 6, after a months-long battle with lung cancer. He was 48.
His death came days after hundreds packed his central Tucson restaurant on Tuesday and stood in line for as long as an hour to give Connors one last hug and share memories.
"There is not a restaurateur in this town that has done more for this community than Julie (Connors) and Pat have," said former restaurateur Michael Luria, whose family hired Connors in the 1990s for his first restaurant job at Terra Cotta, where the Connors met. "I don't think there's an instance where Pat and Julie said no. They exemplify what philanthropy in the business community looks like."
"Pat is hands-down the most giving person in Tucson," Doug Levy, chef/owner of Feast on East Speedway, said of his friend of nearly 30 years. "What I would hope is his legacy would be to remember what a kind, spirited, generous person he was."
Connors, who ran Pastiche for 19 years at 3025 N. Campbell Ave., was a founding member of Tucson Originals restaurant group and was instrumental in the Primavera Cooks program that benefited the Primavera Foundation and other charitable Originals initiatives. When his son Cole was 3, Connors and his wife started taking him with them to volunteer at the Primavera Foundation Men's Shelter, where the family served food to the residents.
But it was the quiet moments and small gestures that defined Connors, his friends say. Like the time he closed his restaurant in summer 2015 for the inaugural Bald Beauties Project fundraiser in memory of Luria's daughter Kelsey, who died of cancer that spring. A followup fundraiser was held last summer.
Connors was born in Chicago and grew up in Phoenix, the third of six boys. He attended San Diego State University for a year before moving to Tucson in the 1980s to attend the University of Arizona, where he earned a degree in math.
He had planned to pursue a career as an actuary, but Connors had said he didn't like the idea of moving back East for a job.
He started working for Terra Cotta and later City Grill before opening Pastiche in 1998.
Connors' older brother Chris said Connors fell in love with Tucson and never looked back. Darren Connors, the second-youngest of the brothers, said Connors' passion was the restaurant and the relationships he built in the community,
"I think that's going to be his legacy," Darren Connors said, recalling how his brother would take Darren's two children — son Alex and daughter Abby — into the kitchen whenever they came to Tucson to let them make their own desserts.
"I'm going to miss calling him and talking to him," said Darren, who lives in Phoenix. "He's my brother; I love him."
Connors was diagnosed with stage 4 lung cancer in October, shortly after his father died in September.
He underwent four rounds of chemotherapy before doctors determined his cancer was progressing beyond treatment. He entered Tucson Medical Center's hospice facility two weeks ago.
At his pre-wake party last week, Connors, surrounded by a non-stop stream of hundreds of well-wishers for the five-hour party, said he believed his legacy started with his smile.
"I have a great smile. And in that regard, my smile is my legacy and my smile is what makes people happy," he said, sitting in a wheelchair with a blanket draped over his legs and a smile spread from ear-to-ear.
"I beat cancer on my terms. I'm beating it smiling. I beat it with who I am. I'm not being beaten down as someone who can't do everything. I can do everything I want," he added.
"A lot of times you go to a cancer ward and people can't move because they are in so much pain, so much sickness. To me I'm doing it on my terms."
Services had not been scheduled as of Sunday.
Golder Ranch firefighter Jose Samaniego, known for community service, dies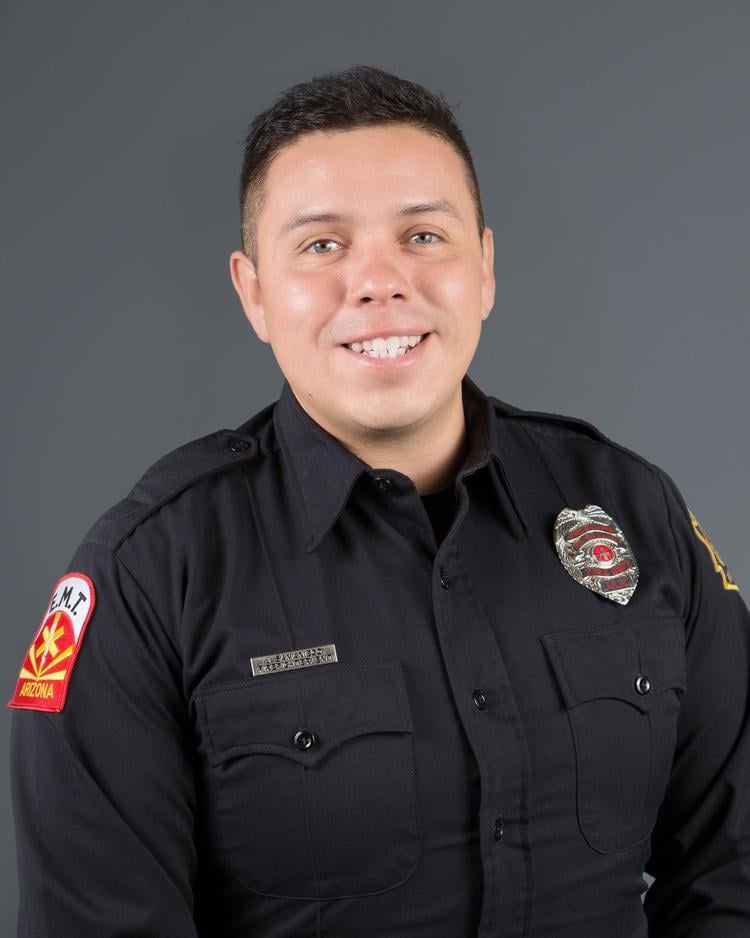 Jose Samaniego, a firefighter with Golder Ranch Fire District who was known for his "passion for community service," died Monday, April 10, after a short illness. He was 33.
Samaniego was hospitalized last week with a serious illness, but "he did not respond to treatment and declined rapidly," said Anne-Marie Braswell, a fire district spokeswoman.
The Tucson native was surrounded by his family when he died at a local hospital. His "fire family" also was able to say goodbye, Braswell said.
"Firefighter Samaniego wore his heart on his sleeve and had a passion for community service," said Golder Ranch Fire Chief Randy Karrer in a news release. The fire district serves communities north of Tucson.
"He worked diligently alongside his brothers and sisters in the fire service to respond to the needs of his community and also donated countless hours off-duty to give back to those in need," Karrer said.
Samaniego was on the board of the North Tucson Firefighters's Association Local 3832, and his work included fundraisers for local foster families, said Braswell.
Fourteen years ago, Samaniego began his career as a wildland firefighter and as a member of the Avra Valley Fire District. He then was hired as a firefighter by Raytheon Missile Systems before going to work in 2012 for Golder Ranch.
While at Golder Ranch, he went through training and certification to work as a member of the Special Operations Team, specializing in technical rescues and hazardous materials incidents, Braswell said.
According to a family friend, who organized the Jose Samaniego Family Memorial Fund on generosity.com, the community raised more than its $10,000 goal in one day, and a longer-term goal was set at $40,000.
Photos of the family enjoying the outdoors are on the page on which Samaniego is described as an avid outdoorsman who enjoyed activities with his children. He enjoyed hunting and fishing.
He is survived by his wife, Serena, and four children — Andres, 11, Alysha, 9, Adam, 7, and Annabella, 5.
A 10:15 a.m. service will be held Monday, April 17, at St. Augustine Cathedral, 192 S. Stone Ave.
Werner S. Wolff, former police chief of Oro Valley, dies at 87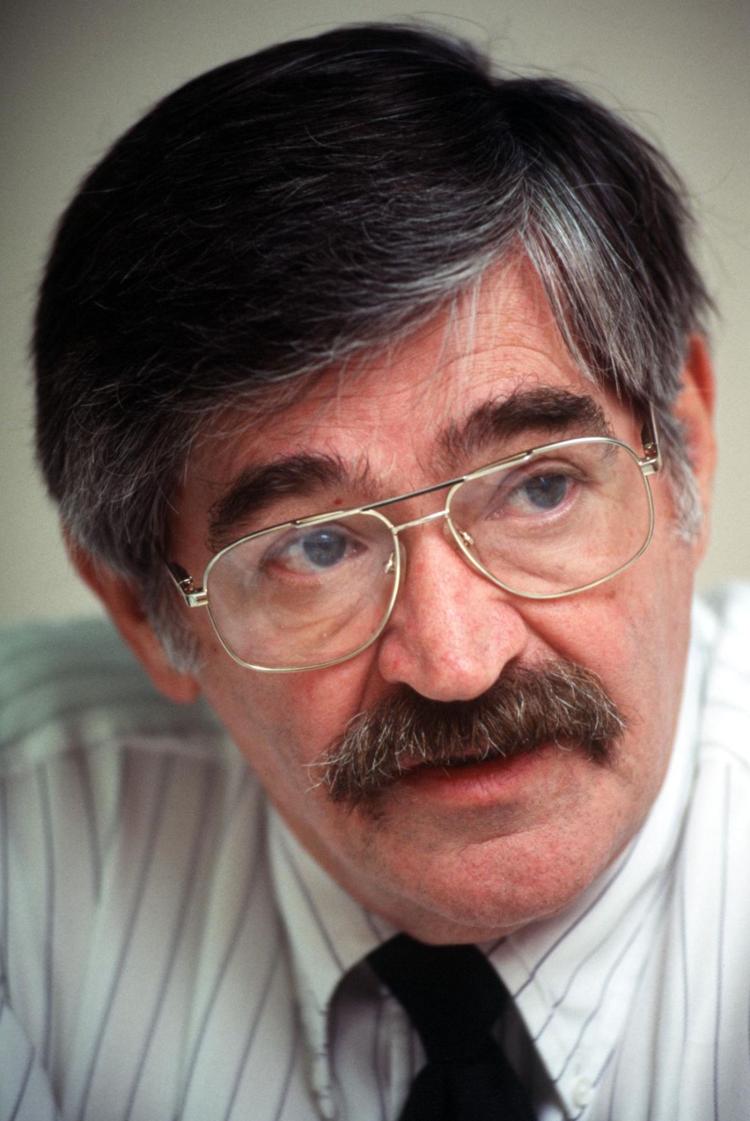 Werner S. Wolff, who served as the Oro Valley police chief for nearly 17 years and on the Oro Valley Town Council for four years after that, died Saturday, April 15.
He was 87 years old.
Wolff was hired as the police chief in January 1983 after serving 21 years with the Tucson Police Department, including 15 years in narcotics, according to Star archives.
When he joined, the Oro Valley department had four patrol officers and no investigators. It was headquartered in a former four-bedroom house at 680 W. Calle Concordia.
"When I took over, I told my four patrol officers that we'll never be the largest department in the state, but there is no reason we can't be the best," Wolff told the Star in 1999.
Wolff retired from the department that year and was elected to the Oro Valley Town Council in May of 2000, where he served until 2004.
He was vice mayor on the council from 2003 to 2004.
Funeral services have not been announced.
Truly David Nolen: Tucson Pest-control pioneer dies at 89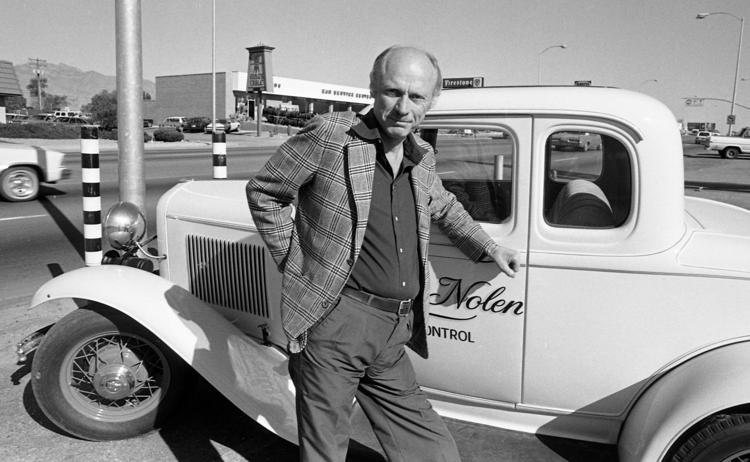 Truly David Nolen, who built a family company into one of the biggest pest-control companies in the nation, died Tuesday, April 18, at his Florida home. He was 89.
Nolen headed Tucson-based Truly Nolen of America — probably best known for its fleet of yellow cars with mouse ears and tails. He founded the company here in 1955 and later merged it with the company his father started in Florida in 1938.
Nolen died of natural causes at his home in Naples, Florida, said his daughter, Michelle Nolen Senner. Services will be Friday in Florida.
Though his children had assumed most executive roles at the company, he was still active in the business and kept a hand in the company's longtime classic-car advertising program, Senner said.
"He went to the office about every day," she said. "He didn't travel as much, but he loved to read the P&L (profit and loss) reports and he liked buying the cars. He was always good at getting good deals."
Nolen sold his home in Tucson several years ago, but he frequently came here for business or family visits.
"He really loved Tucson," Senner said. "Whenever he would come to Tucson he would make a beeline to Casa Molina."
NINE LIVES
Despite a serious bout with polio in the 1950s, Nolen lead a vigorous, full life which, besides heading a large family and a growing company, featured downtime pursuits including car collecting, flying airplanes and sailing.
"He had nine lives, and he lived all of them," Senner said.
Nolen skippered a small sailboat from Miami to Annapolis, Maryland, at the age of 16 and was an avid diver and fisherman.
"I thought he was one of the more interesting characters that I've ever known," said longtime friend Dr. Harvey Buchsbaum, a University of Arizona neurology professor who met Nolen during a trip to Guaymas, Sonora, shortly after arriving at the UA in 1968.
Buchsbaum said that for years Nolen would call him to invite him to fly down to San Carlos for fishing trips.
The UA professor said he was amazed Nolen could continue to dive and spearfish despite having legs weakened by polio.
"He never gave in to any incapacity," Buchsbaum said. "He was always game — he probably would have been diving with an oxygen tank and IV if he could have."
"Above all, he was the one of the kindest people I've ever known," he said, noting "he used to hire prisoners when they were discharged, because no one else would."
TUCSON ROOTS
Well-respected in the industry, Nolen earned a degree in entomology from the University of Florida and was a pest-control pioneer. He was credited as the first user of sulfuryl fluoride, a termite fumigant.
True to its roots, the company has focused on "integrated pest management," which uses pest-exclusion strategies and practices to minimize pesticide use, and the company has moved toward less-toxic pesticides such as borates.
Nolen's father, Truly Wheatfield Nolen, started his pest-control business in Florida by offering trapping as an alternatives to rat poison.
The company is still working on better mousetraps and other new pest-control technologies, Senner said.
While he ran the company, Nolen had an open-door policy and often handled complaints himself, Senner said.
"He never hid from people. He always loved to talk to employees and customers and never put other people between the two of them," said Senner, who heads public relations and is secretary of the company.
Truly Nolen of America is headed by Truly David Nolen's son, president and CEO Scott Nolen, while another Truly — son Truly William Nolen — heads commercial operations.
But Truly David Nolen also kept a hand in the company's training program.
Senner said that even recently, when the company had new-employee orientation, Nolen would appear in person or via video link and allow the new hires to ask him questions.
He also was ahead of his time in his progressive treatment of employees, Senner said.
"He fought for equal rights and treatment," she said. "We as a company were acknowledging same-sex marriage and providing benefits to same-sex couples well before others. For a man of his age and generation — you just don't see that today."
The elder Nolen also encouraged volunteerism and spread the company's philanthropy across Tucson, to groups including Big Brothers Big Sisters of Tucson and the Girl Scouts and Boy Scouts, Senner said, noting the company has hosted scouting groups in its "bug room," part of an employee training center Truly Nolen opened at Williams Centre last year.
Mayor Jonathan Rothschild said Nolen leaves a lasting legacy to the place he founded and grew his family business.
"Truly's commitment to Tucson, and his family's commitment to Tucson, has been exceptional," Rothschild said in an email.
The mayor noted that when the family businesses consolidated in 1960, the headquarters remained in Tucson, and the company reaffirmed its commitment to Tucson with the opening of its training center last year.
"There's a lot of affection for Truly Nolen here in Tucson, and the mouse cars have endeared many to the company that bears his name," Rothschild said.
Nolen is survived by his wife of 32 years, Vickie Taylor Nolen, and by his eight children – Truly William Nolen, Steven Scott Nolen, Bonnie Sue Nolen Jauregui, Really Philip Nolen, Michelle Nolen Senner, Sincere Leigh Nolen, Scarlett Sahara Nolen Jallad and True Spyder Luke Nolen. He is also survived by 12 grandchildren and 7 great-grandchildren.
Ron MacBain dies a few days short of 90th birthday
Ron MacBain, longtime Tucsonan and one-time owner of The Plantsman floral shop, died Saturday, April 29. He would have turned 90 May 4.
MacBain, who was the subject of a story in the Star on Sunday, had a stroke at his Handmaker assisted living apartment, said his long-time friend Elaine Kuntz.
A planned exhibit of MacBain's paintings will continue, said James Goodreau of Galería Senita.
MacBain moved to Tucson in 1949. He worked for a wholesale paper company and tired of it after 20-some years, he said in a recent interview. He then opened The Plantsman, which quickly became the go-to floral shop in Tucson. He sold it in 1999, after 25 years. MacBain then poured his passion into the garden of his Winterhaven home, which he shared with his longtime partner Gustavo Carrasco, who died in 2011. That garden became a destination spot for photographers, painters and garden lovers.
When he could no longer garden, he picked up painting. "I think I'm in the flower shop and arrange on canvas the way I would in a vase," he said. Painting brought unexpected pleasures. "The joy I'm getting fills me so much," he said. "I wouldn't want to do anything else."
He moved to Handmaker last year, after two heart attacks, a bad back and colon cancer convinced him he could no longer live alone.
MacBain did not want services, but the opening reception of the exhibit will serve as a celebration of his life. It will be 5-7 p.m. May 6 at Galería Senita at Arte de la Vida, 37 N. Tucson Blvd.
He is survived by his nieces Mary Koehn of Bayfield, Colorado, and Wendy MacBain, of Gilbert, Calif., and a large, extended family in Tucson and around the country.
MacBain would appreciate donations to the Benedictine Convent, said Kuntz. And, she added, "he wants people to take a friend to lunch, have a glass of Chardonnay and shop at the Dollar Store."
Retired Monsignor Arsenio S. Carrillo dies, served 40 years at cathedral
Retired Monsignor Arsenio S. Carrillo, a native Tucsonan who served 40 years at St. Augustine Cathedral, died Wednesday morning, April 26, at his home on Tucson's northeast side. He was 87.
Carrillo, a former vicar general for the diocese, had been ill, said Steffannie Koeneman, a Roman Catholic Diocese of Tucson spokeswoman. She did not have information about his health issues.
Frank Sotomayor, a cousin of Carrillo's, released a statement from the family:
"Our family grieves for the loss of our beloved 'Cheno' while we also celebrate his devoted half-century of service to the Catholic community of Tucson. We are thankful that he is now with our Lord and Savior. We sincerely thank everyone who has expressed condolences for his passing."
"We mourn the loss of one of our finest priests," said Bishop Gerald F. Kicanas. "Not only was he loved by the members of the St. Augustine Cathedral, but of the larger community as well.
"He was a leader known by many ... his image on the overpass near downtown is a reflection of his being an exemplar among us. We will miss his warmth of heart, his quick wit and his deep kindness," said Kicanas.
On a Facebook post in Spanish, Santiago Benton, 41, recalled his years as a young altar boy serving with the monsignor. Benton said Carrillo was "a perfect model of a priest and pastor. He radiated love, understanding, patience, tremendous wisdom and his sermons were the most inspirational that I have heard in my life. He made an impact on me and thousands of other persons."
Carrillo was ordained a priest on May 26, 1956, and was pastor at the cathedral from September 1969 to June 29, 1995. He then served as associate pastor until his official retirement July 1, 2002, said Koeneman.
In a 2006 interview with the Star, he described himself as a "frustrated mariachi," explaining he was looking forward to hearing Mariachi Cobre and the Tucson Symphony Orchestra perform at a concert in the Old Pueblo.
The concert was a celebration of Carrillo's 50th anniversary in the priesthood and a fundraiser to restore the cathedral's placita and hall, which were renamed after Carrillo.
Carrillo said by the age of 12 he knew he wanted to be a priest. He was inspired by "Father Carmelo, a Spaniard who was a very kind, generous person" and the pastor at Holy Family Church when Carrillo was a boy.
"He was a consoling person to people in need, and I wanted to be the same when I grew up," recalled Carrillo, one of seven children born to Guadalupe Sotomayor Carrillo and Federico Carrillo. His father, who suffered from leukemia, supported the family by selling fruits and vegetables throughout Tucson's barrios with the help of his children.
Carrillo said knowing that the cathedral's hall and placita would be renovated and dedicated in his honor made him feel humble and proud.
"I take it as gratitude as part of my service at the cathedral. In my time, I have celebrated thousands of baptisms, first Holy Communions, weddings and funerals," he said.
Funeral services are pending.
Bob Cote, owner of Tanque Verde Ranch, dies at 82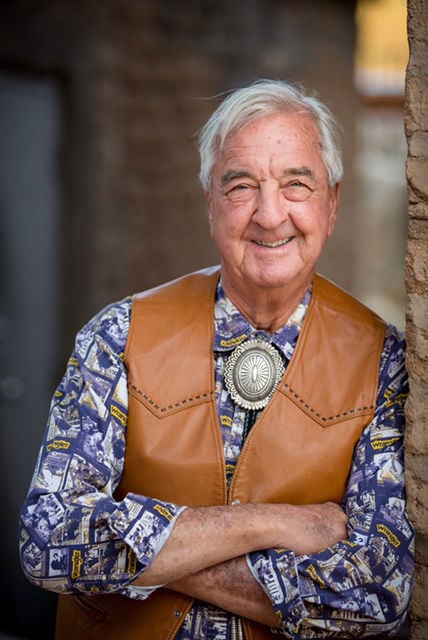 Bob Cote's spirit is entwined into Tanque Verde Ranch — a spread of 640 acres nestled against the Rincon Mountains. The multigenerational ranch was bought by Cote's father in 1957.
Cote, who was born in Edina, Minnesota, in 1934 and earned an economics degree in 1956, was traveling throughout Europe and Asia while pursuing a doctorate in Japan, when he returned nearly 50 years ago to operate the family ranch.
He planned on staying for only a while, but his passion for adventure and his knack for people was a gift, said his brother, Sam Cote. That gift will live on at the ranch through Bob's family.
Bob Cote, 82, died on May 2 of cancer. He was surrounded by loved ones.
"One of my dad's life mottoes was to 'take advantage of opportunities', and he wasn't prescriptive about how opportunities were defined," said daughter Carra Cote-Ackah, 40. "He enthusiastically encouraged us to travel the world. ... He taught us to enjoy the journey."
"My kids refer to Papa as 'crazy' or 'silly' because he made up rules in games, sang too loudly at birthdays and honked the horn for no reason," recalled Cote-Ackah. "He was relatable and exuberant with my kids, but also the thousands of kids who stayed at the ranch. He was everyone's favorite, silly Papa."
Son Brett Cote, 43, said, "Growing up at the ranch meant that family life and ranch life were one and the same. Guests and staff were friends and extended family. We ate our meals with the guests in the dining room and Bob was always on call when horses got out or water lines broke."
"I remember getting paid $1.25 per hour to help repair a septic line as one of my first jobs at the age of 12, and for fun Bob would drive us around like a madman in an old beat-up mail truck with 50-gallon trash cans full of water to water yuccas, of which I think, the whole point was to get us wet rather than water anything."
Bob gave much of his life working the ranch and helping transform the dude ranch into a resort, along with his wife, Rita Cote, who is the general manager. In addition to tourists, the ranch also is well-known for weddings and family reunions.
Among the horses and trails are cowboy singers and talks on American Indian history, along with indoor and outdoor pools, whirlpools, sauna, massage therapy, tennis courts and a nature center.
Bob also found joy in leased acres of trails in Saguaro National Park East where families could enjoy hiking and mountain biking.
Family memories include Bob "flipping blueberry pancakes at the morning breakfast ride, greeting guests and friends in the Dog House Saloon, or dining at cowboy cookouts" alongside his wife. The two were a team.
In a 2009 Arizona Daily Star article, Bob Cote talks about the rich and famous occasionally showing up at the ranch, just as they did in the old days. "Diane Keaton came here driving up in a little pickup with two kids," he said. "And Paul and Linda McCartney were guests here."
"Europeans like it in the summer. They are looking for the sun," Bob Cote said. Adds Rita: "We have rules and menus in German, Italian and French, and Bob speaks fluent French."
In 2005, he was recognized with the State of Arizona's Hall of Fame for Tourism, which marked the first guest ranch inductee, said a family statement. And in 2012, Bob was inducted into Dude Ranchers Hall of Fame by the Dude Ranchers Association.
"His aspiration for people visiting the ranch was to leave with a love and appreciation of horses and the Sonoran Desert," according to family. "Bob's dedication to hospitality and his guests earned him friends across the world."
In addition to his wife, Bob Cote is survived by four children, four grandchildren, three brothers and many nieces and nephews.
A celebration of his life will be held June 24 at Tanque Verde Ranch from 2 to 5 p.m. Donations in his memory may be made to Tucson Medical Center's Hospice Peppi's House, Amity Foundation and Friends of Saguaro National Park.
Bruce E. Dusenberry, 94, dies; built Horizon Moving of Tucson into powerhouse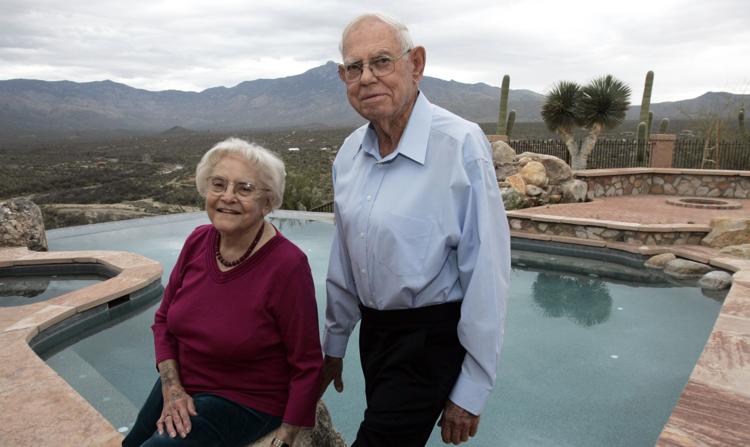 Bruce E. Dusenberry, who built the Tucson moving business his father started in the 1920s into one of the biggest in the Southwest, died Saturday, June 24, at the age of 94.
Dusenberry, former owner of Horizon Moving Systems, died peacefully in his Tucson home after recently returning from treatment for a small stroke in April, said his son, Bruce L. Dusenberry.
"He had a long, full life," Dusenberry said, noting that his father died four days before his 95th birthday.
He said his father was happy to return home to his wife of 69 years, Katie, in June after a long hospital stay and a stint in a rehabilitation center.
Born in Tucson in 1922, the elder Dusenberry grew up in Madera Canyon, where his parents, C.R. Dusenberry and Catherine Moore Dusenberry, had built the Santa Rita Trails Resort and operated it for about 15 years.
His parents sold the resort in the 1930s and moved to a house on North Third Avenue, where they started a moving company, City Transfer Co., with a single truck they had used to haul ice and firewood at the Madera Canyon resort.
"That's how the moving company was born — the dining room was their office, and they had a brick garage in the back alley that was their warehouse," Bruce L. Dusenberry said.
Bruce E. Dusenberry met his future wife, Kathryn "Katie" Norton Dusenberry at Trinity Presbyterian Church, where they were married in April 1948.
After working in the family business, Dusenberry bought the company from his father in 1952 and renamed it City Van & Storage, and later Horizon Moving Systems.
The company grew to became the largest mover in Arizona and a major company in the United Van Lines and Mayflower Transit national systems, peaking in the early 2000s at more than 300 employees and offices in Tucson, Phoenix, Flagstaff, Sierra Vista and Yuma.
Dusenberry became a well-known and respected figure in the transportation industry, serving for 12 years on the national board of directors of United Van Lines and awarded the company's Gene Anderson Award of Excellence.
He also chaired the Tucson Metropolitan Highway Users Conference and served on the boards of the Arizona Motor Transport Association, the Better Business Bureau of Southern Arizona and the Arizona Highway Users Association.
In 1993, Bruce L. Dusenberry left a 17-year law practice behind to take over the business from his parents, after they tried to sell the company but didn't get any acceptable offers.
Dusenberry said part of the deal was that his father continued to run the shop where Horizon maintained its trucking fleet.
"He never retired, in a sense," the younger Dusenberry said. "He could do anything mechanical. ... He would much rather be out in the shop working on a truck or something than in the office."
Dusenberry recalled how his father built his own boat trailer from scratch and refitted his boat with a powerful Volvo motor. He also helped plan and execute complex moving jobs — such as an office move that required removing windows — before stepping away from the business about 15 years ago, Dusenberry said.
Together with his family, Dusenberry loved to fish, hunt, camp, and fly his airplane, especially to Mexico and Alaska, his family said.
In 2013, Horizon's Tucson, Phoenix and Flagstaff operations were acquired by Florida-based Suddath Relocation Systems for an undisclosed sum.
The Horizon name lives on in Yuma as Horizon Moving Group LLC, which Bruce L. Dusenberry still co-owns, though he has retired from management duties.
Besides his wife and son, Dusenberry is survived by daughters Joan, Ann and Janel; 10 grandchildren; and two-great grandchildren.
Funeral services will be private, but the family is planning a life celebration tentatively after Labor Day, Bruce L. Dusenberry said.
Kim Poor, space artist, creator of Spacefest, dies at 65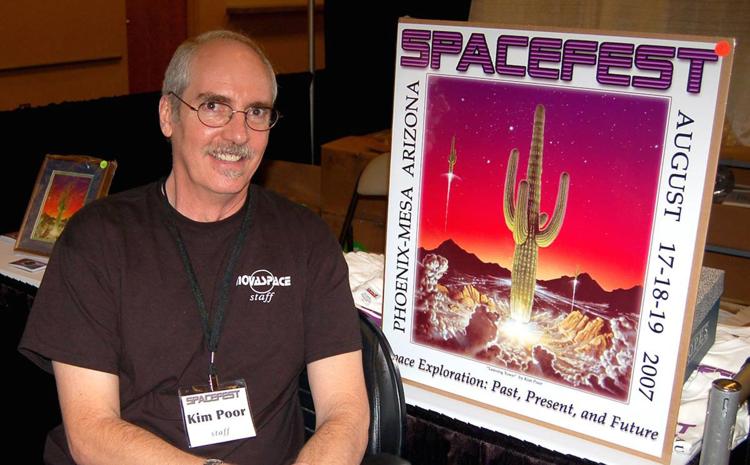 When Sally Poor was asked what her husband, Kim, would want to wear when cremated, she knew right away — his Spacefest T-shirt.
Kim Poor, who died Aug. 16 at age 65, was a world-renowned space artist based in Tucson. But he was also known for many other roles, including co-founder and first president of the International Association for Astronomical Artists and creator of Spacefest, a festival for all things space-related.
Kim was also a cartoonist, musician, entrepreneur, husband, father and friend to many, including Apollo astronauts.
He was able to achieve so much and do what he loved, Sally said, because his philosophy toward life echoed the famous phrase written for the "Apollo 13" movie but often misattributed to Gene Kranz, actual flight director of the Gemini, Apollo and space shuttle missions: "Failure is not an option."
A budding artist
As a teenager, Kim was the cartoonist for the high school newspaper. "He was clever," Sally said, and sometimes had a dry sense of humor. He called his section of the paper "Poor Sports."
He had an interest in political science and began working on a campaign in Phoenix where the candidate's wife offered to let him work in her gallery. He learned to frame, and in the back room, he started to paint.
It was around this time that Kim met Sally at Glendale Community College.
Kim then headed to the University of Arizona and enrolled as a political science major and astronomy minor.
"That's when he started painting what they call 'rocks and balls,'" Sally said, referring to the planets and stars ever-present in astronomical art.
He hung his paintings on the walls of his Tucson home. He came home one day, and his paintings were missing. On the wall was a note from his roommate that said, "I'm buying these."
"He thought, maybe I should start selling these," Sally said.
Building a reputation
Kim started traveling to mall shows to sell his art in the 1970s and 1980s.
"The first mall show I don't think he sold anything," Sally said with a smile. "He traded somebody. He got me a little ring."
Kim and Sally married in 1978 and had two children, Kelsey, now 34, and Nathan, 31, and over time, selling art at mall shows and commissions became the family's "bread and butter," Sally said.
He traveled across the Southwest and built an international reputation for his art.
At a mall show in Texas, he met Alan Bean, lunar module pilot for Apollo 12, man's second landing on the moon.
Bean was also a space artist and they became friends. Bean introduced him to other astronauts, and that's when Kim got the idea to sell astronaut memorabilia.
Kim and his wife started a business called Novaspace and worked out of a back room in their house. From there they filled orders for signed astronaut photographs and Kim's and Bean's art.
"I kept a notepad by my bed so I could take orders," Sally said, because they'd get calls from around the world. "This was before the internet."
Building a community
In 1982, Kim founded the International Association for Astronomical Artists with fellow artists Michael Carroll and Rick Sternbach, known for his artistic work on "Star Trek." Kim was its first president.
Members of the association view themselves as part of a legacy that stretches back to the exploration of the western United States when artists would accompany explorers to record images of what the rest of the world looked like and share them with people back home.
Association members also view space as a new frontier. Some of the places in the far reaches of the solar system, galaxy or universe are unreachable by current technology, but artists can represent these places with their understanding of space science and elements of art.
The association connects a community of space artists and buyers around the world.
By the mid-'90s, his business was taking off, so Kim focused his attention to getting online.
"He was one of the first 40,000 websites to get online," said son Nathan, who is now revamping the Nova Space Art website.
In 1997, Kim started showing signs of ataxia, a neurodegenerative disease. Ataxia is a general term for loss of muscle control and coordination. He was formally diagnosed with Machado-Joseph disease, a form of ataxia, in 2000. He died from complications of ataxia.
The disease progressed over the years, making him unable to play music. "He wasn't as mad that he couldn't paint anymore, but he was mad when he couldn't play his guitar anymore," Kelsey said.
The birth of Spacefest
Kim thought promoting space was important because "It's cool," said Jon Ramer, president of the artists association. "He liked other worlds, other planets, new galaxies and imagining and making them come true."
Every endeavor Kim undertook came true in the end. "He was tenacious," Sally said.
So when Kim dreamed-up Spacefest in 2006, he went all out.
Spacefest is a collection of all things space-related. This included astronauts from the Apollo and later missions, astronomers, planetary scientists, space artists and vendors of meteorites, telescopes and other space paraphernalia and equipment.
"They all laughed when I said what I wanted to do," Kim said on the Spacefest website. "It would be like a four-ring circus. Something for everyone."
And it was a circus. For the Poors, the first Space-fest was a whirlwind experience.
"We were just flying by the seat of our pants, but it turned out well," Sally said, screaming at the chaos of the memory, "and everyone thought it was wonderful."
"I've had the opportunity to meet some fantastic, smart, super-friendly people and we're still friends," Kelsey said about her years at Spacefest.
The first Spacefest was Aug. 17, 2007. Kim died almost exactly 10 years later.
His family never questioned his motivation for promoting space and space art throughout his life, Sally said. "He just thought it up and we had to figure out how to execute it."
"I know a lot of people tried to do something similar, but they'd get scared and quit, but he would not give it up," Sally said.
Kim's family hopes to continue his legacy by promoting space and art. Recently they've been incorporating and promoting STEAM — Science, Technology, Engineering, Art and Mathematics — through Spacefest, with an emphasis on the art.
"We have a legacy to fulfill," Kelsey said.
Bob Svob, a fixture on the University of Arizona's campus for more than four decades, dies at 98
Bob Svob, a University of Arizona football player, coach and administrator who may have spent more time on campus that any other man in history, died Thursday, August 31, in Tucson. He was 98.
Svob spent 44 years at the UA. He led the university's intramural sports program for 16 years, served as an assistant football coach for two and was an assistant athletic director for seven. Svob was the UA's dean of men from 1966-72. He was then promoted to dean of students, a position he held until retiring in 1983.
Svob dealt with everything from anti-war protestors to pranks, he told the Star's Bonnie Henry in 2004.
"I was responsible for booting off my own fraternity, Sigma Chi — twice," he said.
Football brought Svob to Tucson from Jerome in 1937. One of nine children born to copper miner Ignac Svob and his wife Maria, Bob had been a Jerome High School football star. He made Ripley's Believe it or Not when, in 1936, one of his punts went 300 yards.
"Remember, Jerome is built on a hill," he told Henry. "The ball just kept rolling."
Svob lettered at the UA from 1938-40, eventually earning an undergraduate degree in physical education. He returned after serving in World War II to get a master's degree in administration.
Svob was never far from Arizona Stadium. He was inducted in the UA athletic department's hall of fame in 1985 and the Pima County Sports Hall of Fame in 1996. He was a dedicated philanthropist and a deacon and elder at St. Marks' Presbyterian Church.
Svob was preceded in death by his wife Shirley, who he met and married while at the UA. Their four children all attended the university.
Longtime Rural Metro Fire Capt. Scott Ferguson dies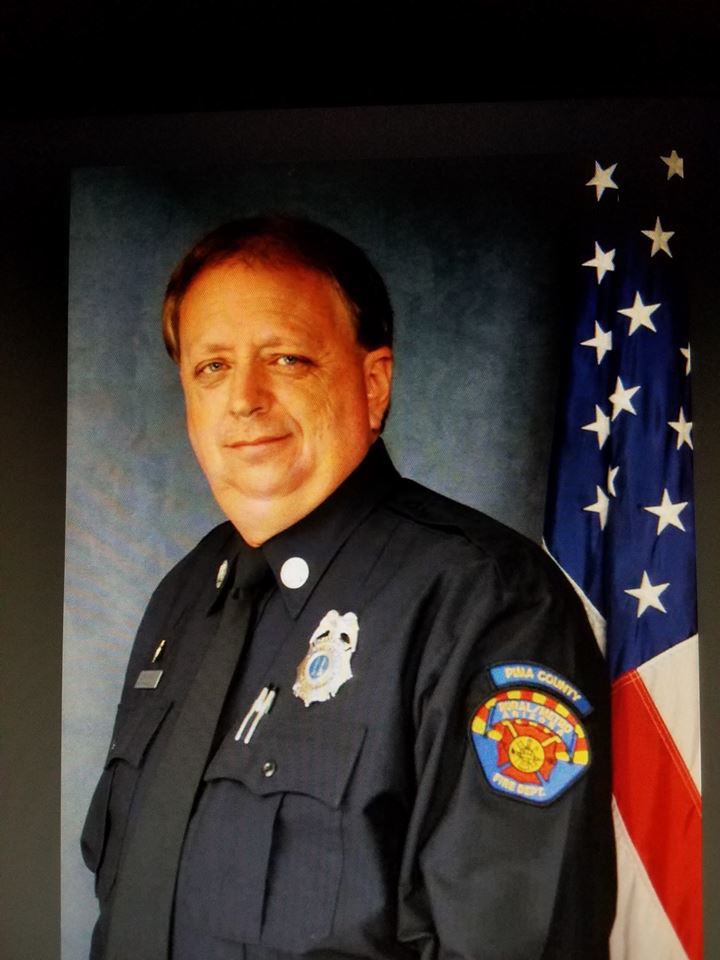 Capt. Scott Ferguson, who served three decades with Rural Metro Fire Department and was known as an accomplished musician in his off-time, died Sept. 8. He was 57.
On Aug. 27, Ferguson became ill while on duty, and was left in very critical condition, said Battalion Chief John Walka. He died of a cardiac event at Banner-University Medical Center Tucson surrounded by his family and fellow firefighters.
Ferguson was assigned to Station 72 at 2741 N. Houghton Road, north of East Tanque Verde Road. Before joining Rural Metro, he served two years with the Houston Fire Department, said Walka.
"He climbed the ranks here and began as a reserve firefighter. He also worked as an emergency medical technician and worked at all eight fire stations in Pima County. In 1997, he was promoted to fire captain," recalled Walka of his friend.
"Captain Ferguson was probably one of the most caring individuals. He was one of the best teachers and mentors for firefighters. He had a lot of experience in all phases of fire service, including fighting structure fires, extrication and emergency medical services. He shared his experiences with everyone," said Walka of the department's most senior captain.
He said his "work ethic, reputation and personality impacted people" and this was evident "over the past week as long-time friends and colleagues from across the country offered their support."
When Ferguson was not working, he played with several Tucson musicians, including Billy Scroggs, a country rock artist and former Rural Metro firefighter.
Ferguson played keyboards, guitar, bass, drums and wrote music. "He was a big fan of The Beatles," said Walka. When he wasn't playing music, he was watching University of Arizona softball.
He is survived by his mother, Kathryn Ferguson, of Tucson; brother, Steven Ferguson, of Houston, Texas; aunts, uncles, numerous nieces, nephews and cousins.
Ferguson will be honored with a line-of-duty-death funeral service, which includes a procession of fire trucks About 200 firefighters representing Southern Arizona departments are expected.
Services are set for Wednesday, Sept. 13, at 10 a.m. at Calvary Church, 8711 E. Speedway.
Alan Lurie — POW, former D-M commander and business leader — leaves his mark
Alan Lurie, a Vietnam War prisoner of war who was commander of the 836th Air Division at Davis-Monthan Air Force Base in the 1980s and later executive vice president of the Southern Arizona Home Builders Association, died Tuesday, September 12. He was 84.
Lurie, a highly decorated retired Air Force brigadier general, suffered from dementia and died in his home, said daughter-in-law Angie Lurie. "All of his family spent time with him before he passed," said Angie, who is married to Lurie's son, Cameron.
Lurie was born March 24, 1933, in Cleveland and he attended Ohio State University where he met his future wife, Mary Todd, in an arts history course. The couple married in 1954, and Alan received a bachelor's degree in 1955 and was commissioned as a second lieutenant through the Air Force ROTC.
He served in two squadrons in the states before serving in the 47th Bombardment Wing, Royal Air Force Station in Sculthorpe, England, according to his Air Force biography.
In February 1966, he was deployed to Da Nang Air Base in Vietnam where he served as an F-4C aircraft commander with the 480th Tactical Fighter Squadron, 366th Tactical Fighter Wing. Four months later, after flying 75 combat missions, he was shot down and held as a prisoner of war in North Vietnam until his release in February 1973.
As a POW in Hanoi for nearly seven years, Lurie was routinely tortured and was held the last few months at the notorious Hoa Lo prison, sarcastically nicknamed the "Hanoi Hilton" by the American prisoners. In a 1989 Tucson Citizen article, Lurie mentioned the beatings, solitary confinement, hunger and winters prisoners endured.
Following his release, Lurie returned to his wife and three children and worked to re-accustom himself to American life. "I don't know that I have met anyone who was as representational as a patriot," said daughter Kathryn Lurie. "I respected his love for this country."
"He came back to be Dad and continued his service with the Air Force. Sometimes he would come home with military documents and hide them, and we would tell him 'Dad, leave the military at the door. Your are just Dad,'" said Kathryn Lurie with a chuckle. "And, he would. He would help clean because he was a neat freak, and he would load the dishwasher with such precision."
After 32 years in the Air Force, Lurie retired in 1987, leaving McChord Air Force Base in Washington state, where he was responsible for air defense of the northwestern corridor of the United States. He eventually returned with his family to Tucson, and began a second career in 1991 as executive vice president of the Southern Arizona Home Builders Association.
In a Star interview months after he began working for SAHBA, Lurie explained he was no stranger to construction because his father worked in demolition in Cleveland.
Lurie's work with the association included building up its membership, expanding business for contractors through educational programs, building relationships with local government to help bring business to builders and he worked to provide affordable housing for home buyers, said David Godlewski, president of SAHBA.
"Alan was the consummate professional. His experience in serving our country in the Air Force prepared him to make a tremendous impact on SAHBA in advancing the organization," Godlewski said. "He was a class act. He was someone who was very caring and a true leader."
Lurie loved spending time with the grandkids and he loved to go fly fishing. "He tied his own flies," recalled Angie Lurie, mentioning his yearly trips with buddies to spots in Alaska and in the White Mountains.
Kathryn Lurie remembered her dad's love for gardening and him trimming and caring for his red, pink and yellow roses, along with the oleanders.
She also laughed recalling his screams during Ohio State football games. The retired brigadier general's two daughters also graduated from the university. A granddaughter is a student there.
Lurie's wife of 59 years, Mary, died four years ago. In addition to his son, Cameron Lurie, and daughter, Kimberly Lurie, both of Tucson, and daughter, Kathryn Lurie, of San Jose, California, Lurie is survived by two grandchildren.
A 5 p.m. memorial service will be held Sept. 23 at East Lawn Palms Mortuary, 5801 E. Grant Road. Lurie will be buried at Arlington National Cemetery.
Lillian Lopez-Grant, an advocate for west-side, minority neighborhoods, dies
Lillian Lopez-Grant, who grew up in the Menlo Park neighborhood and advocated for west-side neighborhoods and minority communities, died Sunday, October 8, of liver cancer in hospice at home. She was 77.
She was surrounded by her family, said her daughter, Liza Grant.
Grant said among the important lessons that her mother taught her is "to be fair, kind and just."
Councilwoman Regina Romero described Lopez-Grant as a friend and leader who was a trailblazer championing the Menlo Park neighborhood. "I had her support from Day One," said Romero.
"She taught me a lot about being genuine, authentic and advocating for our community," said Romero, who recalled how Lopez-Grant was a lead organizer for years in El Día de San Juan festivities, which celebrate the feast of St. John the Baptist on June 24. It marks the informal start of the annual monsoon season.
The celebration west of downtown and south of West Congress Street was canceled earlier this year, but then was resurrected with community support, including from Lopez-Grant.
Nelba Chavez recalled Lopez-Grant as "a power figure." "We have lost a jewel. It is another chapter that is closing. She always wanted the best for her community, especially the west side. She fought for what she believed was right, especially for underserved communities," said Chavez, a mental-health activist who was former executive director of La Frontera and in 1994 was appointed by President Bill Clinton to head the Substance Abuse and Mental Health Services Administration.
Among the battles Lopez-Grant took on were preservation of the barrios, cultural issues, education for minority youth and health care, said Chavez. "She wanted to make sure people received the services they needed."
Community leader Alison Hughes recalled meeting Lopez-Grant in the early 1970s when Hughes was representing the Pima College in Model Cities antipoverty programs. "Lillian was very involved because she really wanted to see the west side get its fair share of economic development funds," said Hughes. Her advocacy work included construction of housing developments and the revitalization of neighborhoods with businesses.
"She spoke before business leaders, commissions and committees, and she made sure the west side was well-represented. Her work covered a span of up to four decades," Hughes said.
"We became friends and later Lillian served on the Tucson Women's Commission," said Hughes, who was a founder and executive director of the commission in the mid-1970s.
Dan Eckstrom, former South Tucson mayor and Pima County supervisor, said at one time Lopez-Grant worked in community development for South Tucson. "She was really good at working with people and relating to their problems. She formed relationships with people throughout the community and she was a veteran at making sure people needing services were taken care of," said Eckstrom, adding that she also was involved in labor issues with the United Steel Workers of America, promoting benefits for workers and their families.
"Lillian had a great soul. But, the one thing is, you never tried to cross her because she was tough and she could handle herself," said Eckstrom. "It is unfortunate that she left us. She will surely be missed, but I am sure she is organizing in heaven on the next project."
In the 1980s, Lopez-Grant left the Democratic Party and worked on the staff of Sen. John McCain's Tucson office through the 1990s. She also worked for former U.S. Rep. Jim Kolbe, also a Republican.
However, she returned to the Democratic Party about six years ago because she did not like the growing divisiveness within the Republican Party, said her daughter, Liza Grant.
Lopez-Grant's parents were from Nayarit, Mexico, and her father died before she was born in Nogales, Arizona. In 1945, her mother and Lopez-Grant, who was 5, moved into the Menlo Park neighborhood, according to a 2013 Star article. She grew up in the tight-knit neighborhood and had fond memories of her days at the Menlo Park Elementary School.
Lopez-Grant married young and had five children. She later divorced and raised her children as a single mother and taught them the importance of an education, said Chavez. Her three daughters attended college. One graduated from Yale, majoring in psychology; another from the University of Southern California, majoring in business; and the third from the University of Texas at Arlington, receiving a master's degree in geology.
Lopez-Grant is survived by four children and nine grandchildren.
A memorial Mass is set for 10:30 a.m. Oct. 28 at St. Augustine Cathedral, 192 S. Stone Ave.
Tucson arts lover, philanthropist Lyn Tornabene dies
Philanthropist, arts advocate and retired journalist Lyn Tornabene died of natural causes at her Tucson home Sept. 25. She was 86.
Tornabene had long been a supporter of the University of Arizona Libraries and the UA School of Theatre, Film and Television. The school's black box theater, the Tornabene, is named in memory of her late daughter, Wendy Lyn, and her husband, Frank, who died three months after their daughter.
Tornabene had a rich life. As a writer for such magazines as Good Housekeeping, Ladies Home Journal and Cosmopolitan, she lunched with Jack Benny (she paid, she would quip about the famous penny pincher), skied with French World Cup alpine skier Jean-Claude Killy and golfed with Arnold Palmer — all in pursuit of a good story.
While women of her era generally stayed home and kept house, Tornabene would have none of that. Her reporting took her around the world and sat her across from some of the biggest names in the news in the 1950s, '60s and '70s. She interviewed actor Marcello Mastroianni on the Italian set of "8½" while director Federico Fellini stood by waiting to have lunch with her. She passed out while observing pioneering heart surgeon Dr. Michael DeBakey perform an operation. And she inched away from actor Marlon Brando as he tried to make one of his famous moves on her during an interview.
Tornabene wrote three books: "Long Live the King," a biography of actor Clark Gable, "What's a Jewish Girl?," a slim comic volume with pithy insights such as "A Jewish girl never sits in the bleachers," and "I Passed as a Teenager." The latter was written after Tornabene, 33 at the time, enrolled undercover in a high school to try to gauge what teens in the mid-1960s were really like.
It was a dizzying career, all the more remarkable given that when she graduated as an English major from Penn State University, she said she had two strikes against her.
"I had a hard time getting a job out of college," she said in a 2016 talk at the UA Library's Special Collections, which houses her papers. "I was a woman and I was Jewish."
And it was a career that impressed and inspired her niece, Carolyn Rosenbaum. "I didn't know any other career women back then," said Rosenbaum from her New York City office. "She was an amazing storyteller and she had a career that was really unique for a woman in those days. … When her career was at its prime, the larger women's magazines would do all-out bios of stars. Lyn always did them because she was so charismatic. She would spend two weeks with her subjects and she always had these amazing stories. "
Tornabene and her husband left their Connecticut home and retired to Tucson in the mid-1990s. Their daughter died in late 2004, and her husband in early 2005. Not long after that, the family friends who had adopted her daughter's 2-year-old son refused to allow the visits she had been promised (her struggle to get the rights to see him were the subject of a 2009 Star story).
Tornabene threw herself into supporting the arts, the UA and such groups as the Tucson Botanical Gardens.
"It would have been easy to just shut the door and go into the dark," said Tornabene's friend, stage director Carol Calkins.
"But she had the strength in her to find a new place for her love and passion, and wasn't the city lucky? She really stepped out of a deep hole to do that."
Bruce Brockman, director of the UA's School of Theater, Film and Television, said the loss will be deeply felt by students and faculty.
"She was incredibly important to the school," he said. "She was such a supporter and a real champion for the students."
When Tornabene donated the money to name the smaller theater in the UA Fine Arts Complex, she didn't consider her job done.
"She vowed that no theater student would ever pay for tickets when they went to her theater," says Brockman. "At the end of a performance, we counted the number of theater majors in attendance and she wrote a check for the tickets."
And, added Brockman, "At the end of one performance of every show, she would host a pizza party for the cast and crew. The students loved and appreciated it. She meant the world to all of us."
Tornabene's generosity was often done quietly, and her passion for the arts was never stilled.
"She really did care about the arts," said Calkins. "She didn't give just to get her name in a program or a tax deduction; she really cared."
Tornabene is survived by nieces Carolyn Rosenbaum of New York City, Andrea Gowland and Leslie Leddo, both of Santa Barbara, California, and a nephew, Arthur Pomerantz of New York.
Brockman said the UA is planning a memorial in her honor, but no date has been set.
Neto's Tucson: Sabino Gomez was a master of Mexican breads and pastries
Years before Tucson earned the distinction City of Gastronomy by UNESCO and years before local foodies discovered artisan breads and years before soccer became a popular local sport, Sabino Gomez quietly devoted his time and talent to create delicate Mexican breads and pastries, and helped develop one of the city's first amateur soccer leagues. He was a husband, father, grandfather and businessman.
Gomez died Nov. 9. He was 80 years old.
I saw him from time to time at La Fresita, a small Mexican food restaurant on West St. Mary's Road, where he helped behind the counter. I would greet him as "Don Sabino," giving him the title of respect and admiration.
In January 2009, I wrote about him. Here's the column as published:
Sabino Gomez is up before dawn, kneading and rolling dough into all sorts of shapes. When the Mexican sweet breads emerge from the oven at El Rio Bakery, the aroma of the freshly baked goodies fills the small West Side panadería.
There are ribbon-twisted moñitos, corn-shaped elotes, little logs called leños, horn-shaped cuernos, round sweetbread called pan de huevo and birote, small loaves of crusty bread.
For nearly 40 years at El Rio, and several more years before that, Gomez has rolled out Mexican pastries and tortillas from the Barrio Hollywood bakery on North Grande Avenue.
But Gomez has more than produced delicious breads, which he learned to make in his native Jalisco, Mexico. The master baker has also rolled out younger panaderos who continue to maintain the ritual and role that Tucson's Mexican bakeries play in our cultural and culinary life.
"He's the master," said Griselda Villa Vargas, who with her husband, Guillermo Vargas, purchased El Rio late last year and invited Gomez to continue his artistry as long as he wants.
"It's his house," Vargas said in Spanish.
Gomez opened El Rio Bakery in 1971 on a corner across the street from St. Margaret Mary's Catholic Church and Grande Tortilla Factory, down the street from Pat's Drive In, three barrio landmarks.
It didn't take long for El Rio to become a barrio icon.
Of course, the work was not easy. But Gomez found his way.
"I love baking. It's hard but there is something special about creating bread," said Gomez in Spanish.
Gomez came to Tucson in the early '60s when he was 24 years old. He learned to bake as a youngster and worked as a baker in Cananea, Sonora, before coming to Tucson.
He found a job at Lujan Bakery, which was on South Fourth Avenue. But his baking career was almost derailed soon after he settled in Tucson: He was deported to Mexico.
He lived in Nogales and worked in a bakery. In 1965, Gomez, who eventually became a U.S. citizen, returned to Tucson with proper work papers and resumed working at Lujan's.
The bakery was one of several well-known Mexican bakeries in town.
Ronquillo's Bakery was at Downtown's Placita de la Mesilla and later on South Fourth Avenue. Le Cave's Bakery was on South Sixth Avenue, near 22nd Street, and Urrea Bakery was on South 10th Avenue in South Tucson.
When Gomez opened his business, he had stiff competition, but he put his personal stamp on Mexican pastries.
His imprint went beyond pan de huevo and cuernos.
In the mid-1960s, Gomez, a soccer aficionado who played the game as a youth, and several other fans formed one of Tucson's first soccer leagues. By the late '60s, a multi-team league was created among immigrants and foreign students from the University of Arizona who played weekly at Menlo Park on the West Side.
Gomez, who wore a white Chivas cap, a nod to his favorite Mexican soccer team from Guadalajara, said baking is his life, but playing soccer was his dream. However, it was yeast and flour on which Gomez built his reputation.
The most notable of the other bakeries inspired by him is La Estrella Bakery on South 12th Avenue and West Nebraska. It is owned by a nephew who learned the art under Gomez. There are several others.
"It makes me feel proud," Gomez said of the Mexican bakers who apprenticed under him.
Gomez continues as a teacher.
In 1999, he accepted an offer to sell El Rio. But he took back El Rio when the buyer stopped making payments.
Then, in November, Gomez sold the bakery to the Vargases, who are expanding the bakery to include a small restaurant. The new owners asked Gomez to stay on to pass on his knowledge.
"I had to return," he said. "It gives me exercise."
Jose Matus, a spiritual leader in Tucson's Yaqui community, dies at 66
Jose Matus, a spiritual leader in the Yaqui community and an activist who called for more humane policies for indigenous communities on both sides of the border, died Sunday, December 3. He was 66 years old.
Matus founded the Indigenous Alliance Without Borders/Alianza Indígena sin Fronteras.
He was a cultural fixture for the Yaqui tribe: he was a matachinis and deer dancer, who also played the flute and drums during the Yaquis' Easter week religious ceremonies.
Those who knew him and worked with him said Matus devoted himself to his fellow Yoeme, as Yaquis call themselves, and he reached across tribal lines.
"Wherever he went, Jose brought that 'Yaqui plus', a shining example of a people whose identity is rooted in the defense of land, water and indigenous culture," James Jordan, with the Global Justice Center, wrote in an email.
Josefina Cardenas, a west-side resident active in local indigenous efforts, wrote that Matus collaborated on projects including Indigenous Peoples Day, Protect Chuk Shon, and he helped create a relationship with the San Xavier District of the Tohono O'odham Nation.
"Sr. Matus made sure his meetings had food to share a meal together and join a dialogue concerning the struggles of our community," she wrote in an email.
While Matus was a strong advocate for the Yaqui community, in 1998 he was embroiled in a dispute with the south-side Yoeme Barrio Libre Community Council. Some members of the Barrio Libre Yaquis had been celebrating Easter rituals on property Matus owned on West 39th Street in South Tucson. Matus had sought financial help in paying the property tax bill. The dispute forced out the group, which later relocated to property on West 40th Street purchased by the Yaqui tribe.
Visitation hours for Matus are 3-11 p.m. Friday at Capilla San Martin De Porres, 418 W. 39th St.