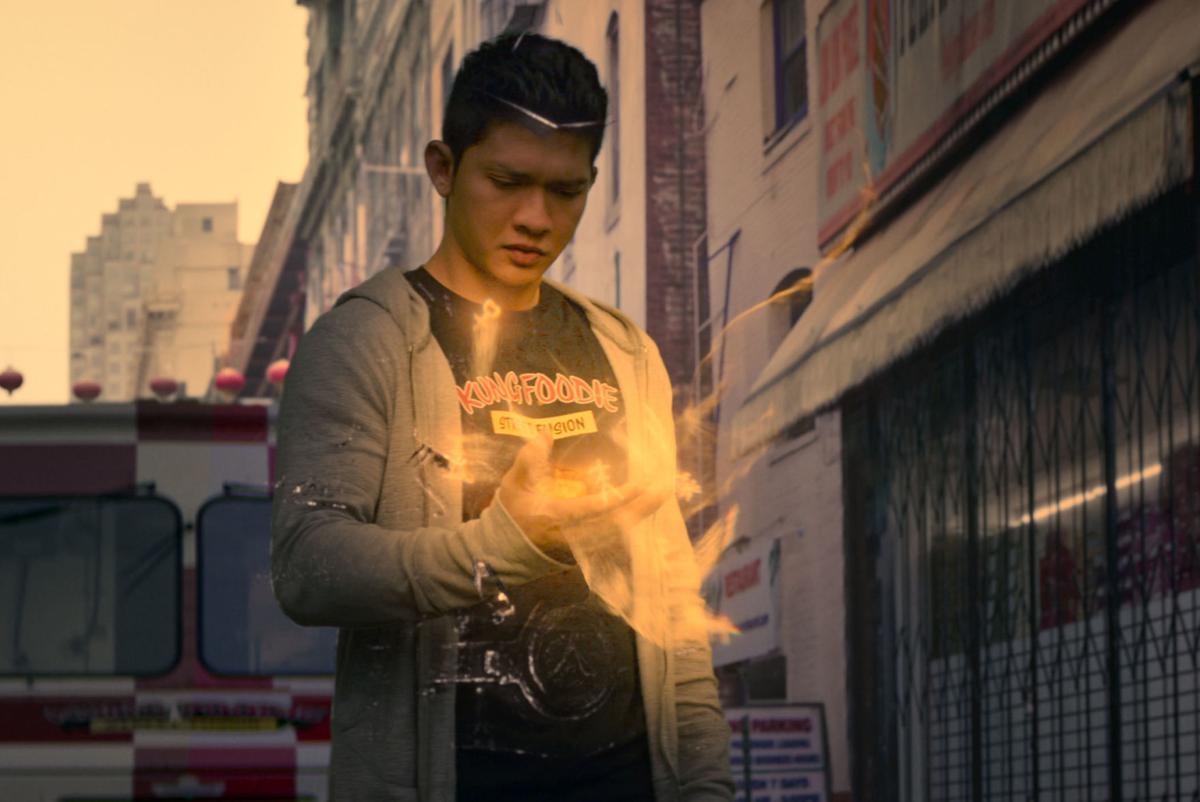 Wu Assassins
This series follows Kai Jin (Iko Uwais), a young chef in present-day San Francisco's Chinatown who becomes entangled with the Chinese Triad's pursuit of deadly ancient powers. After an encounter with a mystical spirit, Kai reluctantly becomes the Wu Assassin, using his enhanced martial arts skills to recover supernatural powers from five modern-day criminals threatening to use them to destroy the world.
The Naked Director
This true story follows the rise of adult video director Toru Muranishi, who revolutionized the porn industry in 1980s Japan.
The Young and the Restless
Double Daisy! The Dukes of Hazzard's Catherine Bach just popped up on History's Car Week — now she's guest-starring on Y&R for the first time in 17 months. As Anita, chaos-loving con artist mom to Chelsea (Melissa Claire Egan), Bach brings a special delivery to Genoa City. Uh-oh.
The Outpost: "The Blade of the Three"
Wythers (guest star Andrew Howard) hatches a plan to save Garret (Jake Stormoen) before it is too late. Gwynn (Imogen Waterhouse) responds to Tobin's (guest star Aaron Fontaine) proposal. Meanwhile, Talon (Jessica Green) and Zed (guest star Reece Ritchie) discover a key to great power. Lastly, Garret heads out on a dark mission.
MasterChef: "Box in a Box in a Box"
The home cooks return to the MasterChef kitchen for a Mystery Box Challenge that includes multiple mandatory ingredients. After getting a demonstration from Gordon Ramsay, each contestant must create a dish using all of the high-end mystery ingredients.
Mountain Men: "No Guts, No Glory"
Kidd and Harry set their sights on bagging a buffalo; Jake goes after a mountain lion caught too close to civilization; and Morgan fights the deadly skies of Alaska in a race to resupply his homestead.
Million Dollar Listing New York: "A New York Upstate of Mind"
Ryan views a seven-story townhouse featuring an incredible indoor pool, but being honest with the seller about the price may prevent him from making a splash in Chelsea. Upstate, Steve spares no expense on his brokers' event of the 160-acre Payne Estate, hoping that axe-throwing competitions and carriage rides will be enough to rein in a big city buyer.
Two Sentence Horror Stories
The CW, 9pm EST, New Series!
This anthology series is inspired by the viral flash fiction of horror stories written using only two sentences. Vera Miao, who originated the web series of this title, executive produces this version, which features a cast including Nicole Kang (The CW's upcoming Batwoman series), Jim Parrack (Suicide Squad) and Aleyse Shannon (Charmed). The half-hour series kicks off with back-to-back episodes tonight.
Hollywood Game Night: "Kiss Me in Lamorne-ing"
Jane Lynch hosts a no-holds-barred competition of entertaining party games including Song Sung Wrong, Block This Way and What's in a Name? Celebrity cast Lamorne Morris, Sara Foster and Lil Rel team up to challenge Mike Colter, Erin Foster and Thomas Middleditch in hopes of helping a contestant win the $25,000 grand prize.
Chasing the Cure
TNT & TBS, 9pm Live EST, New Series!
Every week, patients battling puzzling ailments meet with a panel of top doctors who work to help solve their cases. Some stories are surprising, odd and uplifting, while others involve heartbreaking, life-or-death circumstances. The 90-minute series is anchored by Ann Curry and includes a 24/7 global digital interactive experience to fully harness the power of crowdsourcing in an effort to help people who are suffering from undiagnosed, misdiagnosed or uncured medical mysteries.
Reef Break: "Despot"
When a mysterious general arrives on the Reef with a secret collection of stolen art and jewelry, chaos and murder ensue leaving Wyatt (Desmond Chiam) to question Cat's (Poppy Montgomery) involvement and who she is really working for.
Elementary: "Reichenbach Falls"
The title of the series' penultimate episode, "Reichenbach Falls," suggests that Holmes (Jonny Lee Miller) and Watson (Lucy Liu) will finally defeat nefarious tech billionaire Odin Reichenbach (James Frain) before time (and the series) runs out.
Alone: "The Ice Cometh"
As the weather gets colder and even less forgiving, the participants struggle to obtain basic resources. One participant continues to lose weight at a rapid and deadly pace, while another continues to be harassed by ruthless predators. Another contestant wakes one morning to a grave discovery and realizes that the Arctic winter has only just begun.
Be the first to know
Get local news delivered to your inbox!