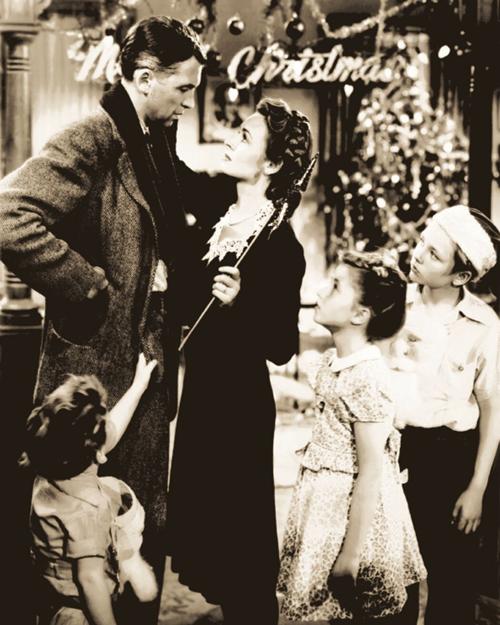 It's a Wonderful Life
NBC, 8pm EST, Catch a Classic!
Frank Capra's beloved, Oscar-winning 1946 holiday classic stars Best Actor Oscar nominee James Stewart as George Bailey, a discouraged and despairing building-and-loan manager who contemplates suicide before a guardian angel named Clarence (Henry Travers) intervenes and allows him to see what George's small town of Bedford Falls would be without him — and all that is right in his world. Donna Reed and Lionel Barrymore also star in the iconic film whose Oscar nominations also included Best Picture and Best Director for Capra. NBC will re-air the film on Christmas Eve (Friday, Dec. 24), and it will also air on USA Network Wednesday, Dec. 15.
College Football
ABC, CBS, ESPN & FOX, beginning at 12pm Live EST
College football conference championship Saturday features title games for the Big 12 (ABC), MAC (ESPN), Sun Belt (ESPN), Mountain West (FOX), American Athletic Conference (ABC), SEC (CBS), ACC (ABC) and Big Ten (FOX).
A Clüsterfünke Christmas
Comedy Central, 7pm EST, Original Film!
You all know the classic holiday romance story, and this celebratory parody follows it to a T. Holly (Vella Lovell), a go-getter real estate exec from New York City, heads to a small town to buy the quaint Clüsterfünke Inn, but runs into problems with the inn's spinster owners (Ana Gasteyer and Rachel Dratch). But things get complicated when she meets their nephew Frank (Cheyenne Jackson), a hot hunk of smoldering woodsman. What will she do? What. Will. She. Do!
Frankie Drake Mysteries
Ovation, 7pm EST, Season Finale!
Season 4 of the Canadian mystery series concludes with "A Family Affair," as shake-ups in all of the women's lives sees Frankie's (Lauren Lee Smith) dad alive but in danger, Trudy (Chantel Riley) leaving the detective agency, Mary (Rebecca Liddiard) going on the record and Flo's (Sharron Matthews) new family being threatened.
Christmas Beneath the Stars
UPtv, 7pm EST, Original Film!
Christmas blogger and aspiring photographer Hannah (Maddy Foley) is assigned to visit the charming Christmas World in Alaska, a place that will allow her to photograph the northern lights and maybe finally get published in her favorite nature magazine. With her holiday-loving Aunt Lucy in tow, Hannah arrives expecting magic but is greeted by a sadly decorated town on its last legs. Hannah strikes a deal with the heir apparent of Christmas World in exchange for a local's insight into the best places to photograph the lights. The two set out to turn the town around, but will they find something even more magical along the way?
Silent Night — A Song for the World
This musical film documentary is about the creation and cultural impact of the world's most famous Christmas carol, composed in 1818 near Salzburg, Austria. Translated into 140 languages, "Silent Night" caused a Christmas ceasefire in World War I, while Bing Crosby's version is the third-bestselling single ever. The film, narrated by Hugh Bonneville, tells the story of "Silent Night" with new recordings by global stars in different languages and a cast including Kelly Clarkson, Joss Stone, John Rhys-Davies, David Foster, Katharine McPhee, Randy Jackson, Gavin Rossdale, Shele?a, Ailee, Josh Groban, the Vienna Boys Choir, Anggun, Lina Makhoul, the Tenors, Rolando Villazo?n and many more.
College Basketball: Alabama vs. Gonzaga
The Battle in Seattle college basketball event is back for the first time since 2015 as Drew Timme and the Gonzaga Bulldogs host Jahvon Quinerly and the Alabama Crimson Tide at Climate Pledge Arena.
Jingle Bell Princess
GAC Family, 8pm EST, Original Film!
Mechanical issues temporarily ground Princess Amelia's (Merritt Patterson) royal jet, so she passes time exploring a magical Christmas tree lot on the airport's perimeter. Losing track of time, she misses her plane. An unforgettable holiday ensues as Amelia is taken in by airline employee Annie Cutler and her son, Sam (Trevor Donovan).
A Very Merry Bridesmaid
Hallmark Channel, 8pm EST, Original Film!
Leah's (Emily Osment) 30th birthday is on Christmas Eve, the same day as her brother's wedding. Her childhood crush (Casey Deidrick) is back in town for the wedding, and he is determined to make sure her birthday does not go by the wayside.
Holmes Family Rescue
HGTV, 8pm EST, New Series!
Contractor Mike Holmes will carry on his personal mission to "make it right" for homeowners who have fallen victim to careless or dishonest contractors. Teaming up with his son and daughter, home renovation experts Michael Holmes Jr. and Sherry Holmes, to rescue more clients who are struggling with botched construction jobs, the trio will expose shoddy renovation work and then help their clients fix the problem.
Kirk Franklin's A Gospel Christmas
Lifetime, 8pm EST, Original Film!
When Olivia (Demetria McKinney), a young assistant pastor, gets assigned to be a lead pastor at a new church a month before Christmas, she's fearful she can't manage the transition, including getting the choir ready to open the town's annual Winter Jamboree. Banding together with her new congregation, Olivia discovers a new home for herself, and even finds a little Christmas romance along the way! Featuring a special appearance, and songs written and arranged, by Kirk Franklin.
Fireside Favorites With the Hosts
TCM's Alicia Malone kicks off this new weekly block with her picks: 1945 Gene Tierney noir thriller Leave Her to Heaven and 1940 Maureen O'Hara dramedy Dance, Girl, Dance.
Outgrown
HGTV, 9pm EST, Season Finale!
In the first of two episodes, "Family Farmhouse," a family of six loves all the land surrounding their farmhouse, but the layout of their home doesn't provide for the quality family time they want. Clint Robertson and Luke Caldwell tackle this "country modern" home to create a living area where everyone can come together. In the season finale, "Change the House, Not the Table," a couple loves living across the street from her parents, but their home's midcentury modern layout needs updating to fit their prized table in the dining room where it belongs.
Our Christmas Journey
Hallmark Movies & Mysteries, 10pm EST, Original Film!
As a single mom and her autistic teenage son come to a crossroad during Christmas, she must learn to let go so he can flourish as she finds her own heart healing in unexpected ways. Stars Holly Robinson Peete, Lyriq Bent and Nik Sanchez.