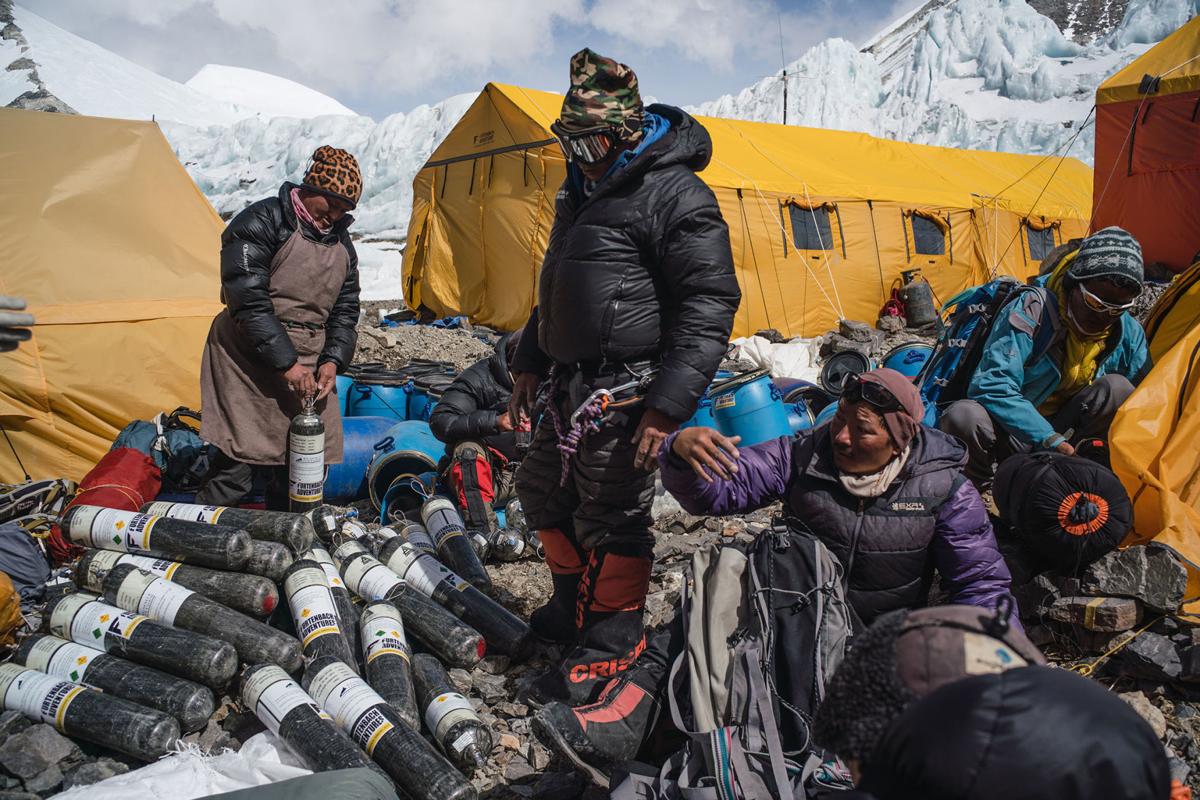 Lost on Everest
On June 8, 1924, at just 800 vertical feet from the summit of Mount Everest, British explorers George Leigh Mallory and Andrew "Sandy" Irvine were swallowed by a storm cloud and never seen again. A team of elite climbers attempt to find Irvine's remains and the camera he is believed to have carried that final day. Their journey is a thrilling, honest look that sets out to solve one of exploration's greatest mysteries.
Apollo 13
The Ron Howard-directed Best Picture nominee hit theaters 25 years ago today! As those of us who watch it every timeit's on cable know, the story of NASA's finest hour — working together to bring the astronauts of the ill-fated 1970 mission home — is always riveting, from flight commander Gene Kranz (Ed Harris) donning his new vest to Lovell's mother (Jean Speegle Howard, Ron's mom) insisting, "If they could get a washing machine to fly, my Jimmy could land it."
America's Got Talent: "Auditions 6"
The auditions continue with creator and executive producer Simon Cowell at the judges' table along with Howie Mandel, Sofia Vergara, guest judge Eric Stonestreet and host Terry Crews. Variety acts of all types and contestants of all ages audition for the chance to win the $1 million prize. The Golden Buzzer is still in play and could send a lucky act directly to the live shows to compete for America's vote.
Star of the Month: Ann Sheridan: "Ann's Onscreen Pairings"
TCM, beginning at 8pm EST, Catch a Classic!
TCM's monthlong salute to famed actress Ann Sheridan concludes tonight with a lineup of films featuring her pairings with famous male stars. The schedule begins with City for Conquest (1940), which paired her with James Cagney. Following that are Silver River (1948, Errol Flynn), One More Tomorrow (1946, Dennis Morgan), San Quentin (1937, Humphrey Bogart), Juke Girl (1942, Ronald Reagan) and Naughty but Nice( 1939, Dick Powell).
Million Dollar Listing Los Angeles: "Rock and a Hard Price"
Altman hosts a rockin' open house for a Trousdale party pad that once belonged to Howard Hughes. Flagg struggles to find the perfect family house for a very particular buyer, who questions if Flagg is the right fit for her. James and David look to expand their territory into Pasadena and help potential buyers see the potential of a 1970s fixer-upper.
Greenleaf: "The Second Day"
Noah (Benjamin Patterson) returns to Memphis to help Grace (Merle Dandridge), offering her stability in a world that's upside down and spinning out of her control. Bishop (Keith David) and Lady Mae (Lynn Whitfield) take a walk through their history when they visit Mavis' club as a potential venue for their future. Jacob (Lamman Rucker) continues to dig into the past and uncovers a shocking revelation about the history of the Greenleaf family home.
The Genetic Detective
ABC, 10pm EST, Season Finale!
This series — featuring investigative genetic genealogist CeCe Moore solving crimes — ends its first season tonight.
Welcome to Chechnya
In the present-day Russian republic of Chechnya, gay and transgender citizens are targeted as part of a deadly "cleansing" campaign. This documentary follows a group of LGBTQ activists working undercover to rescue the victims of this aggression.
World of Dance: "The Duels 1"
The Duels round begins with judges Jennifer Lopez, Derek Hough, Ne-Yo and special guest judge dancer and choreographer tWitch. This season, the judges have chosen which acts go head-to-head and the acts won't know their opponent until they hit the dance floor, leading to some of the most epic dance battles the series has ever seen. As guest judge, tWitch will have the power to decide which acts up for elimination will go head-to-head in the returning Redemption round, to earn a slot in the semifinals and the chance to perform on the World of Dance stage.
Dirty John: The Betty Broderick Story: "The 12th of Never"
The war between the Brodericks goes from cold to nuclear in this ripped-from-'80s-headlines drama as Betty (Amanda Peet) foolishly opts to represent herself against Dan (Christian Slater) during their divorce proceedings.
Be the first to know
Get local news delivered to your inbox!