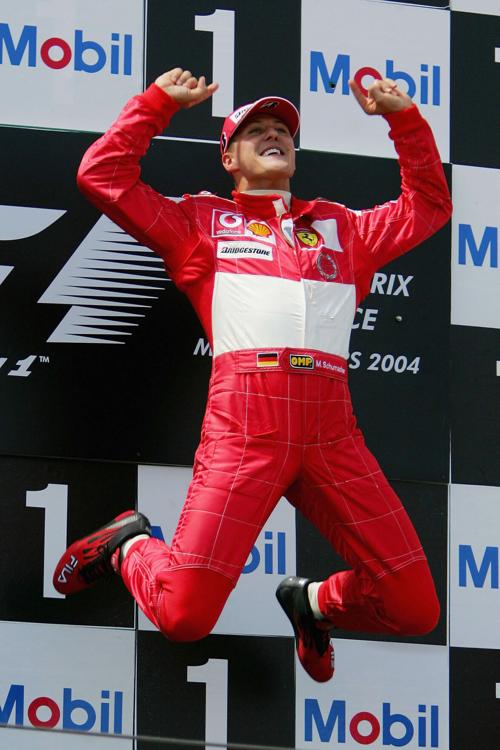 Schumacher
With the full support of Michael Schumacher's family, this film about the legendary Formula One racecar driver features rare interviews and previously undisclosed footage to draw a sensitive yet critical portrait of the seven-time world champion.
Nailed It!
Netflix, Season Premiere!
In Season 6, home bakers with a terrible track record take a crack at re-creating edible masterpieces for a cash prize.
Too Hot to Handle: Latino
In this reality series, a group of singles from across Latin America and Spain are challenged to give up sex for a chance to win $100,000 in U.S. dollars. The first three episodes are available today.
Press Your Luck
ABC, 8pm EST, Season Finale!
In "May the Odds Be Ever in Your Favor," host Elizabeth Banks is joined by contestants Tracy Brown (hometown: Oakland, California), Lee Paschen (Edwards Air Force Base, California) and Debbie Weiser (Los Angeles).
MasterChef: Legends
Season Finale!The MasterChef: Legends season concludes with a two-episode finale tonight. Chef Curtis Stone returns as a guest judge for the semifinals as three chefs battle in the appetizer round. Chef Michael Cimarusti is the guest judge as the two finalists compete for the title with entrée and dessert dishes.
Family Game Fight!: "The Alongi Family vs. the Lam Family"
Hosts Kristen Bell and Dax Shepard are "adopted" into a family of four to compete in a series of fun-filled and larger-than-life games. The competing families play Pie Rollers, Fruit Flies, Taste Buds, Deep Dish Dash and Brain Freeze. The winning family moves on to play Spin Cycle for a chance to win $100,000.
First Day of Hispanic Heritage Month Movie Marathon
TCM, beginning at 8pm EST, Catch a Classic!
Turner Classic Movies kicks off Hispanic Heritage Month, which takes place Sept. 15-Oct. 15, with five films this evening that feature notable stars with Hispanic backgrounds. The lineup includes the 1945 war film Back to Bataan (starring Anthony Quinn; of Mexican descent, Quinn was born Manuel Antonio Rodolfo Quinn Oaxaca); the 1941 romantic comedy The Strawberry Blonde (starring Rita Hayworth; born Margarita Carmen Cansino, Hayworth was half Spanish from her father's side); the 1949 crime drama Intruder in the Dust (starring Juano Hernández, a Black Hispanic man who was born in San Juan to a Puerto Rican father and Brazilian mother); the 1940 comedy/drama Susan and God (starring Hayworth); and the 1947 drama Tycoon (starring Quinn). — Jeff Pfeiffer
The $100,000 Pyramid
ABC, 9pm EST, Season Finale!
This week, it's Mario Cantone vs. Laura Benanti and Joe Tessitore vs. Bridget Everett.
Counting Cars
History, 9pm EST, Season Premiere!
Danny "The Count" Koker and the crew at his car shop are back for Season 10. In the season premiere episode, "Alice Cooper Returns," the rock icon — who left his prized 1963 Studebaker Avanti in the hands of the Count's Kustoms crew to receive their special treatment — comes back for the reveal. Will he like the epic upgrade?
America's Got Talent: "Finale Results"
NBC, 9pm Live EST, Season Finale!
Based on last night's performances, the winner of the talent competition's 16th season will be determined.
NOVA: "Bat Superpowers"
PBS, 9pm (WTTW Chicago, 9pm) EST
Bats have been implicated in deadly epidemics like COVID-19 and Ebola, yet scientists are discovering evidence that these creatures may hold a key to a longer and healthier life. From caves in Thailand and Texas to labs around the globe, NOVA meets the experts who are decoding the superpowers of the bat.
Money Court
CNBC, 10pm EST, Season Finale!
Court will be dismissed after tonight's episode of the series that finds experts ruling on a wide range of financial disputes concludes its first season. Shark Tank investor Kevin O'Leary, veteran trial attorney Katie Phang and former judge Ada Pozo preside over the cases.
Counting Cars: Under the Hood
History, 10pm EST, New Series!
Danny "The Count" Koker and his crew as seen in Counting Cars also headline this spinoff series. In the premiere, "Corvette Kings," Corvettes take center stage when the team spots one of Danny's favorite cars on the road. Will Danny and his crew be able to make a deal on these classic beauties? This is followed by another half-hour episode, "Cadillac Men," in which the crew is tasked with restoring two Cadillacs — a 1962 Caddy and a 1969 deVille. But will the high price of bringing these classics back to life be too much for the guys to handle?
Future of Work: "Changing Work, Changing Workers"
PBS, 10pm (WTTW Chicago, 10pm) EST, Series Finale!
Do businesses need offices? Is a 9-5 workday valid? Does the nation need a drastic rethinking of the social safety nets? As jobs change, does America face a "post-work" era, or will it see increased inequalities in how we make our livings?
Marvin Gaye: Life, Death & Money
Singer-songwriter Marvin Gaye had a golden voice that brought him fame and fortune, but his shocking murder by his own father revealed an estate in disarray, as Gaye died without a will and $9 million in debt. This special looks at Gaye's career as well as the multimillion-dollar fight his family waged after his death that would make music copyright history.
Younger
TV Land, 10pm EST, Series Finale!
The comedy about Liza Miller (Sutton Foster), a talented editor who lied about her age to land her dream job, wraps up after seven seasons with the series finale episode "Older."