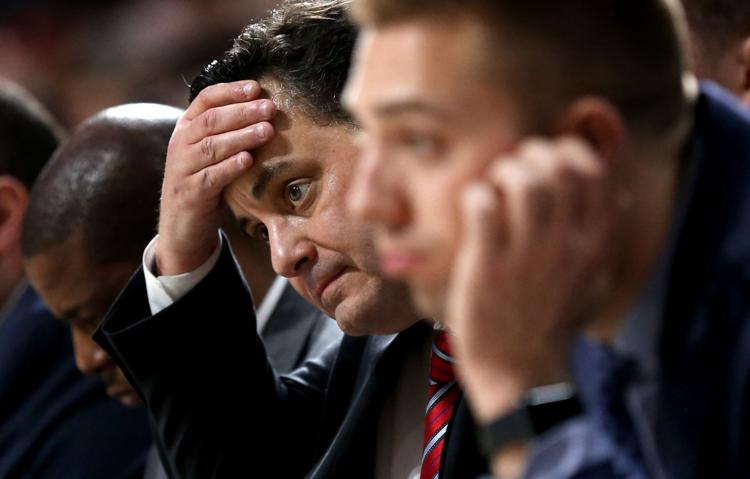 The UA coach's emotional Senior Day speech, in which he thanked fans for everything while saying it has been "an amazing honor to coach at McKale Center for the last 10 years," generated considerable speculation that he was saying farewell — especially because he continues to be linked to the federal probe into college basketball.
Miller initially declined to comment on whether the speech meant he had doubts about his future, then said two days later he didn't mean it as a farewell. A reporter asked him Wednesday if UA's season-ending loss to USC was his last game at Arizona. His response: "No, and I'm not going to comment on that."
Miller's future could be more clear after the federal college basketball bribery trial in April. Miller has reportedly been notified he will be subpoenaed to the trial, in which aspiring agent Christian Dawkins is expected to try to show he was not bribing coaches as much as brokering deals with them.
ESPN reported that Miller was captured on a wiretap talking with Dawkins about paying Deandre Ayton $100,000 to play for Arizona, an allegation both Ayton and Miller have denied. If there is a wiretap of Miller discussing a pay-for-play scheme, it could be played in court and/or Miller could be asked about it on the witness stand.
Dawkins' attorney, Michigan-based Steve Haney, has promised a "street fight" in April, and has vowed to get as many coaches as he can into the courtroom. The attorney said he's fully committed to going to trial and not taking a plea agreement, which could forever seal any evidence involving coaches.
"In the second trial, we're going to pull back the curtain," Haney said.
Miller's attorney, Stephen Thompson, has declined to comment to the Star. He could try to quash the subpoena on grounds it is not relevant. Should that fail, Miller would have two choices: plead the fifth or take the stand.
Conversely, if the trial occurs and there is no evidence or testimony linking Miller to violations, the clouds that have hung over the Arizona program would likely clear for a while. 
Miller is under contract through the 2021-22 season, and is scheduled to receive a $100,000 raise next season that would bump his guaranteed pay to $2.9 million plus incentives. If he is fired without cause at the end of the fiscal year on June 30, UA would owe him $3.7 million — 50 percent of his remaining guaranteed pay. Things get murkier if the UA tries to fire him for cause. Miller's contract says he would still be paid his $7.4 million guaranteed salary. The UA maintains he would be paid only through the date of termination, and has said it is confident that precedent in Arizona law would honor that intent.