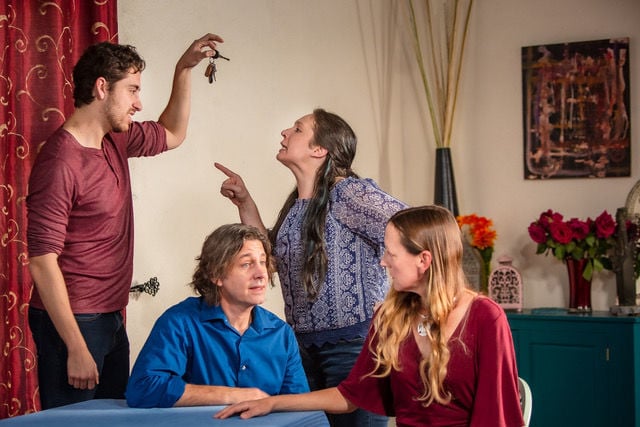 Winding Road Theater Ensemble dishes a hefty helping of humor and humanity with "The Big Meal," which opened Friday, Dec. 6, at Cabaret Theatre in the Temple of Music & Art.
"The Big Meal" by Dan LeFranc covers the ups and downs, and highs and lows, of five generations of extended family. Eight actors quickly shift between multiple characters at different points in their lives.
The stories unfold in a series of fast-paced mini scenes set in restaurants. Dinnertime conversations, banter and arguments tell the characters' stories.
The story begins when Sam and Nicole meet as young adults in a restaurant and want a casual relationship.
Marriage, children, grandchildren and all of the joys and sorrows of extended family follow.
China Young and Damian Garcia take on the young adult roles; Kat McIntosh and Chris Koval portray the 40ish characters; Cynthia Jeffery and Tony Caprile assume the elder, grandparent roles. Lena Quach and Danny Quinones are the child characters, from crying babies to boisterous, obnoxious tweens.
Playwright LeFranc asked directors not to use theatrical elements, such as using lighting, to indicate the shifts in time or character. Director Maria A. Caprile chose not to use costume changes to signal character or time shifts. Rather, transitions are indicated by a quick hairstyle adjustment, a piece of jewelry and, as she says in her director notes, "the tools inherent to actors" like a common gesture or an enduring attitude.
The rapid-fire, overlapping dialogue, which gets loud and raucous, dishes truths about being a parent, suffering loss, divorce, workplace flirtations, in-laws, and all of the elements that make family, well, family. Recurring jokes, expressions and other family-speak ground the story.
All of the actors are strong and fully embrace their multiple roles. The action happens at a round table for eight that is set with chargers and several types of glassware in the center of the theatre floor. The table is surrounded on four sides with 75-or-so audience seats. Actors await the cue for their next scene in seats at the edge of the audience, and eight audience seats are set as restaurant tables with candles, adding to the restaurant vibe. Winding Road used a similar set up in its 2014 production of "Death of a Salesman."
The arrangement effectively puts the audience just a few feet from the actors — like you're seated near them in a restaurant.
However, the limitation, as it was in the restaurant scene of "Salesman," is that the actors' backs are turned toward a significant portion of the audience, which is unable to see facial expressions and experience the actors' full range of emotion.
"The Big Meal" is well acted, energetic and serves laugh-out-loud and solemn moments.
"The Big Meal" continues through Dec. 22 and runs concurrently with a staged reading of "The Truth About Christmas."