This new taproom is owned by Kyle Schwab, who opened the movie-centric Casa Film Bar inside his family's Casa Video store on Speedway. His second effort is forgoing the cinema theme and going for a standard beer bar experience with 35 brews on tap from Arizona and beyond. 
Ahead of the grand opening Friday at 7 p.m., we grabbed a beer at the space to see what it's all about. (Casa Marana is in soft-opening stages right now starting at 11 a.m. every day.) A stripmall spot inside a building that once housed a Chopstix Asian Diner and then a northside hub for Miss Saigon, the space has been redone with some hipster flourishes including a cute "Marana" mural that's sure to appear on an Instagram or two.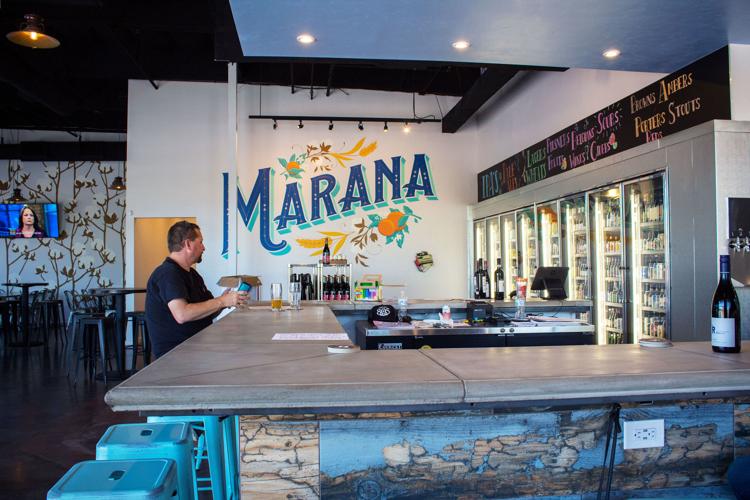 The vibe here is what I like to call suburban-hip, with an airy clean look that reminds me most of Tap + Bottle North. The space was comfortable and the air conditioning seemed to be on full blast, which is probably worth mentioning right about now. I could pass many an afternoon in this cool room, watching the flatscreen TV and mowing through the sampler menu. 
My drinking partner and I split a flight of four 5-ounce pours that were all $2.50 apiece, although the price varies depending on the beer. This allowed us to try some interesting samples from the paper list, including a cucumber saison from Tucson's Harbottle and a dank IPA from Alpine Beer Company in California. The saison tasted "like drinking a salad," according to my friend. 
The taplist was organized into different beer styles including IPA's, strong ales, sour and fruit beers and more. Each beer selection included some light tasting notes — "the very drinkable Sour Bikini is anything but a sissy beer" — to help you move through the menu.   
There was also an extensive refrigerator area with 550 bottles and cans which were set out individually, so you can make your own six-pack. While a good deal of them were local, I did notice they had a decent selection of California beers like 21st Amendment, Lagunitas and Modern Times out of San Diego. 
Casa Marana is at 8225 N. Courtney Page Way. Phone: 520-505-4870. Hours starting this Saturday will be 11 a.m. to 1 a.m. daily.