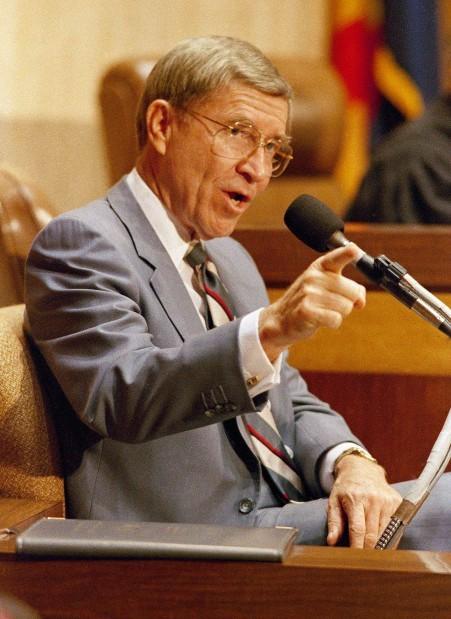 When Arizona Gov. Evan Mecham was impeached, there was a recall election in the works and a criminal trial looming.
The recall wasn't necessary as it turned out. The Senate convicted Mecham on charges of wrongdoing and ousted him from office.
From an article in the Arizona Daily Star, April 5, 1988:
Mecham convicted
Recall status in doubt
Criminal trial is next for ousted governor
By Melissa Rigg
and Susan R. Carson
The Arizona Daily Star
PHOENIX — The Senate voted decisively yesterday to oust Evan Mecham from office, finding him guilty of two charges of wrongdoing and making him the first U.S. governor to be convicted in an impeachment trial in almost 60 years.
However, a vote on a provision known as the "Dracula" clause, which would have prohibited him from holding an office of trust again, failed 17-13, leaving unresolved the question of whether Mecham's name will appear on the May 17 recall ballot.
Mecham sat between his attorneys during the historic conclusion to his 25-day-old trial, but never turned to look at senators while they cast their votes sealing his fate.
When he left afterward, Mecham smiled at reporters and said he would announce his plans later this week.
"Options open"
"They don't like my politics, so we finished the political trial. It's as simple as that," the first-term Republican governor said. "We'll hold all of our options open."
Mecham has said he would appeal a conviction to the U.S. Supreme Court.
He is the first Arizona governor to be impeached and is the fifth governor in the United States to be convicted in an impeachment trial since the Civil War.
The last governor in an impeachment trial was Oklahoman Henry S. Johnson in 1929.
Despite death threats during the day, senators voted 21-9 to find Mecham guilty of the first article of impeachment, which accused him of obstructing justice.
They then found him guilty of misusing public money in a 26-4 vote on the third article.
Senators voted on only two of the three articles delivered to them by the House of Representatives on Feb. 8.
They dismissed the second article last week in a surprising 16-12 vote — a move that speeded up the trial's conclusion.
Republicans split
The second article, which accused Mecham of trying to conceal a $350,000 campaign loan, was considered the strongest because Mecham also was indicted by a state grand jury in connection with the loan.
All 11 Democrats voted to convict Mecham on both charges yesterday, but Republicans were divided in the obstruction of justice charge.
Even those Republicans who voted to acquit Mecham did not speak highly of his administration.
Sen. Jan Brewer, a Republican from Mecham's hometown of Glendale, said she was deeply troubled by the actions of his administration, which she called "Shameful, embarrassing and disappointing."
Three Democrats broke ranks to vote against the clause to drive a stake through Mecham's political heart, including the Seante minority leader and the minority whip.
"A pretty heavy thing"
Some observers speculated the Democrats want Mecham on the recall ballot so he will further split the Republican Party and increase the chances of one of their own winning.
Senate Minority Leader Alan Stephens, D-Phoenix, said he voted against the Dracula clause because "to take away someone's civil rights and permanently bar them from ever running for school board or deputy registrar, it's a pretty heavy thing to do."
The Arizona Constitution requires that 20 of the 30 senators find an officeholder guilty of a high crime or misdemeanor or malfeasance in office to remove him from his position.
To make their decision, senators used the standard of clear and convincing evidence, instead of a criminal trial's standard of beyond a reasonable doubt.
Decision called political
Arizona Chief Justice Frank X. Gordon Jr. said Mecham could appeal to the higher court, but added that it would be unusual for the U.S. Supreme Court to accept jurisdiction. Gordon served as the impeachment court's presiding officer.
Before the Senate trial started on Feb. 29, Mecham asked the Arizona Supreme Court to postpone the impeachment trial until after his criminal trial concluded, but it refused to accept jurisdiction.
Mecham is scheduled to go on trial in Maricopa County Superior Court on April 21 on six felony counts in connection with the $350,000 campaign loan.
His attorney, Jerris Leonard, who was fired from his Washington law firm when he agreed to represent Mecham, said yesterday that the defense "put on a hell of a case, a convincing case. I think it was a political decision."
"Let's face it, he's a plurality governor," said Leonard, who said he spent part of the lunch hour praying at a Phoenix church. "That's the seed for political disaster."
Mofford makes statement
Mecham was elected with 40 percent of the vote in November 1986 in a three-way race for governor. He had run unsuccessfully for governor four times.
Acting Gov. Rose Mofford was in her office signing letters when the vote was taken, and her staff monitored the proceedings.
As secretary of state, Mofford became Mecham's successor once the vote was recorded, but she still needs to take the oath of office, said John Shadegg, an assistant attorney general.
Mofford said at an impromptu conference that "it is time to put all that behind us and move forward."
"As we work together to bind the wounds of the last few months, let us purge our hearts of suspicion and hate," she said, reading from a prepared statement.
She declined to answer reporters' questions but will hold a press conference at 4 p.m. today.
Somber mood
Unlike the highly emotional, 46-14 impeachment vote in the House on Feb. 5, the mood in the Senate trial chambers was businesslike, although somber.
Senators met in separate caucuses after the court recessed to discuss their return to state business. They plan to reconvene as a court tomorrow to discuss attorneys' fees.
They are not meeting as a court today because Senate leaders feared some lawmakers might request a new vote on the charges. Motions to reconsider a vote can be heard only within 24 hours.