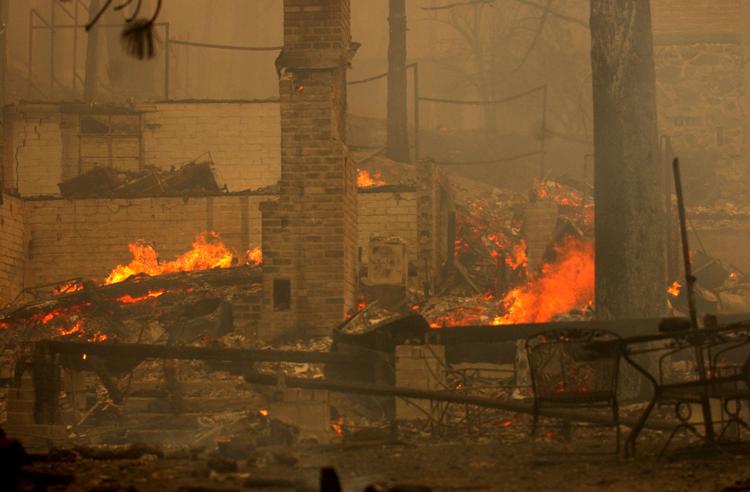 The community of Summerhaven, atop Mt. Lemmon, was forever changed when the Aspen fire ravaged the area in June, 2003.
The fire began on June 17, 2003, and was human-caused according the fire department. It ran through Summerhaven two days later. Some buildings survived, but the damage was severe.
From the Arizona Daily Star, June 18, 2003:
Mt. Lemmon blaze prompts evacuations
'Significant fire' burns 2-3 miles south of Summerhaven
Mitch Tobin
Arizona Daily Star
Summerhaven residents were ordered to evacuate Tuesday evening as a wildfire quickly leapt into the treetops of a forest still tinder dry from the drought.
The Aspen Fire was two to three miles south of the mountaintop village, near Marshall Peak, and burning through rugged wilderness.
The fire started at about 3 p.m. on the west side of Marshall Peak and soon climbed over the peak. Fire officials estimated its size at 100 acres by Tuesday night.
"They're calling it a significant fire," said Forest Service spokeswoman Sharon Brown. "I've been told it has lots of potential for growth."
The 30,563-acre Bullock Fire, which forced the evacuation of Summerhaven on May 25, 2002, burned on the other side of Mount Lemmon Highway, which firefighters used effectively as a fuel break. The Bullock Fire began several thousand feet lower in elevation, on the mountain's eastern flank, and took nearly a week to scale the range and force evacuations.
"It's déjà vu," said Don Underhill, owner of the Alpine Lodge, where about 50 residents had gathered before the evacuation order was given around 7:30 p.m. "We're probably a little stressed."
Summerhaven residents said little smoke was visible in the village. But Tucsonans could easily see an ominous column rising from the Catalinas by day, and the orange glow of flames by night.
The cause of the fire is under investigation, but it was human-caused, said fire information officer Heidi Schewel.
About 45 firefighters were on the blaze as of late Tuesday, with more coming today, she said.
Schewel said that unlike last year's Bullock Fire, which started in lower terrain not so heavily forested, the Aspen Fire started with a lot of fuel to burn. "Up here, once it gets cooking, it's really going to cook," she said.
Federal fire officials quickly assigned the same, elite "Type I" management team that handled the Bullock blaze. Such Type I teams are usually ordered only for the most threatening and complex fires. But the move may also be a reflection of how busy the fire season has become, said Mary Zabin-ski, a fire information officer with the Southwest Coordination Center in Albuquerque.
The Southwest's other Type I team also got marching orders Tuesday. It was assigned to the Cherry Fire, a prescribed burn in the Prescott National Forest that escaped control lines when winds kicked up. That blaze, reported at 400 acres, forced the evacuation of about 15 homes.
Another fire broke out Tuesday near the top of the Rincon Mountains east of Tucson. The fire, dubbed Helen's II, had burned a half-acre in Saguaro National Park. A fire crew was ferried to the site by helicopter.
The spate of fires that has broken out across Arizona in the past week has created more competition for firefighting resources, but it's nothing like 2002. "There's some juggling, but it's certainly not the scope of last year," Zabinski said.
Mount Lemmon Highway was closed at the base of the Catalinas and all residents living above Mile Marker 20 were told to evacuate.
The Pima County Sheriff's Department was assisting but was uncertain how many people were leaving. There are about 700 homes and 15 businesses in the Catalinas, most of them around Summerhaven.
The Red Cross was setting up a center at Sabino High School, 5000 N. Bowes Road, for evacuees.
Susan Glegg, a part-time Summerhaven resident who has owned her cabin for 21 years, was leaving the area Tuesday night and said the tight-knit community is tense during fire season.
"What really upsets us is our whole community is threatened by people who really don't understand they impact everybody," she said, referring to the man-made fire. "People come up to the mountain and don't mind using it but don't take care of it."
Fire-behavior models show the flammability of heavy fuels in the Rincons and the Catalinas remains far above normal, but still slightly below last year's figures, when high country timber was drier than lumber sold at hardware stores.
For months, experts have been predicting the 2003 fire season would be shorter than 2002's. But they have also warned that more extreme fire behavior was likely because of tree-killing insect outbreaks, the long-term drought and decades of aggressive fire suppression that have chocked the Southwest's forest with kindling.
In a sign of the danger facing Summerhaven, forest officials said that some "crowning" had been observed on the Aspen Fire, meaning that flames had reached the forest canopy, a situation firefighters are often helpless to counteract.
A pair of air tankers were expected to fight the blaze today, along with four "hotshot" crews, the best-trained and best-equipped wildland firefighters.
Firefighters are expected to face hot and dry conditions, with sustained winds from the southwest of 10 to 15 mph and a high temperature of 77 in Summerhaven, said Gary Zell, a National Weather Service meteorologist.
Radar imagery showed some thunderstorm activity over the Catalinas on Tuesday, he said.
Although there was neither sight nor smell of the Aspen Fire in Summerhaven on Tuesday evening, resident Fran Zimmerman said villagers are always worried anytime there's a fire on the mountain.
"That's part of living near big trees," she said.
Ironically, Summerhaven resident Alex Carrillo had just finished taking down some trees on his property, which borders the Coronado National Forest, when the Fire Department came by to alert him to the Aspen Fire.
Carrillo, who runs the Aspen Trail Bed and Breakfast, said he hopes all his clearing of brush and tree-cutting in recent years will make his property more fireproof.
"There's not a lot of burnable fuels directly behind us," he said by phone Tuesday afternoon, the sound of passing air tankers audible in the background. "Unfortunately, our neighbors haven't done the same."
Reporter Eric Swedlund contributed to this story.