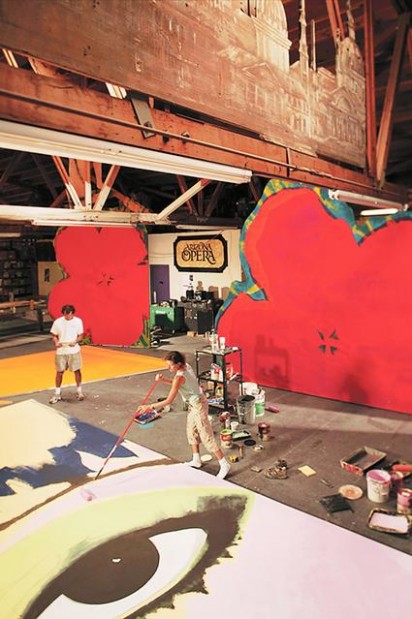 Ah, the "aha!" moment. There comes a point at which when puzzling over a decision, a way to proceed, a clue to a conundrum, you just get it. Everything seems almost magically to come together in a moment of clarity.
The Arizona Opera's brand-new take on Handel's "Semele" is a result of one of those moments, says set and costume designer David Zinn.
Zinn, director Chas Rader-Shieber and lighting designer Lenore Doxsee have collaborated to create about 25 new stagings of various operas. "Semele" is the creative team's debut with the Arizona Opera, and they've been working on this production for a little over a year.
Their insightful moment has given rise to a contemporary setting for this satirical and cautionary tale of the horrible consequences mortals suffer when they yearn to be something they are not — gods.
Semele, a mere mortal, is consorting with Jupiter, which makes his wife, Juno, just a wee bit jealous. She appears to Semele, disguised, and plants the idea in Semele's mind that although, yes, she may be enjoying a fine time, she is not getting the full treatment from Jupiter — and can't until she is as he is, all powerful and, of course, immortal. So Semele demands from him that he reveal himself to her in his full godly splendor. He warns her that this is not wise, for no mortal can look upon a god in his true form, but she insists, and what happens? Well, let's just say she's shown the kitchen in which she can't stand the heat.
"We are all so familiar with Semele's impulses," says Rader-Shieber. "We saw the decadence and excesses of the Studio 54 era. We watch E! and see so often the utter destruction of those who will do anything to be noticed, to be famous, to gain celebrity status. People get crazy for their 15 minutes. They become desperate with dangerous ambition and suffer the consequences. And we love to watch this."
Zinn's set and costume design references Andy Warhol's world in this new staging, and the set and costumes are being made in-house.
"This gives Arizona Opera a sense of real ownership. 'We made that,' they can say," Rader-Shieber pointed out. "And this is the first time they've ever presented an opera from the Baroque period. This is really a brave act."
By: George Frideric Handel
Stage Director: Chas Rader-Shieber
When: 7:30 p.m. Friday and Saturday and 2 p.m. Sunday
Tickets: $25-$117 through Ticketmaster, 321-1000
Cast: Stephanie Blythe as Juno and Ino; sopranos Lisa Saffer and Nathalie Paulin alternate in the title role; counter tenor David Walker as Athamus; Scott Ramsay as Jupiter and Apollo; Heather Buck as Iris; and John Cheek as Cadmus, Somnus and the Priest
Running time: About three hours with two intermissions.
Et cetera: A pre-opera reception is planned for Friday at the Museum of Contemporary Art. A museum representative will present a talk on Andy Warhol and the birth of celebrity culture during this first collaboration between Arizona Opera and the museum. Seating is limited; call 293-4336 for details.
Sherilyn Forrester is a freelance writer living in Tucson. Continued on next page
Stay up-to-date on what's happening
Receive the latest in local entertainment news in your inbox weekly!