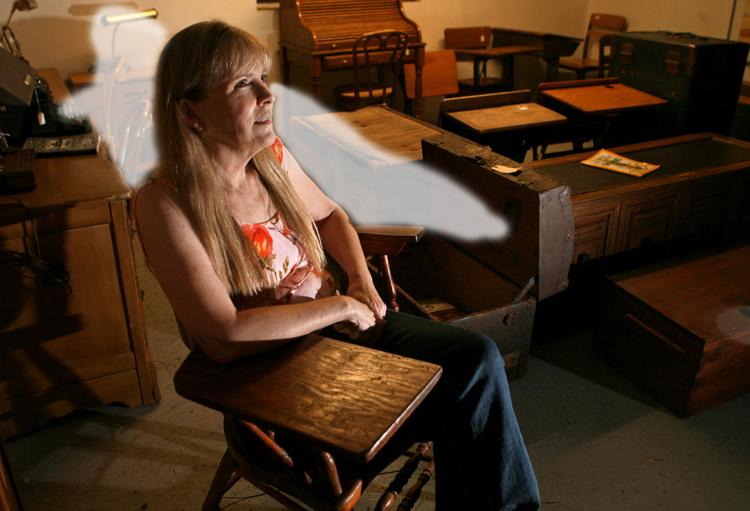 The Haunted Antique Mall
By Paul and Myra Rees (owners of 22nd Street Antique Mall)
Do ghosts come out of the past? Most people think so. Well then, what more appropriate a place than an antique mall? Here in Tucson we have such a "Haunted Antique Mall" at the 22nd Street Antique Mall, at 5302 E. 22nd Street. Here are the facts:
1. The mall has a main store and a two-story adjacent annex: It was built as a furniture store. The office was in the second floor annex. In one booth upstairs was an antique typewriter last used long ago. Several customers and employees reported hearing a typewriter typing away over a period of months, but when investigated, nobody was there. Many customers told employees there were "ghosts" upstairs - that area is no longer being used.
2. The second floor booths mostly contained furniture - chairs, desks, tables, beds, etc. Several times, the employees straightened up the furniture before going home at 5 p.m., only to find it rearranged, the chairs pulled out into the aisles, and all askew, the next morning.
3. A radio tuned to a local station for background music was left on upstairs while the store was open. Often it would increase suddenly in volume when nobody was upstairs.
4. The following is a description from an employee who still works at the mall: "The holiday season was upon us and we were very busy. One of the employees was approaching the doorway into the annex and we both were suddenly 'frozen' in our positions. The people who were shopping all sped up like in a time warp. It might have been only a matter of seconds but it seemed like hours. Then everything slowed down to a normal pace. My fellow employee was still standing in the same position on the stairs with a dazed look on her face. I said to her, 'Did you see that?' She replied, 'What just happened?' We were both shaken up."
5. One employee was bending over a jewelry showcase when she felt something brush past her back. Looking up, she saw a "transparent" figure of a young male with a mischievous look on his face who quickly vanished.
6. Several employees and customers were at the back of the mall when they heard a loud sound of crashing glass from one of the front booths. They rushed to the booth, but nothing was amiss. The booth was rented to a dealer who had died the month before. His goods were still in the booth. He was known to the employees as a prankster.
Perhaps these are all imagination, but we have documented all of these events from more than one source. Is the mall haunted? Well. . .