Authorities are still searching for 89-year-old Robert Crubaugh. 
Crubaugh was last seen at 8 a.m. on Saturday, Aug. 4 on West Bopp Road, near South San Joaquin Road in Tucson's west side, according to a news release from the Arizona Department of Public Safety.
Crubaugh reportedly told a neighbor he was leaving his house to run errands, the release says. He is said to drive a black 2008 Chevrolet Trailblazer with a wheelchair hookup in the back. The Arizona license plate is WCKKN42.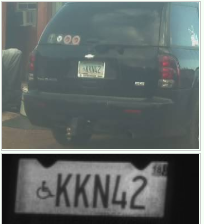 At 2:30 p.m. that day, Crubaugh called his neighbor, the release says. Crubaugh told his neighbor that he needed to get off of his phone because he was being pulled over and an officer was instructing him to put his phone down. 
Crubaugh's daughters said Crubaugh has been diagnosed with early stages of dementia and has not been taking his medication, according to the release. Crubaugh has also experienced many falls, resulting in head trauma.
The release also says that Crubaugh recently met a "much younger female." Crubaugh's family is worried that she has deceived him into spending money on her.
Crubaugh was last seen wearing blue pants, a blue shirt, and red, white, and blue suspenders. He is 5'11" and weighs 220 pounds.
Anyone with information on Crubaugh is asked to call 911.