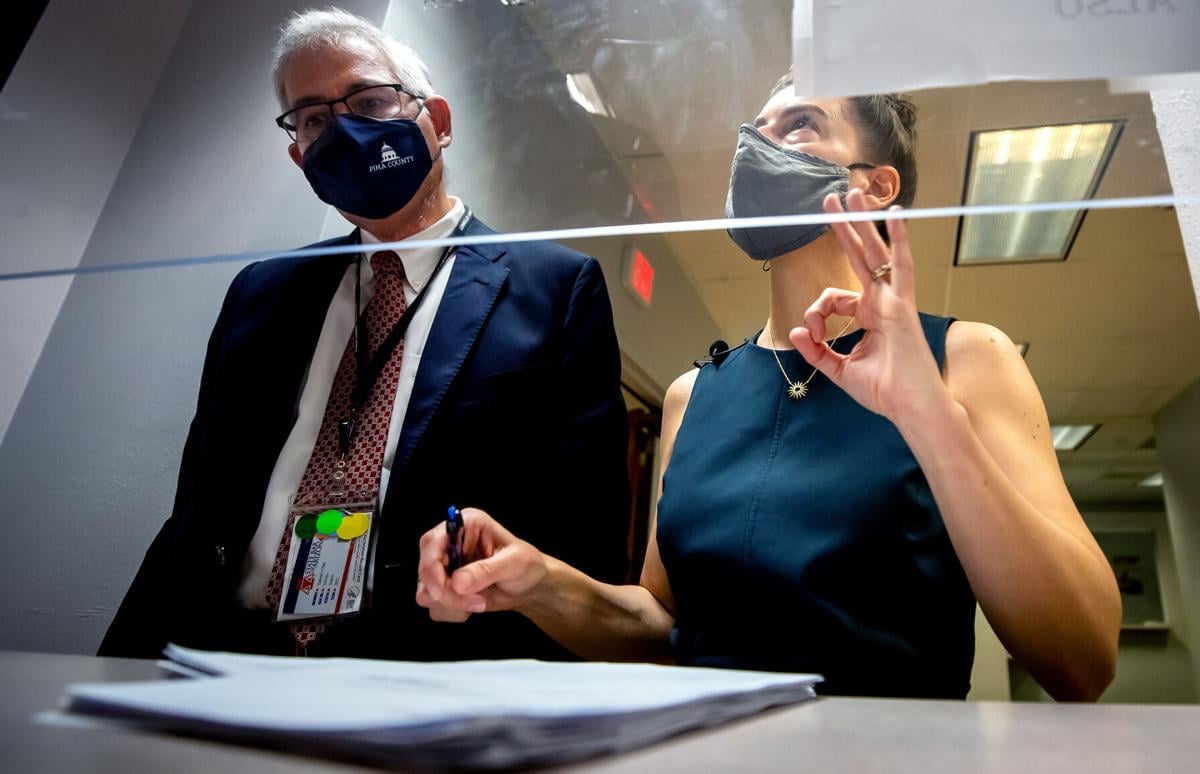 On Monday, the first day a new Arizona law made it easier for people with minor marijuana arrests and convictions to their record erased, Tucson's top prosecutor filed 14 petitions of expungement at the Pima County Superior Court.
"I know this is a small first step because it's simple possession of marijuana," Pima County Attorney Laura Conover said. "But I think when we see the fruits of this labor and we encourage people to get that clean slate . . . it's going to be such a healthy cycle for all of us."
Prop. 207 covers Arizonans convicted of low-level marijuana possession, cultivation and paraphernalia offenses.
Conover and her staff dropped off petitions from people who had reached out through the Pima County Attorney's Office's website set up specifically to expedite the expungement process.
Nearly 50 people, a small fraction of the nearly 2,300 eligible individuals in Pima County, had submitted for expungement since the website's launch.
The petitions filed on Monday ranged from simple misdemeanor possession to felony counts, and many involved charges that are decades old, Conover said.
"I noticed when I was signing, that the very first one I signed was from 2001, then 2002 and 2004 and 2006," she said. "And that really struck me, that these individuals have been living with that on their record for 20 years."
Under the new law, which was passed last November as part of the Smart and Safe Arizona Act, or Prop. 207, anyone with a conviction, charge or even arrest for possession of marijuana up to 2.5 ounces (of which up to 12.5 grams can be concentrates) is eligible for expungement.
In the case of cultivation offenses, any instance involving up to six marijuana plants or less is also eligible.
There is no time limit to file a petition and no date by which a case has to qualify.
Once a petition is filed the case goes before a judge. From there, the prosecuting jurisdiction has 30 days to appeal. The judge then decides whether to grant an expungement.
Filing a petition of expungement is usually easier when those petitioning have the necessary paperwork to document their case, said Jack Chin, chief of the County Attorney's Office conviction and sentencing integrity unit.
"If we can't find the case, then we can't find one expungement," he said. "If we can't determine that we handled marijuana prosecution at some point in the past that we can't act."
That can be harder for individuals whose cases took place in an era of paper records. In some cases, according to Chin, the county court and PCAO don't have the necessary records.
"But, the National Crime Information Center does have the information," he said. "And so the criminal record is out there and we would like to help those people get it expunged, but it's going to require some research and some work to do that."
To help with that, Conover said she is bringing on both volunteers and interns to assist Chin in sifting through the data and find cases for people who might not even know they are eligible for expungement.
She also added that she felt the state could do more to help make the process less onerous for average citizens.
"It puts the onus on the person," Conover said. "It puts the burden on the person with the conviction to figure out how to take care of that for themselves."
Conover and Chin both encouraged people who might qualify and who have any questions about expungements to use their website or the Arizona Supreme Court's website for guidance.
Conover did note her office can deal only with cases handled under Pima County's prosecutorial jurisdiction, so any cases overseen by Maricopa or another county, or federal charges, are not eligible for petition here.
Conover said that through outreach and education, she hoped that the expungement process can ultimately be utilized by the people it can help the most.
"Our hope is that today is a positive day and that there is a positive outcome for people," Conover said. "And then more and more people will come forward and realize that they can get their conviction expunged."