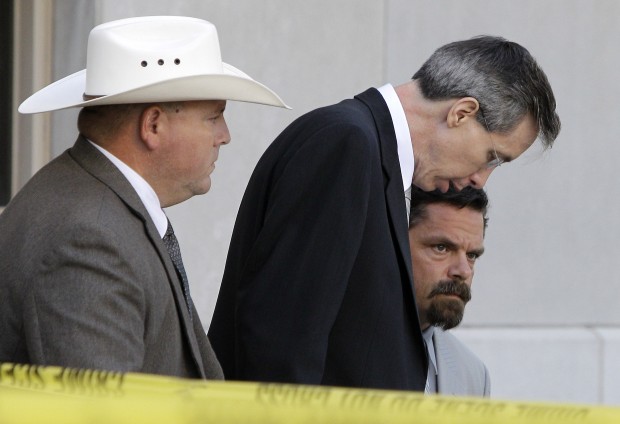 SAN ANGELO, Texas - Warren Jeffs was convicted Thursday of sexually assaulting two child brides after a whirlwind trial in which the polygamist sect leader insisted on representing himself, only to remain silent through much of the proceedings and present just one witness - a church elder who gave an extended Sunday-school lesson on its beliefs.
The tall and lanky head of the Fundamentalist Church of Jesus Christ of Latter Day Saints stood stone-faced as a verdict of guilty on two counts of sexual assault of underage girls was read, after the jury of 10 women and two men deliberated for 3 1/2 hours. He had stood mute during his closing argument, staring at the floor for all but a few seconds of the half hour he was allotted.
At one point, he turned and looked toward prosecutors and the jury, most of whom avoided direct eye contact with him. "I am at peace," he mumbled, then said no more. The only noise in the courtroom was the creaking of wooden benches brimming with spectators.
Jeffs, 55, had claimed his religious rights were being trampled and that God would seek revenge if the trial continued. He now faces up to life in prison. The sentencing phase of the trial began after the verdict was announced, and Texas' attorney general said it could take three days.
Prosecutors used DNA evidence to show Jeffs fathered a child with a 15-year-old girl and played an audio recording of what they said was him sexually assaulting a 12-year-old. They also played tapes in which Jeffs was heard instructing young women on how to please him sexually - and thus, he told them, please God.
The FLDS, which has at least 10,000 members, is a radical offshoot of mainstream Mormonism and believes polygamy brings exaltation in heaven. They see Jeffs as God's spokesman on earth.
Police raided the group's remote West Texas ranch in April 2008, finding women dressed in frontier-style dresses and hairdos from the 19th century as well as seeing underage girls who were clearly pregnant.
The call to an abuse hotline that spurred the raid turned out to be a hoax, and more than 400 children who had been placed in protective custody were eventually returned to their families.
But authorities brought sexual assault and bigamy charges against a dozen men from the sect, with Jeffs by far the highest-profile defendant. All seven of those who have been prosecuted before him were convicted, receiving prison sentences of between six and 75 years.
As the sentencing phase began, prosecutors told jurors they will present evidence that Jeffs had 78 wives, in addition to his legal spouse, and that 24 of them were under the age of 17.