How Washington's zone defense became one that even Sean Miller admires
Star reporter Bruce Pascoe tries to pinpoint the Washington Huskies' success under head coach Mike Hopkins.
5 reasons Mike Hopkins' defense has gotten better ... way better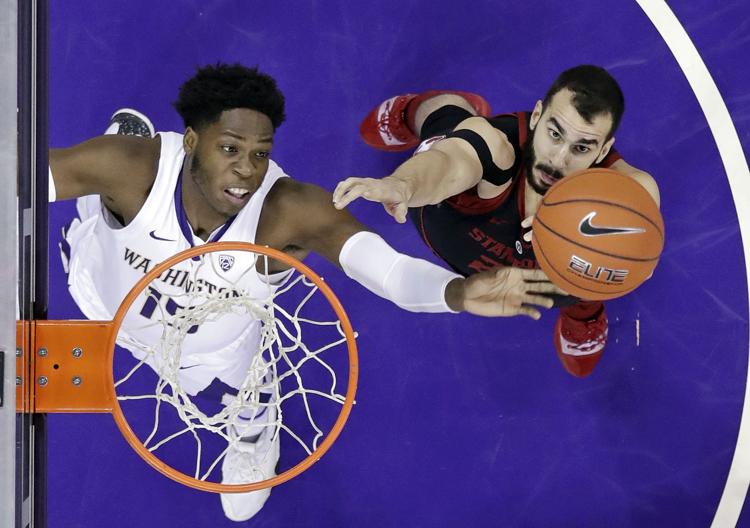 Aside from all those crazy numbers — balls stolen, shots blocked, and opponents' general inefficiency — here's another way you know Washington's zone defense is something else:
Sean Miller likes it.
A hardcore believer in the man-to-man defense, the UA coach has Washington become the Pac-12's most efficient defense and the 15th-best nationally with a much different philosophy.
"There's a lot of ways to be a good defensive team and their way is playing the 2-3 zone," Miller said. "They're the ultimate do-what-we-do team. They're not going to show a whole lot of man-to-man. They're going to play zone. That's what they believe in and they're really good at it."
Miller and the Wildcats first saw it last season. Then retooling under then-first year coach Mike Hopkins, the Huskies managed to force 12 turnovers, keep the Wildcats to 2-for-12 3-point shooting while handing UA one of its four conference losses in Seattle.
With largely the same cast of disruptors back this season, the Huskies mowed through the first half of conference play at 9-0, with their next test Thursday against Arizona at McKale Center.
"The guys really get what we're trying to do," Hopkins said this week. "They've been really good at adapting to the adjustments we've had to make and we're a year and a half into it. It's huge. It's way better than last year."
Here are five reasons why:
1. It's not passive.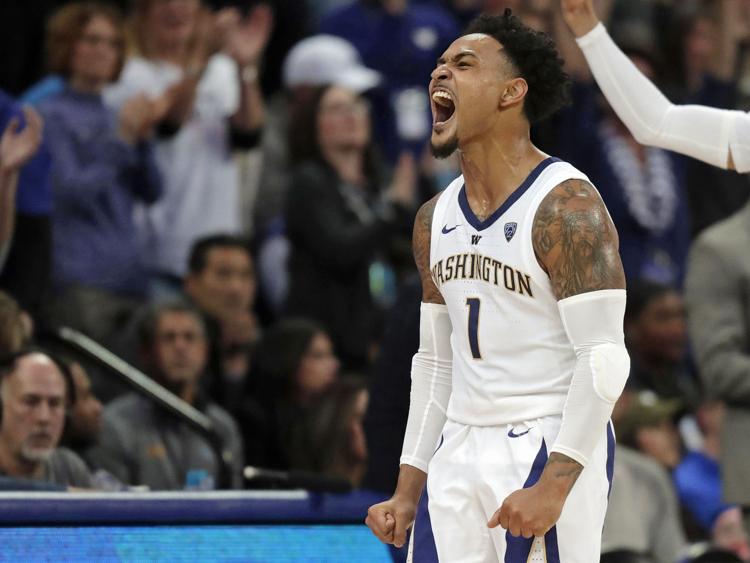 As Washington State coach Ernie Kent notes, the Huskies' 2-3 is not "your traditional stand-around, high school 2-3 zone" because of its interest in extending and matching up against opposing offenses.
As with the 2-3 zone defense that Hopkins helped Jim Boeheim run at Syracuse before taking over the Huskies, Washington's version of the 2-3 doesn't just dare you to shoot over it. The Huskies are aggressive, switching assignments when necessary and extending far out on shooters.
"Very seldom does a 2-3 zone create turnovers, create steal opportunities and create shot blocks," Miller says. "When you think about zone, you usually think about a lot of 3-point shots going up. Their zone can actually take the 3-point shot away. They really extend and do an incredible job of stealing the ball and creating turnovers."
The Pac-12's second-best defensive team learned that lesson last Saturday. Also running a 2-3 zone, UCLA forced 11 Washington turnovers in the first half while taking leads of up to eight points … except there was even more disruption on the other end of the court.
The Bruins committed 18 turnovers while making just 10 shots in the first half. They trailed 31-23 at halftime and lost 69-55.
Washington finished with 14 steals, seven of which landed in the hands of Matisse Thybulle, a near-lock to repeat as the Pac-12's defensive player of the year this season.
"They do extend it more than we do" UCLA interim coach Murry Bartow said of the 2-3. "They've got incredible length at all positions and it's very well-drilled, so they can really cover ground. And they've got a lot of length up top which gives it a whole different look."
2. Thybulle is the perfect frontman.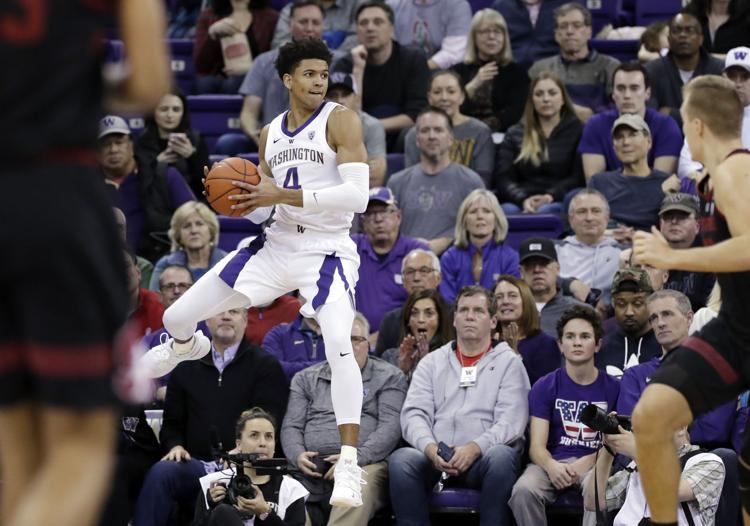 Given the name of French painter Henri Matisse, Thybulle had Hopkins calling him an "artist" after he recorded back-to-back seven-steal games against USC and UCLA. Thybulle typically sits at the top of the zone, lunging out, over, around or seemingly through whoever might happen to have the ball in his space.
"We have our rules, our foundation, what we value — and you've gotta let him paint a little bit," Hopkins said. "He anticipates. He's disruptive. He's one of the best I've ever seen."
Thybulle's numbers speak for themselves. He's first nationally in steal percentage, swiping away the ball on 6.3 percent of opponents' possessions when he's on the floor, while averaging 3.23 steals a game overall. At 6-foot-5, he also blocks an average of 2.1 shots a game.
Typically, Washington will start with Thybulle and 6-0 senior point guard David Crisp at the top of the zone, with Jaylen Nowell and Hameir Wright on the wings and Noah Dickerson in the middle.
"Thybulle at the top of it — he's just a hard guy to deal with," Bartow said. "He gives it such a different dimension with his length and size. He's an incredible anticipator where he can get his hands on the ball and it changes the look of that zone."
3. They're connected.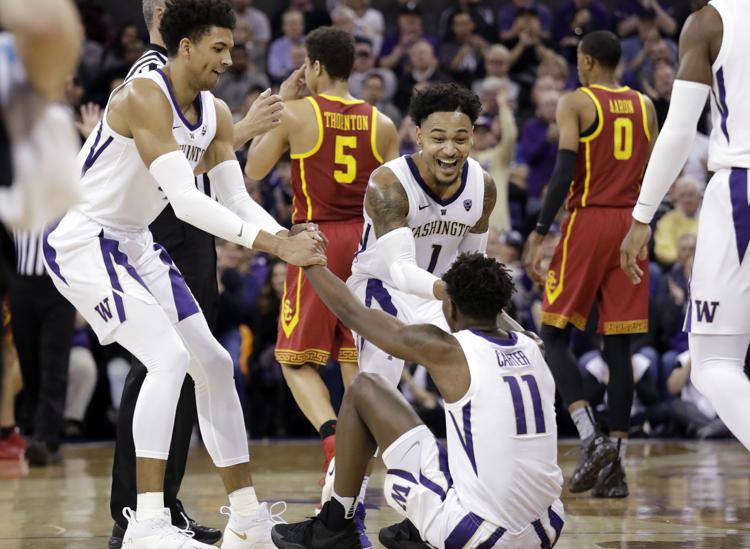 Hopkins says the way Thybulle and Crisp play together defensively is one reason the zone has been so effective this season. But the truth is that the entire roster is well-connected, with the core of them having been recruited years ago by former UW and former UA associate head coach Lorenzo Romar.
It helped Washington that Thybulle opted not to test the NBA draft last spring after saying he seriously considered it, while Dickerson returned to Washington after doing so.
As a result, the Huskies often start three seniors and two sophomores, though Dickerson's availability is questionable for Thursday because he suffered a sprained ankle against UCLA. Overall, the Huskies have their top eight players back from last season.
That just doesn't happen hardly anymore.
"Washington is kind of like how college basketball used to be, where you have a lot of talented players who get an opportunity, sometimes it's a starting role and they take the starting role and grow," Miller said.
"They get better, stronger. Then you have a talented group who's been together. Good players who have been in the same role for multiple years — Crisp, Nowell, Dickerson, Thybulle — they have been through Pac-12 seasons, they've played on the road. They've invested. They've taken the next step."
4. They don't do anything else.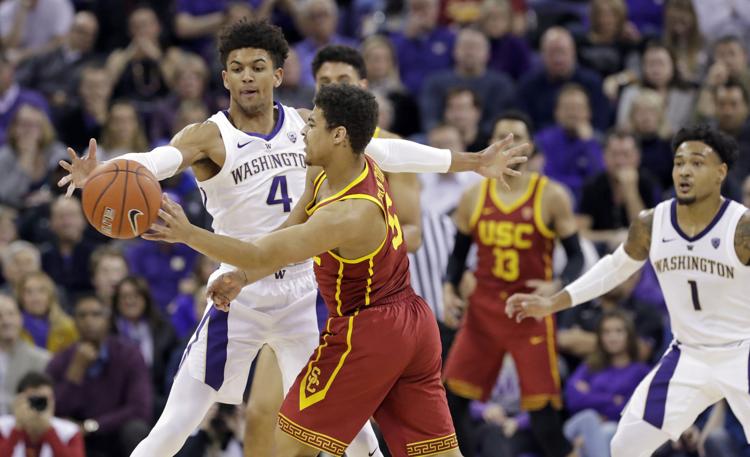 Unlike other Pac-12 teams such as Oregon or Utah, the Huskies don't typically mix in other defensive schemes with the 2-3.
"It's really all they do, so they don't waste a lot of time working on different things," Bartow says.
Instead, they get sounder and sounder at the 2-3, and dare you to beat it.
"What I think makes them special are two things: one is they play it every day, every possession," said Matt Muehlebach, the Pac-12 Networks analyst who played for UA under Lute Olson. "That's really rare. Because they just work on it constantly, it just makes them better. A lot of teams use a zone as a change of pace, to see if it works.
"The other thing is that teams don't practice against the zone all the time because they're running their own stuff and and their own defense may be a man or a zone."
Muehlebach said the zone also can save a team's energy because it doesn't mandate switching or other role changes, while also allowing defenses to see everything that's developing in front of them.
Combine that with Washingtons' experience level, and you start to see why Thybulle and company have developed a knack for knowing when to go for the ball.
"The other piece they do well is reading eyes," Kent said. "They do a nice job of reaching or anticipating your next pass."
5. They'll give you some second-chance and midrange shots, but you better make them.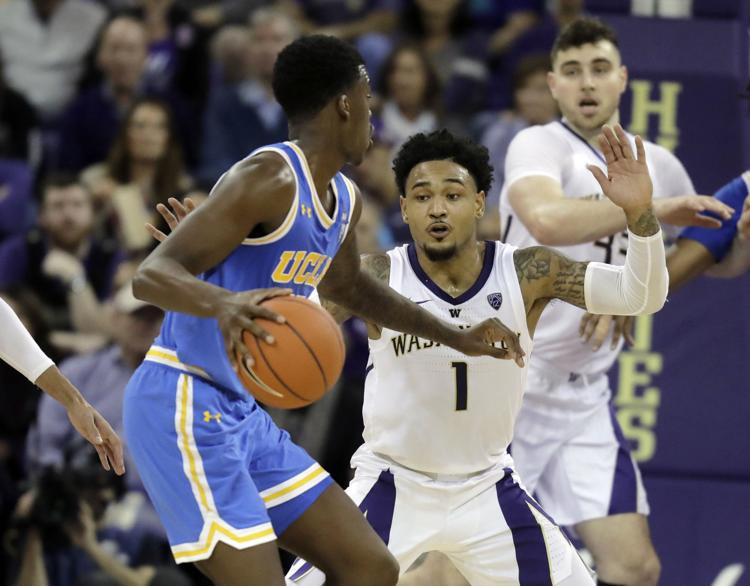 Because the Huskies extend far in the 2-3, there are soft spots in the midrange and short corner areas. But an offense must move quickly and smartly to take advantage.
"You have to have players who can really put the ball on the floor and get between their defender, that are skilled and can move the ball," Miller said. "It's getting it in the middle, and once you get it in the middle — great, you got there — but now you gotta score."
The Huskies have also struggled to rebound defensively in their zone. Washington has the second-worst defensive rebounding percentage in the league, allowing Pac-12 opponents to rebound their own misses 31.1 percent of the time.
But Washington's opponents still don't always stick those second shots back in.
The Huskies are holding Pac-12 teams to just 48.1 percent from two-point range, and opponents have the lowest overall effective field goal percentage in the league against Washington (46.6 percent, when 3-point shots are given with an extra 50 percent credit).
Basically, that means the bottom line with Washington's 2-3 zone is pretty simple.
"You can score on it," Bartow says, "but it's not easy."