Scouting report: Arizona Wildcats vs. Utah Utes
The Star's Bruce Pascoe previews all of the game day essentials, from projected starting lineups to storylines and series history.
Game info
Who: Arizona Wildcats (14-10, 5-6) at Utah Utes (13-10, 7-4)
Where: Huntsman Center, Salt Lake City
When: 7 p.m. Thursday
Watch: ESPNU
Listen: 1290-AM, 107.5-FM
Follow: @TheWildcaster on Twitter / TheWildcaster on Facebook
Probable starters: Arizona

G Justin Coleman (5-10 senior)
G Brandon Randolph (6-6 sophomore)
F Dylan Smith (6-5 junior)
F Ryan Luther (6-9 senior)
C Chase Jeter (6-10 junior)
Probable starters: Utah

G Sedrick Barefield (6-2 senior)
G Both Gach (6-7 freshman)
F Timmy Allen (6-6 freshman)
F Riley Batten (6-9 freshman)
C Jayce Johnson (7-0 junior)
How they match up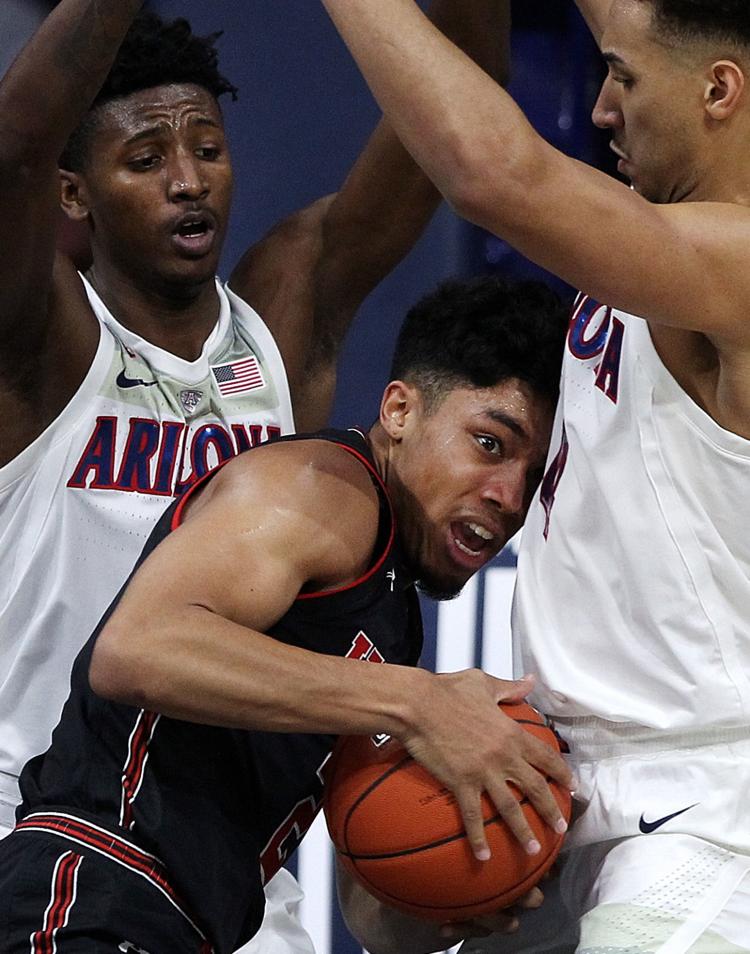 The last time
Utah guard Sedrick Barefield scored 26 points but fouled out with 1:44 in regulation, and Arizona went on to beat the Utes 84-81 in overtime at McKale Center on Jan. 5. Parker Van Dyke missed a potential game-winning 3-pointer with six seconds left and Brandon Randolph then sank two free throws for the final score.
The last time at the Huntsman Center
The Utes hit eight of their first 10 3-pointers in the second half and completely erased what was a 15-point Arizona lead, but the Wildcats hung on for a 94-82 win on Jan. 4, 2018, before what UA coach Sean Miller called a "nasty" crowd that yelled investigation-related chants throughout the game. Deandre Ayton helped the UA pull out the win by scoring 19 of his 24 points in the second half as he collected 13 rebounds in all.
Overall series history
Arizona leads Utah 34-29 overall and is 13-1 against the Utes since Utah joined the Pac-12 in 2011-12, with the Utes' lone win coming in Salt Lake City in 2015-16.
What's new with the Utes
Having finished tied or ahead of its annual preseason prediction in the Pac-12 poll every year since joining the conference, the Utes are up to their old tricks again. They were picked to finish eighth but sit in a three-way tie for second place with ASU and OSU, putting them on pace to earn one of the Pac-12 Tournament's coveted first-round byes.
Having stumbled early in road losses at Minnesota (78-69) and Kentucky (88-61) while also losing to Nevada (86-71) at home, the Utes picked it up in Pac-12 play just as they hit Arizona last month. They beat ASU and took the UA to overtime, and have won six of nine games since that weekend.
Last weekend, Utah beat USC 77-70 and then came back from a 22-point deficit to beat UCLA 93-92, with guard Parker Van Dyke hitting a game-winning 25-footer at the buzzer. Although Van Dyke came off the bench in Los Angeles, with the bigger Both Gach starting in his place, the Utes' rotation remains similar. Senior Sedrick Barefield stands out in a scoring point guard role, averaging 3.5 3-pointers made in conference games, while Van Dyke averages 2.2.
The Utes have been getting better production from their starting freshman forwards, with Mesa's Timmy Allen scoring in double figures in six of his last eight games, including 24 against Oregon State. Power forward Riley Battin shot 73 percent while averaging 13.5 points and 7.5 rebounds last weekend in L.A. Sophomore Donnie Tillman adds versatility and scoring while playing starters' minutes off the bench, and 7-foot center Jayce Johnson has pulled down double-digit rebounds in four straight games.
Key player: Sedrick Barefield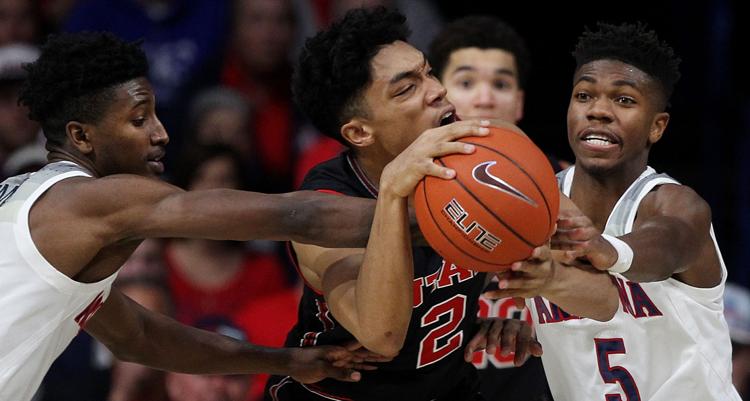 UTAH
Since shooting 1 for 7 from 3-point range against the Wildcats in 2016-17, Barefield has averaged 25 points in three games against UA while shooting 55.5 percent overall and making 13 of 24 3-pointers. Maybe that says it all.
Key player: Justin Coleman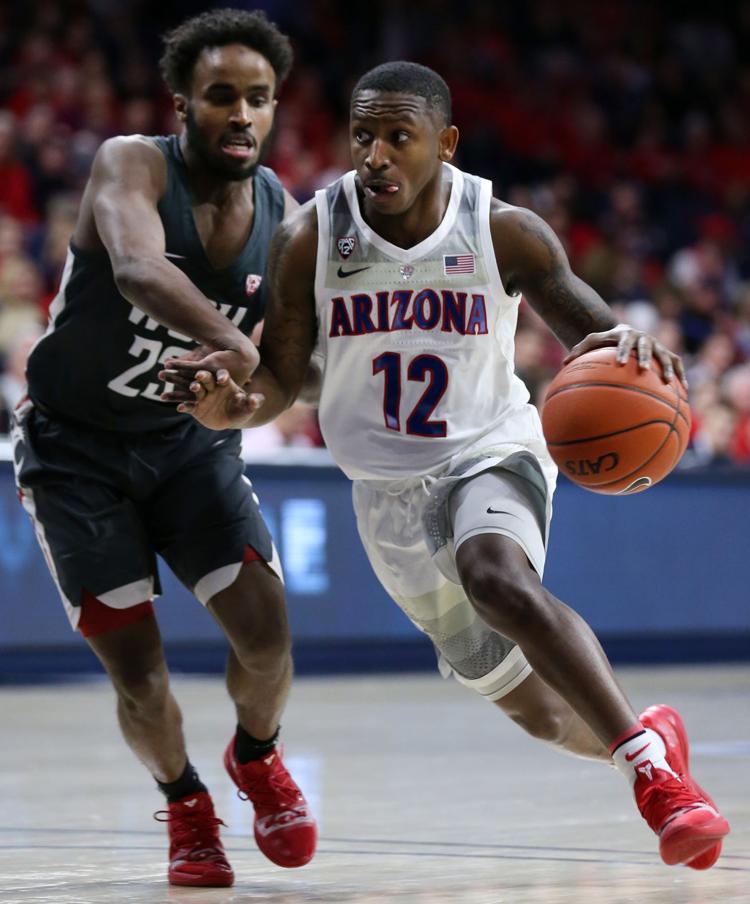 ARIZONA
Playing without backcourt mate Brandon Williams for the past three games, Coleman has averaged 16.3 points while shooting 39 percent overall and 5 for 13 (38 percent) from 3-point range. Sean Miller says he has no choice but to remain aggressive offensively.
Chill pill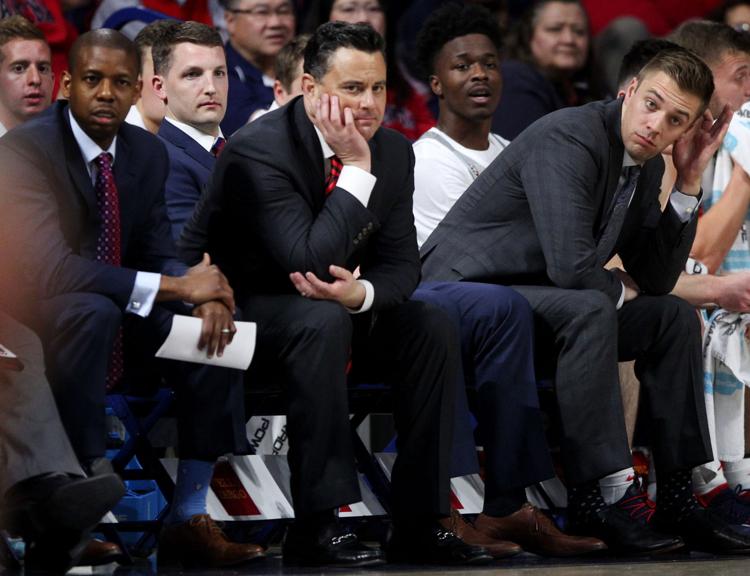 Instead of spending hours on the court trying to find an answer to the shooting woes and other problems that have surfaced during their five-game losing streak, the Wildcats instead chose to work on their mental game.
That is, they took two full days off after losing to Washington and Washington State last weekend before resuming practice Tuesday.
"Just to kind of get away," center Chase Jeter said. "We're gonna recoup … and try to get everybody on the same page and try to keep everybody positive."
Miller said he reviewed both negative and positive game video with his players in an attempt to teach and restore confidence.
"I think it's just making sure we're meeting with a number of our guys and getting them back on track," Miller said. "Confidence is a problem when you lose. I don't know if there's ever been a real confident team when things aren't going well, but the way to get back on track is to get back to the task at hand, have a good day of practice, string a couple of good days of practice together and then approach the game and be the best that we can be."
He called it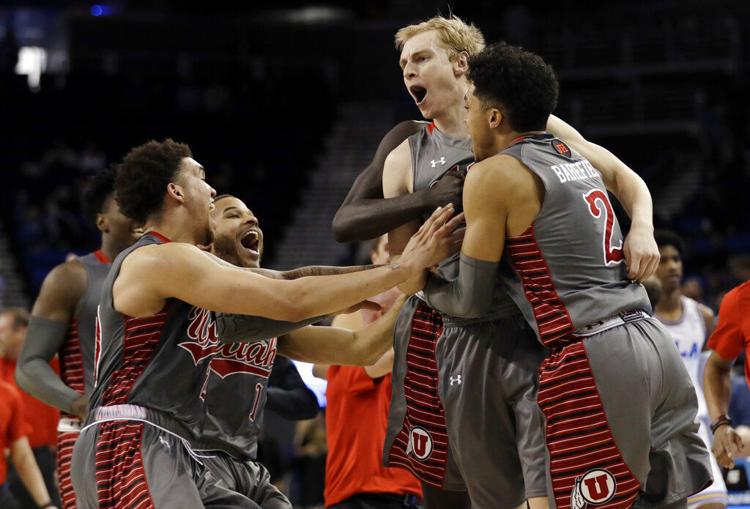 With his team trailing UCLA by up to 22 points early in the second half last Saturday at Pauley Pavilion, Krystkowiak didn't just try to fire up his guys by telling them they could pull out a win.
He also alerted the refs.
"I said, 'Hey, don't quit working because you might think this is over, but this is going to be on 'SportsCenter,'" Krystkowiak said, claiming he has only twice spoke of such a belief. "I believed it. I felt it. Then when it happens, it's like, 'Yeah, I talked about that happening.'"
What happened, sure enough, was pure "SportsCenter." The Utes pulled out a massive comeback win, with Barefield racing down to the 3-point line on the final play, drawing two defenders, then dishing the ball backward to Van Dyke, who quickly released a 25-footer that went in.
Van Dyke's 3 wound up being the No. 1 pick on SportsCenter's Top 10 plays that night, too.
It might have been considered a payback, of sorts, for not only UCLA's comeback win at Oregon but also Van Dyke's missed 3-pointer at Arizona with eight seconds left in overtime.
"Parker had a similar shot at Arizona, a wide open 3 that could have won the game on the road there. And there he was again," Krystkowiak said. "Having a Utah kid be disappointed in not hitting that game-winner and then have an opportunity to redeem himself made it even more special."
Opportunity knocks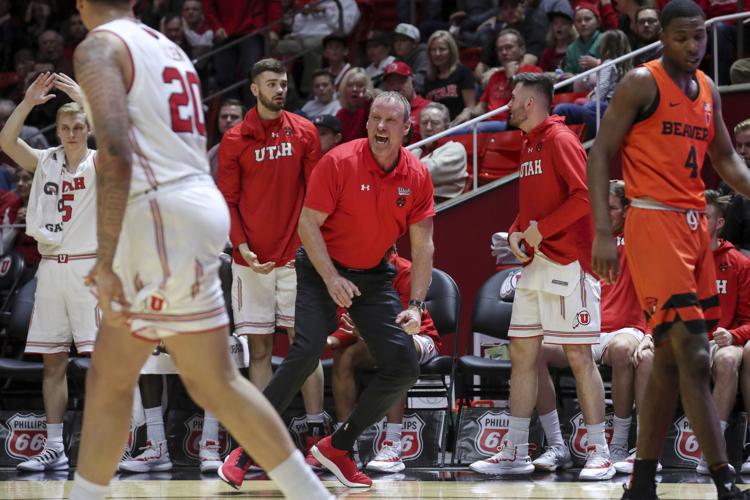 Nine of the 14 games Arizona and Utah have played since the Utes joined the Pac-12 have been decided by single digits, yet the Wildcats almost always win. The Utes are just 1-13 against the Wildcats in Pac-12 games.
So with UA coming into the Huntsman Center on a five-game losing streak, you'd think the Utes might be ready to pounce.
Except Krystkowiak wasn't about to publicize that possibility.
"It hasn't been fun" playing Arizona, he said. "We've been in probably a half-dozen close games at their place but have never been able to make enough plays. They've been the flagship program (in the conference) and Sean does a heck of a job. It's not a complicated offensive plan but they have some great athletes and they do a great job on the glass. They don't turn the ball over. They don't beat themselves.
"The past is part of the equation but this is two different teams. We don't want to talk about it a lot except we've got a real solid opportunity and we've got to do whatever we can to get our second win in eight years."
For what it's worth, Miller also didn't want to make a big deal of the past, or suggest that it could somehow help the Wildcats.
"This is a different year and this is a different team," he said. "What's been done in the past, we feel good about a lot of different things. They're not the only team that's taken a few losses when we've shown up. This year's team at Arizona is different."
Numbers game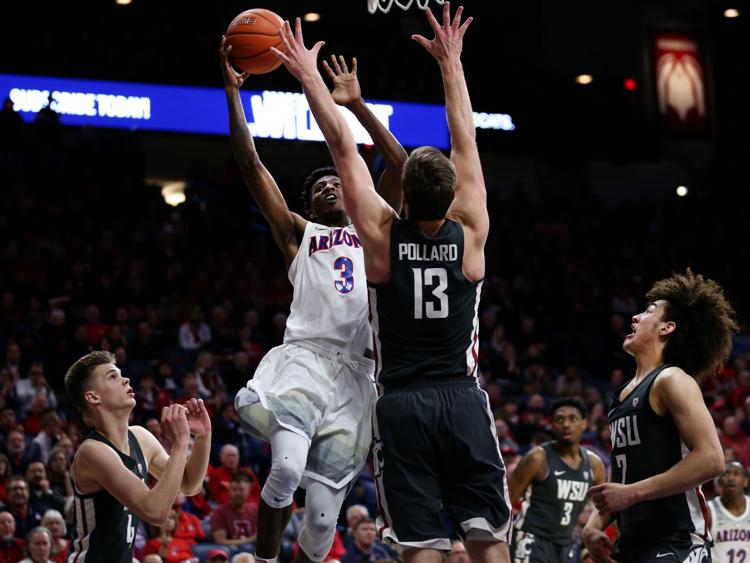 24.4
Percent of 3-pointer attempts Arizona made last weekend against Washington and Washington State.
34.2
Percent of all shots Arizona made last weekend
26
Points Sedrick Barefield needs to reach 1,000 for his two-plus year career at Utah — he also played six games for SMU in 2015-16 — and the amount he scored against Arizona last month
35
Years since Arizona had a losing streak as long it as its current five-game skid.