Seen and heard at the WNIT: On Arizona's ticket battle, Reese's roll, McKale's passion
The Arizona Wildcats won their first WNIT game in 18 years Thursday, when they beat Idaho State 66-56 in the first round. Star reporter Justin Spears brings you the sights and sounds from McKale Center.
Aari McDonald's historic season gets better

Arizona sophomore guard Aari McDonald was named a Women's Basketball Coaches Association All-Region finalist on Thursday morning before the Wildcats' first postseason game since 2011. McDonald is one of 52 finalists, which includes nine players from the Pac-12. A selection committee will form a 10-member WBCA NCAA Division I Coaches' All-America team on April 4.
It wouldn't be the first time McDonald was recognized nationally. She's currently on the Wooden Award midseason watch list and the Dawn Staley Award watch list, which is given to the best guard in women's college basketball.
McDonald this season surpassed Adia Barnes' single-season scoring record of 774 points, and has scored more points (789) than any sophomore in Pac-12 history. She joined former Washington standout and current Las Vegas Aces guard Kelsey Plum as the only players in conference history to have 750 points and 130 assists in a season. McDonald finished the WNIT opener with 15 points, five rebounds and five assists.
Ticket battle
Alright @ZonaZooOfficial, I bought 50 tickets for you guys! All you have to do is show your Cat Card at the ticket office to get one. Get them while they're still available!!!

— ADIA BARNES 🐻⬇️🌵🌞 (@AdiaBarnes) March 20, 2019
Barnes has her program trending in the right direction. She set another trend before the WNIT by purchasing 50 tickets for UA students to attend Thursday's game, since the Zona Zoo passes don't work during postseason play. Barnes tweeted about her purchase and others followed suit. UA football head coach Kevin Sumlin bought 50 additional tickets and athletic director Dave Heeke joined in with another 50. New Orleans Pelicans small forward and former Wildcat Solomon Hill one-upped everyone and bought 125 tickets. At $8 per ticket for general admission, that's $2,200 spent between Barnes, Sumlin, Heeke and Hill.
Hey @ZonaZooOfficial, I'm in! I just confirmed another 50 tickets for you. Get to the ticket office and BRING THE ENERGY for @ArizonaWBB. #MadeForIt https://t.co/pLIzVoHHqr

— Kevin Sumlin (@CoachSumlin) March 20, 2019
OK. I'm in as well! I will join @AdiaBarnes and buy 50 more tickets for @ZonaZooOfficial Get to the ticket office show your Cat Card and pick up your ticket. Support @ArizonaWBB in #WNIT play at McKale ! @AZATHLETICS #BearDown https://t.co/LMANjzjAQ3

— Dave Heeke (@Dave_Heeke) March 20, 2019
ill chip in and buy 125 tickets #beardown https://t.co/aaIaj5URCg

— Solomon Hill (@solohill) March 21, 2019
The big number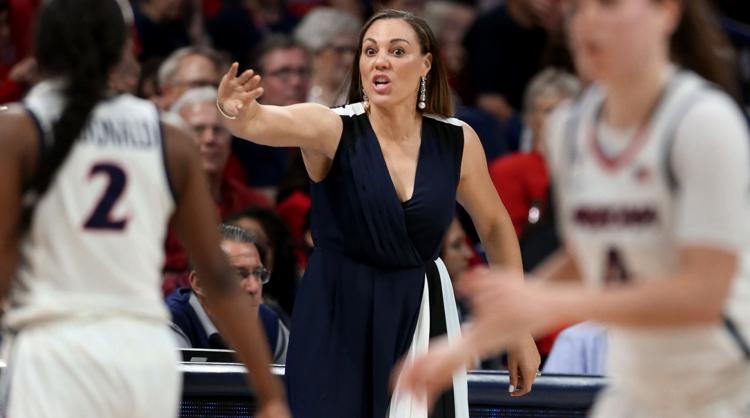 19
The 2018-19 season marks the first time Arizona has won 19 games since it won 21 in 2010-11.
Can't stop Cate
Former McDonald's All-American and UA freshman Cate Reese dominated Idaho State in both matchups this season, recording a double-double in each contest. In the first matchup on Nov. 9, Reese scored 21 points and grabbed 10 rebounds. She nearly duplicated that effort on Thursday, with 20 points on 60 percent shooting. She was a perfect 8 for 8 from the free-throw line. It was Reese's seventh double-double of the season; the last Wildcat to have at least five in a season was Davellyn White in 2012-13.
The last time…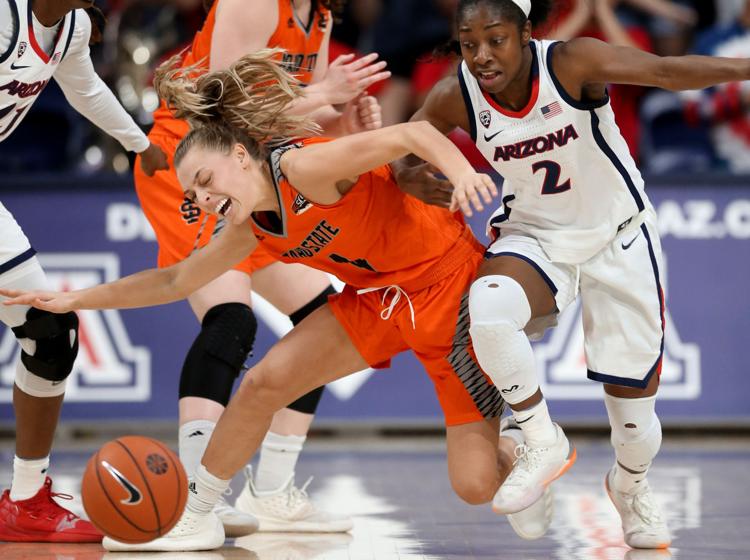 The Wildcats hadn't won a WNIT game since 2001, when the UA took down Kent State at McKale Center. What was relevant in the world at the time? The first Harry Potter movie didn't hit theaters until eight months later. Apple hadn't release the company's first-ever iPod music player, and the Arizona Diamondbacks didn't win their World Series title until seven months later. The last time Arizona won a postseason game was in the NCAA Tournament in 2005, when Joan Bonvicini was the head coach. That was the same season Lute Olson led the Wildcats to an Elite Eight, the last of his career.
The bigger number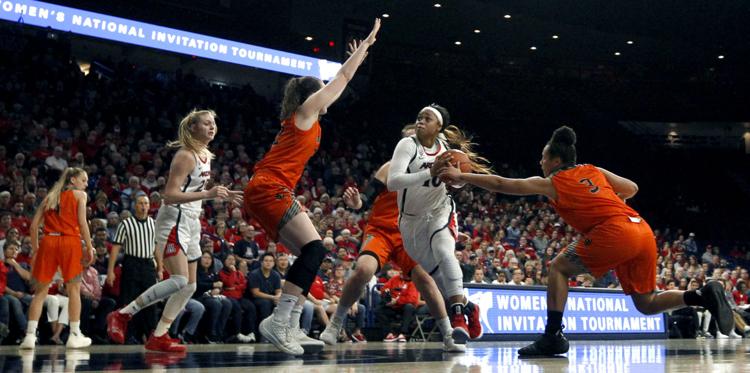 3,265
Attendance at McKale Center on Thursday night. Barnes challenged Arizona fans as they were leaving "to bring friends, family, neighbors" for Sunday's game to bring in a crowd of 5,000.
She said it
Adia Barnes called Arizona's crowd at McKale Center tonight "passionate." "I'm excited to see that because I don't think people have been excited about Arizona women's basketball for a long time." pic.twitter.com/b3ZVxlkdYd

— The Wildcaster (@TheWildcaster) March 22, 2019
"I'm excited to see that because I don't think people have been excited about Arizona women's basketball for a long time."
— Barnes on the "passionate" crowd at McKale Center