Watch: Sean Miller clears the air on his Senior Day speech, 'I meant what I said'
Top video clips from Arizona's Monday press conference before the ninth-seeded Wildcats take on eighth-seeded USC in the Pac-12 Tournament. 
5 best things Sean Miller said in pre-Pac-12 Tournament news conference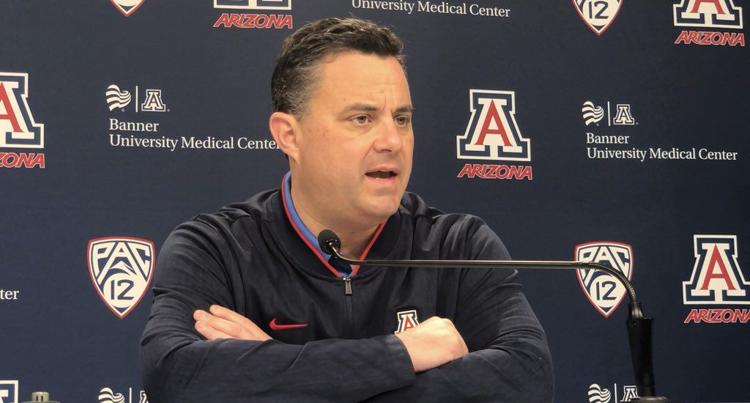 Arizona finished the regular season with a loss to ASU, and the Wildcats now head into the Pac-12 Tournament as the No. 9 seed.
UA will play eighth-seeded USC in the first game of the Pac-12 Tournament at noon Wednesday, and the winner will then play No. 1 Washington in the quarterfinals.
Last time Arizona played the Trojans, the Wildcats lost 80-57 and only had two players score in double figures, Brandon Randolph and Ira Lee. Arizona center Chase Jeter was held out for a back injury he suffered the week before against Oregon State.
After Saturday afternoon's loss to ASU, Arizona coach Sean Miller gave an emotional speech to seniors Ryan Luther and Justin Coleman, along with the UA fans at McKale Center, which drew speculation that he was saying goodbye to the program he's coached for 10 seasons.
Miller clarified what his speech meant during Monday's press conference before Arizona travels to Las Vegas for the Pac-12 Tournament. Here's what he had to say.
The recipe for Arizona winning in Vegas
Sean Miller on what it will take for Arizona to win the Pac-12 Tournament and the number of teams he thinks will make the NCAA Tournament: pic.twitter.com/17c6i8ZH10

— The Wildcaster (@TheWildcaster) March 11, 2019
Having Jeter back against USC
Arizona didn't have Chase Jeter against USC this season. Now they do in the Pac-12 Tournament. Sean Miller: "We're a better team with Chase." pic.twitter.com/BLVgAUzbaO

— The Wildcaster (@TheWildcaster) March 11, 2019
Miller on Brandon Williams missing the All-Pac-12 Freshman Team
Sean Miller thinks if Brandon Williams wasn't injured for six games, he would've made the All-Pac-12 Freshman Team: pic.twitter.com/nhnGxTpG8F

— The Wildcaster (@TheWildcaster) March 11, 2019
Miller on his Senior Day speech: 'I meant what I said'
Sean Miller clears the air on his emotional Senior Day speech. "It certainly wasn't a goodbye speech. ... I meant what I said." pic.twitter.com/Jl8wIP5Kbe

— Justin Spears (@JustinESports) March 11, 2019