Arizona Wildcats storylines: These 5 topics will be the talk of Saturday's season opener
A look at Arizona's D-line depth, the Wildcats' new contributors and why Kevin Sumlin is taking a page from Dick Tomey's playbook heading into Saturday's season debut against Hawaii. 
Comeback trail leads Arizona Wildcats DEs Justin Belknap, Kylan Wilborn to Hawai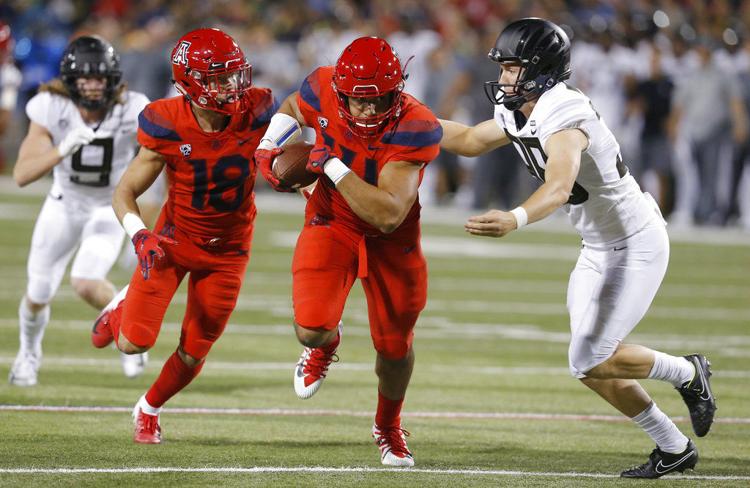 They're both launching comebacks of sorts, seeking second chances with the second unit.
Neither Justin Belknap nor Kylan Wilborn contributed to the 2018 Arizona Wildcats to the extent they had hoped. Belknap missed most of the season because of a broken foot. Wilborn endured a sophomore slump.
Both defensive ends are bullish on what they can accomplish this season as part of a deeper UA front. Their first opportunity comes Saturday at Hawaii.
Neither player is slated to start against the Rainbow Warriors. But the idea of coming off the bench with a fresh burst of energy carries its own appeal.
"It's amazing actually," said Wilborn, who has 20 career starts. "It's something we haven't had for a minute. Just being able to substitute guys and have confidence in the ones, the twos, everybody – knowing that they can go in and eat and just do what they do."
Wilborn enjoyed a satisfying freshman season. He started all 13 games and led all Power Five freshmen with 7.5 sacks. He paced the Pac-12 with four forced fumbles.
Wilborn hurt his shoulder in the season-ending Foster Farms Bowl and was never quite the same in 2018. Whether it was his health, his weight (248 pounds last year, 242 now) or the fact the he was suddenly a marked man, Wilborn's production tumbled. He managed only a pair of sacks and lost his starting job at the end of the season.
"You can have a bad season. It happens," Wilborn said. "If anything, it was more of a learning experience. It's something I'm planning on using to further my growth as a player."
Those lessons include staying hungry and humble, continuing to work hard and "just trusting that process." Wilborn has spent much of the offseason focusing on the fundamentals that helped earn Freshman All-America accolades in 2017.
"Just going out there and playing football," Wilborn said. "You've been doing it your whole life. It's how I got here. So just keeping it real simple. Just going out there and reacting."
Belknap's injury occurred during a seemingly innocuous pass-rush drill last September. He was trying to turn the corner when he felt and heard a pop in his right foot. X-rays showed a break. He would miss the final 10 games.
"It was tough, just because I had to watch my teammates have such a great time playing," Belknap said. "I love football. I love playing football with my teammates and my guys. But it was OK, because I got to sit back and learn."
The final game of the season, against rival Arizona State, was harder to watch than the others. Belknap was close to being able to return. Defensive line coach Iona Uiagalelei and Belknap
agreed that it wasn't worth pushing it and risking reinjury. So Belknap stood on the sideline at Arizona Stadium, bearing witness to the Wildcats' fourth-quarter meltdown against the Sun Devils.
"It was difficult," Belknap said. "It's difficult as an Arizona fan to watch it. It's difficult as a teammate to watch it. But it's even more difficult as someone who is right on that cusp of being able to go out there and possibly make a difference."
Belknap has 45 tackles and 3.5 sacks in 26 career games, including 24 starts. He's eager to add to those totals against Hawaii quarterback Cole McDonald. Wilborn desperately wants to get back in the sack column as well.
"We all know what they like to do: They like to throw the ball," Wilborn said. "I'm really excited to go out there and try and get some pressure on that quarterback and see what we can do."
'It's been a long time coming' for UA guard Robert Congel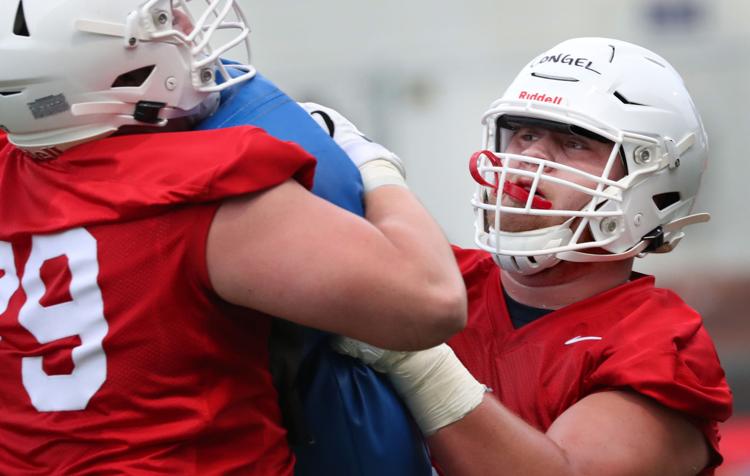 The uncertainty is over for Arizona's Robert Congel. The redshirt sophomore now knows where he stands.
Congel is eligible to play after having to sit out last season as a transfer. He's slated to make his first career start, at left guard, when the UA opens the season at Hawaii.
"It'll be awesome," Congel said. "It's been a long time coming. Last year, it was just disappointing to not be on the field. I get to let out all that frustration Saturday."
Congel figured he had a decent argument for immediate eligibility last summer. He had appeared in five games as a freshman at Texas A&M the previous season, but those had come as a walk-on. Plus, you never know how the NCAA will rule in these cases.
Congel said the final word didn't come down until the second week of the season. His appeal was denied, meaning he'd have to redshirt.
"But I had a year with Coach B (strength coach Brian Johnson) and those guys to get my body right," Congel said. "It could have seemed like a total negative situation. But there's a lot of positives that came out of it."
Once he learned he wouldn't be eligible, Congel reflected on his situation, asking himself: "Am I just going to sit around? Or am I going to work and try to get better for next year?"
Congel began training camp with the second unit. About halfway through camp, he earned a promotion to the first team.
"He's big," said UA offensive coordinator Noel Mazzone, who recruited Congel from IMG Academy to Texas A&M. "And he's smart. We were looking at him as a center. The way Josh (McCauley) has been playing, (we) moved him to guard. He's kind of taken to that position."
Congel brings size (6-4, 310), power and SEC experience to the Arizona offensive line. After a year of inaction, he has an enhanced sense of determination.
"I always knew I was gonna have to work for everything I got in college," Congel said. "Even when I got the scholarship here, I still kept that same mindset, that I'm still gonna have to earn everything."
Wildcats hope visit to Hawaii will yield more happy returns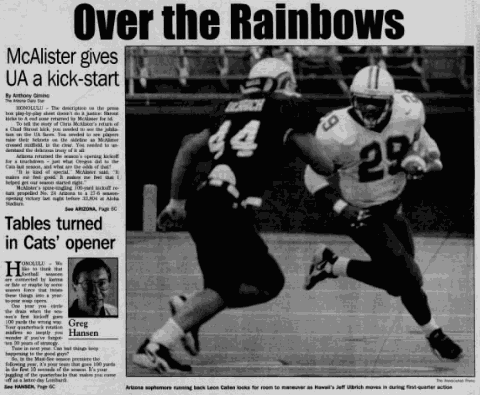 Arizona's last visit to Hawaii signaled the start of a magical season.
It took all of one play to realize something special was in the works.
In the 1998 opener, UA All-American Chris McAlister returned the opening kickoff 100 yards for a touchdown. The Wildcats would defeat the Rainbow Warriors 27-6 and would finish the season 12-1 – the best record in program history.
"It was a signature moment," the late Dick Tomey told the Star last year, which marked the 20th anniversary of the '98 squad. "We were playing against the team where I became a head coach. It was an emotional experience to go back there and play. We had a reunion of the Hawaii players, and some of the coaches here were the coaches there.
"That was quite a way to start a season. It was a tough game. But we were the better team. It was a good win for us."
McAlister was a great player, perhaps one of the five best in UA annals. The cornerback was a unanimous All-American in 1998, a finalist for the Jim Thorpe Award and the winner of the Mosi Tatupu Special Teams Player of the Year Award.
McAlister became only the seventh player in NCAA history to return a kickoff, a punt and an interception for touchdowns in the same season. He finished his Arizona career with 18 picks.
"There was a play against Oregon that year," Tomey recalled. "Oregon had a heck of a team. They were battling for the national championship and a national ranking. Akili Smith was their quarterback.
"In the first half, Chris basically let him feel like the guy he was covering was open and (baited) him into throwing it to him. Then he went and got it. Big play. He was that kind of guy.
"There's nobody that's ever played for us that played his position any better."
Tomey and his family will be honored before the opener Saturday at Aloha Stadium. The coach passed away in May at the age of 80.
Tomey coached at Hawaii for 10 seasons, leaving Oahu as the school's all-time leader in victories. He then coached 14 seasons at Arizona, winning a school-record 95 games.
From Rainbow Warriors to road warriors: Tomey's Cats often opened away from home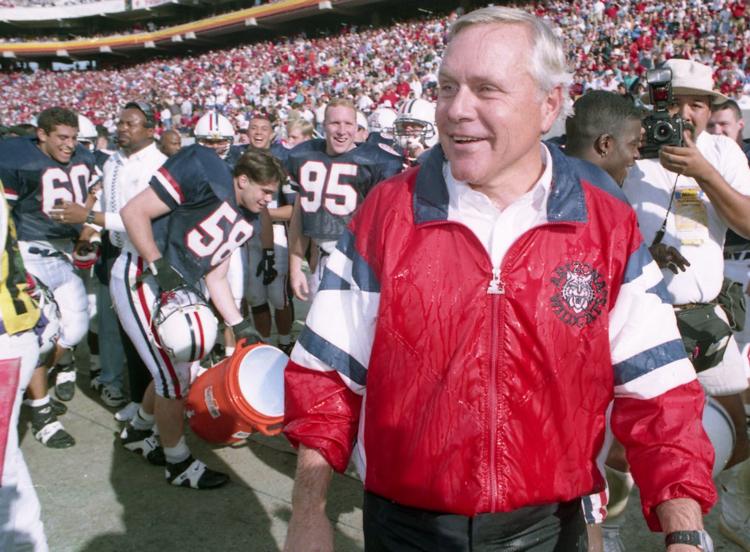 Arizona is starting the season with a true road game for the first time since 2010. It was a common occurrence under former coach Dick Tomey.
The Wildcats opened on the road in half of Tomey's 14 seasons, including four straight times from 1997-2000.
"The one thing we prided ourselves on is the schedules we played," Tomey, who died in May, told the Star last summer. "We did not run away from people.
"I think you have to play really tough people at home and on the road in the preseason. If you don't, you don't find out about yourself."
Here's how Arizona fared in each of those road openers under Tomey, along with the Wildcats' final record in those seasons. In all but one instance, Arizona went on to have a winning year if it won the opener.
Year | Opponent | Result | W-L
1988 | Oregon St. | W, 24-13 | 7-4
1991 | Ohio State | L, 38-14 | 4-7
1994 | Ga. Tech | W, 19-14 | 8-4
1997 | Oregon | L, 16-9 | 7-5
1998 | Hawaii | W, 27-6 | 12-1
1999 | Penn State | L, 41-7 | 6-6
2000 | Utah | W, 17-3 | 5-6
Hawaii prep product Thomas Reid III does 'everything right' for Arizona)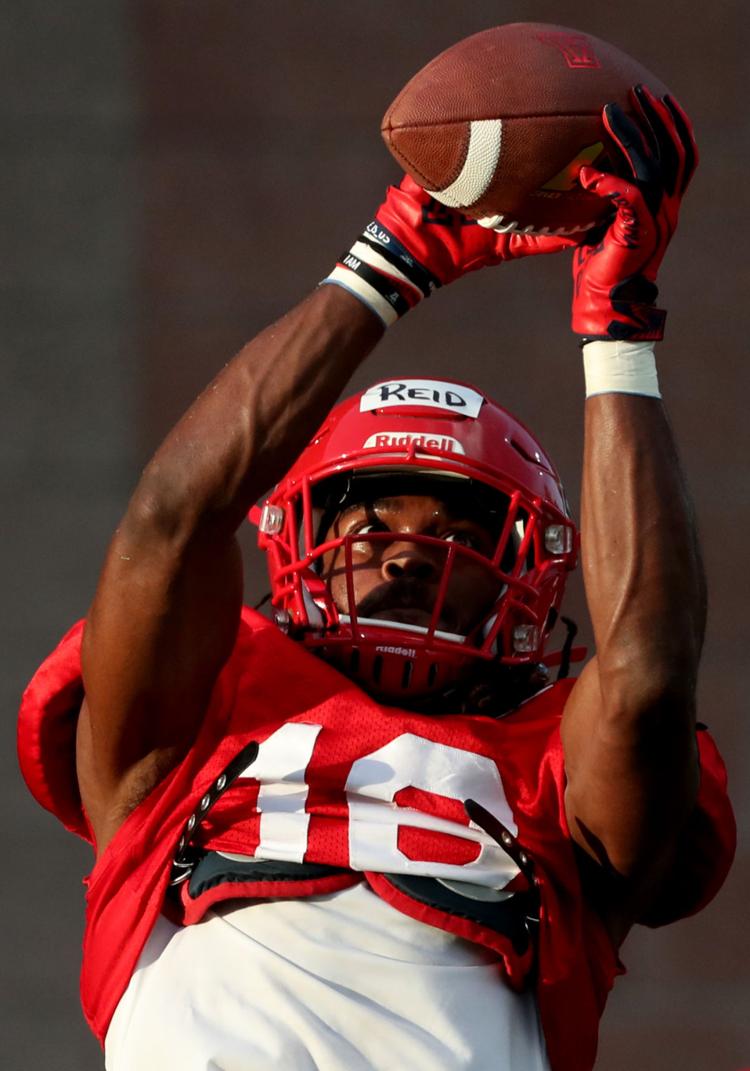 Arizona special-teams standout Thomas Reid III has a connection to Hawaii: He went to high school in Honolulu.
Reid's father is a chef in the U.S. Army, so the family moved a lot. The younger Reid was born in Virginia. He also has lived in Kansas and North Carolina.
Reid attended Radford High School in Honolulu, where he starred in football and track and field. He was a two-time all-state selection in football and a two-time state champion as part of the 4x400 relay team.
It's a good thing he had sports.
"I don't really like beaches and outdoor activities," Reid said. "I don't know how to swim, and I don't really hike that much. So it's not really my type of place.
"But I liked it. I enjoyed it there. It's a really relaxed, chill place."
Except on Friday and Saturday nights in the fall, when football is played all over the islands. Reid got a good feel for the high school football scene at Radford, which he helped lead to a state title.
"It's competitive," Reid said. "A lot of people play hard, because a lot of people want to go to the next level there. That's what a lot of kids dream of."