Updated timeline: How Rich Rodriguez's firing unraveled at Arizona, which led the Wildcats to Kevin Sumlin
For two separate investigations in a span of a year, here's how former head coach Rich Rodriguez was fired at Arizona and how it brought Kevin Sumlin to Tucson. 
Timeline of Rich Rodriguez's firing and potential replacements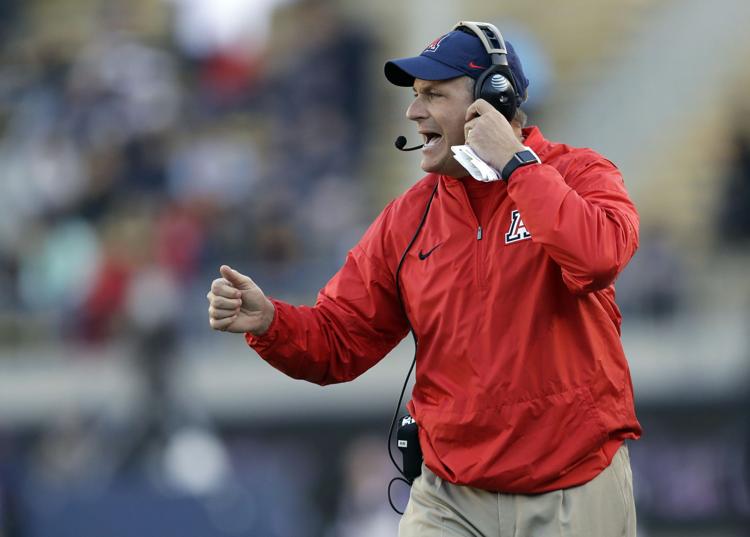 The Arizona Wildcats football program was thrown into chaos on Jan. 2, when coach Rich Rodriguez was fired after a $7.5 million notice of claim was filed against him alleging sexual harassment and workplace misconduct.
Here's a timeline of what we know about Rodriguez's actions, his firing, and who the Wildcats may hire to replace him: 
Feb. 2017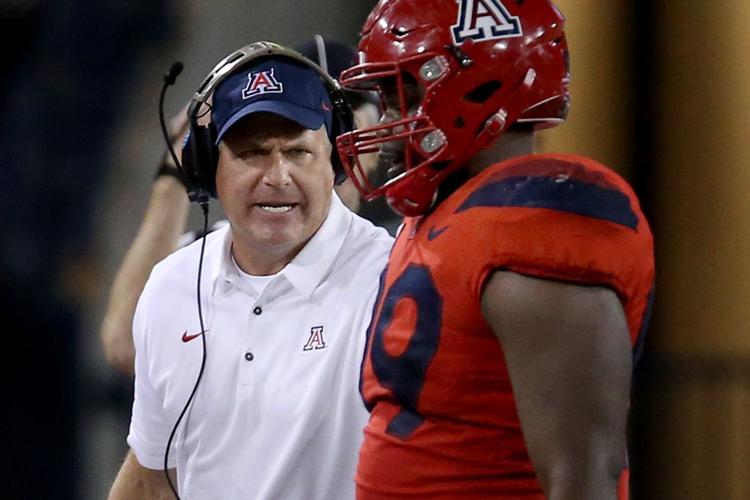 The UA opens an internal investigation into football coach Rich Rodriguez because of his verbal mistreatment of players. The results of the investigation are unknown, but Rodriguez remains as Arizona's coach.
July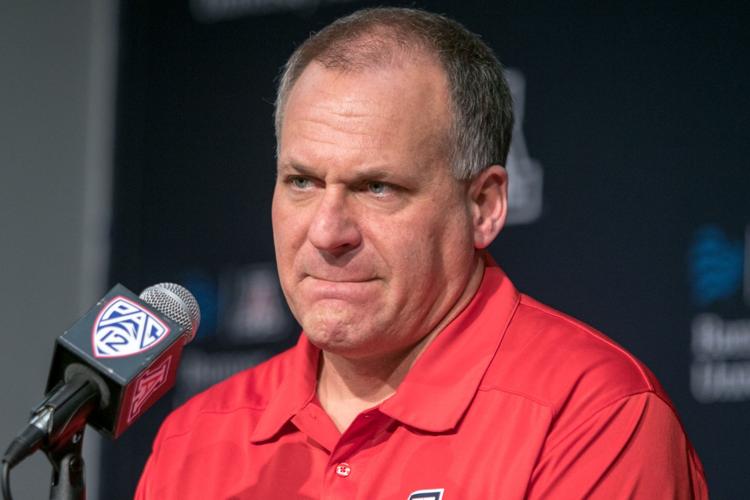 Melissa Wilhelmsen, the longtime administrative assistant to both Mike Stoops and Rich Rodriguez, leaves for a job at a local business. 
October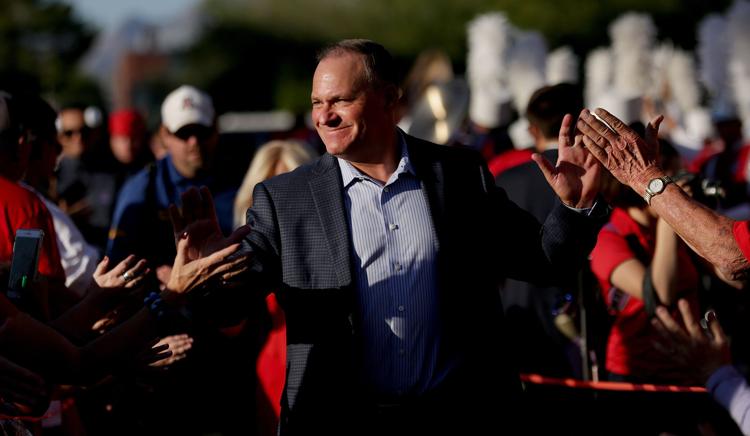 The UA's Office of Institutional Equity retains outside counsel to investigate allegations of sexual harassment of a former employee, Wilhelmsen, by Rodriguez. Rodriguez continues to coach the Wildcats during the investigation because, the university says, "at no time has the University believed that Mr. Rodriguez posed any danger to a member of the community." 
Nov. 25
RichRod on Khalil Tate being taken out of the game and punting situations: Not a happy camper. pic.twitter.com/eN8ygRxTGd

— The Wildcaster (@TheWildcaster) November 26, 2017
Arizona allows 21 third-quarter points and falls to rival Arizona State 42-30 at Sun Devil Stadium. Quarterback Khalil Tate is injured during the first half, and backup Brandon Dawkins finishes the game. Rodriguez is combative during a postgame news conference, dismissing questions about Tate's injury and his decision to play Dawkins.
Rich Rodriguez on how Brandon Dawkins handled being thrown in the game and play calling in the final minute of the first half: pic.twitter.com/ynQYTTIs4e

— The Wildcaster (@TheWildcaster) November 26, 2017
Nov. 26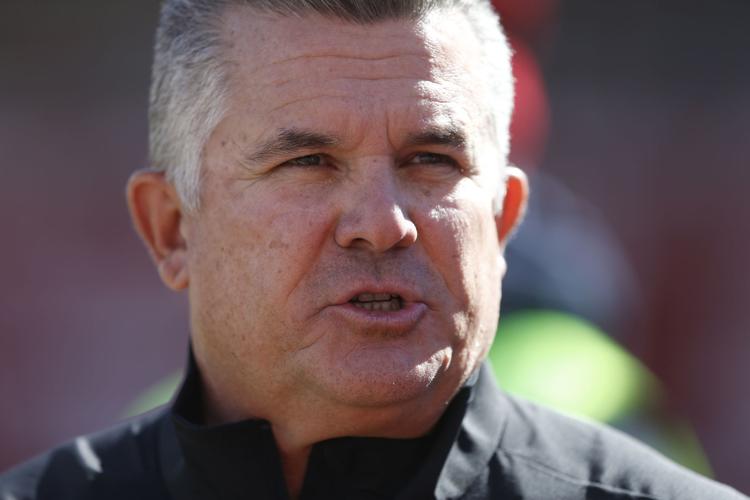 Arizona State fires coach Todd Graham, who was hired shorktly after Rodriguez and went 46-32 in six seasons. Rodriguez's record following the Arizona State loss: 43-34. 
Dec. 3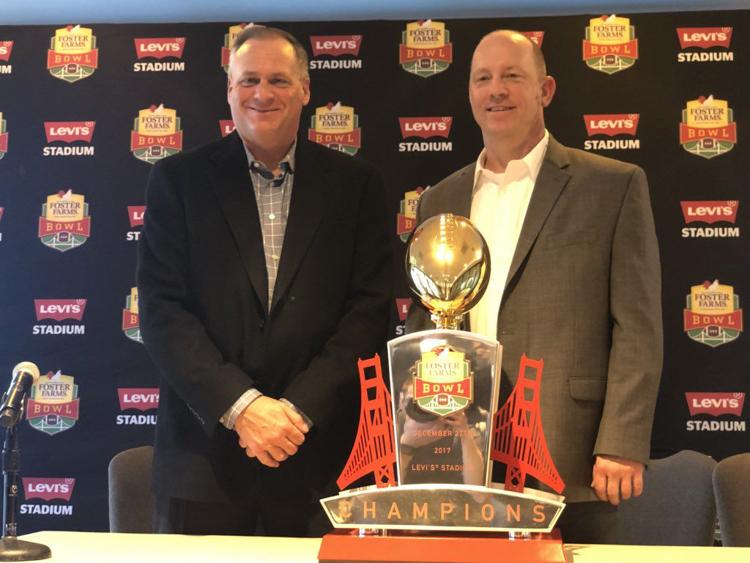 Arizona, with a 7-5 record, accepts a bid to the Foster Farms Bowl. 
Dec. 5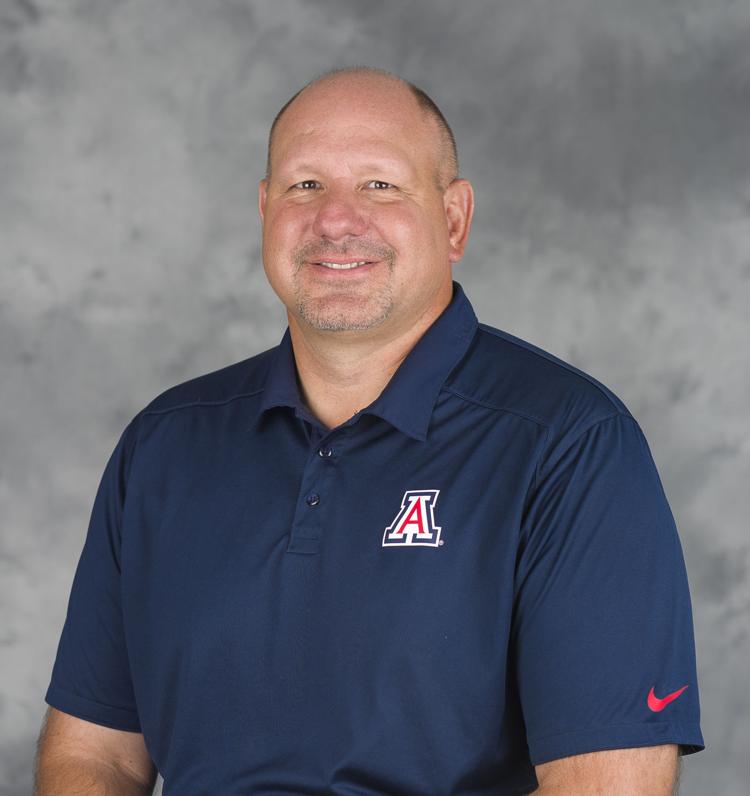 Offensive line coach Jim Michalczik leaves for a similar position at Oregon State. Rodriguez tabs former UA and NFL lineman Glenn Parker and former UA center Kyle Quinn to coach the position group until a permanent replacement is hired.
Dec. 19

Rodriguez announces that he has hired Florida Atlantic's Garin Justice to replace Michalczik. Justice played for Rodriguez at West Virginia.
Dec. 20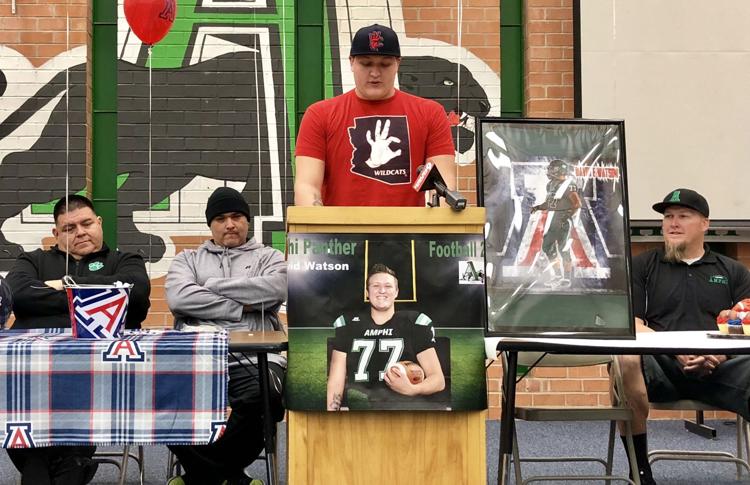 Arizona signs 22 players, including Amphitheater High School O-lineman David Watson, for the 2018 season. Cienega quarterback Jamarye Joiner, arguably the biggest prize in the UA's signing class, opts not to sign during the early signing period. 
Dec. 27
Purdue beats Arizona 38-35 in the Foster Farms Bowl. The Wildcats allow 31 first-half points before rallying late.
Dec. 28, time undetermined
The law firm of Cohen Dowd Quigley completes its investigation into Rodriguez, and determines there is not enough evidence to fire the coach for cause. 
Dec. 28, 12:51 p.m.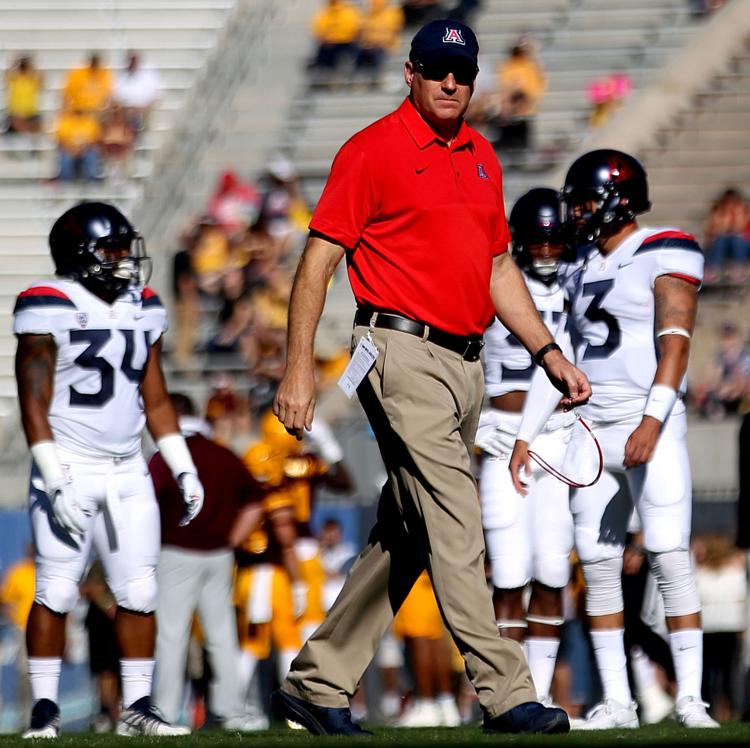 Phoenix attorney Augustine B. Jimenez III files a $7.5 million notice of claim with the state attorney general's office on behalf of Wilhelmsen against Rodriguez, "his wife and their martial community." The nine-page document details allegations that Rodriguez asked Wilhelmsen to cover up an affair and provide a sideline pass to his girlfriend. The notice alleges inappropriate comments and actions by Rodriguez and the creation of a hostile work environment that led to Wilhelmsen's departure.
Dec. 29, 12:45 p.m.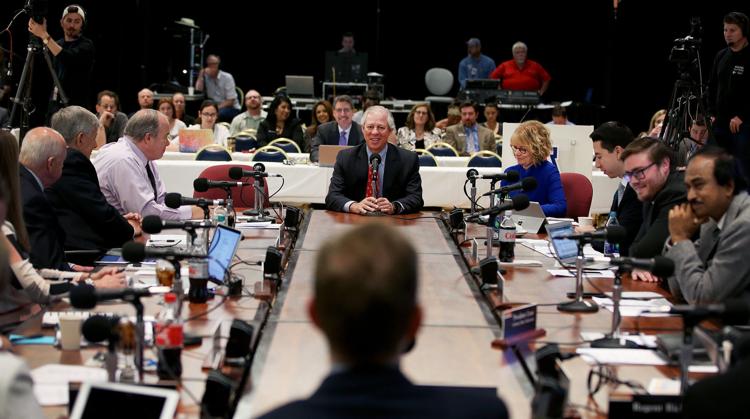 The Star requests a copy of the notice of claim from the Arizona Board of Regents, where claims against state agencies are typically filed first. A spokesman for the regents does not respond. 
Jan. 2, 7:17 p.m.: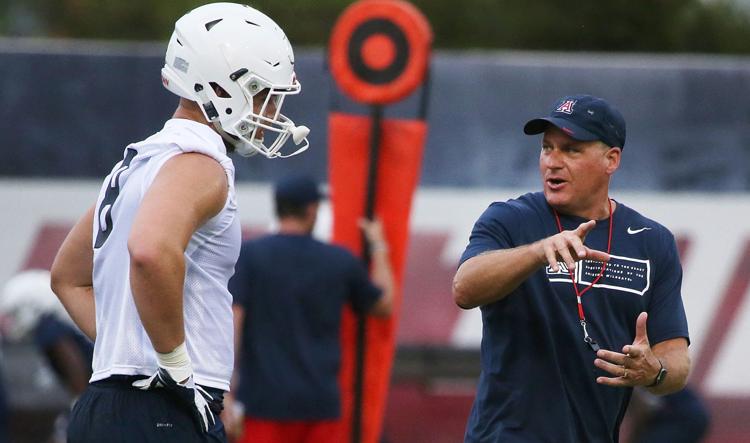 USA Today's Dan Wolken reports that Arizona is weighing whether to fire Rodriguez without cause.
Jan. 2, 7:38 p.m.:
The Star's Greg Hansen reports that the notice of claim is a sexual harassment/hostile workplace claim against Rodriguez.
Notice of claim to Attorney General's office is a sexual harassment/hostile work place claim against Rich Rodriguez

— Greg Hansen (@ghansen711) January 3, 2018
Jan. 2, 8:25 p.m.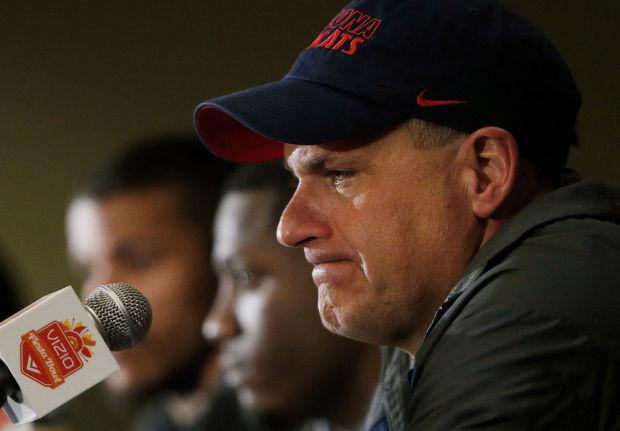 Arizona announces that it has fired Rodriguez without cause and will pay him the balance of his buyout, $6.28 million. Rodriguez is not eligible for the $3 million retention bonus that he would've collected had remained employed by March 15. UA president Robert C. Robbins and athletic director Dave Heeke sent a join letter to the campus community, calling it a day "on which we reaffirm our commitment to our values — and to ourselves." 
Jan. 2, 9 p.m.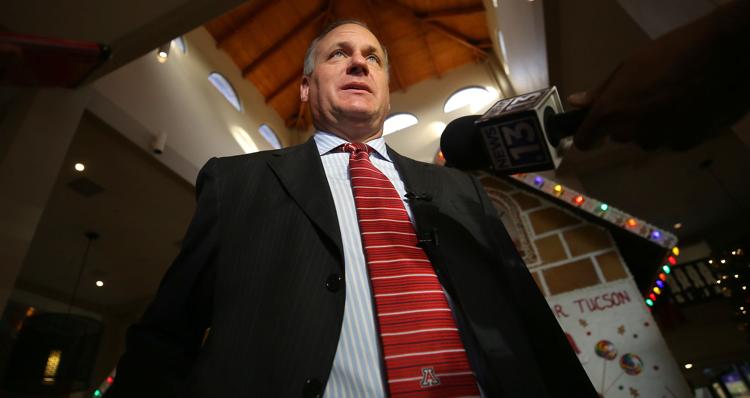 The Star publishes details of the claim, including allegations that Rodriguez, two assistant coaches and Wilhelmsen were members of the "triangle of secrecy" and kept a "hideaway book" that could only be viewed by certain people. The hideaway book included his philosophy, which included phrases like "Title IX doesn't exist in our office."
Jan. 2, 9:20 p.m.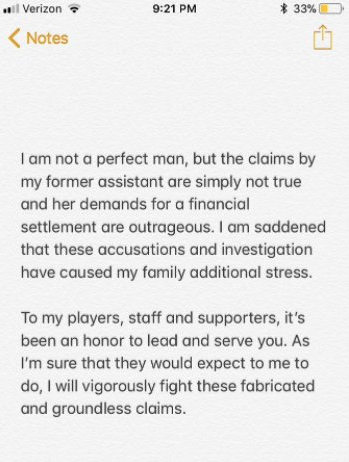 Rodriguez denies the sexual harassment allegations in a statement posted to his now-deleted Twitter account. In the statement, he admits to "a single truth" — that he was unfaithful to his wife.
Jan. 2, 10:15 p.m.
Former UA quarterback Matt Scott tweets his support for Rodriguez and knocks the UA for its "values" statement given the its support for UA coach Sean Miller amid an FBI investigation into his program. 
How you gonna fire @CoachRodAZ over a false story and say "we wanted to reaffirm our commitment to our values" and your not gonna fire Miller for paying players? Smh yall look stupid

— Matt Scott (@mscottqb10) January 3, 2018
Jan. 3, noon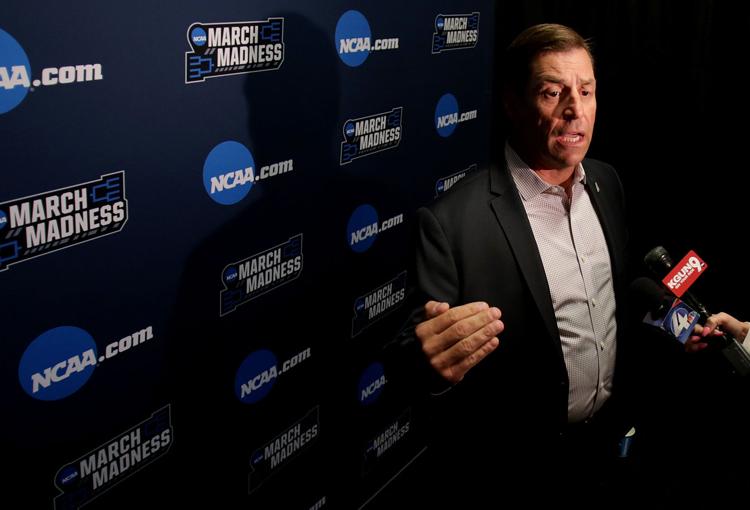 A UA spokesman says that athletic director Dave Heeke had decided to fire Rodriguez before the investigation was concluded for a variety of reasons, including on-field performance.
Jan. 3, 4 p.m.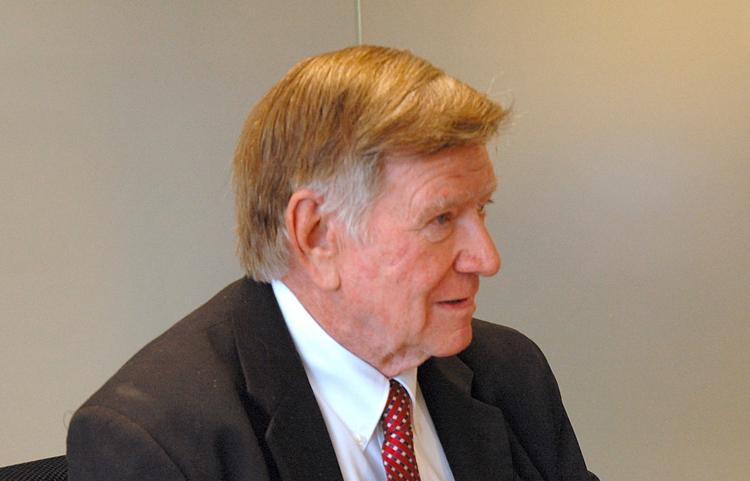 ABOR chairman Bill Ridenour says he has directed staff to review multi-year coaching contracts so there is more transparency and accountability. He writes that he is "hopeful that future contracts include mitigation clauses to avert such buyouts."
Jan. 4, afternoon:
Rodriguez's children, Raquel and Rhett, blast his accuser in separate tweets. Raquel Rodriguez attaches a screenshot of what she says is a cheery text exchange from Wilhelmsen's final day.
Psalm 46:1 "God is our refuge and strength, an ever-present help in trouble." pic.twitter.com/6Rwr3XAPar

— Raquel Rodriguez (@raquelrod_23) January 4, 2018
A woman allegedly so uncomfortable, constantly stressed and suffering migraines (which she claims was somehow pinpointed purely to stress at work) that she recommended to multiple people the poor unfortunate soul who should be her replacement was none other than..HER OWN SISTER🤨 https://t.co/ABBi6LAmKk

— Rhett Rodriguez (@rhett_rod) January 5, 2018
Jan. 5, 5 p.m.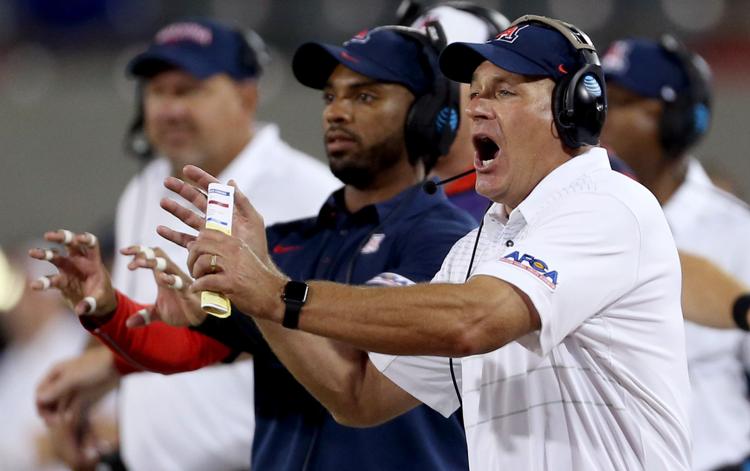 Jimenez hits back, saying that Wilhelmsen was sexually harassed for years and that the UA may have hired the third-party firm to investigate the coach because they wanted to fire him without paying his buyout. Jimenez says his statement is a response to "mischaracterizations and personal attacks" made against his client in the days since the claim was made public. 
Jan. 7:
Star columnist Greg Hansen reports that former Texas A&M coach Kevin Sumlin and former UCLA, Washington and Colorado coach Rick Neuheisel have expressed interest in the job.
Jan. 8, 10 a.m.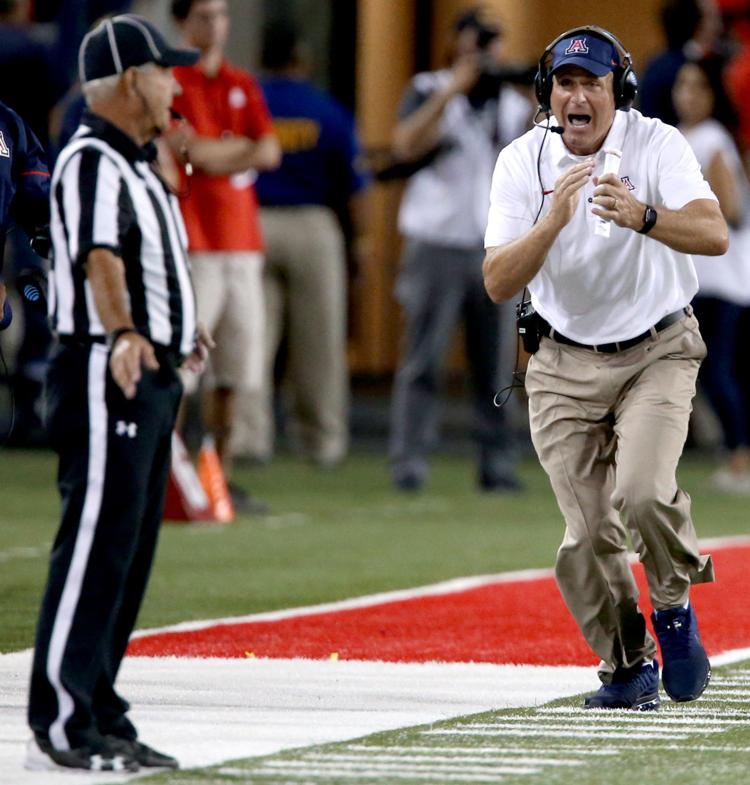 Rodriguez, the outgoing president of the AFCA, speaks to a group of coaches in Charlotte in what is his first public appearance since being fired. Rodriguez talks about adversity in the profession, and mentions "false allegations."
Jan. 8, 4:56 p.m.
Troy coach Neal Brown is interviewed and a top candidate for the job, accounting for Alabama television reporter Maria Martin.
Jan. 9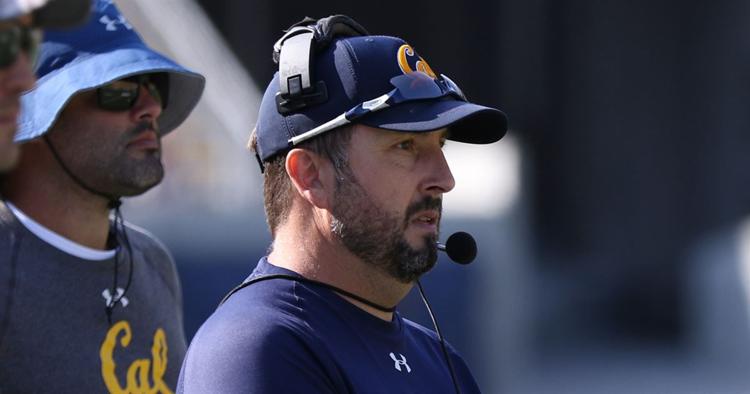 FootballScoop.com reports that Arizona had asked to interview Sumlin, Brown, Mark Helfrich, Jedd Fisch, Marcel Yates, Beau Baldwin "and another former coach who is currently a TV/media presence" — meaning Neuheisel.
Jan. 10, 8 a.m.
UA star quarterback Khalil Tate walks back statements made by his mother that Tate is a "Wildcat for life" regardless of who Arizona hires. Tate's mother says she spoke to the Star out of turn, and that her son, like the rest of the players, will wait to see who the new coach is before proceeding.
Khalil didn't say that, his mother did.. https://t.co/YGEkevmtaJ

— Khalil Tate (@KhalilDTN) January 10, 2018
Jan. 10, noon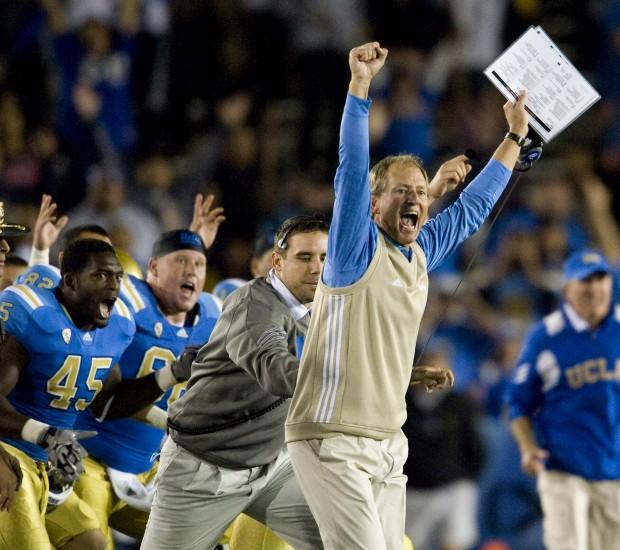 The Star's Michael Lev reports that Neuheisel is not a serious candidate for the job but that the former coach was approached by a prominent UA alum about the position.
Jan. 11, 7 a.m.
Mark Helfrich is named the Chicago Bears' offensive coordinator, meaning the former Oregon coach — at one time thought to be a strong candidate at Arizona — is out of the pool.
Jan. 11, morning
Western Kentucky coach Mike Sanford tells his athletic director that he is not a serious candidate for the UA job, and tweets a handful of supportive messages about his current program. 
Jan. 11, 7 p.m.
Ch. 13 reports that Kevin Sumlin was in Tucson, and ate at Rincon Market. The co-owner of the university-area eatery confirms that she saw the coach. 
Jan. 12, 9 a.m.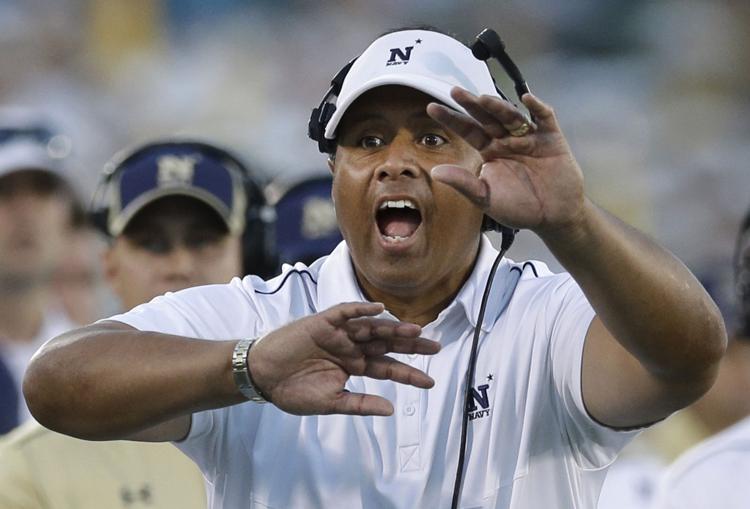 Ken Niumatalolo emerges as the leading candidate to replace Rodriguez. The Navy coach is inexplicably absent from work, and sources say he was interviewing for — and was offered — the UA job.
Jan. 14, 8:30 a.m.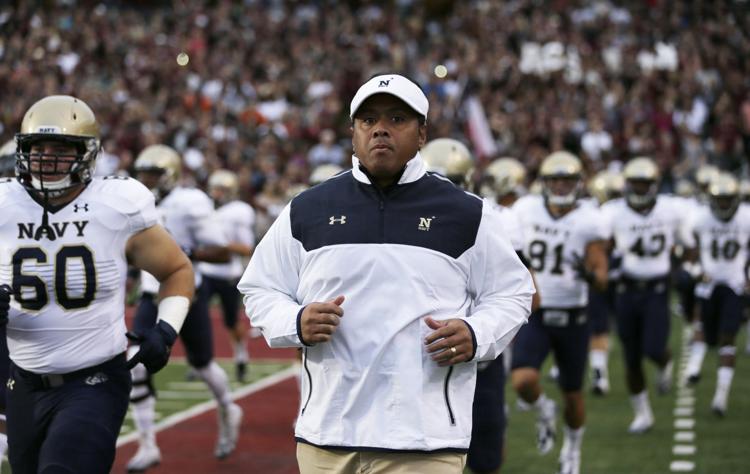 Niumatalolo issues a statement saying that after much prayer, he's decided to return to Navy.
Jan. 14, 12:30 p.m.
Hearing its official. Kevin Sumlin to Arizona. YESSIR!

— Gil Brandt (@Gil_Brandt) January 14, 2018
Reporter Gil Brandt tweets that "it's official" and that former Texas A&M coach Kevin Sumlin is coming to Arizona. Arizona offensive assistant BJ Denker, who previously worked with Sumlin at Texas A&M, tweets that it's "a great day to be a Wildcat."
Jan. 14, 12:39 p.m.
Sports Illustrated and Fox reporter Bruce Feldman tweets out the breaking update that Kevin Sumlin is accepting the head coaching position at Arizona. 
BREAKING: Former #Houston & #TAMU HC Kevin Sumlin is expected to become the new head coach at #Arizona, per source.

— Bruce Feldman (@BruceFeldmanCFB) January 14, 2018
Jan. 14, 12:46 p.m.
Arizona assistant coach and former UA quarterback BJ Denker tweets out a congratulatory welcome message on Kevin Sumlin accepting the head coaching position. 
YESSIR! It's a great day to be a Wildcat! This team & this University just went to the next level! Welcome to the family Coach Sumlin. #BearDown https://t.co/pTrFUrUDQ8

— BJ Denker (@BJDenker) January 14, 2018
Jan. 14, 6:44 p.m.
Confirmed via source: Marcel Yates will remain at Arizona as defensive coordinator. @BruceFeldmanCFB had it first

— Michael Lev (@MichaelJLev) January 15, 2018
UA defensive coordinator Marcel Yates will remain on staff. Yates was also considered a strong a candidate for the head coaching position, and also received support from players via Twitter. 
Jan. 16, 9:53 a.m.
Kevin Sumlin's contract with Arizona: 5 years, $14.5 million plus "mutual payout obligations"

— Michael Lev (@MichaelJLev) January 16, 2018
Sumlin's contract details emerge moments before his introductory press conference. Sumlin's contract is five years, $14.5 million with a mutual buyout. 
Kevin Sumlin's 5-year contract gives Arizona Wildcats some protection if pairing sours
The Arizona Wildcats paid Rich Rodriguez a $6.28 million buyout after an independent investigation into allegations of sexual harassment and running a hostile workplace found there was not enough evidence to fire him for cause.
Rodriguez's replacement, Kevin Sumlin, was paid $10.4 million by Texas A&M to, essentially, go away.
Which is why the most important part of Tuesday's announcement of Sumlin as Arizona's new head coach came in one clause in one sentence of a six-page news release.
"Those provisions," it read, noting Sumlin's contract, "include a mitigation requirement."
Mitigation clauses — essentially, firing insurance — are the new standard at Arizona, athletic director Dave Heeke said Tuesday.
Should Arizona decide to fire Sumlin at any point during his five-year, $14.5 million contract, he would be obligated to find work coaching football. And money earned in his next job would reduce the UA's buyout to him.
Terms of Sumlin's buyout were not immediately available, though Arizona officials revealed a rough framework of his contract before introducing him to the media on Tuesday.
Sumlin will earn a base of $2 million in 2018 and 2019 and $3.5 million per year over the following three seasons. Sumlin will owe the UA money if he leaves before the five-year term is up, and Arizona will buy him out — with the mitigation clause — if he is fired. The contract is subject to approval by the Arizona Board of Regents, which next meets Jan. 25.
Heeke said he's been pushing for mitigation clauses since April, when he took over for the departed Greg Byrne.
Heeke has an ally in Regents Chairman Bill Ridenour, who said the board has grown tired of the UA cutting checks to underperforming employees. ASU paid Todd Graham a $12.2 million buyout after firing him in November. His replacement, Herm Edwards, signed a five-year deal that, like Sumlin's, will pay him a $2 million base in 2018. Edwards' deal comes with a mitigation clause: ASU would owe Edwards 100 percent of his buyout if it fires him and the coach is unable to land another Power 5 Conference job. If Edwards is fired and lands at another major-college program, ASU would owe him 50 percent of his remaining buyout.
Expect Sumlin's contract to contain similar language.
"I've made it very clear to them — that is, the universities — that we need something like that in the contracts," Ridenour said. "We would also prefer that, in the contracts, they enlarge the 'for cause' paragraphs in the contracts to cover other eventualities other than 'not able to perform their jobs.'"
Rodriguez was fired Jan. 2, five days after a $7.5 million notice of claim was filed against the coach by his former administrative assistant. In it, Melissa Wilhelmsen claims that Rodriguez made passes at her, forced her to cover up his extramarital affair and kept a "Hideaway Book" detailing some of his politically incorrect beliefs. Among them: That Title IX, the gender-equity law, "doesn't exist in our office."
But even if Rodriguez's contract had a more detailed "for cause" section, Arizona would've been on the hook for his buyout, Ridenour said.
"We cannot terminate a contract for cause based on allegations which are, at this point, unsubstantiated," he said.
Mitigation clauses are commonplace in professional sports, but relatively rare in major college athletics. The Arizona schools traditionally didn't include them, Ridenour said, to make the jobs look more appealing to candidates.
"To attract these coaches," Ridenour said, "it's been a very difficult market."
Yet Arizona emerged from its 12-day coaching search with a coach who would've been near the top of most schools' lists. Sumlin and Heeke met twice face-to-face. A deal came together quickly Saturday night and Sunday morning, with the two agreeing to terms Sunday afternoon.
The deal "shows a great commitment on both sides," Heeke said.
And provides some coverage if Arizona must fire another football coach.
Jan. 16, 10 a.m.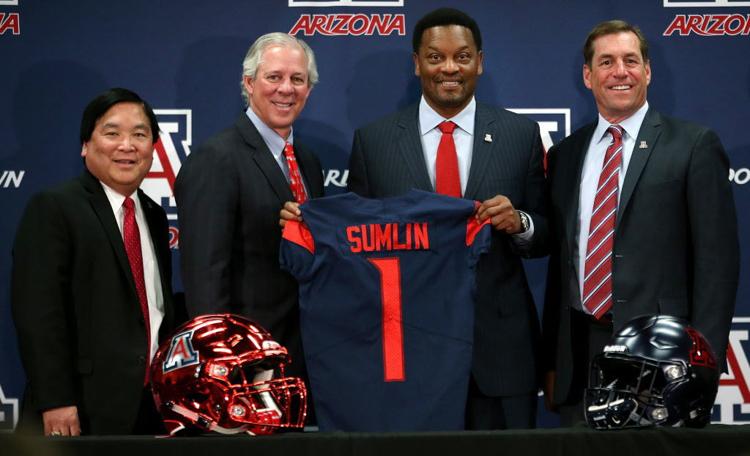 Sumlin introduced as head coach by athletic director Dave Heeke and UA president Robert Robbins at press conference in the Lowell-Stevens football facility. 
Why the timing was just right for Kevin Sumlin to become coach of the Arizona Wildcats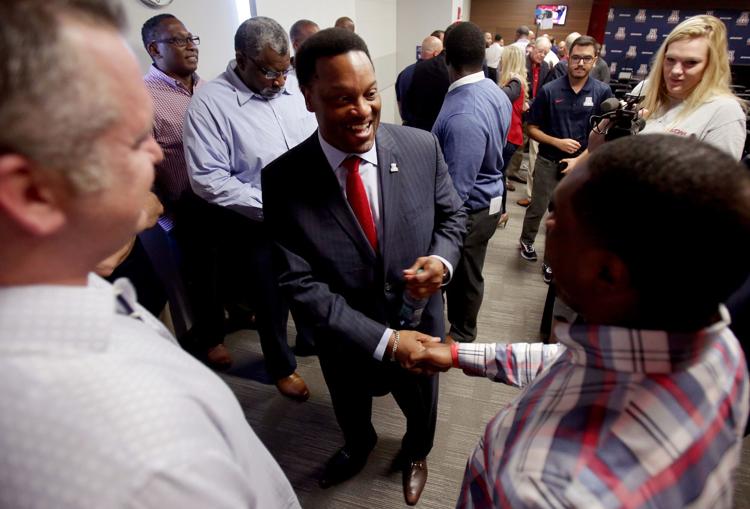 If the Arizona coaching job became vacant in early December instead of early January, Kevin Sumlin might not be the Wildcats' coach today.
Texas A&M fired Sumlin on Nov. 26, mainly because he didn't win quite enough, and he took the news hard. Who wouldn't?
Aside from a year and a half or so in private business, Sumlin had been involved in football since he started playing the sport in third grade. Now he was unemployed, tired and questioning himself.
Sumlin left the country to get away. "I went as far south as I could go without crossing the equator," he said, declining to disclose his destination.
It was a necessary respite. "I actually went four days without somebody saying, 'Hey, Coach.' That was really good for me," Sumlin said.
He returned home and began to assess his immediate future. He could sit out a year, become a TV analyst and see what jobs became available in the next firing/hiring cycle. Or he could dive back in.
"That first week after I was let go, people called," Sumlin said. "I just didn't really feel like it. But over the course of that next five or six weeks, I got back to being me."
Sumlin participated in ESPN's "Coaches Film Room," shoulder programming to the Jan. 8 national championship game. He also spoke at the American Football Coaches Association Convention, which took place Jan. 7-10.
"People actually showed up to hear what I had to say, which was good, because I wasn't feeling like that four weeks ago," Sumlin said. "Being around your peers, you start to get your confidence back."
Meanwhile, a job unexpectedly opened up. Arizona fired Rich Rodriguez on Jan. 2. Every other FBS post was filled.
UA athletic director Dave Heeke met with Sumlin twice. They also had several phone conversations, some of which lasted deep into the night.
Whether Sumlin was ready to get back into coaching was among the subjects they discussed. Sumlin conceded that "there was a concern based on everything that went on at my last place. It was tough. It was tough on me. It was tough on family. Tough on a lot of different things."
But Sumlin told Heeke that he was in a good place. The more they talked, the more they realized the timing was right.
"I heard that passion and desire and determination and excitement to be here, at Arizona," Heeke said. "A guy who has been at and wants to be at the highest level."
Eventually, they reached the same conclusion: Arizona was the right fit for Sumlin. And now was the time for him to seize that opportunity.
"Timing has a lot to do with everything," Sumlin said. "I felt really good about this situation. The biggest thing for me was, I was ready to do it. After talking with the leadership, our administration, with Dave, Dr. (Robert C.) Robbins, I had a great feeling about the direction of the university.
"That concern," he added, referring to his desire to coach in 2018, "is over with. I'm ready to go. I'm ready to hire people. I'm there. I'm ready to roll."
Immediate success
After discussing Arizona's commitment to football and its willingness to devote resources to aid the program's success, Sumlin and Heeke shared the same rosy outlook.
Why not here? Why not us? Why not now?
Sumlin assessed the Wildcats' roster and told Heeke: "It's not broken." Arizona finished 7-6 last season after going 3-9 the year before. With quarterback Khalil Tate entering his junior season and several promising young players on both sides of the ball, the UA appears to be a program on the upswing.
Also, Rodriguez wasn't fired because of the Wildcats' on-field performance. The team's 1-4 finish might have been a factor, but it was pretty far down the list.
Sumlin experienced immediate success at Texas A&M. His 2012 Aggies finished 11-2 (which, it turned out, would be their best record during his six-year run).
That was the year Johnny Manziel emerged as a singular force, helping A&M upset No. 1 Alabama. Manziel would become the first redshirt freshman to win the Heisman Trophy.
"He changed Texas A&M football forever the way he performed, and also made it hard for the staff there," Pac-12 Networks analyst Yogi Roth said. "Johnny was larger than life, (Tim) Tebow-esque, in a social-media age."
The expectations in College Station climbed to a level that proved unsustainable.
The Aggies went 9-4 in 2013, 8-5 each of the next three seasons and were 7-5 when Sumlin was let go.
Roth believes the best coaches enjoy their best success after a "failure." Not that Sumlin failed at A&M — his overall record there was 51-26 — but it didn't end the way he had hoped.
Roth witnessed the failure follow-up first-hand at USC, where Pete Carroll went from NFL washout to dynasty architect. Bill Belichick had one winning season in five years in Cleveland. He has had one losing season in 18 years in New England, which is favored to win its sixth Super Bowl under his watch.
Roth offered the following prediction about Sumlin: "The next job, this job, will be his greatest achievement because of what he learned."
Run for the Roses?
Sumlin mentioned during his introductory news conference Tuesday that Arizona never has played in a Rose Bowl game. He knows exactly what that's like — and what it feels like to end the drought.
Sumlin played at Purdue and worked as an assistant coach there from 1998-2000. His last Boilermakers squad — under the guidance of Sumlin's mentor, Joe Tiller — reached the Rose Bowl for the first time in 34 years. Their on-field leader was star quarterback Drew Brees. Sumlin couldn't help but see some parallels.
"It's gonna happen," Sumlin said of Arizona reaching the Rose Bowl. "Our goal here is to win championships. We've got the tools in place here structurally to make that happen."
Any talk of the Wildcats playing in the Rose Bowl is premature, of course. Their roster is still young. They have yet to practice for Sumlin, let alone play for him. Chip Kelly is part of the Pac-12 South now. USC isn't going away. A tested Washington squad will enter next season as the league's prohibitive favorite.
But the Cats are dreaming big for now, encouraged by last season's progress and amped by Sumlin's arrival.
"I think he's stepping into a situation where we can win a Pac-12 championship," senior receiver Shawn Poindexter said. "And if we don't win a Pac-12 championship, we'll have failed."
Sumlin will make changes. The coaching staff will look different. The schemes will be tweaked. But as he told the Star: "It's not going to be a situation where, here comes a new coach and he's blowing the whole thing up and we're starting from scratch."
None of the current players view this season as a rebuilding year. Last year was the rebuilding year.
"We don't have time for a rebuilding year," veteran receiver Tony Ellison said. "I'm a senior. I want to go out the right way. I want a 10-win season. I've got a lot of expectations, not only for myself but my teammates."
Hungry upperclassmen. Young talent. A new coach. A supportive administration.
If a few breaks go Arizona's way, the timing just might be right.
"We have so much potential," linebacker Tony Fields II said. "We have young guys on both sides of the ball. We have Khalil for two more years. We have everything we need."
Jan. 20, 8:30 p.m.: Rich Rodriguez's accuser files additional $8.5 million claim against ex-coach, UA athletic department (copy)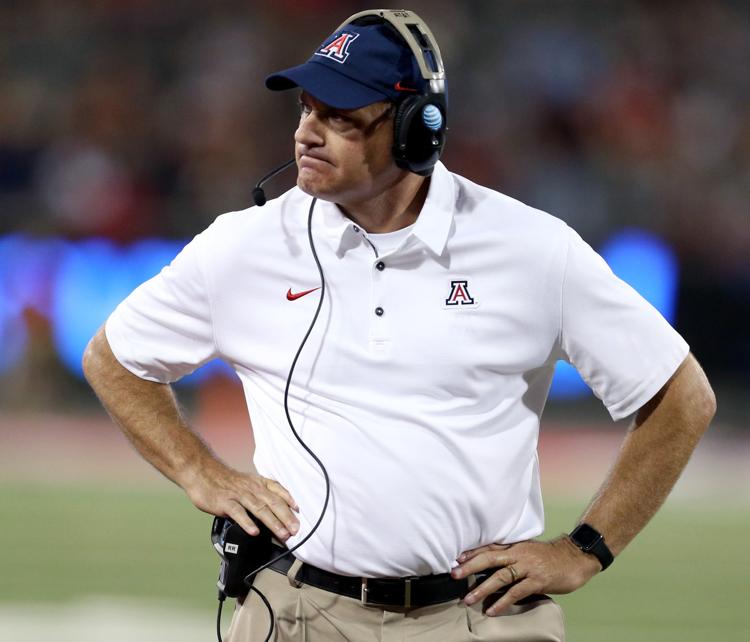 The woman who filed a $7.5 million sexual harassment claim against former UA football coach Rich Rodriguez last month has submitted an additional $8.5 million claim against the University of Arizona, saying that the school is liable for Rodriguez's conduct.
Melissa Wilhelmsen, Rodriguez's former administrative assistant, says that she was subjected to assault and sexual harassment by Rodriguez and a hostile work environment within the athletic department, according to the claim filed Friday with the Arizona Board of Regents and obtained by the Star Saturday.
The document says that Wilhelmsen and her husband also have claims against Rodriguez for slander, defamation and false light, invasion of privacy and intentional infliction of emotional distress stemming from Rodriguez and his wife's conduct after his firing — including "statements to football players at a team meeting on January 9, 2018." Rich and Rita Rodriguez spoke to the players in a team meeting run by interim head coach Marcel Yates on that date. It was not immediate clear if any additional legal action had been filed.
Rodriguez was fired Jan. 2 after news of Wilhelmsen's initial claim was made public. In that document, which was filed with the Arizona Attorney General's Office, Wilhelmsen says Rodriguez sexually harassed her for more than a year and forced her to lie to his wife to cover up an affair with another woman. The UA hired Kevin Sumlin a week ago to replace him.
The claim says that the UA acted negligently and is "vicariously liable" for Rodriguez's actions, which he committed while working for the school.
The newly filed claim follows the same timeline as the initial claim, saying that Wilhelmsen's treatment while employed at the UA began to deteriorate in 2013, when Rodriguez introduced her to "The Hideaway Book" and "The Triangle of Secrecy." Wilhelmsen says she was also forced to begin lying to Rodriguez's wife and children about his ongoing extramarital affair.
Both claims list several instances when Rodriguez was physically inappropriate with Wilhelmsen — brushing up against her breast, trying to kiss her and making comments about his genitals and underwear.
While the second claim lists Rodriguez, his wife and the University of Arizona as defendants, it also mentions by name several athletic department employees who were part of the hostile work environment that Rodriguez "created and fostered."
Those employees include:
Former UA recruiting coordinator and general manager Matt Dudek, who Wilhelmsen told about an incident in which Rodriguez called her into his office and "grasped" his penis while carrying on a conversation and had previously had "several conversations about the sexual harassment and the hostile work environment created by Rodriguez." The claim says that Dudek both witnessed such behavior and heard about it from others.
Associate athletic director Mike Parrish, who the claim says Wilhelmsen complained to several times about Rodriguez's harassment. "While sympathetic to her situation," Parrish failed to act, saying "we can't afford those kinds of problems right now." Parrish worked under Rodriguez at West Virginia and Michigan before following him to the UA.
Senior associate athletic director Mike Ketcham, who would not help Wilhelmsen facilitate a transfer to another department within the university and later acknowledged that he "generally knew that Rodriguez had harassed her." Ketcham
Staff analyst Dusty Rutledge, who made a comment to Rodriguez about Wilhelmsen using her sexuality to raise funds.
The UA announced Rodriguez's firing in a press release Jan. 2, saying that the school's Office of Institutional Equity had received a sexual harassment complaint about Rodriguez in October and hired an outside law firm to investigate.
Wilhelmsen refused to cooperate with the investigation, the release said. Wilhelmsen's second claim appears to shed light onto what happened after she filed the complaint.
On Oct. 26 — after Wilhelmsen had left the UA and began working with a local insurance agent — she called UA's human resources department to complain that her daughter, who still worked in the athletic department, was being given more work hours than allowed for a student. When she identified herself, she was transferred to an equity officer who said she was investigating Rodriguez's conduct. Wilhelmsen agreed to meet with the woman, who said she had been trying to reach her and that the UA "knew that she left because of what Rodriguez did to her."
The claim says that the woman's follow up questions "rekindled" Wilhelmsen's fear that "heads will roll" and other people would lose their jobs, and that any comments she made might get publicized. Wilhelmsen decided it was best to consult with an attorney before saying any more.
The most recent claim says that Wilhelmsen and her husband will settle "all claims" they may have against Rodriguez and the UA for the requested $8.5 million. It's unclear if settling the second claim will mean that the first is withdrawn; Wilhelmsen's attorney, Augustine Jimenez, wasn't immediately available for comment.
The board of regents has 60 days to respond to the claim before Wilhelmen can pursue it in court.