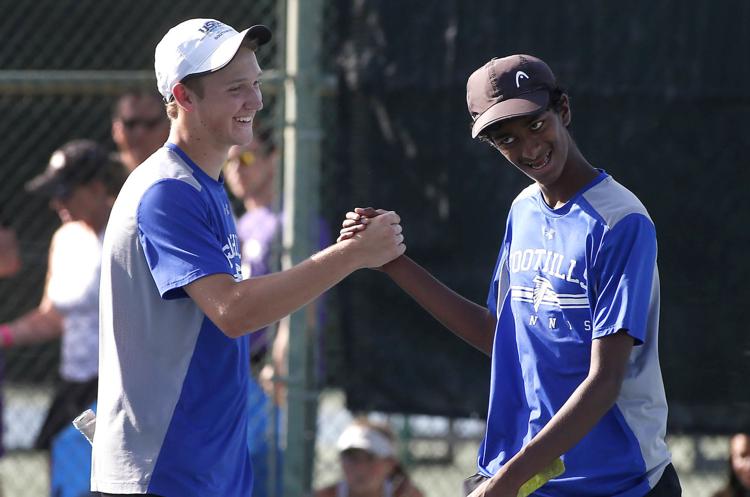 Tucson's high school sports season begins this week and the ultimate challenge is a mighty one: Can Tucson match its record 13 state championships of 2018-19?
Here's my list of 10 potential state champs, in order, although it doesn't include Salpointe Catholic's football team, which I believe will someday be compared to the undefeated Tucson High football team of 1970 as the best in our city's history.
But Dennis Bene's Lancers are so talented they seem positioned to be moved to the inaugural Open Division state championship bracket in November. The state's eight top teams, regardless of classification, will play for the Open Division title. That means Salpointe would not play for the Class 4A title.
Either way, here are 10 potential state champs, starting at the top:
1. Catalina Foothills boys tennis. Coach Jeffry Bloomberg's Falcons have won six consecutive state titles, 2014-19, with a winning streak that hit 100 last spring. They return five of their top six players: Brendan Perry, Anton Nazaroff, Jeevaj Bondalapati, Estevan Alvarez, Krishna Dasika. Enough said.
2. Salpointe's girls cross country. The top four runners from last year's state championship team — Zoey Delgado, Laurel Froehlich, Tayler Thomas and Lexi Lambert — are scheduled to return for Mike Urbanski's Lancers.
3. Sunnyside wrestling. Anthony Leon has coached the Blue Devils to three state titles and his club is loaded again, with returning state champs James Brown and James Rivera, and state runners-up Jesse Ybarra and Fernando Villaescusa.
4. Sabino girls basketball. A Tucson team has not won a girls state basketball championship since CDO in 2009. That should end this year as Sabino's "Special K's" — Kam'Ren Rhodes, Kamryn Doty, Kiya Dorroh and Kadie Healy, who combined to average 49.4 points last season — have a chance to challenge the records of the undefeated CDO team of Dan Huff in 1987 and Santa Rita's Dave Lynch of 1984.
5. Salpointe girls soccer. Coach Kelly Pierce's club, 17-2 state champs a year ago, return four players who scored 38 of the Lancers' 57 goals: Maci Bernier, Sydney Lenhart, Aliyah Parsons and Kyleigh Oliver. They'll be a heavy load for any opponent.
6. Catalina Foothills girls golf. Coach Ryan Dunn's club is led by senior Maya Benita, who has committed to play for Pac-12 power Arizona. Benita will be surrounded by capable Libby Axen and her twin sister, Caroline, freshman Mia Cesarek, Maddie Conway and Rylie Crane. Perhaps only Ironwood Ridge can stop Foothills from being the state's top team.
7. Canyon del Oro baseball. In his second year, coach Jason Hisey appears to be onto something special, with a core of eight players returning, including junior Dante Schindler, who hit .322 and was 5-3 with a 1.45 ERA and 67 strikeouts in 53 innings, as well as .365-hitting Jayden Bracy and .337-hitting Andrew Stucky.
8. Rincon/University boys volleyball. After finishing 33-4 and getting so close to the state title a year ago, coach Stephen Huff's club returns four key players: Lorenzo Rocha, James Standridge, Dom Samaniego and Andrew Stout-Marshall.
9. Salpointe softball. Loaded once again, the defending state champs will deploy 10 who played significant innings last year, including .530-hitting Logan Cole and dominant pitcher Alyssa Aguilar, who is 36-6 in two seasons with 339 strikeouts.
10. Sabino football. Coach Ryan McBrayer's Sabercats have what it takes to win the Class 3A championship, especially junior quarterback A.J. Skaggs, who passed for 20 touchdowns last year, all-around standout Diego Armijo, who caught 21 passes and intercepted six, and defensive regulars Jayson Petty, Daniel McAllister and Marceise Stubblefield, who helped Sabino win 10 games a year ago.