Star columnist Greg Hansen chimes on Chase Budinger's big break, Arizona's soccer success — and why Robert C. Robbins' alma mater might target him as its next president.
Pima's 'pumpkins' head east in search of a title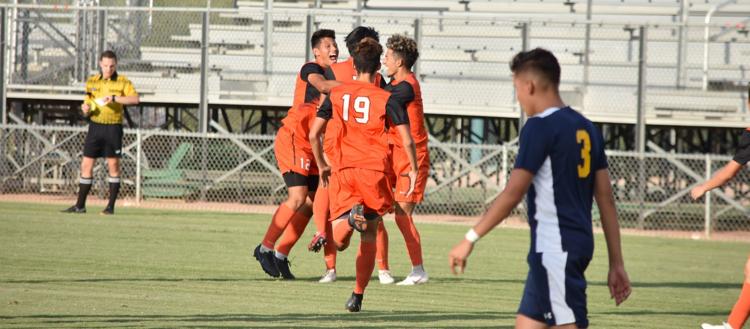 Pima College won its first NJCAA national championship 38 years ago in, of all places, Coeur d'Alene, Idaho.
Much like the Aztecs' No. 1 ranked men's soccer team — which begins play for the national championship Monday in Daytona Beach, Florida — coach Jim Mielke's 1980 men's cross country team was also ranked No 1.
Much like coach Dave Cosgrove's soccer team, the 1980 PCC cross country team had flirted with the national championship, finishing second in 1975. Cosgrove's Aztecs finished No. 3 a year ago.
And much more like Cosgrove, Mielke grew up in Tucson, graduated from the UA and became something of a coaching legend. Both are members of the Pima County Sports Hall of Fame. Mielke coached at Sunnyside High School, Cosgrove at Amphitheater High School.
But unlike Cosgrove, who has been so close for so many years, Mielke knows the thrill of winning The Big One.
In that 1980 championship showdown in Idaho, Marana High School grad Felipe Campoy and Cholla High School product Thom Bush finished ninth and 11th overall as the Aztecs blew away the field to win easily.
"It is so nice," Mielke said then. "Those little pumpkins came rolling over the hill. We were so thrilled. They came down the final hill like rockets."
Pumpkins? The Aztecs wore orange uniforms for the 1980 championships and continue to wear orange in men's soccer.
Pima opens Monday against No. 12 seeded Muskegon College of Michigan, and plays a second game Wednesday against No. 8 Northeast Texas College, a 16-2-2 team that is stocked with international recruits from Uruguay, Brazil, England, Jamaica, South Korea, Spain, France and Venezuela.
Since PCC began sports competition in 1972, it has won three NJCAA titles: Mielke's cross country team of '80, and Stacy Iveson's softball champions of 2004 and 2006.
These opportunities don't roll around often: Pima has played in seven NJCAA championship games in 46 years. Cosgrove's 22-2 soccer team has the look of No. 8.
It's a good time to be a pumpkin.
Tucson's top sports developments of the week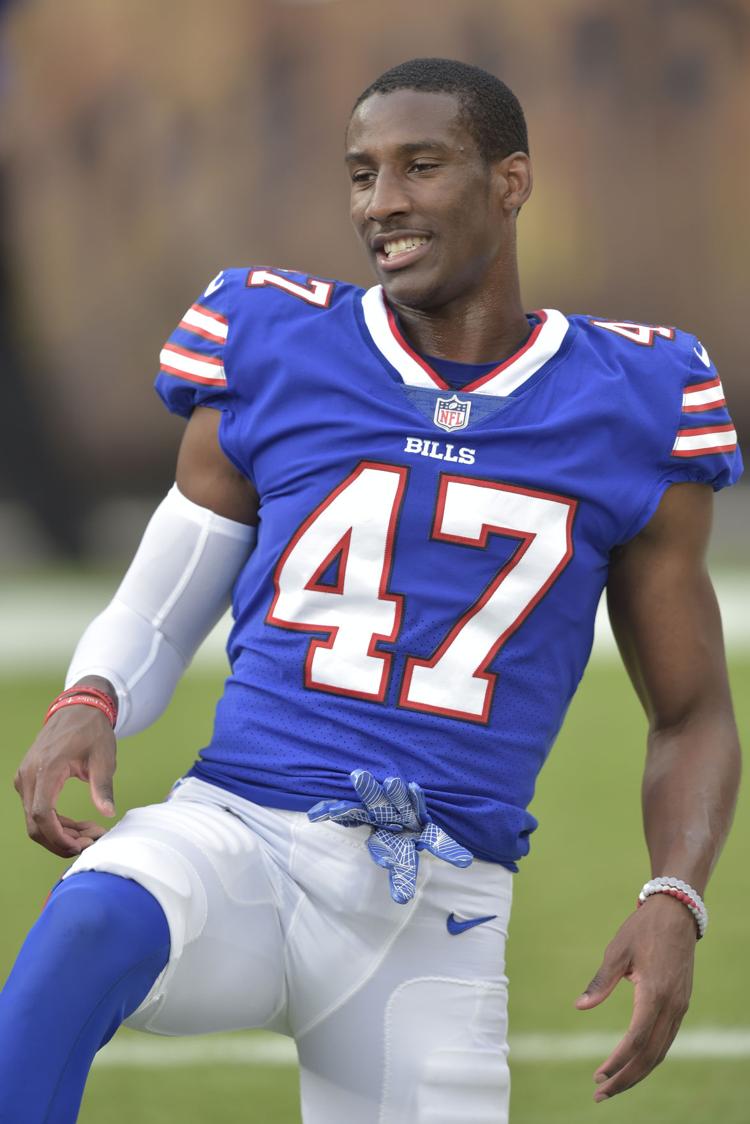 1. Tucson's George Cunningham, who completed his UA eligibility in June, finished tied for 36th at last week's PGA Tour's Shriners Hospital for Children Open in Las Vegas. He earned $32,970. In his only previous PGA Tour experience, at July's RBC Canadian Open, Cunningham finished 29th to earn $37,743. More impressive, he finished No. 2 on the Canadian Tour with $102,167 this season. That's quite a start to a pro golf career, with more than $170,000. Cunningham next will play in the final stage of the Web.com Qualifying School in early December, attempting to gain full-time status for 2019.
2. Laura Ianello's 2018 NCAA championship golf team is on track to contend for another in 2019. Last week in Hawaii, the UA women's golf team won the Pac-12 Preview, beating No. 1 USC, No. 5 Stanford and No. 8 UCLA in the process. It was like a mini-NCAA tournament. This time Ianello's deep and talented roster was led not by highly-ranked Haley Moore or Bianca Pagdanganan, but by sophomore Yu-Sang Hou, who finished tied for first at 6-under par. She beat a field that included 11 players ranked in the Top 25 in women's college golf. The defending national champs get a two month break; their only home tournament will be March 11-12 in the Arizona Wildcat Invitational at the Sewailo Golf Club.
3. Tucson High School grad Levi Wallace was activated by the Buffalo Bills last week and is expected to play in his first NFL game when Buffalo plays the New York Jets Sunday. A walk-on cornerback at Alabama where he became a starter for the 2017 national champion Crimson Tide, making 48 tackles, Wallace was undrafted. He has been on the Bills practice squad all season. He becomes the 34th player from a Tucson high school to reach the NFL, and the fourth ex-Badger, joining Mike Dawson, Fred W. Enke and Sean Harris, all of whom were standouts at Arizona. None has a more compelling story.
Wildcats' success shows just how tough the Pac-12 can be in soccer
This is how good women's soccer is in the Pac-12: Arizona coach Tony Amato, whose 13-5-2 club advanced to this week's NCAA round of 32 Thursday at No. 2 seed Tennessee, did not have a player on the Pac-12's first- or second all-conference teams last week. That's 24 players. No. 1 Stanford had nine first-or second-team selections. USC had a total of five.
Ex-Cat Gary Harrison elected to office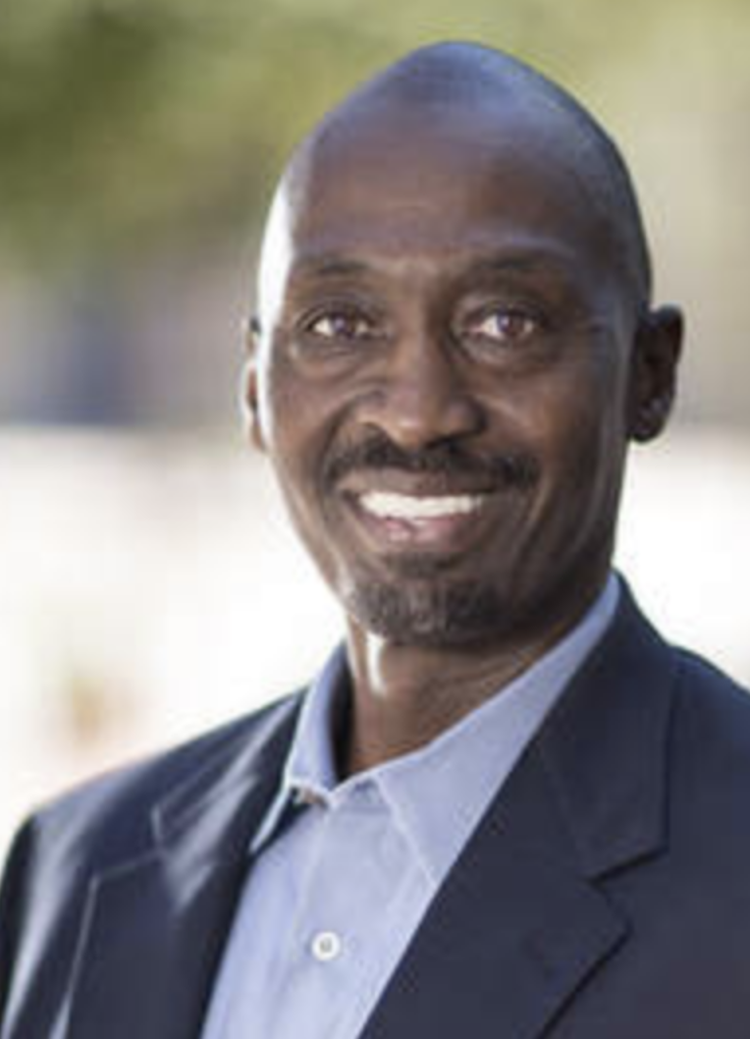 After a productive high school basketball career in Detroit, Gary Harrison signed a letter-of-intent to play basketball for Arizona in 1974. Harrison went on to score 347 points and play a key part on the 1976 Elite Eight team. He made Tucson his home, and last week was elected as the Pima County Clerk of the Superior Court. Harrison received 157,903 votes, winning by more than 25,000 votes. When Harrison flew to Tucson for his 1973 recruiting visit, he was met at the airport by UA assistant coach Jerry Holmes, who was probably the top recruiter in UA basketball history. At Harrison's election-night victory party last week, Holmes was in the crowd to help celebrate. Talk about a lasting friendship. …
Former Empire High School, Pima College star Deion James to miss season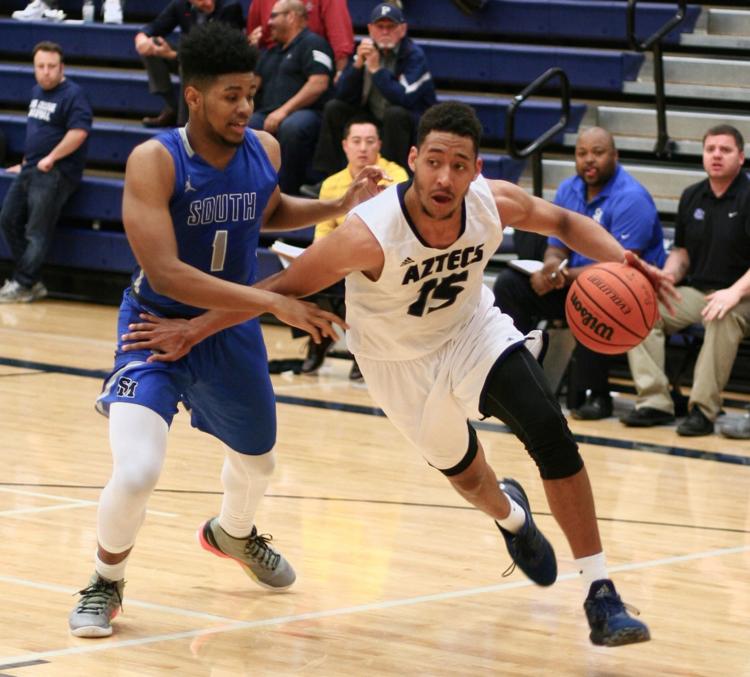 Empire High School grad Deion James, the NJCAA's 2017 basketball player of the year, will not play at Colorado State this season. James is still recovering from off-season knee surgery and will complete his CSU eligibility in 2019-20. The power forward averaged 10.3 points at Colorado State as a junior. … 
Tucson's Sarah Sellers finishes in top 20 at New York City Marathon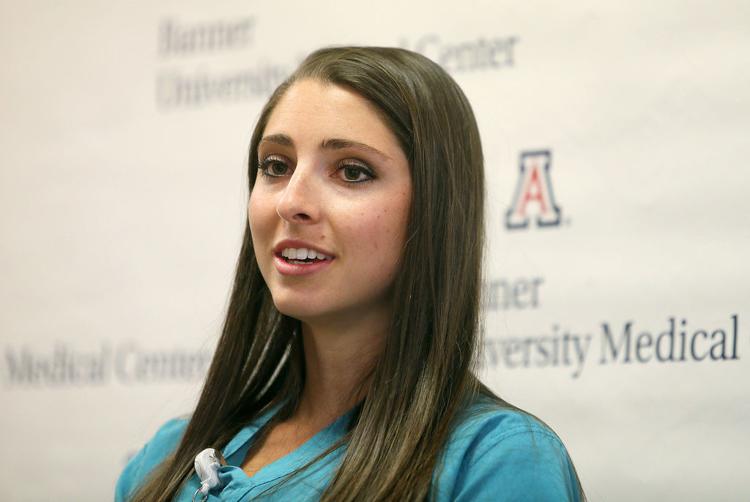 Tucson nurse anesthetist Sarah Sellers finished 18th at the New York City Marathon last week, which backs up her No. 2 finish at the Boston Marathon and puts her on the map for the 2020 USA Olympic Trials. Impressively, Sellers, running just the fourth marathon of her career, completed the NYC marathon in 2 hours, 37 minutes, which was seven minutes better than her Boston time. ….
Scott McKee, Sahuaro return to familiar place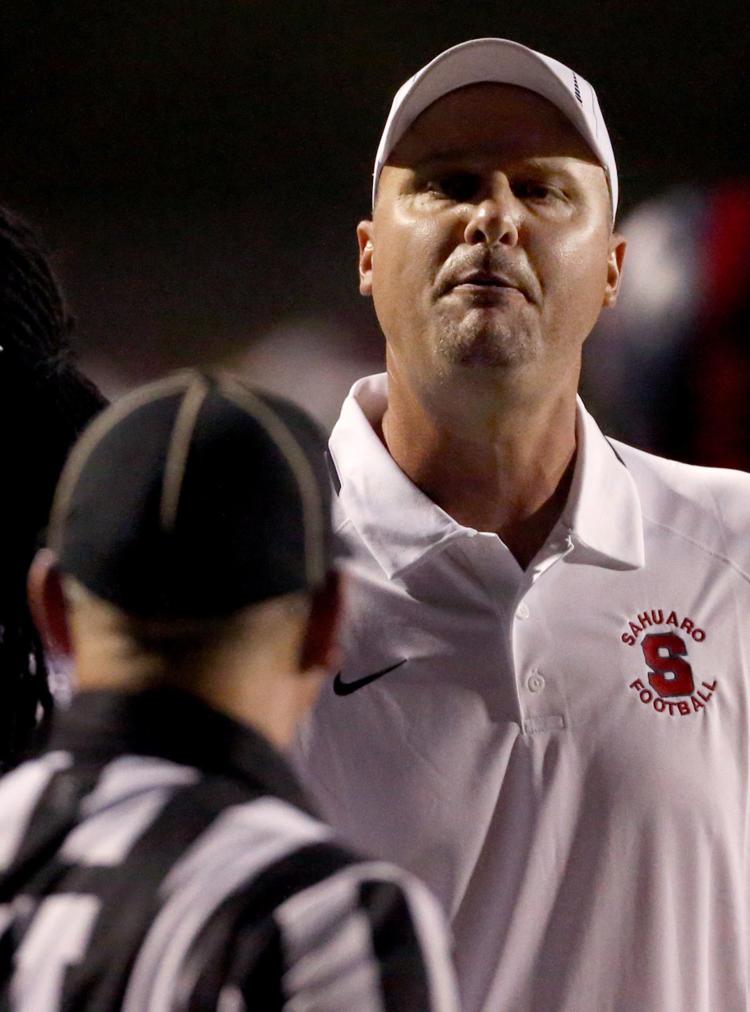 From 1979-2001, Sahuaro High School was an Arizona power in football, winning a state co-championship, placing No. 2 twice and reaching two semifinals.
Coaches Howard Breinig, Will Kreamer and Nemer Hassey produced 21 winning seasons in 22 years and then, as if overnight, the Sahuaro football pipeline ran dry.
Finally, coach Scott McKee has restored Sahuaro to its long-ago place, reaching the Class 4A state semifinals, 10-2, headed for a Friday night showdown against 12-0 Salpointe Catholic at Mountain View High School's football stadium.
McKee, who played at Arizona from 1999-2002, has now coached 61 high school victories in Tucson. A better story is the McKee family story. Combined with his father, Larry, who coached 36 victories at Pueblo and Sabino in the 1970s and 1980s, the McKees now have 97 prep football victories in Tucson.
The only father-son combo with more is Ollie and Todd Mayfield, who combined to win 283 – and three state championships – at Tucson High and Palo Verde High between 1970-2005.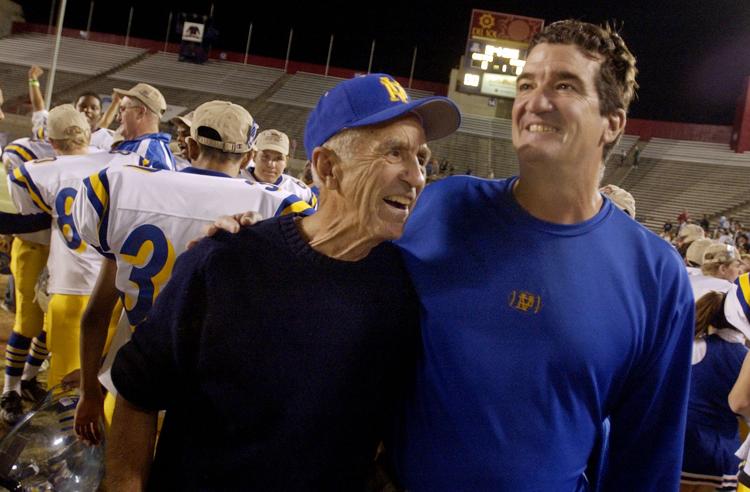 Larry McKee was a football standout at North Hills High School in Pittsburgh in 1967. He accepted a scholarship from Arizona coach Darrell Mudra and became a Wildcat starting lineman in 1970-71. The Cleveland Browns drafted him in 1972.
Now, all these years later, Larry McKee, a long-time TUSD administrator, works as an assistant on his son's staff as the Cougars restore Sahuaro to prominence.
Here's a piece of advice: I suspect every seat at Mountain View's football facility will be filled Friday night. Parking is at a premium near the intersection of Thornydale and Linda Vista. Don't show up late to the Game of the Year in Tucson prep football.
Ex-Cat Chase Budinger hits it big in pro volleyball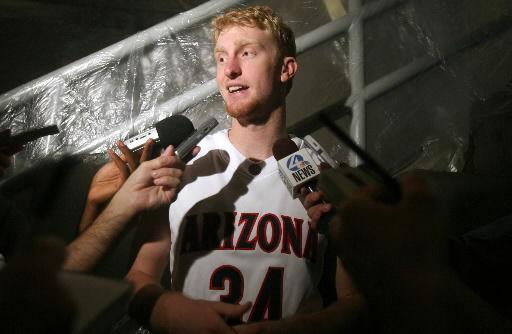 After his seven-year NBA career, former Arizona All-Pac-10 forward Chase Budinger has made a remarkable transition to pro volleyball. Last week, Budinger was named the AVP Beach Volleyball Rookie of the Year. This could be a long-term thing; Budinger is only 30. His older brother, Duncan, 33, whose beach volleyball team has been ranked as high as No. 13 this season, continues to excel. Their older sister, Brittanie, set the pace for the Budinger volleyball family. She was so good as a college volleyball player that the San Francisco Dons retired her jersey. …
Three observations as Pac-12 basketball season begins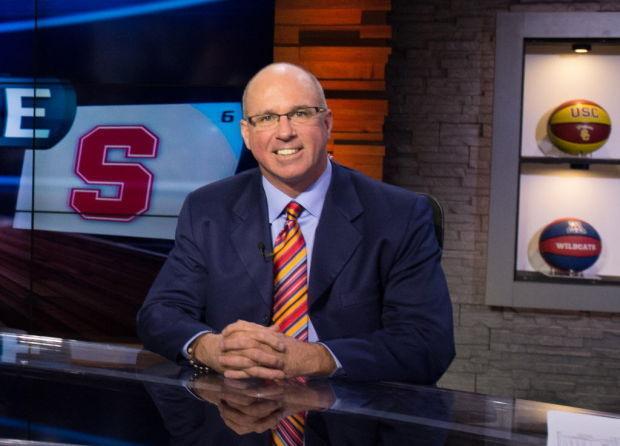 I spent way too much time watching some very boring Pac-12 men's basketball openers last week, but I did come away with three impressions:
Arizona State freshman 

Luguentz Dort

 will be an All-Pac-12 player headed soon to the NBA. He scored 28 and 25 points in the Sun Devils' first two games. He is a bigger, faster, stronger version of 

Rawle Alkins

, built like an NFL outside linebacker. Also, the Sun Devils drew 17,660 to watch blowouts over cream puffs Cal State Fullerton and McNeese State. Winning in Tempe this season is going to be exceedingly difficult;

Kevin O'Neill

 isn't returning to the Pac-12 Networks for studio work. Big loss. O'Neill was one of the few willing to tell it like it is. Yes, the former UA coach can be a pain in the backside, but his departure leaves the Pac-12 Networks with too many vanilla analysts such as 

Ben Braun

;

Rincon/University High grad 

Brendan Rumel

 got his third career start at Portland State last week. He was matched against Oregon's 7-foot 2-inch freshman whiz 

Bol Bol

. Rumel, a redshirt sophomore, held his own, scoring nine points and getting three rebounds. Bol had a 12-12 double double. Rumel now gets back to a Big Sky Conference-type schedule, where he should do well. … 
Broyles Award list missing current, former Wildcats coaches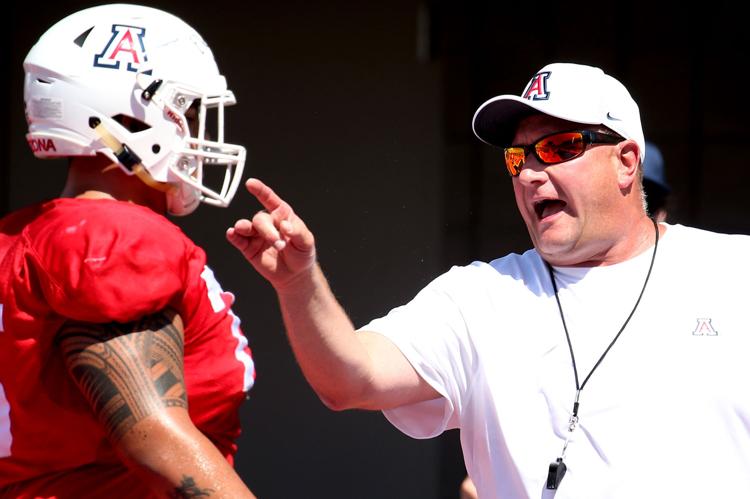 The Broyles Award committee, which annually chooses the college football assistant coach of the year, released a list of 53 finalists last week. It was shake-your-head stuff, including USC assistant coach Johnny Nansen and a Nebraska coach. No kidding. It missed on two strongly-qualified Pac-12 assistants: Arizona offensive line coach Joe Gilbert and Washington State receivers coach Dave Nichol, a former Arizona assistant who should be very high on the list. … 
CDO, UA product David Korn keeps winning on soccer field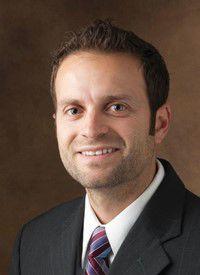 Canyon del Oro High School and UA grad David Korn continues to impress in his college soccer coaching career. Korn led Division II Maryville University of St. Louis to the Great Lakes Valley championship a week ago, earning a berth in the NCAA Division II men's soccer tournament. A year ago, Korn coached the Saints to a 13-4-2 record and into the second round of the NCAA Division II tournament.
My two cents: Ole Miss is likely to come after UA president Robert Robbins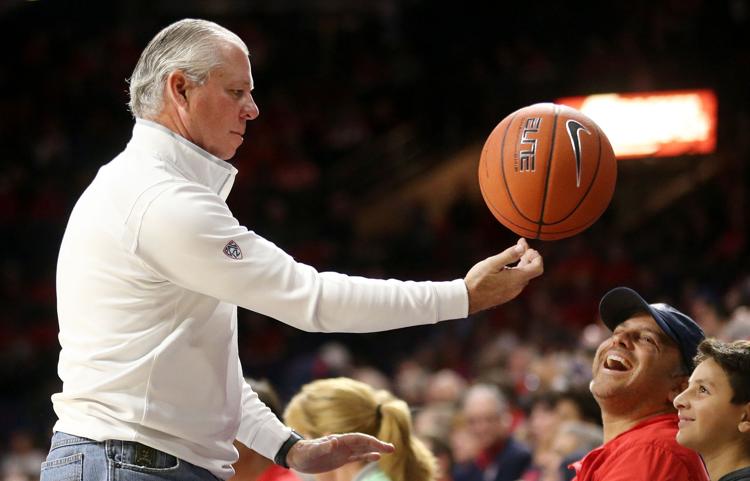 Arizona president Robert C. Robbins arrived at his McKale Center front row seat 30 minutes before last week's Arizona-Houston Baptist game. He watched the players warm up. It is a customary pose for the school's leader.
I've seen Robbins on the sideline at every UA football game this season, home and road. He has established a presence at athletic events, unlike any UA president since John Schaefer in the 1970s.
In his 18 months at Arizona, Robbins has approved the $6 million buyout of football coach Rich Rodriguez, publicly supported embattled basketball coach Sean Miller and sanctioned a payment plan for $66 million in athletic facilities.
Compared to past UA presidents, especially Ann Weaver Hart, Robbins is a godsend for a mid-level Pac-12 athletic department. He cares. He sees great value in the "front porch" provided by basketball and football teams.z
At 60, Robbins could go on to be the most high-profile president in school history, going deep into the 2020s. His twitter feed is abuzz with community and academic pursuits. He identifies himself as "President, chief enthusiast, advocate, and storyteller for the University of Arizona."
He has finally given the UA the backbone and ability to fight back against Arizona State and its president, Michael Crow, who has taken his school to a new level of relevance and financial empowerment.
Last week, Robbins' alma mater, Ole Miss, accepted the resignation of its president, Jeffrey Vitter. A search for Vitter's replacement begins now. It's no secret that Robbins grew up 200 miles from the Ole Miss campus, got an undergraduate degree at Millsaps College, barely 90 minutes from Oxford, Mississippi, and got his medical degree from Ole Miss.
It seems inevitable that Ole Miss will look Robbins' way and test his interest. It would be nuts not to.
This is one guy far more valuable than a football coach and a new softball stadium.