Yup, that's the Auld Dubliner you see, now on its second life as a Mexican restaurant ... The Harry Potter shots are gone, but you can get a whole pineapple hollowed out and filled with mangoes and a shooter of tequila.  
The new concept where the UA's beloved Irish bar once stood is called Americano Mexicano, and it's quite an ambitious project. Food truck owner/local insurance agent David Pena wanted to take all delicious beach foods you eat in place like Rocky Point, and put them under one roof.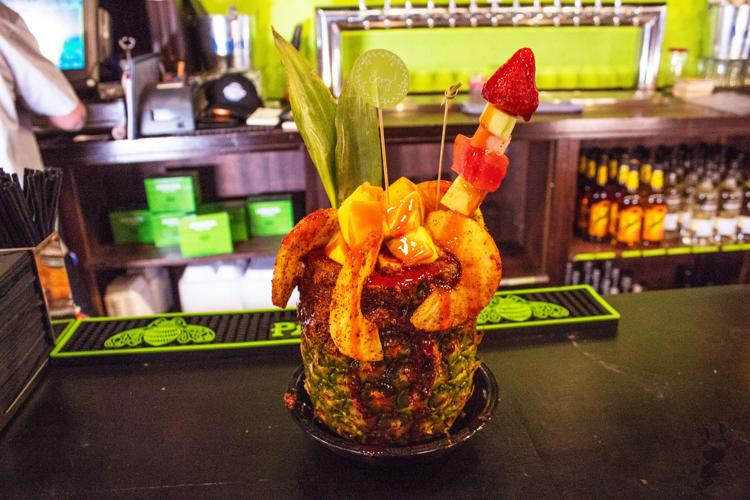 The menu has nachos and burros, but it also has mariscos and molcajete stone bowls like they do at Guadalajara Grill. And on the sweet side, they've got all the familiar raspados joint staples like aguas frescas and chile-laced fruits. And of course there's the bar. Ohhh, there's the bar. 
Americano Mexicano just opened at the beginning of the month, but we dropped by for lunch this week to give it a first look. The Auld Dubliner used to be a reliable spot for a beer and a snack, but time will tell what people will use this new restaurant for. You can have a very different experience here depending on what you get. I could see myself going for a full meal, or just dropping by for a raspado and continuing on the road. 
Our lunch was a little all over the place, in the best way. We started out with a mango margarita which was done up like a snow cone, with the liquid pooling at the bottom. Sweet and tasty! But the show stealer was the piña loca, which was stuffed with mangoes, jicama, pineapples and more.
There was so much fruit in there that it was hard to get my straw in anything other than straight tequila, which had been poured over the top. If I was down to party and had more friends around, I'd order the $36 botana platter that comes with three giant Victoria beers that are covered in shrimp, chicharrones, cucumbers, chamoy and more.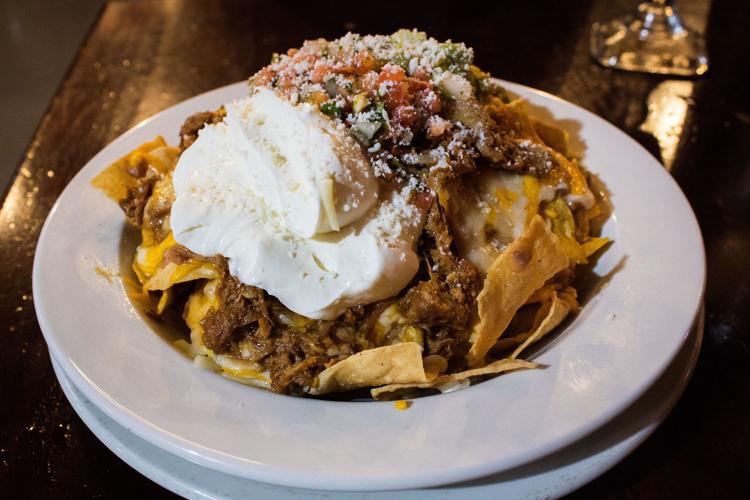 Then the nachos came out. What can I say about nachos? They're chips covered in cheese, beans and in this case, pulled pork. The hefty mound of Mexican food was smothered with the world's biggest plop of sour cream, but other than that there were perfect proportions of all the goodness. My lunch partner and I both raved about the salsa, which had a fresh fruity taste to it that reminded us of watermelon. (It's David's Tia's secret recipe.)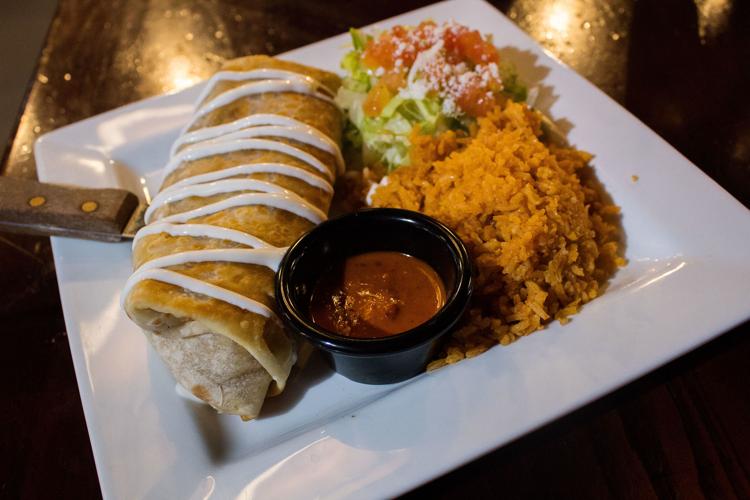 With all that fruit and chips, we were a little full by the time the bean burro came out. But it was too bad because I think that was the best thing we ordered. Dare I say it, this is the best burro on University Boulevard, and one of the best bean burros I've had in recent memory. (Sorry Chipotle.) The beans were silken and the tortilla had been crisped on the grill to give it that perfect crunchy body. And that nutty orange salsa he put on the side, made from smoky chile de arbol peppers; It was fantastic.
As this restaurant experiments with the menu and gets its sea legs, I'm curious to see which direction it goes. But right now I'll definitely recommend sitting in one of those wooden booths and snacking on some fries, just like in the Auld times. Except they're not curry fries anymore, they're SUPER FRIES!