When it comes to pasta, Tucson has always been a pretty "dry" town. But in Carolyn O'Connor's hometown of Syracuse, New York, fresh pasta is a way of life.
Carolyn's new downtown pasta cafe is modeled after New York restaurants like the female-owned Pastabilities. These restaurants cater to the large Italian population who crave fresh pasta, which can have a more delicate nuanced flavor than your typical dried variety.  
"(In New York) it's easy to get fresh pasta. You can just go to a shop and pick it up and take it home and cook it," Carolyn said. "So I really missed having it, and I realized that most of my friends in Tucson have never had fresh pasta before, because it's not very easy to get unless you're going to a nice Italian restaurant."
Carolyn was just about to start a new job this February as a manager at Pastabilities, when she decided to take a chance on love and move back to Tucson where she'd briefly lived and met Ben Schneider. Within a few months, the two were engaged. And by late October, she was opening the doors of her new cafe Ceres in the Presidio District of downtown Tucson.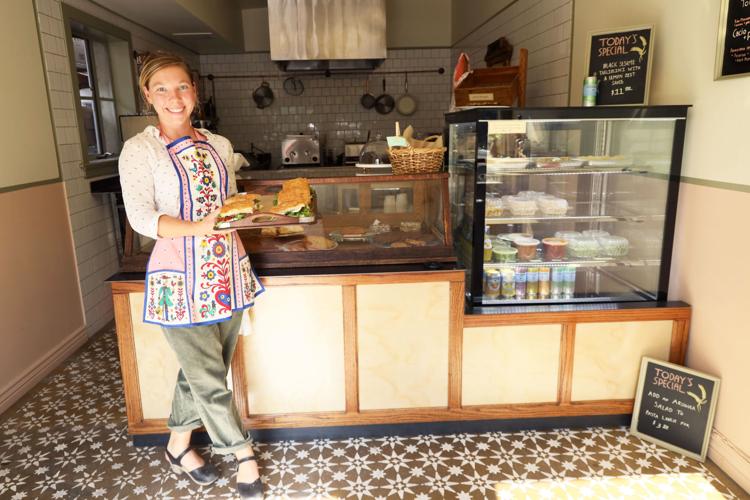 The sunny cafe has been freshened up since its days as Fanny's Cocina, which was part of the La Cocina restaurant family owned by Ben's mother Jo Schneider. Carolyn worked together with friends and local craftspeople to paint Spanish tile patterns on the floor and install pearly white tiles on the walls. 
Working with a small team of mostly women, Carolyn arrives at 5:30 every morning to make at least 20 pounds of fresh pasta. She prepares a small but rotating selection of pasta styles, available for take-home cooking or freshly-prepared during the daily lunch service. The two main varieties are thin tagliolini and wide tagliatelle, both egg noodles popular in Northern Italy. You choose a noodle, and then choose whether you want tomato basil, pesto, cacio e pepe or meaty Bolognese sauce.  
"The egg noodles are special because ... they're just a little more decadent," she said. "They're made with imported Italian flour called a tipo 00, and the 00 just means that it's milled super fine. So it creates this silky noodle that has a chewiness, but it's smooth and silky. Those are the most unique for people who have never had fresh pasta before."  
Other varieties she typically makes include fresh bucatini with local durum wheat flour, spinach and beet pappardelle (pictured here), farfalle bowties and more. During a recent lunch, she had a special of tagliolini noodles made with black sesame seeds and tossed in a creamy lemon zest sauce. Toppings are sparse at Ceres, but that's because you want to concentrate on the delightful texture of the fresh pasta.  
In the mornings, Ceres is also a walkup cafe that prepares local Decibel coffee drinks and serves pastries from La Cocina's baker Nick Carson. The cafe also sells loaves of Nick's bread including a rotating selection of slow-fermentation sourdough, marble rye, classic Italian loaves and more. During our lunch visit, we really enjoyed their Italian sandwich made with house focaccia and fat slabs of mozzarella and prosciutto. The cafe doesn't have much space to eat, but you're invited to take your selections over to the picnic area at La Cocina. 
Ceres was named after the Roman goddess of wheat and agriculture, who just so happens to represent fertility and motherhood as well. That unique combination of characteristics spoke to Carolyn. 
"She just fit exactly what we were doing so well. There's definitely a feminine energy in the space, and it's what we represent. You feel like you're walking into someone's kitchen when you come in here, it has a very personal feel," she said. "That's what I wanna do, is feed people good food and have them be able to enjoy a comfortable, beautiful space." 
Ceres is at 77 W. Washington St. Phone: 520-365-3500. It's open Monday through Friday from 8 a.m. to 2 p.m., with pasta lunch service from 11 a.m. to 2 p.m. They're closed weekends except for Nov. 23-24 before Thanksgiving.