Maybe your family is in town and you're searching for a way to show them the beautiful city you call home.
Or maybe you decided to prepare Christmas dinner and the ham overcooked in the oven or you realized you're missing a key ingredient and it's now too late to head to the store.
Whatever the case, we put together this list (which is not comprehensive) of local spots open on the holiday.
Keep in mind: For restaurants, reservations may be recommended or required, so call ahead of time.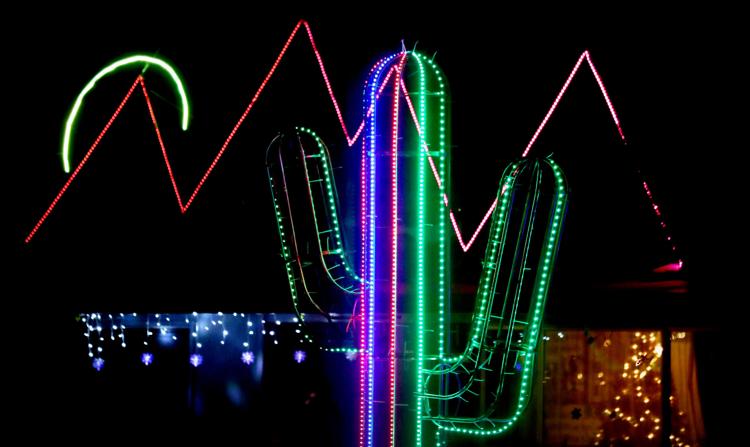 Winterhaven Festival of Lights — Head to the Winterhaven neighborhood between 6-10 p.m. to walk through twinkling lights and holiday displays.
Arizona-Sonora Desert Museum — Tucson's beloved Desert Museum is open 365 days a year, welcoming visitors to take a peek at desert flora and fauna.
Hiking — The great outdoors are yours for Christmas. Check out this list of family-friendly hikes we published after Thanksgiving.
Roadhouse Cinemas — The movie theater will be offering showings of "The Matrix," "Sing 2," "West Side Story," "House of Gucci," "Nightmare Alley," "Spider-Man," "American Underdog" and "The King's Man."
The Loft Cinema — Tucson's independent movie theater will be open for Christmas, with showings of films such as "Licorice Pizza" and "Red Rocket."
Golf N' Stuff — Take the family out for a round of mini golf and arcade games.
Cup Cafe at Hotel Congress — Enjoy specials 10 a.m. to 4 p.m., including butternut squash bisque, mesquite-smoked ham and herb-crusted prime rib.
Govinda's Natural Foods — Govinda's is offering a vegan Christmas menu from noon to 6 p.m. that includes lentil croquettes, vegetable soup, stir fry pasta and apple berry crisp.
The Coronet — Heads up: The Coronet will be open Christmas Eve, Christmas Day and New Year's Eve, but closed Jan. 1-6. The Christmas special, 5-9 p.m., includes pepita- and herb-rubbed porchetta.
Pastiche — Find specials 10 a.m. to 10 p.m., including ham, prime rib, turkey and pumpkin ravioli.
Sher-e-Punjab — Open on Christmas Day, enjoy Indian cuisine from Tandoori chicken to samosas.
The 81 Hong Kong Cafe — Enjoy Chinese cuisine featuring scallion cake, dumplings, veggie lo mein, rice bowls and more. 
JW Marriott Starr Pass — Visit the resort's restaurants Primo (5-9 p.m.) and Catalina Barbeque (11 a.m. to 8 p.m.) for the normal menus, in addition to holiday specials. Signature Grill will be offering a Christmas brunch buffet (10 a.m. to 3 p.m.).
Hilton El Conquistador — The resort will be offering specials for both brunch (11:30 a.m. to 3:30 p.m.) and dinner (5-9 p.m.).
Chef Wang — Visit Chef Wang for Northeastern Chinese food. Former #ThisIsTucson writer Andi Berlin enjoyed their Jingdong meat pie, small steamed buns and Dong-Bei stew.
Great Village Chinese Restaurant — On the menu, find favorites such as sesame chicken, Mongolian beef, and eight jewel blossom with beef, chicken, shrimp, water chestnuts, mushrooms, bean curds and peanuts.
Arizona Beer House — This east-side beer house will be open 4-10 p.m. on Christmas Day.
Saffron Indian Bistro — Open from around 11 or 11:30 a.m. to 8 p.m. on Christmas Day, enjoy the taste of India at Saffron Indian Bistro.
Wooden Nickel Tavern — The bar will open up at 5 p.m. on Christmas Day.
Takamatsu — Dine on sushi and Asian cuisine at Takamatsu, open from 4 to around 9 p.m. Christmas Day.
Old Peking Chinese Restaurant — Old Peking will be open on Christmas Day for takeout and delivery only.
Piazza Gavi — Dine at Piazza Gavi for pizza, pasta, sandwiches and salads.
Che's Lounge — This Fourth Avenue bar will open at 7 p.m. on Christmas Day.
Union Public House — Visit Union from 5 p.m. to 2 a.m., with DJs spinning starting at 10 p.m.
Reforma Modern Mexican. Mezcal + Tequila — If you're searching for tacos on Christmas, Reforma will be open 5-10 p.m. 
Proof Artisanal Pizza and Pasta — Open 5-10 p.m., visit Proof for pizza and pasta.