Fourth Avenue is about to add a new restaurant, art space and marijuana-friendly concept to the Tucson scene, all in one fell swoop.
Fullylove's, a restaurant concept from chef Anthony Fullylove (formerly of Prep & Pastry and Commoner & Co.) is set to open tomorrow, Friday, April 30 at 11 a.m. 340 N. 4th Ave., the space that used to house Irene's Holy Donuts.
And Fullylove's will be sharing the space with Arte Bella, a studio that is billing itself as "Tucson's original paint and puff" locale, a take-off on the popular bring-your-own-booze and paint studios that have become popular recently.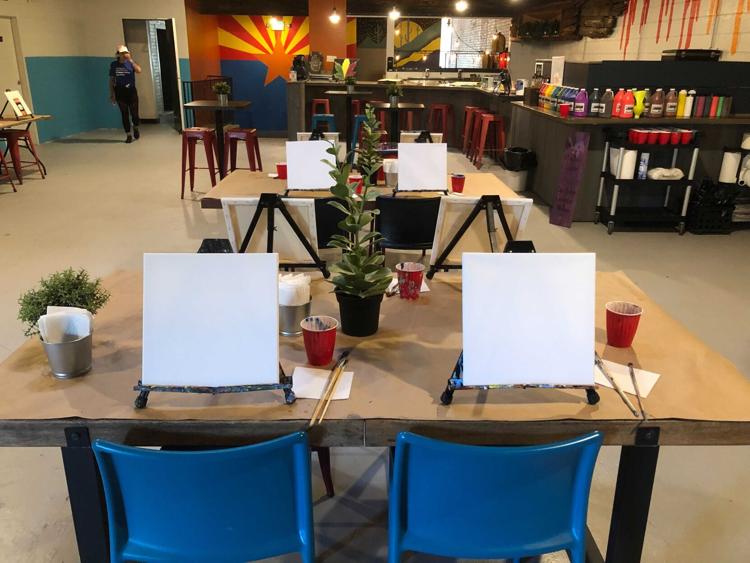 Jen Christiansen, owner of Arte Bella, said the idea for the collaboration came together when she met Fullylove's mother at Christiansen's first location in Park Mall.
"Her and I got to talking and we just stuck like glue for over a year," Christiansen said. "And then I came to look at this place for Arte Bella and the whole marijuana thing, and I opened the door and started dancing, wheels started spinning and that was it."
Fullylove's will take up residence in the front of the building and offer an assortment of burgers, sandwiches and munchies, but will also feature vegetarian and vegan friendly entree and dessert options as well.
While some items might give off a stoner-vibe, with menu items named things like "SmOREO's," Fullylove said his culinary vision and menu overall is more than just munchies. 
"We made it well rounded," he said. "My goal was to bring upscale, affordable food to Fourth Avenue."
As for any cannabis-infused menu items, that will have to wait. Currently, it isn't legal under Prop. 207 to serve such fare.
If you are looking to partake, however, Christiansen said that customers to Arte Bella, located in the back of the house, will be able to bring legally purchased marijuana flower, vape juices and concentrates to enjoy.
"It's a $5 cover charge if people just want to come in and smoke and not paint," Christiansen said. "If you want to drop in and paint it's $20."
Christiansen said Arte Bella will play host to DJ spinning and private art parties, as well as scheduled classes.
According to Fullylove's Facebook page, opening day hours will be from 11 a.m. to 11 p.m. Arte Bella lists two opening day classes: "Paint and Puff" at 2 p.m. and an acrylic pour class at 6 p.m.