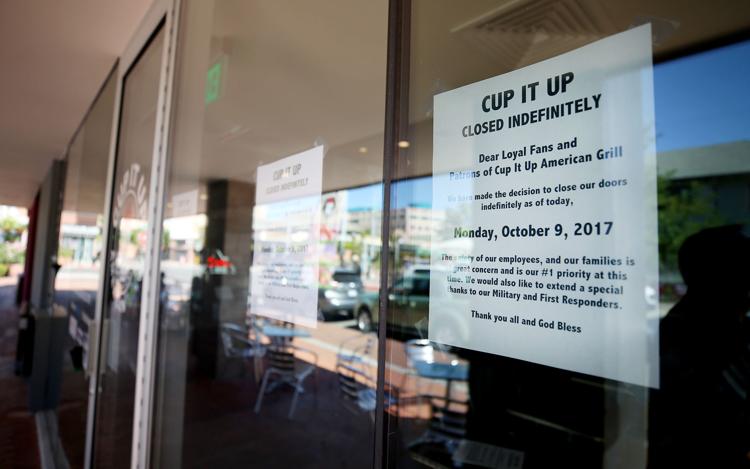 Cup It Up American Grill closed for good on Monday, three days after two of its owners posted a politically charged statement on Facebook that prompted angry social media backlash and calls to boycott the University of Arizona-area restaurant.
Julian Alarcon, a former partner who was not involved in Friday's Facebook post, said the restaurant at 760 N. Tyndall Ave. was the target of harassing and threatening phone calls throughout the weekend. Two employees quit Saturday because of the calls and several more quit throughout the weekend, he said.
"It's not worth it," said Alarcon, the operating partner and chef who resigned Saturday morning in response to the Facebook post from partners Christopher Smith and Jay Warren.
The pair's post laid out their political beliefs that included support for President Trump, standing for the national anthem and repealing Obamacare, and opposition to fake news and the concept of global warming.
That post, which went up at noon Friday, also announced that they would not broadcast NFL games at the restaurant in light of players' kneeling during the anthem.
Within minutes, the post was met with a barrage of comments, most of them negative and including calls to boycott the restaurant.
The post was taken down three hours later and by Saturday the restaurant had removed itself from social media.
Neither Smith nor Warren returned calls Monday for comment.
In a statement Saturday, the pair apologized for bringing "our personal political beliefs into a business forum" and said they had never intended to "strike a nerve."
"We assumed there would be some discussion and shares, but never this type of animosity and hostility," the statement read.
In an interview Saturday morning, Smith said he contemplated closing the restaurant indefinitely after they received harassing phone calls and threats to burn down the building with the owners in it. But the restaurant opened Saturday and Sunday with no incidents, Alarcon said.
Cup It Up opened in early 2016 on North Wilmot Road and moved to the North Tyndall Avenue space in April.